Pin Curls Hairstyle For Black Women
Women of all races can actually wear pin-curled hairstyles and look very beautiful and elegant for almost any function. Ladies with short hair will actually have pin-curls that create tight curls close to the head while those with longer hair will get long or loopy curls within their hairstyles.
They can also be styled in different shapes and ways depending on what the user prefers and these curls even help to enhance hair volume even when you have fine hair. Pin curls help to eliminate frizz within hair especially if you are using a curling iron to generate the curls.
Pin-curls will help any black lady achieve a well-controlled curly hairstyle and this is why I have decided presently to you some of the best pin-curled hairstyles that will make you look unique and trendy.
Wild pin curls for black women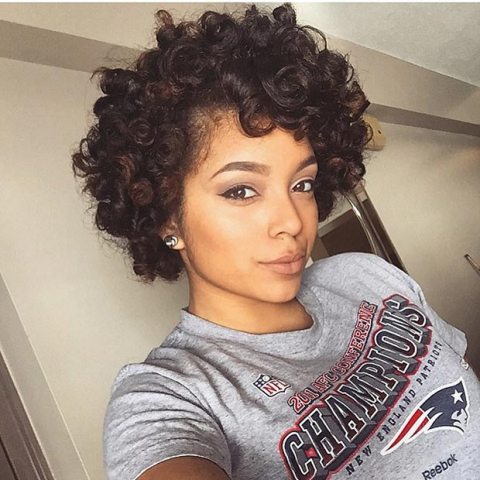 This pretty lady features a short and voluminous hairstyle with pin-curls all over and close to the head leaving all the facial features within sight hence making this lady extremely simple and beautiful.
These wild pin-curls even feature a sassy texture which helps to enhance volume within this short hairstyle and this hairstyle even features a simple curly fringe that gently falls over her forehead hence drawing extra attention towards her gorgeous long face while framing it at the same time.
In fact, this pin-curled hairstyle contains a black color tone with some light hues in different positions which help to add some light within this hairstyle. Her lighter skin tone contrasts well with her dark hair color and this actually helps to draw maximum attention to her entire face.
In conclusion, if you are looking for a simple and casual hairstyle with curls, then I recommend you to try out this pin-curled hairstyle because it's easy to create and manage yet it keeps you feeling free all day.
PIN CURLS MOHAWK-HAIRSTYLE FOR BLACK WOMEN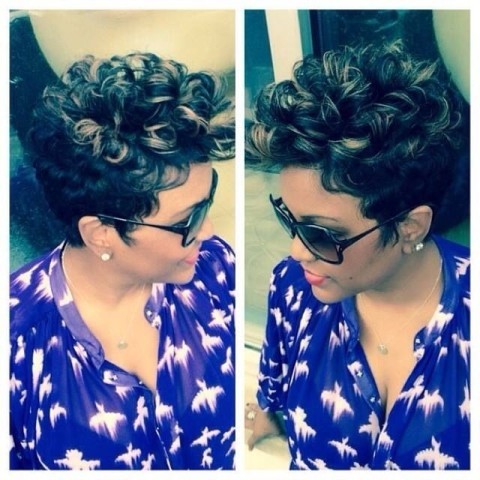 The image above presents a black lady with a unique Mohawk hairstyle with gentle and colorful pin-curls and the crown while the sides are styled smoothly and sleeked downwards to create an amazing contrast of length within this hairstyle.
All the hair at the crown section is turned into gorgeous pin-curls with dark and blonde color tones so as to bring extra attention towards the top section while the sides and back are slightly wavy but styled sleek and close to her head hence creating a great contrast with the voluminous crown-section.
This curly hairstyle is just amazing because it ensures that all hair is styled just over the head without any hair strands hanging on the sides or over the face leaving all facial features visible and this is what every black-lady needs to achieve that bold, sexy and elegant look perfect for any occasion.
PIN CURLS LONG-HAIRSTYLE FOR BLACK WOMEN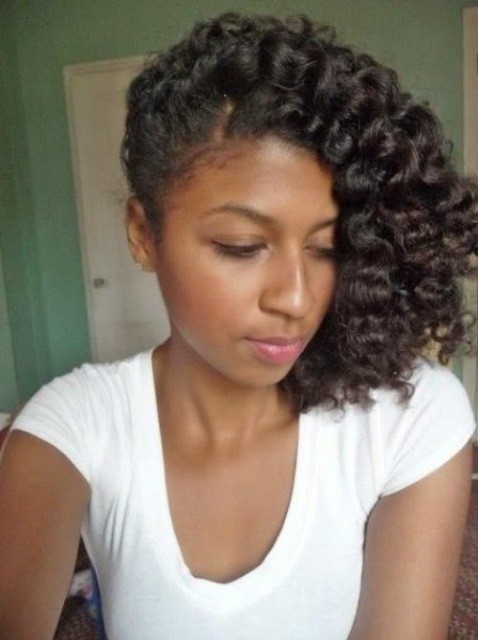 Pin-curls can also be achieved within your long hairstyle just like with the black lady featured in the picture above. This lady actually had all her hair styled to one side and then curled from the crown to the bottom with a sassy texture which helped to generate optimum volume with the entire hairstyle.
The hair was left to fall gently over her shoulders while the other side was actually styled sleek leaving all facial features on that side within sight.
On top of that, the light skin tone of this lady matched perfectly the black hair color while the white outfit she is wearing made every about her just perfect and beautiful.
COLORFUL PIN CURLS HAIRSTYLE FOR BLACK WOMEN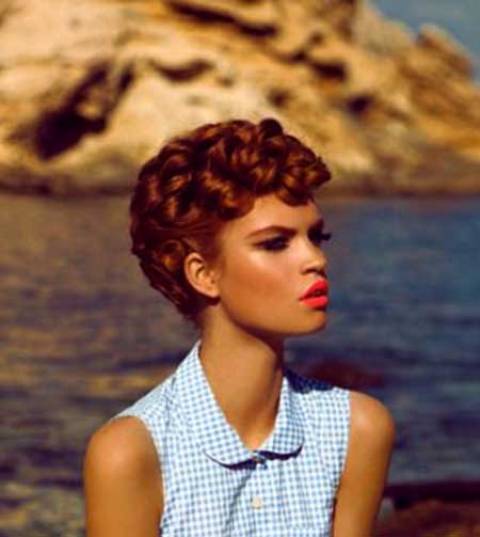 Adding color to hair is actually a very important factor in case you wish to achieve a very attractive and dramatic hairstyle that will draw maximum attention.
As you can see, the black lady seen in the image above had her hair styled into beautiful, curls that are close to her head with slightly sleek sides while the rest of the hair below the ears and at the back also turned into these gorgeous pin-curs in order to create a playful and amazing curly-effect.
All the hair at the crown was actually turned into large curls which generated high hair volume although this lady featured a short hairstyle while the simple curled fringe that slightly touched her forehead helped to draw optimum attention towards her long face shape.
On the other hand, the dark-brown hair color actually made this curly haircut look more dramatic and sexy. in fact, this hair color makes a perfect contrast with her light skin tone while the white and blue-dotted dress makes this black-lady look just simple and lovely enough for any occasion.
PIN CURLS BLONDE HAIRSTYLE FOR BLACK WOMEN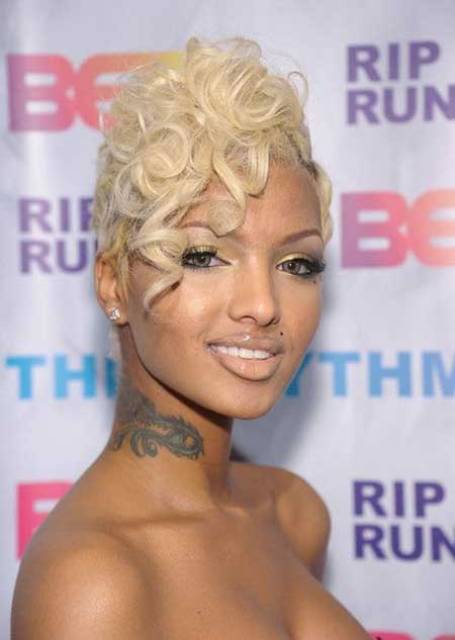 Bleaching your naturally black hair blonde will actually make you look unique and sexy especially when you are a black lady. in the image above, she features a blonde, curled up-do hairstyle with a wispy fringe that hangs gently hangs over one side of her forehead in order to bring extra attention to her sexy eyes while framing out that beautiful oval face shape.
However, this blonde hairstyle features short but, sassy sides and back which contrast perfectly with the voluminous curls at the crown and front section.
Additionally, the platinum-blonde hair color actually made her skin-tone look a bit darker than her hair but this is ok because it helps to draw extra attention to her face.
In conclusion, ladies in need of a simple curled hairstyle that looks elegant should actually try out this beautiful pin-curled, blonde hairstyle in order to achieve that elegant look.
BRAIDED PIN CURLS HAIRSTYLE FOR BLACK WOMEN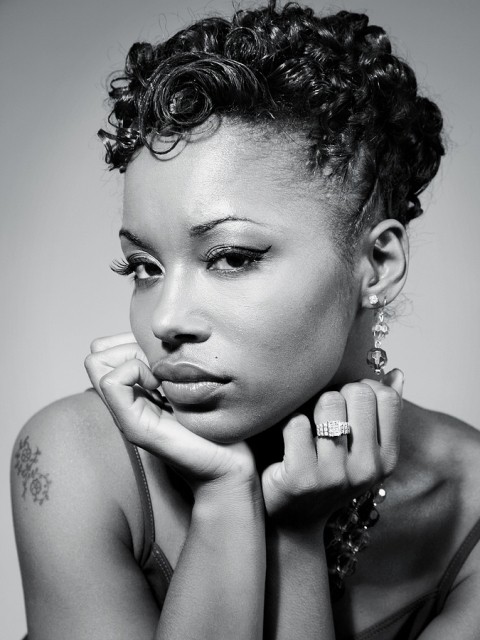 The short hairstyle featured in the picture above will work perfectly for ladies who love curly and braided hairstyles because this haircut actually integrates both elements.
In fact, the hair on the sides was twisted into simple braids which are directed towards the crown section that contains voluminous pin-curls that run from the front to the back of her head.
Additionally, this haircut contains a dark color which creates a perfect contrast with her light skin-tone and in fact, every lady will love this braided-curly haircut because does not fall below the head hence leaving all facial features visible and this is actually an element for achieving a beautiful hairstyle.
In conclusion, this haircut is perfect for weddings, parties, and even other special occasions because it looks simple, cute, and elegant.