50 Best Black Braided Hairstyles
The most amazing thing about braided hairstyles is the fact that they never run out of fashion, day in and day out, year in and year out braided hairstyles are always trendy. This is mainly because they require very little maintenance and from them, you can make the most intricate looks without having to go through too much.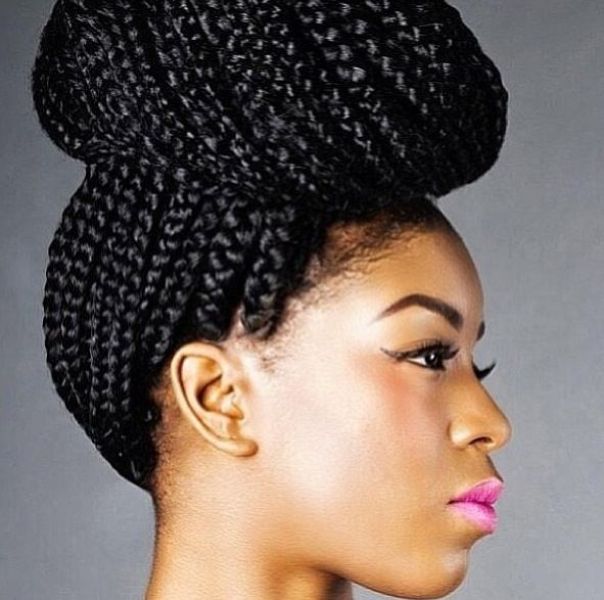 Now for all of you that have been looking for a way to rock your braids, here are 50 completely heart-throbbing braided black hairstyles that you will love to try out…..
Best simple braided black hairstyles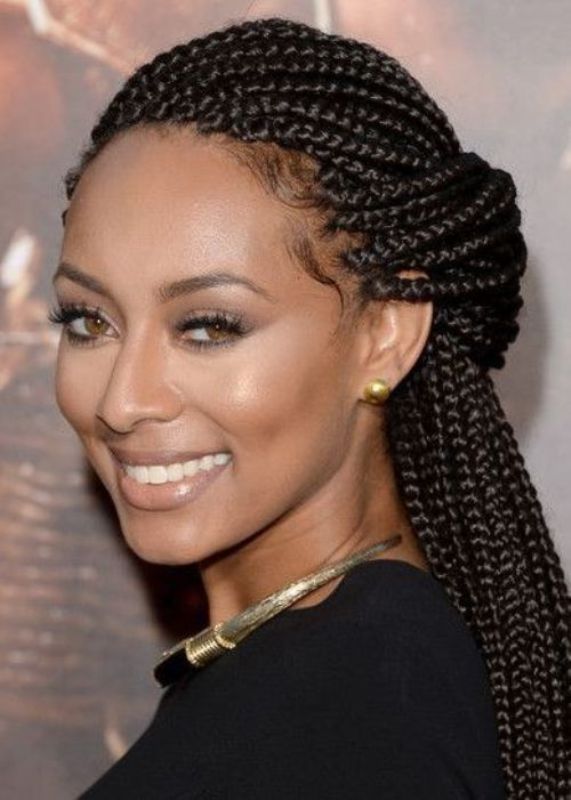 Source:-
Yes of course Keri Hilson is super hot and sexy but the reason she is topping my list is her neatly and beautifully done braids. Being very flexible these braids will take you from work and straight to that special evening dinner or night out if you prefer.
The braids are left to free their way down to the back with a few braid strands pulled from the sides and tied to the back to keep your beautiful face shape standing out. This is a very feminine style but the most interesting thing about it is that it will only take you a few minutes to create.  
Best elegant braided black hairstyles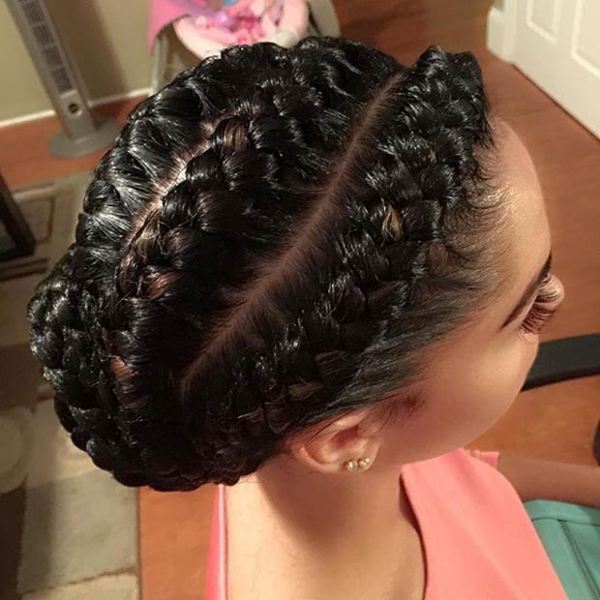 Source:-
For all the elegant ladies that would love to attend a wedding and leave everyone turning heads, this super stunning braided hairstyle is definitely the way to go.
This style is detailed with a low bun at the back and some brown highlights for a more appealing appearance. Start with deeply conditioned hair that is soft, smooth, and shiny so that when you plait it into these big cornrows it will appear as gorgeous as it looks in the above image.
Round, long and oval face shapes would pull off this look flawlessly. If you like you can accent this look with some pins or hair accessories.  
Best braided black hairstyles with color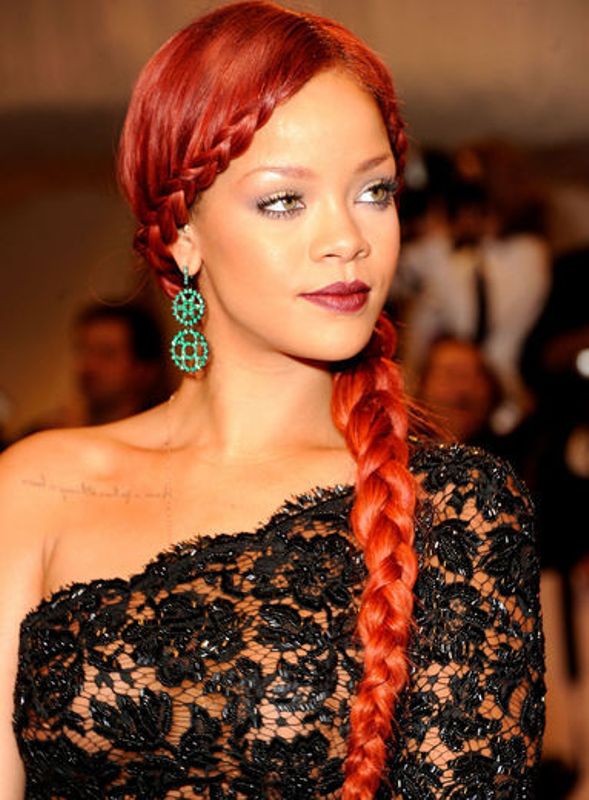 Source:-
There is absolutely no doubt about the fact that Rihanna can easily pull off any look because she is naturally gorgeous but this double lace braided hairstyle is just something else.
It starts with the very stylish center part and thereafter hair is kept completely away from the face with a double lace braid that is finished up in a long and fashionable braid. The side braid is very feminine but the double lace braid creates an outstanding touch to this look.
With this style there is absolutely no need for accessories, it is already fabulous on its own, just match it up with the perfect outfit and you will be good to go.  
Best cornrow braided black hairstyles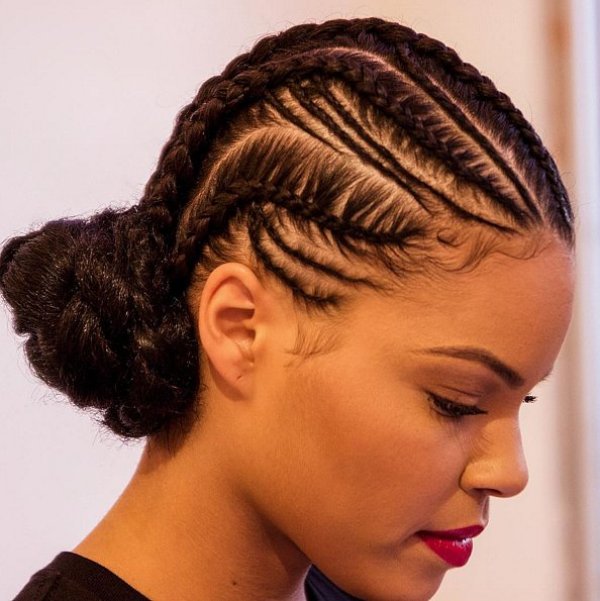 Source:-
I have said this before and will say it again, there is no way you can go wrong with braided hair and the cornrow braided hairstyle above proves it.
This style features very small braids infused into medium-side braids that are plaited backward to create a low-side-held bun. The main reason why I love this style is the way it lets your face shape and all the other gorgeous facial features stand out.
These cornrow braids would look absolutely amazing on any face shape and they will definitely take you to different places reason being they are very elegant yet at the same time very stylish.  
Best braided black hairstyles for weddings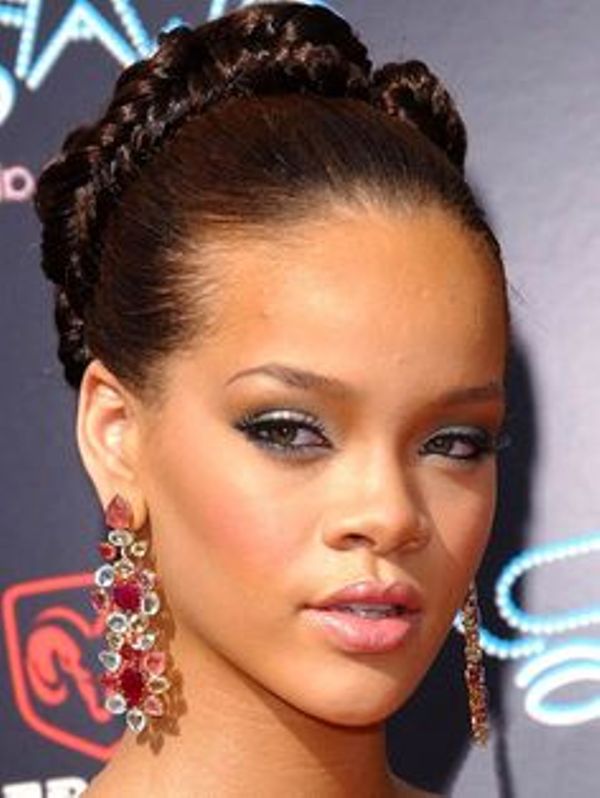 Source:-
And the ever-fabulous Rihanna appears on my list again with a braided hairstyle that is just appropriate for weddings. If you are not really a fan of accessories the secret to standing out is adding some braids to your hairstyle.
This pulled-back bun would have been an ordinary style however it is beautifully accented with a braid going all around the bun for that sophisticated and classy look.
Pulling off this style will only take you a couple of minutes since the bun is super easy to create as well as the braid that accentuates it. The bun never runs out of fashion but the addition of braids makes it look really new.  
Best bob braided black hairstyles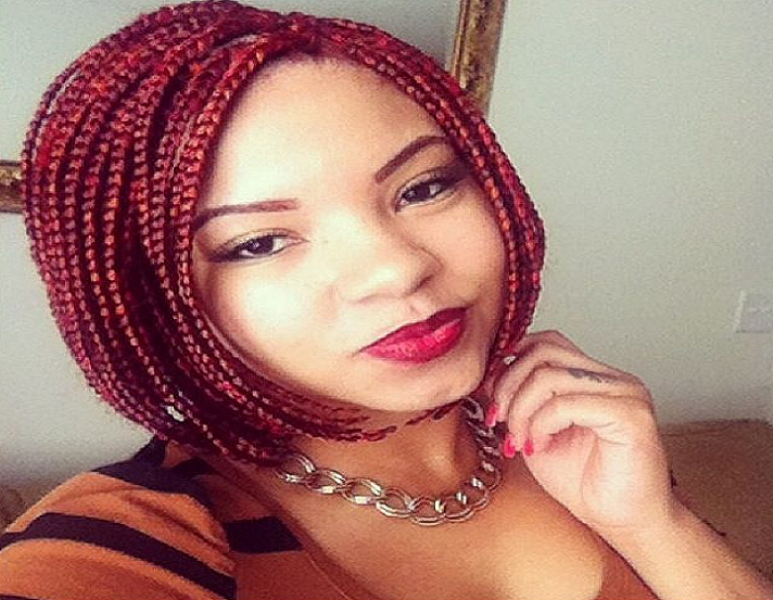 Source:-
From way back in the earlier centuries bob hairstyles were always one of the trendiest hairstyles and of late the braided bob style has once again taken over by storm. From the picture, we can see how well the curves of the braid inwards hug her face shape for a very flattering look.
To make the style more interesting it is given a slight sweep to the side and I know for sure this is one of those styles that look great on all face shapes. For those that don't like constant hair styling, this braided bob hairstyle would be a fantastic choice to make.  
Best sleek braided black hairstyles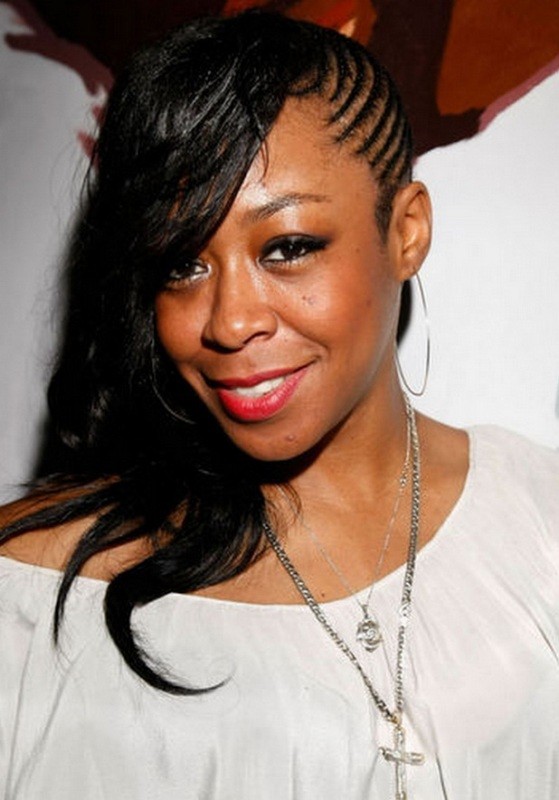 Source:-
The combination of braids and long-side swept bangs is totally amazing, there is something edgy about this braided hairstyle that makes it stand out as beautifully as it does.
On the right side, her hair is braided behind into small and really neat cornrows while on the left her hair is brushed towards the face making it cut through the face to create a very fashionable side-sweeping bang that drifts all the way down to the shoulders in large waves.
This is the kind of hairstyle you rock on those days when you want to be different and do something new.  
Best braided black hairstyles with a bun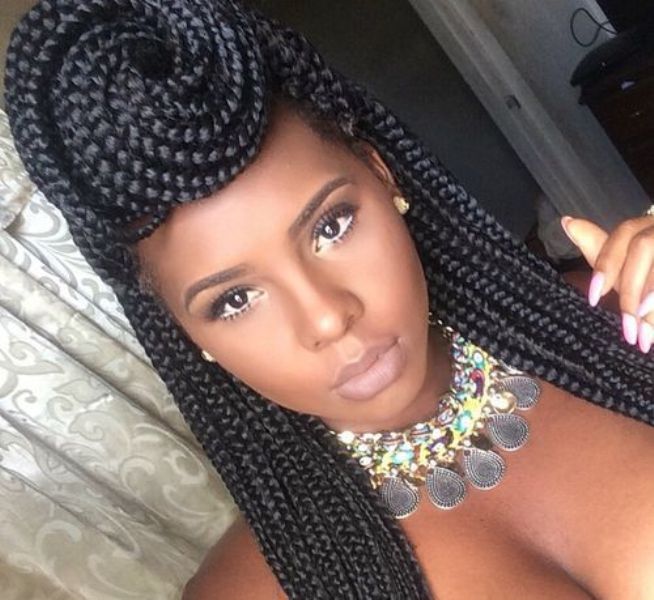 Source:-
With braids, you can remain simple and yet still pull off a chic and edgy look and the above picture proves what I am saying right now. This style is a combination of free-flowing braids together with a bun critically place on the forehead to perfectly match her long face shape nicely.
Braid strands at the front are rolled to the front to create that really unique bun while the rest of the braids are left to hang down on both sides of her shoulders. This is how you wear braids to those formal events that people tend to call inappropriate for braids and leave everyone staring.
Best free braided black hairstyles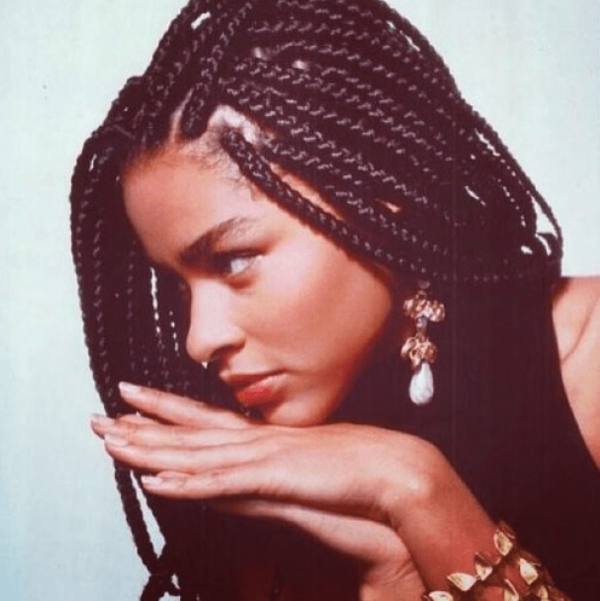 Source:-
Enjoy your simplicity and freedom in these free box braids, like I said braids can be everything you want them to be. In the picture, we witness the lady enjoying her three-strand braids while she leaves them to fall freely to different parts of her head.
When you are going for ice cream, to the movies, shopping, or on those really tiring trips, these braids will absolutely work for you. They require very little maintenance probably oiling the scalp every week to prevent it from going dry and keep the hair soft even when it is covered up in braids.
Best side shaved braided black hairstyles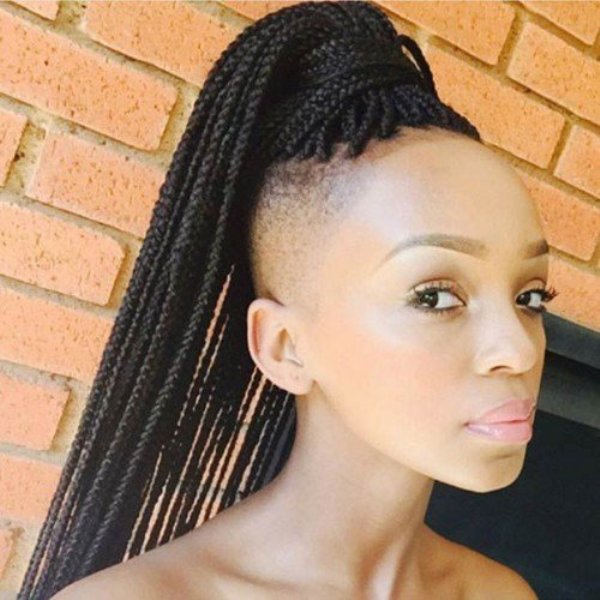 Source:-
For all my stylish ladies that want to keep themselves looking trendy, you all know that this undercut is one hairstyle that you cannot afford to miss more so now.
The lady in this picture has hair on the center of her head plaited into long braids that fall down on her back while the rest of her head is cleanly shaved. Her braids are held together using a few strands from her braids to make the style even more appealing.
This hairstyle is super sexy and overly outstanding you must be ready for the attention it comes with.  
Best braided black hairstyles for African American women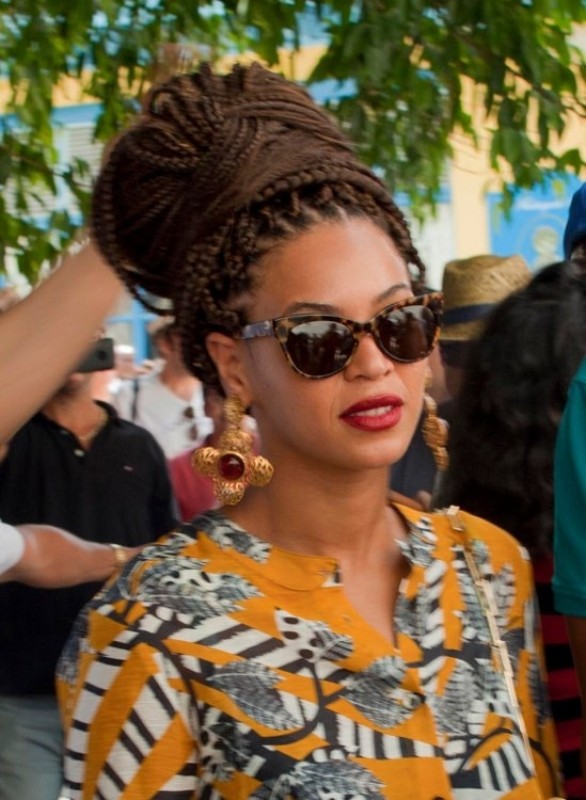 Source:-
And coming in next on our list is the queen herself, I mean Beyonce Knowles, besides being a great inspiration for many, the beauty also never goes wrong with her hairstyles just like is displayed in the image above.
You will love everything about this braided hairstyle, especially its overly-sized bun that is left messy and looking sassy. The style will get you lots of attention at your workplace and after work, you can as well take it straight to that evening hangout. And above all, it will take you only a few minutes to style.  
Best long bob braided black hairstyles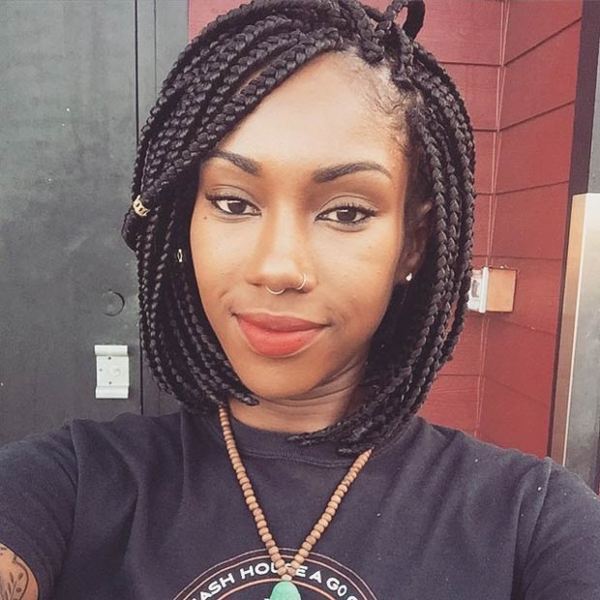 Source:-
Going away from the vintage kind of bob to this exciting and overly flattering braided bob hairstyle, many refer to it as the long bob. While the short bob curves towards the jaws, this long bob goes down a little more below the jaws to hug the neck.
What I love the most about this style is that you just have to wake up and step out to wherever you want to go without having to waste time in the mirror.
It is very classy yet very chic so be ready to rock those streets with the simple look, the lady in the picture looks divine.
Cornrows with double buns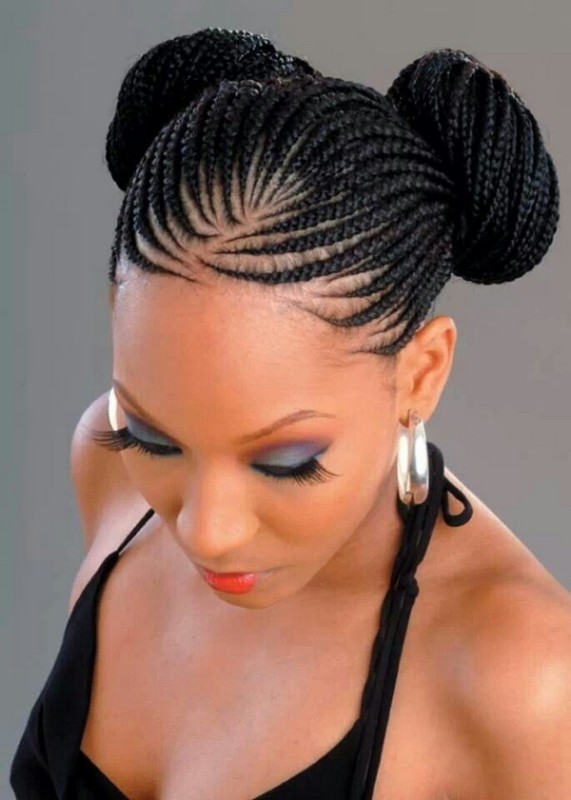 Whether it is for work or for a wedding that you have to attend over the weekend, these Ghana braids designed in cornrows and double buns at the back will give you the look that will get everyone starring. This style is becoming more and more common every other day.
When creating this style, very neat pencil cornrows are plaited first and from the hanging braids, two buns are created at the back. This style looks best on ladies with round face shapes and those with oval face shapes and you will enjoy the looks for several days.  
Best curly-braided black hairstyles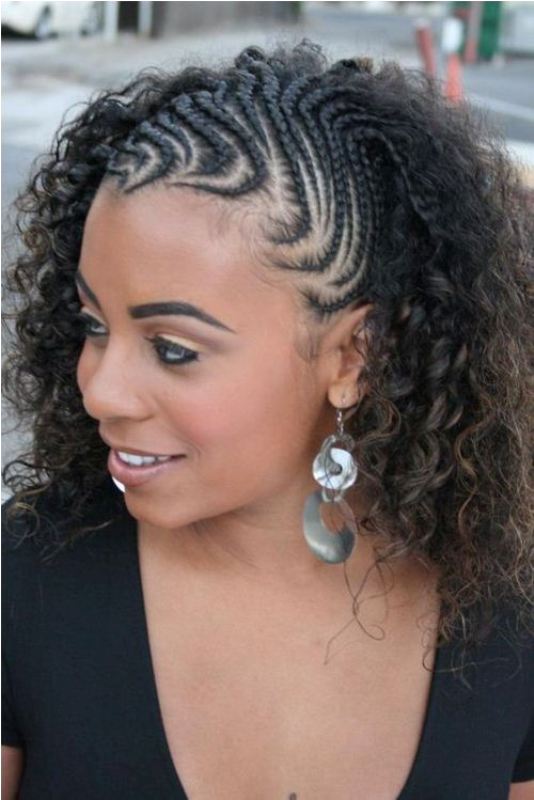 Source:-
Look chic, very unique, and outstanding with this stunning curly braided hairstyle. The front part of the style has beautifully curved braids and the rest of the hair is left unbraided and curly, as we very well know curls are super attractive and sexy.
For the curls at the back, you can use a small size curling iron and make use of your fingers to add more definition and texture to the curls.
The style is already detailed on its own, so there is no need to bother yourself with accessories, or else it will be too much of everything.  
Messy black fishtail braided hairstyles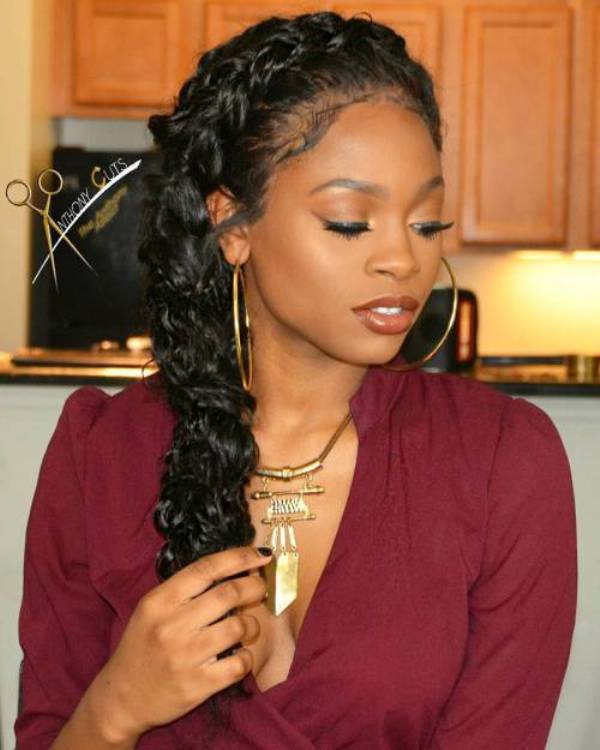 Source:-
Of course, long hair is very fabulous however it looks very plain and boring without any detailing therefore here is a braided hairstyle that will make you have some fun with your real natural long hair.
This is a very classy look however I personally love how the braid is messily made, it makes the whole look a lot sexier. Therefore when you are not in the mood to work with curling irons to twist your hair or flat irons to straighten your hair it is better to go in for the style featured in this picture.
Best braided black hairstyles for women above 40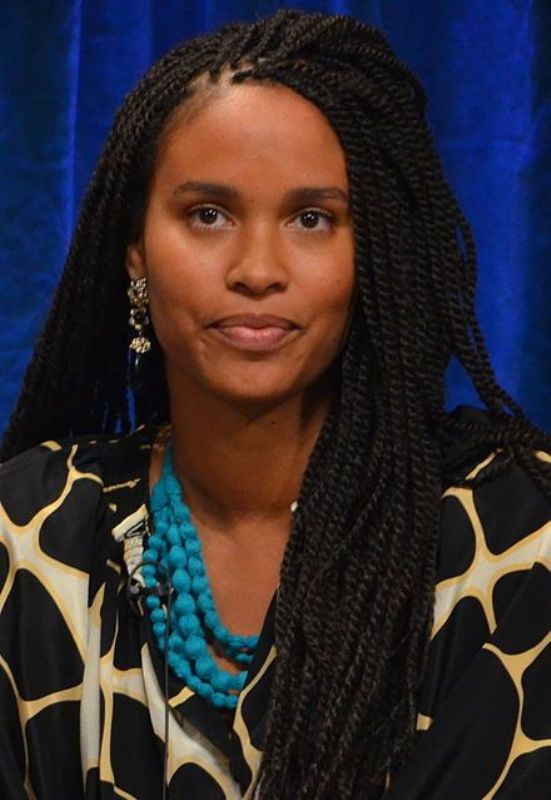 Source:-
For gorgeous women who are above 40 but are not bothered by their age and still want to look flawless, here is a braided hairstyle that will keep you looking effortlessly fabulous.
These twist braids are not too long and neither are they too short which makes them weather friendly. To add some bit of fashion to this look, some of the braids are put upon the shoulder on one side and thrown behind the back on the other side bringing out a very feminine appearance.
At times being simple is the best way to actually be elegant.
Best stylish braided black hairstyles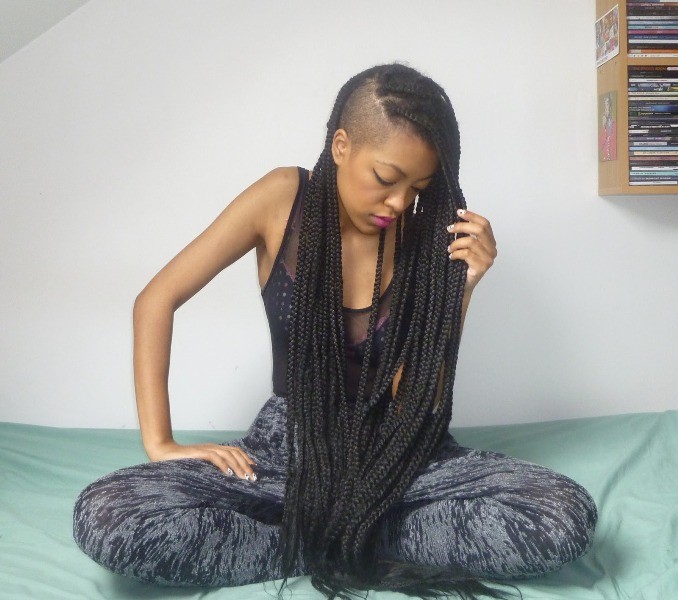 Source:-
If you want to grab yourself loads and loads of attention this super stylish side undercut is without a doubt the hairstyle you should be going in for.
The extremely stunning beauty in this picture chose to go in for very long black braids but what amazes us, even more, is that her hair is cut super short on the right side.
This is just the perfect hairstyle for a night out and if you are planning on keeping it then you should know that there is a need to keep shaving the side without hair to keep it neat while you let the rest of your hair grow.
Best braided black hairstyles for teenagers
Source:-
How can I possibly talk about braided hairstyles and not include a style for teenagers? For all my stylish teenagers that want to keep it super trendy, you must give these exquisite braids a try.
Wash your hair thoroughly, make sure it is well moisturized and you will have your braids looking as amazing as they look in the picture above.
What makes this style so loveable and outstanding is how each big braid is followed up with a small braid, it looks just so divine.
Best natural braided black hairstyles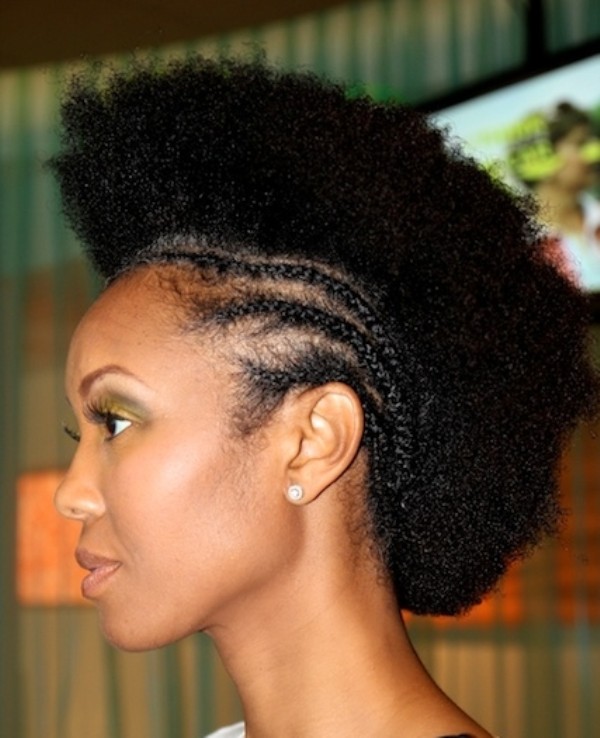 Source:-
Well, we all know that styling and keeping up with nature is not the simplest thing to do because of its texture and thickness. However, braids are one of the simplest ways how can you manage and style your hair and there is a very clear example displayed in the picture above.
In this style, hair is only braided on the sides and left free in the middle area. The biggest secret behind keeping your natural hair looking fabulous is deep conditioning often to keep the hair soft and oiling it at least twice a week for that shiny and attractive appearance.
Best side swept braided black hairstyles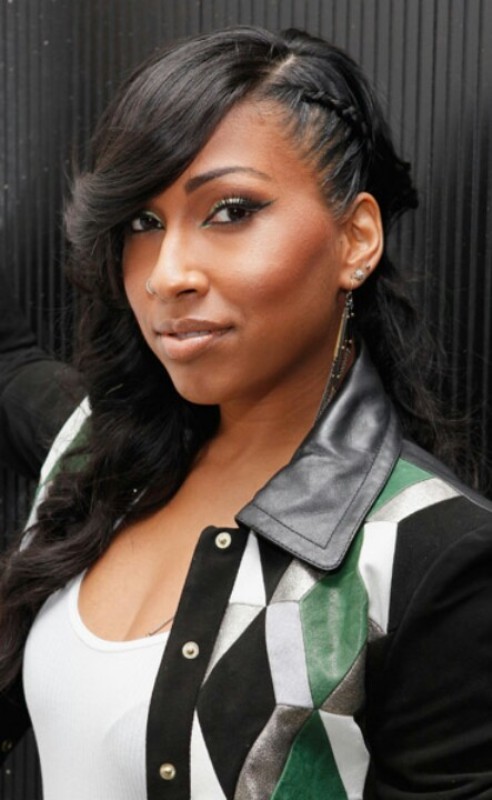 Source:-
When Melanie Fiona turns up looking this fabulous with her side-swept and braided hairstyle it is pretty obvious lot of other girls will be inspired to try the lookout.
Yes, we know the side sweep is always gorgeous but with the unique French braiding on the side, it is extremely stunning. In this look, the braided side grabs a lot of attention but the way hair curves away right above her eye allows us to also notice her beautiful makeup.
It is high time you moved away from those side ponytails to try out this exquisite hairstyle.  
Best twist braided black hairstyles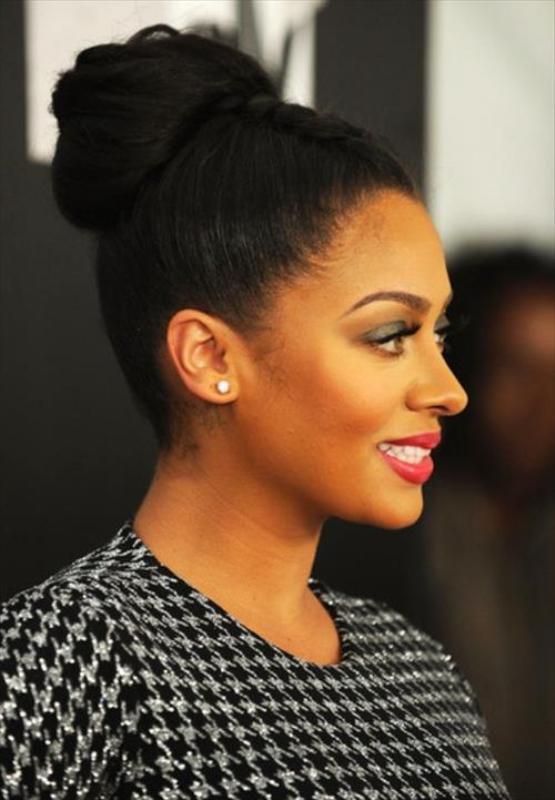 Source:-
I simply fell in love with the mystery of this style, before you look at it so closely you may not be able to notice that it is braided but it is braided and this is why we fell in love with it.
In the image, the lady's hair is pulled from all sides up to the center into a slightly messy bun. To detail this look it has a slightly visible twisted braid in the middle which is what makes it different from other bun hairstyles.  
Best held-up braided black hairstyles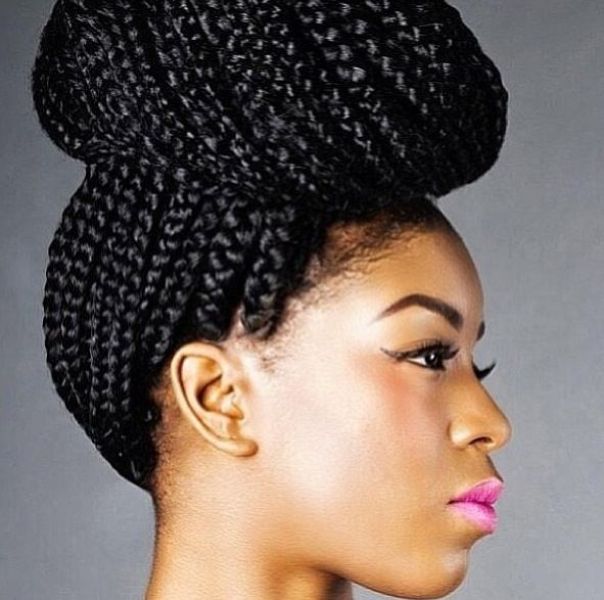 Source:-
The oversize bun is another style of hair braid that is becoming more and more popular each day that goes by, we have seen celebrities like Beyonce and her sister Solange rocking this beautiful style.
The difference is that this time the bun is not placed at the center but rather at the front which makes it exceptional. Since the bun is big enough it is all you need to stand out, I, therefore, find no reason for going ahead to add accessories to this look.
To those red carpet events, this braided hairstyle will amazingly work for you.  
Three-strand goddess braided black hairstyles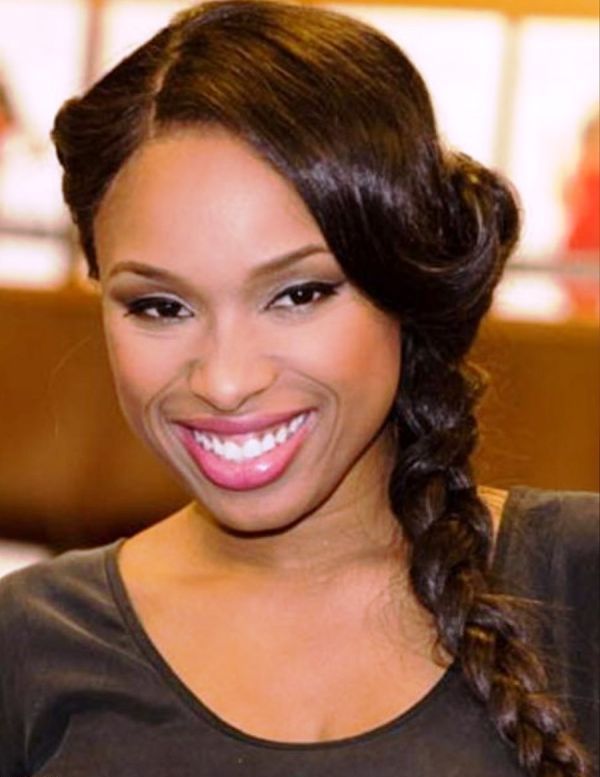 Source:-
Yes, we have seen the fishtail braid before but there is something about Jennifer Hudson's style that caught my attention. The style features a very cute simple side sweep that is uniquely styled.
To create this style start by thoroughly washing and conditioning your hair, blow dry and straighten your hair out with a flat iron. Create a line slightly away from the center, and let the hair fall towards the face before you hold it into the braid. Don't forget to spray your hair after styling for that shiny finishing touch.  
Best braided black hairstyles with accessories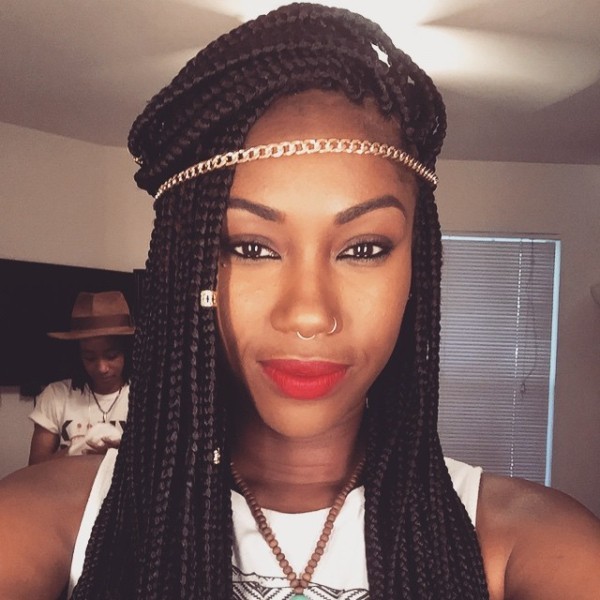 Source:-
Even the simplest hairstyle stands out with the right accessories, and when it comes to braids it is a whole new story. Her black braids are first of all neatly spread out in form of a side sweep, and as always say the side sweep is very trendy so you cannot go wrong.
They are then detailed with just a few silver beads and a very beautiful chain headband, with this hairstyle you will look just like a goddess, that chain headband does magic and you will witness that magic when you try it out.  
Best intricate braided black hairstyles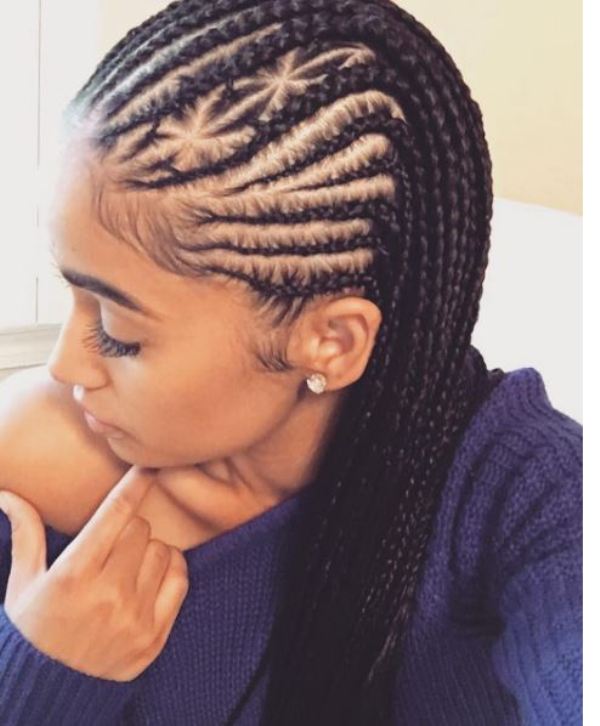 Source:-
If you thought you weren't creative enough, with braids I can assure you that you can become the most creative person ever, there is just so much to experiment with when it comes to braided hairstyles.
These would have been simple braids that they given just that small intricate detail to make the entire style turn absolutely incredible. At the front, her hair is plaited into cornrows up to half of her head and after that, the braids are left to hang.
This style will make you the center of attention at your workplace for days.
Best three-strand braided black hairstyles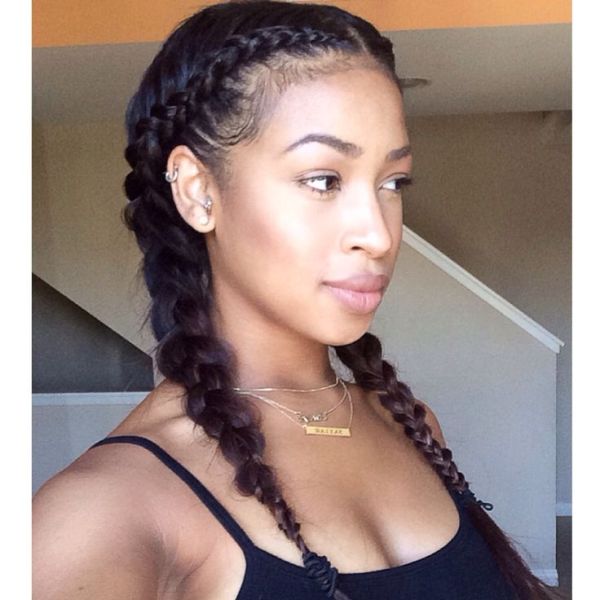 Source:-
Instead of those numerous and intricate braids that take quite a long time to create, you can choose to go in for these two braids and still look absolutely flawless.
These can be done in your own natural hair or you could add extension braids if your hair is not that long. This is a new way to experiment with the center part and keep hair completely away from your face.
For femininity the braids are left to fall upon the shoulders and not to the back, it is very simple but also very beautiful.  
Best fashionable braided black hairstyles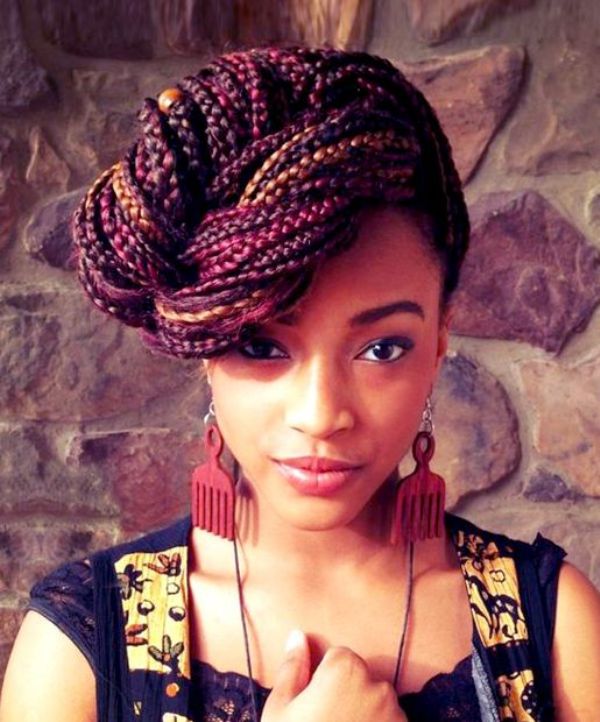 Source:-
Box braids will allow you to taste your creativity in so many different ways, you can be so practical with them like you can see in the image the braids are used to create a super unique yet very flattering bang.
When your braids are long enough you can easily pull them off into several styles, in this case, they were folded into a thick bang that hangs just above one of her eyes and anyone will agree with me that she looks absolutely splendid.
Besides her eye-catching earrings, I also love how the color blends beautifully with her skin tone.  
Best braided black hairstyles for little girls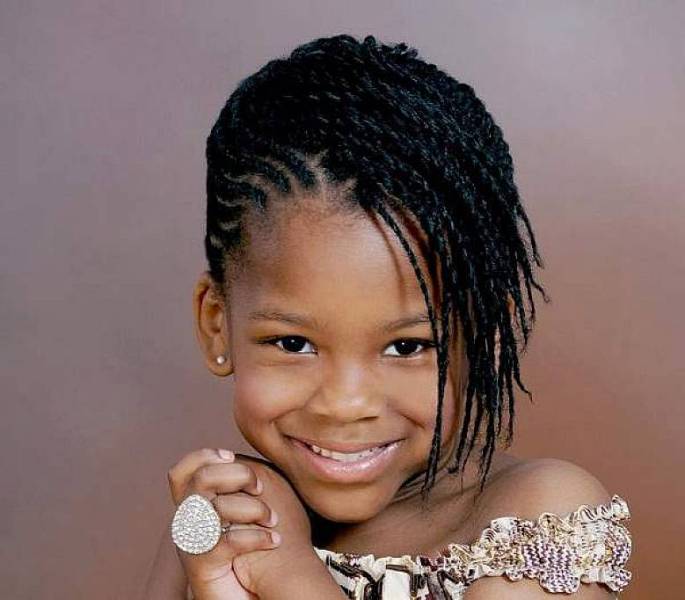 Source:-
As you keep yourself looking all fabulous it is important that you also make your little princess look her best. This hairstyle will make your little one look very stylish without making her uncomfortable at all reason being on the sides hair is braided away to the back of her head and in the middle, a few braid strands are left to hang down slightly towards her face without tapping onto her skin.
She can take this style to school and other many children's events so you will only be left with the struggle of getting the perfect outfit for wherever she will be going.  
Best box braided black hairstyles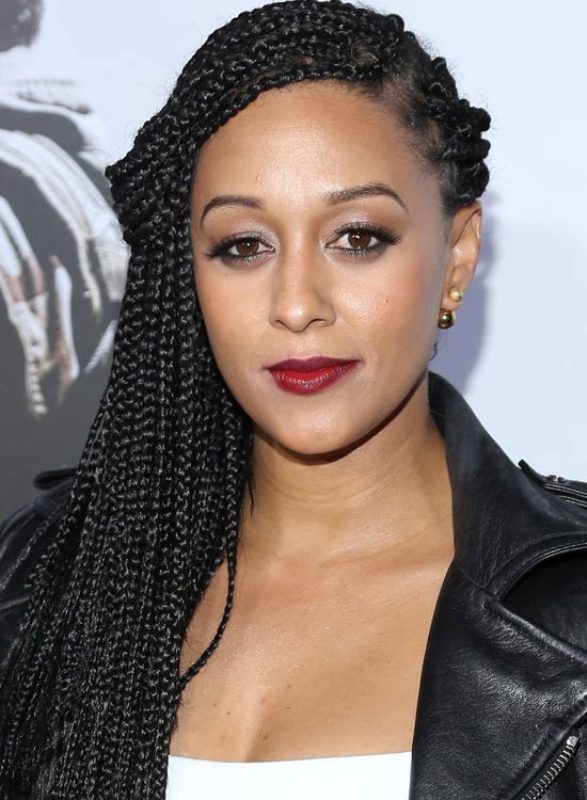 Source:-
And on this image, the stunningly beautiful lady shows off her braids in form of a half-held side swept up do style. Her braids are parted from the side and held only to one side making her pretty face stand out really well.
For the round-face-shaped ladies out there, this is the braided hairstyle that you cannot afford to miss. It is a very simple but very attractive look to wear on those casual days.  
Best crotchet braided black hairstyles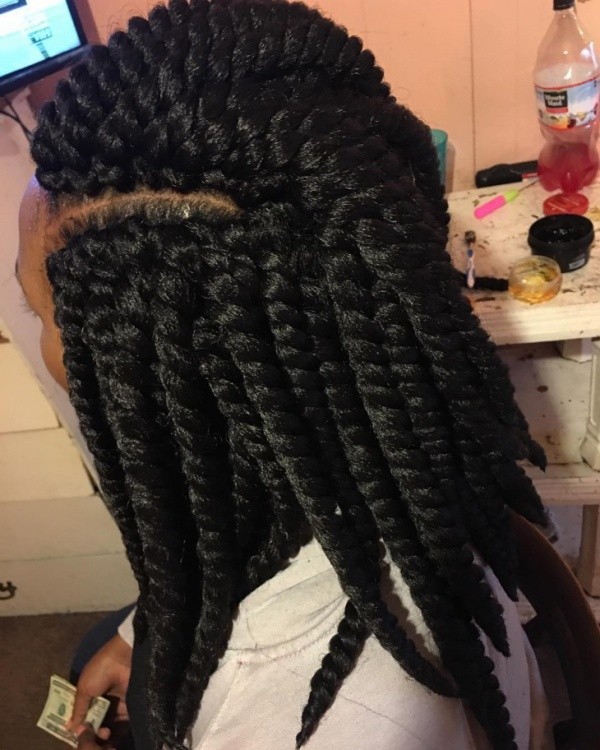 Source:-
These really big black medium-sized twist braids are another way to stand out. The large size and shiny appearance are what we love most about the crotchet braids.
Crotchet braids are very a good idea when you are not ready to wait for long for your entire head to be braided since they are stitched not plaited.
For these braids, you start with big cornrows and thereafter the crotchets are carefully stitched on, the biggest advantage about them is that they look great on all face shapes.
Best stunning braided black hairstyles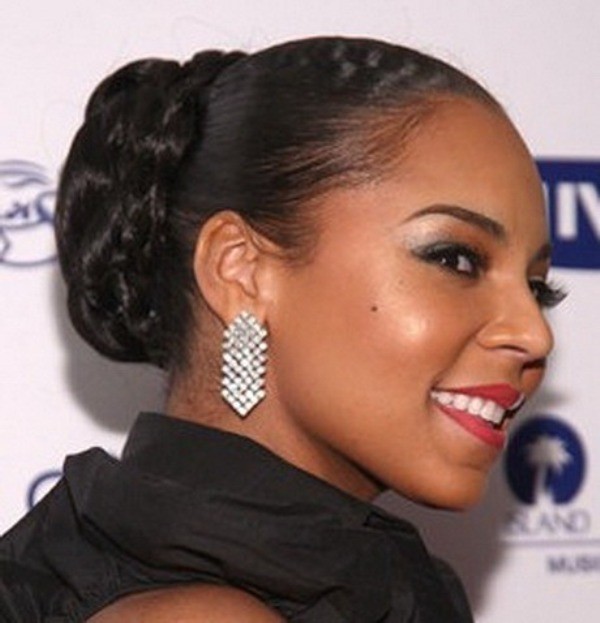 Source:-
With your sleek and well-treated hair, you will beautifully pull off this back-held braided bun hairstyle. Creating this style is super easy as you simply have to brush your hair behind ensuring that there are no strands tying because it is a very neat style before you hold the hair to the back and secure it with a braid.
Rounding up the bun with a braid will not only secure the style but also give it detail. Such hairstyles look best with neutral makeup just like in this image.  
Best long-braided black hairstyles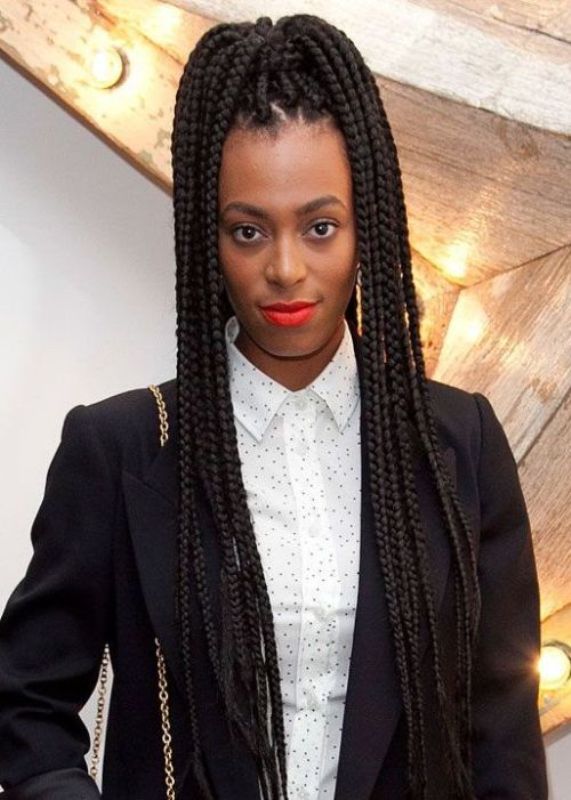 Source:-
The extraordinarily beautiful Solange comes out looking all stunning with super long box braids styled into an easy updo. This style is definitely very fashionable and will take you places but we love the length of the braids even more reason being they are very attention-grabbing.
The style suits all types of faces but just to prevent your hair from getting any kind of damage, you are advised to only keep such long braids in for about 4-6weeks not any longer than that.
Best short braided black hairstyles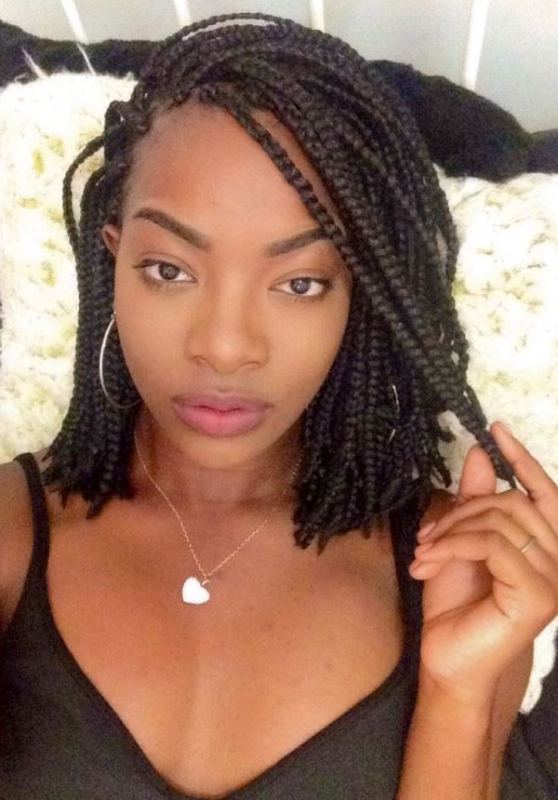 Source:-
If you are not a fan of long hair, you can still go in for short braided hairstyles just like the one featured in the above image. Short braids are very flattering and playful, you will enjoy them without having to do too much to make them look fabulous. This style will be appropriate for work and any other casual events that you will have planned with your friends.  
Best unique braided black hairstyles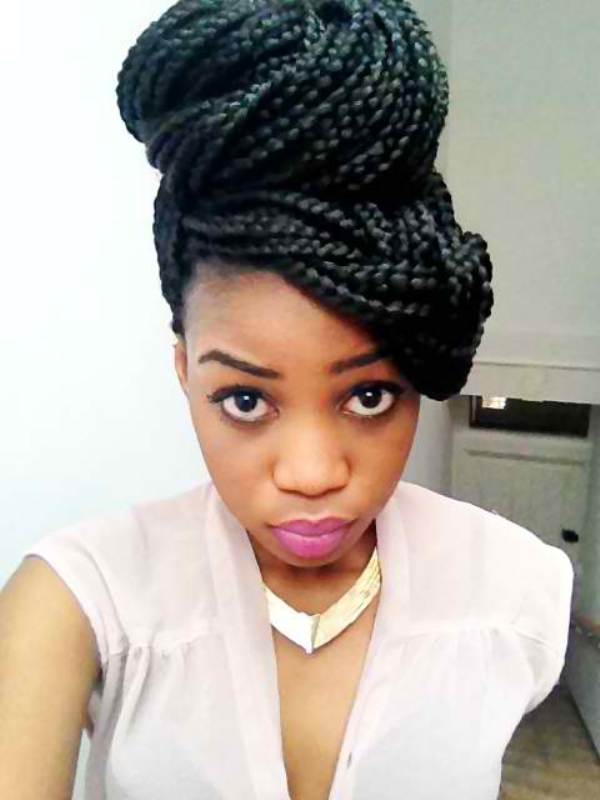 Source:-
Planning to attend a formal event this weekend and you don't know which hairstyle to wear, I can assure you that this braided updo with a side swept bang will exquisitely have you sorted.
Being black in color, you don't have to worry about it not being appropriate for your skin tone. Some of the braids are held up to the crown into a large bun while the rest of them are braided to the front to form the bang.  
Best head-turning braided black hairstyles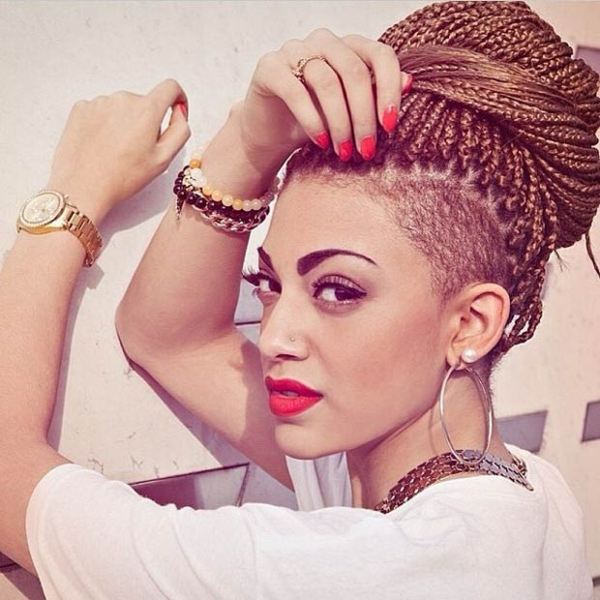 Source:-
Even after the side shaved hairstyles being around for some time, they haven't ceased being trendy and very attractive, because it takes a certain level of confidence to rock this kind of look.
In this particular image, the sides are shaved down to around one inch while the middle area is braided and held up into the famous large bun. The style is glamorous but damn that red lipstick is just everything she needed to spice it up even more.
Best braided black hairstyles with a low bun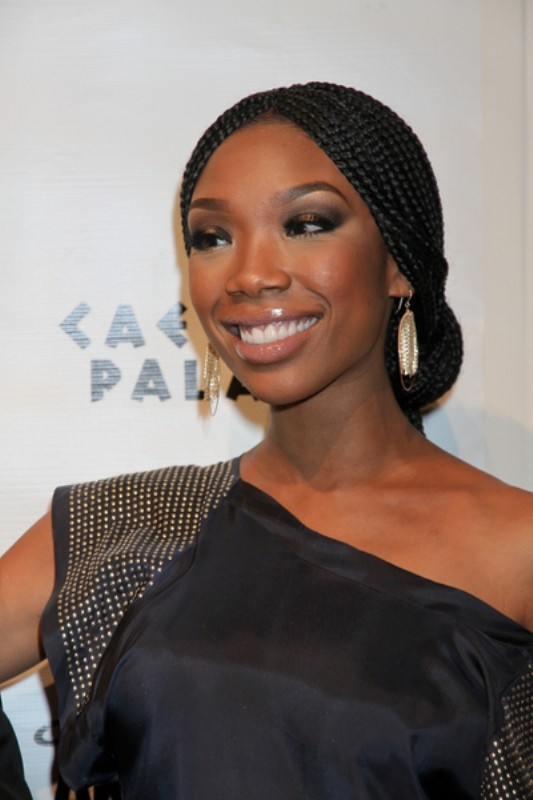 Source:-
Every woman loves to look elegant and the most interesting thing about being elegant is that you don't have to do too much to get the level of elegance you are looking for. In this picture, we spot the songstress Brandy wearing box braids with a center part and behind a low-held bun. This looks so effortless but it is really amazing how she looks so beautiful and classy.
Best big and small braided black hairstyles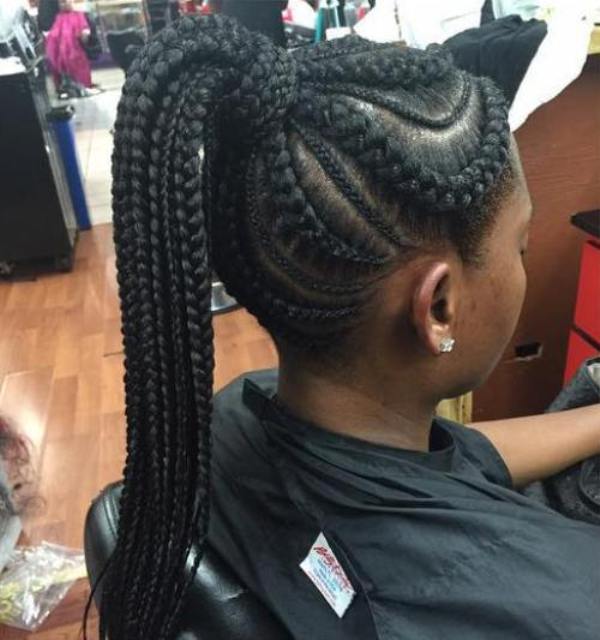 Source:-
The days of wearing plain ponytails are long gone, this is the trend where even the simplest hairstyles are given a lot of details just like in the image above where the ponytail style is taken to a whole new level.
The combination of small and big braids is very interesting, it makes the ponytail even more versatile than it already is. The braids are held up with a few braid strands making it appropriate for work occasions however you can as well hold it in place with a more colorful or more accessorized puff holder to give it a more exciting finish.  
Best braided black hairstyles for prom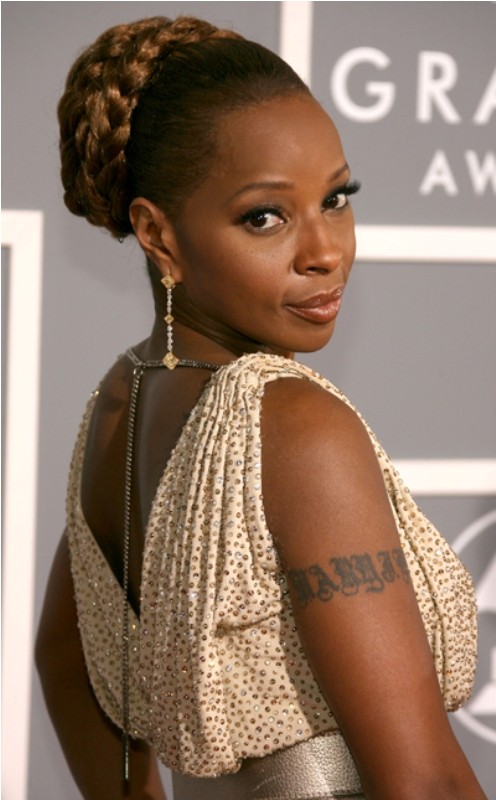 Source:-
Your prom night will always be one of the most memorable nights of your life so you have every reason to look the best you can and we suggest this wonderful upheld and braided hairstyle for you.
In this style hair from the sides, front, and back is all pulled up to the crown and held into a very large round bun that is later surrounded with a braid. Now all you will have left to do is get a gorgeous outfit to match your gorgeous hairstyle.  
Best easy braided black hairstyles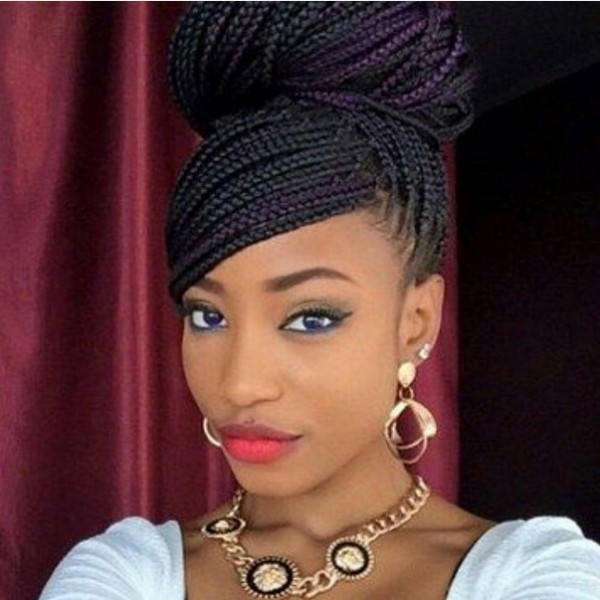 Source:-
Bun hairstyles are one of the most loved hairstyles when it comes to braids and the reason why is quite self-explanatory, the moment you pull off the bun you are ready for any kind of occasion. This beauty here chose to detail her black braids with some purple highlights and then just accessorized the lookup with the perfect jewelry. You won't regret giving this hairstyle a try.
Best braided updo black hairstyle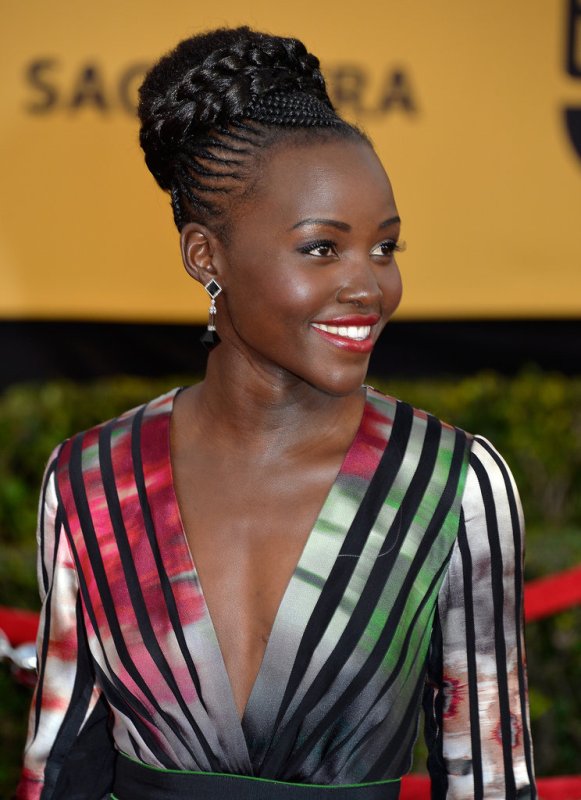 Source:-
Lupita Nyongo is a star and obviously, stars are meant to look as fabulous as she looks with this hairstyle. Her neatly made cornrows are secured to the crown with a braid and if she was taking this look to the red carpet, I am more than sure that she came out as of the most outstanding women that day.  
Box braids with brown highlights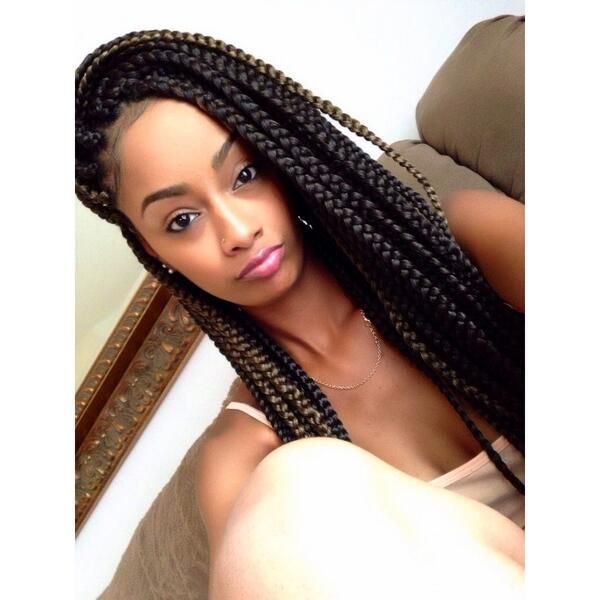 Source:-
A deep side part with some color highlights will keep you looking absolutely trendy. While the highlights make you stand out, the deep part frames your face shape adorably to make you look like the princess that you really are. Braids are extremely versatile so if you don't like this deep side part you can as well part your hair in another way you prefer.
Long-side swept box braids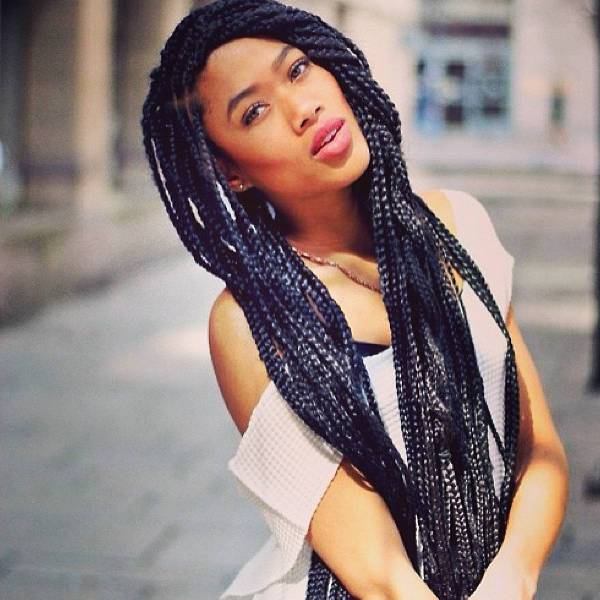 Source:-
With unbelievable layered length, deep side sweeps, and a touch of color, I can clearly say this style has everything you will fall in love with. Even with the length of these braids, her face shape still stands out through them therefore if you are looking for style, this hairstyle is exactly what you have been searching for. You won't go anywhere unnoticed when you look this glamorous. Any face shape will look great with these long-side parted braids.  
Black and grey braids with a bun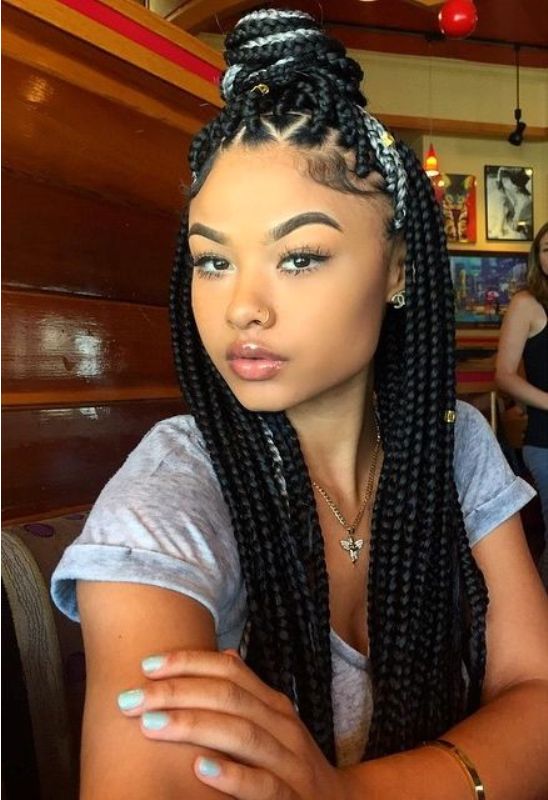 Source:-
For a youthful and charming appearance, these black and grey braids are just what you need. Besides the super stylish grey detail, this style also features a half-up bun and ponytail which altogether looks super sexy. I cannot forget to mention a touch of golden beads didn't do this style bad.  
Plaited back cornrow braids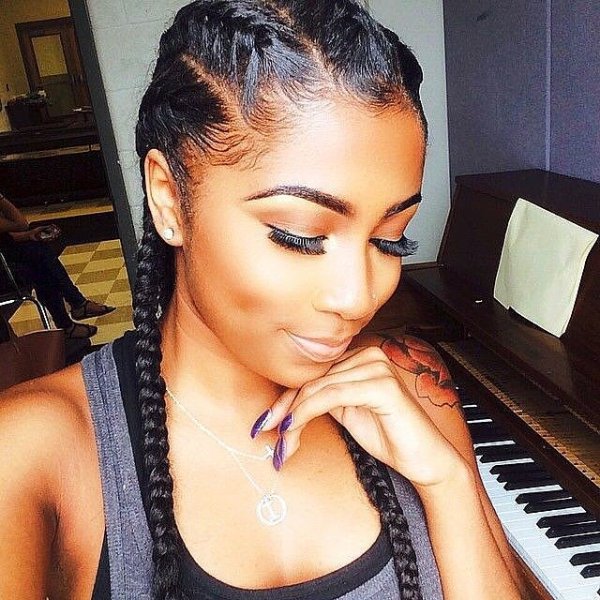 Source:-
When cornrows are worn right, they can turn out into the most beautiful look you ever had to do, they are very simple but they create a really stunning appearance. Cornrows can go along with any outfit whether it is that tiny mini dress you love so much, a skirt, jeans, or a maxi dress and even more interestingly they suit so many different occasions.
Best black braided hairstyles with bangs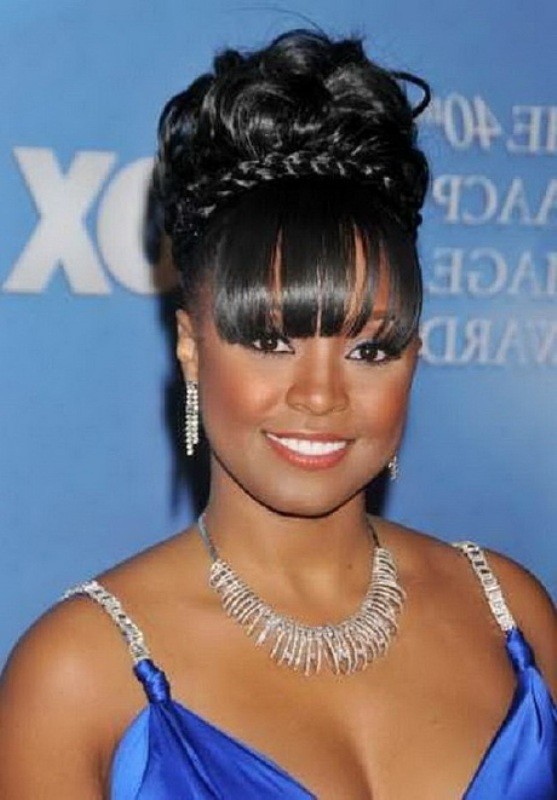 Source:-
It doesn't matter how long these long bangs have lasted, they have been able to stand the taste of time so they will forever be fashionable and that is the main reason for you to rock them.
We love this look but we must also warn you about the fact that it is not meant for every face shape. The long and square face shapes look best with a kind of bang as it cuts down on the length of the face to make you look extremely gorgeous.
Best criss-cross braided black hairstyles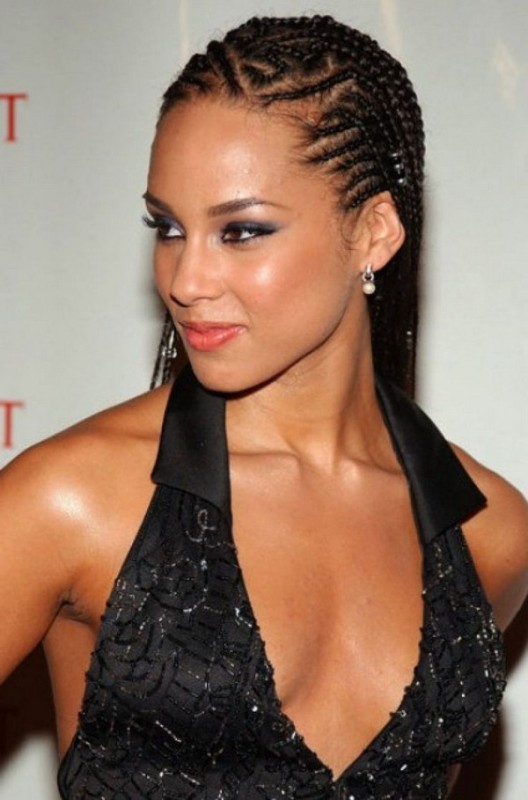 Source:-
Alicia keys is a natural beauty but we must also give credit to her stylist for making those beautiful and super unique braids every other time. In this look, she wore criss-cross braids in her natural hair and detailed them with black and transparent beads.
She has her pretty braids matched up with blue eye shadow and neutral-colored lipstick which leaves her looking natural but very I mean very beautiful.
Best Mohawk braided black hairstyles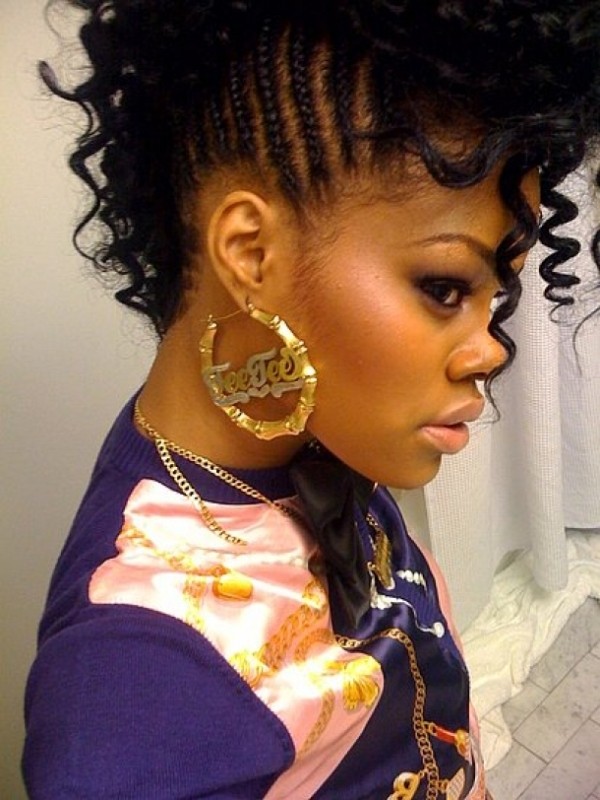 Source:-
In whichever way you wear your Mohawk, rest assured that it will come out looking fabulous. With cornrows on the sides and a curly top, there is just no way you will go wrong. This is a very chic and stylish look and in case you want to try it out on your natural hair, it is advisable to use a large or medium-sized curling iron for those charming curls on top.  
Best braided black hairstyles for kids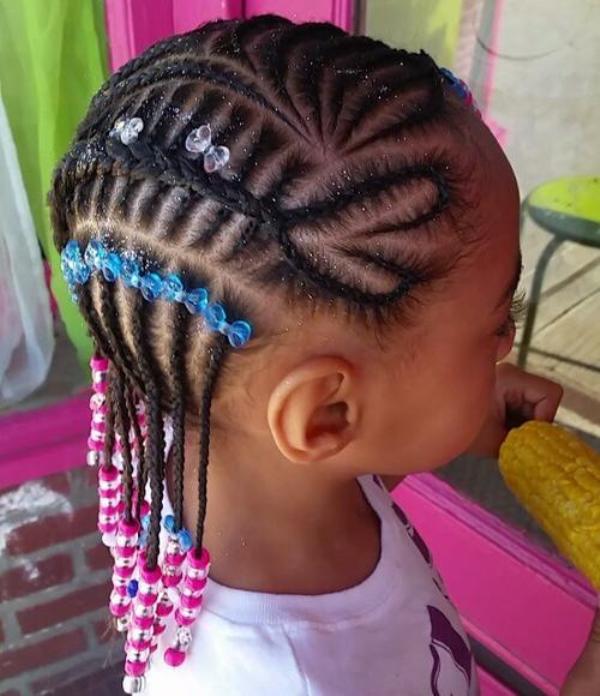 Source:-
With this style, your little girl will definitely be the center of attention everywhere she goes. The detail of the style which entails cornrows facing in different directions and different patterns, along with lots of colorful accessorizing beads make this look the fantasy of every little girl out there.
Besides making your little one look overly gorgeous this style also keeps her stunning hair well-protected. I am so much in love with how moisturized this little girl's hair is, it is a sign that her hair is well taken care of.
Best black braided hairstyles for oval face shapes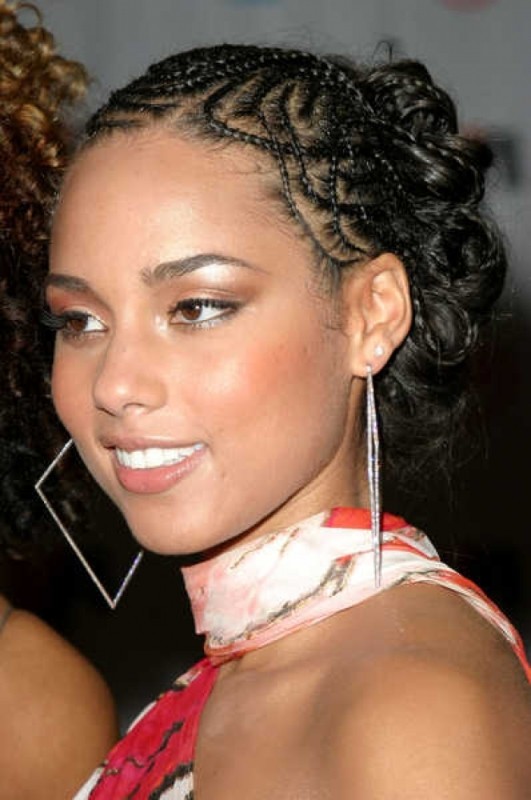 Source:-
Alicia once again makes a stunning appearance with intricately done cornrows in her gorgeous natural hair. This time round she has her hair style done into an updo that is quite messy at the back but very pretty.
You can wear this look with or without makeup but you make sure to have your jewelry on point. For all the oval-face-shaped ladies out there, don't let Alicia keys enjoy this look alone because you too can pull it off beautifully.
Best braided black hairstyles for black women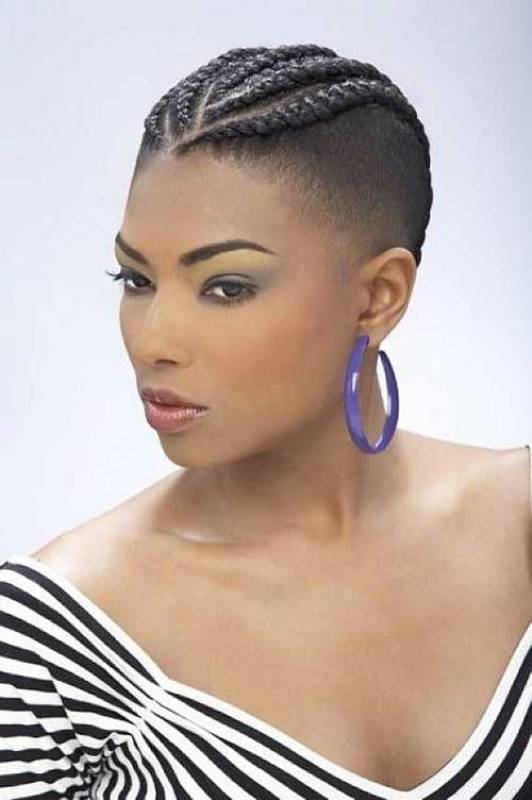 Source:-
And for my black women out there, there is definitely no need for you to shave off your hair when you want to try out the famous Mohawk hairstyle.
As we can see from the above image hair is neatly pulled from the sides to make it look like it has been shaved off and then beautifully braided in the middle of the head.
Her cornrows are then braided from the center of the hairline towards the back and we absolutely love how this style appeared, not to mention how neat it is all through.