Human Hair Wigs For African American Women
Let's continue the discussion on African American Human hair wigs, they are overly popular due to their softness, remarkable shine, and the way they make you look naturally beautiful.
Human hair wigs are much easier to manage as they can be washed and styled just the way you do with your natural hair. There is a wide variety of styles and lengths of human hair that you can choose from to have that unique and outstanding look.
Now we all know that African Americans have some of the most difficult hair types to cater to because of their thickness and how frizzy they tend to get. Human hair wigs are therefore a perfect alternative to go in for, here are some amazing ones that you can choose from.
Wavy African American Human Hair Wigs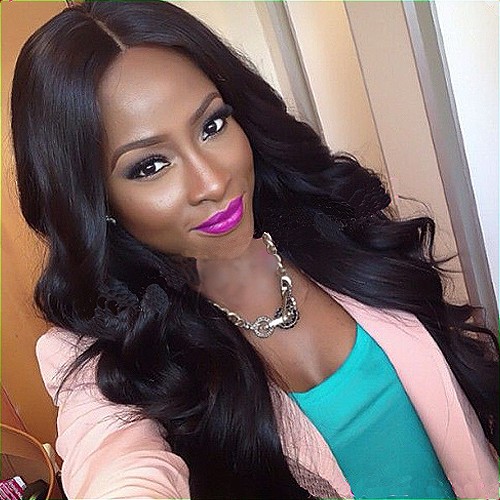 There is something about long and wavy human hair wigs that makes the person wearing them have that spark and we can clearly see that from the way she looked in the above image.
The wig is styled with a center part leaving it to flow down below her shoulders on both sides, the center part is overly trendy and so is the wavy style.
On top, the wig is straight but it later becomes wavy from the middle to the ends which not only gives her square face the perfect frame but also creates the most feminine appearance.
The elegance that this wig exhibits will take you to all formal events like work meetings, to the office, and also to unofficial events. I also love how her purple lipstick combines with her skin tone and makes a great blend with her wig.
How to style the wavy African American human hair wig:
Use a flat iron to straighten the upper part: the style is straight on the roots so use a flat iron to smooth and get rid of any tangles. Only iron the wig to the middle since the rest is wavy.
Use a curling wand from the middle to the rest of the hair, while creating the waves endeavor to curve the ends away from the face as they lay upon your shoulders.
Remember to spray the wig after styling because, unlike natural hair that has its own now natural oil, wigs only depend on the oil you will add to you to look shiny and attractive.
Short African American Human Hair Wigs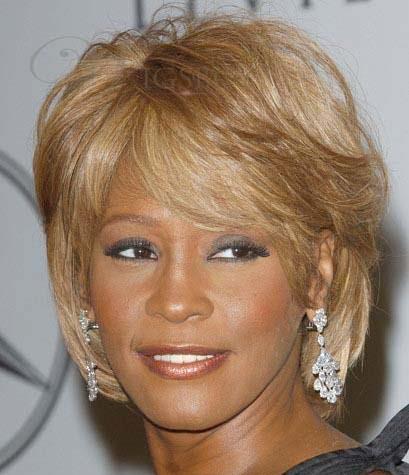 If you are a short hair lover who feels like short hair is what keeps you overly comfortable then this short wig will definitely work for you.
The main thing that I have always loved about short wigs is the fact that they require less maintenance and are less prone to frizz than long ones.
We are all familiar with how gorgeously Whitney Houston pulls her short wigs off and on this blonde one, she absolutely killed it. It is styled with lots of volume and texture and different layers that make it perfectly match her face shape.
It also features a layered bang cutting through from one side of her forehead and sweeping away over the eyebrow. At the back, it has curvy ends that face inwards to hug the nape and give more width to that slim face shape.
Tip: after washing your wig it is best to let air dry because, unlike long wigs, short wigs will only take a few minutes to dry. Much as it is okay to dry your wig with a blow dryer, in one way or another the heat will end up damaging the wig's fiber so it is best you air dry.
Medium African American Human Hair Wigs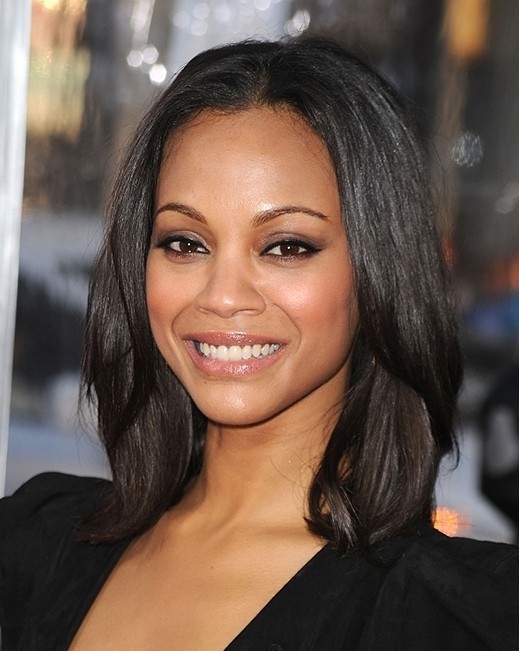 If you cannot go short and at the same time you are not a fan of extra-long wigs then the medium-length wig will surely meet your needs. It features a center part and bangs falling right on top of the shoulders, it is very simple but super classy at the same.
All face shapes can perfectly pull this one off yet it will take you to any kind of occasion you want to attend. Sometimes the simplest things are what make you the most outstanding woman and this wig is one of them.
Tip: to keep this simple wig looking splendid always make sure to only wash it with wig shampoo and conditioner, any other type of shampoo or bar soap will be too strong on the wig so please invest in a quality wig shampoo and conditioner to keep your wig extremely clean without causing it any damage.
Curly African American Human Hair Wigs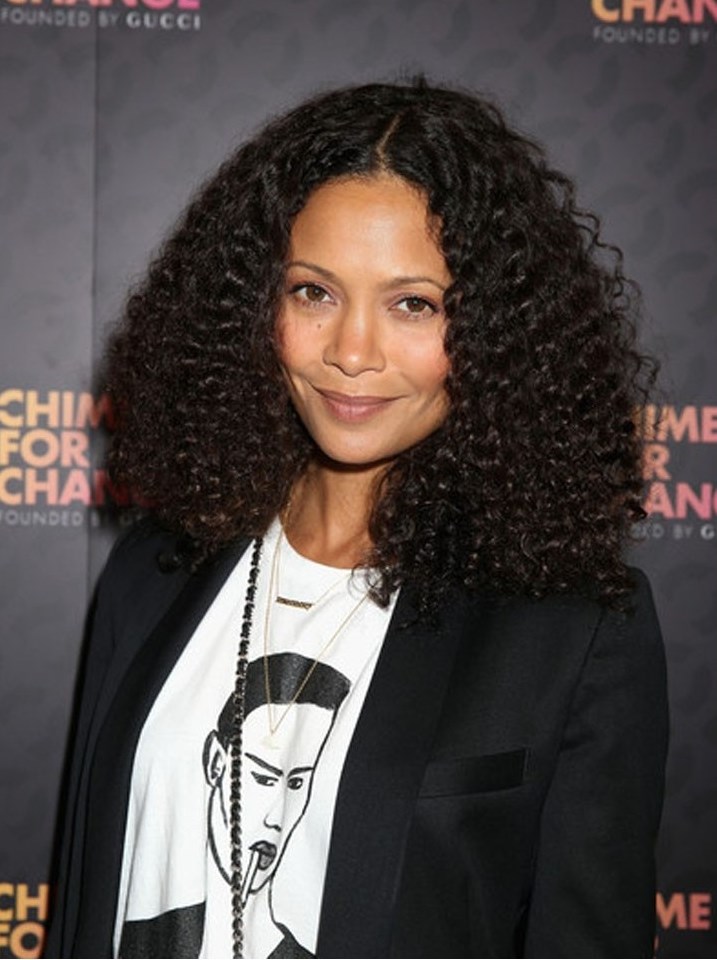 There is no doubt that curly is the sexiest hair to pull off and this curly wig will make you look extremely trendy. It has thick spiral curls tumbling down to her shoulders, with most of the volume concentrated on the end this wig makes her square face appear narrower.
Shiny spiral curls are very attractive and since it is human hair you will not need to style them, only apply a wig spray to prevent the wig from getting too much frizz.
Tip: maintaining a curly wig with all that much volume may not be that simple but with constant spraying, you will keep the wig looking beautiful. Also, comb through the wig but do it gently because using too much force will make fiber fly away thus destroying the wig much faster.
Long African American Human Hair Wigs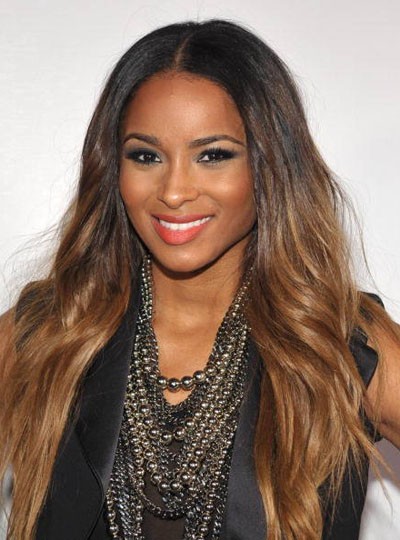 If you are not the type that does not like to add color to your hair but because of the way ombre is getting more and more popular every other day you cannot afford to miss out on the style then simply rock the ombre wig.
With the dark skin tone that African American women have, such neutral colors do not just make them stand out but make the perfect blend for their skin tone.
This ombre wig is straight on the roots while the rest of it is wavy, it is lengthy with bangs going all the way down passed her shoulders. On the roots it is black in color however it later turns into a dark shade of brown and a much brighter brown shade on the ends.
Tip: if you want a colored wig then buy one that is already colored because it is not advisable to color treat your wig, color has chemicals that are way too strong on wig fiber.