Tips On How To Style Short Hair
Today, many women love
short hairstyles
and this mainly because these hairstyles are easy to style and maintain compared to long-hairstyles and braided-hairstyles. Additionally, you can also achieve a variety of styles with short hair and I have provided you with some of the steps on how to achieve different style-option if you have short hair.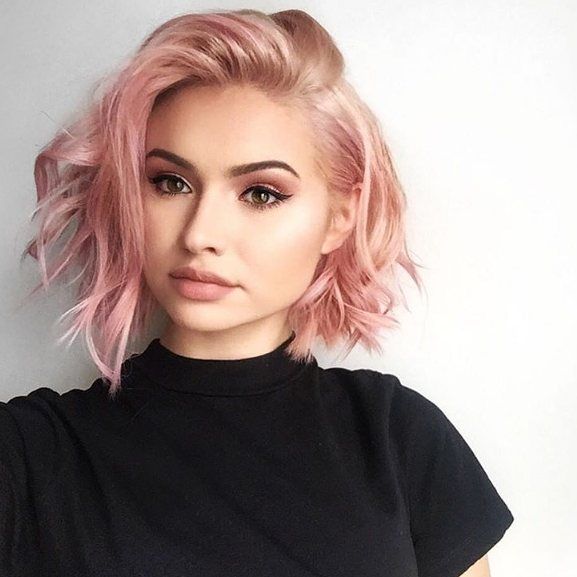 METHOD-1: How to style a sleek and straight short-hairstyle:
Wash hair with a shampoo and water: you will begin by washing your hair using warm-water coupled with a good shampoo that contains natural ingredients inorder to avoid hair-frizz. Afterwards, condition your hair and rinse it well then use a towel to pat-out any excess moisture from hair.
Add a hair straightening product: when your hair has dried-up but a bit moist, apply a smoothing-serum to your hair starting from the roots to the tips. On the other hand, you can also use any other hair-product meant for straightening hair or even a anti-frizz serum/gel.
Divide your hair into sections: a straight and sleek hairstyle will look great when hair is parted onto the sides rather than straight down the middle. So, consider using a comb to part you're into 2-sections and then smooth it down on both sections.
Comb as you blow-dry your hair: use a round-brush and blow-dryer to smoothen and dry your hair. Pick your hair up at the roots using a round-brush and then run the brush through hair as blow-dry until all the hair is completely dry. However, don't hold the hair-dryer too-close to the head inorder to avoid hair-frizz and also don't use a diffuser because it prevents air from flowing over your head in a direct-stream resulting into waves and not straight-hair.
Begin using a straightening-iron over hair: get a straightening-iron, set it to a moderate heat-setting and then use it to touch-up any areas that were not completely straightened-up with the blow-dryer. In fact, you will need to concentrate most on the tips of your hair during the straightening-process.
Create bangs if you like: you may sweep your hair across your forehead inorder to create a side-swept bang/fringe. You will have to use your fingers or comb to move the tips of your bangs/fringe across the forehead.
Finish-up the styling process: finish by applying a hold and shine-enhancing hairspray all-over your straight, sleek short hairstyle. So, hold the hairspray over your head and then apply a few squirts over your hair. Lastly, you may add a headband, barrettes or hairclip to your hair inorder to add some style to your sleek short-hairstyle.
METHOD-2: How to create a tousled short-hairspray:
Wash-up your hair: wash your hair with a good conditioning-shampoo inorder to prepare it for wavy and tousled look. In fact, it's recommended to use hair-products that add extra volume or body to your hair inorder to achieve effective tousled styling results. Afterwards, part your hair with a clean-towel inorder to remove any excess water.
Blow-dry hair with a diffuser: you will have to blow-dry your hair using a blow-dryer with the diffuser attached inorder to achieve effective styling results. In fact, a diffuser helps to diffuse the flow of hot-air inorder to preserve your hair's natural waves and curls. However, if you don't have a diffuser, then consider using the lowest heat-setting of the hair-dryer to thoroughly dry hair.
Apply a texturizing spray over hair: use a salt-based hairspray inorder to add texture and layers to your hair. However, if you don't have a texturizing-spray then consider mixing your own solution using salt and water then spray it over your hair and finish by scrunching the hair-tips with fingers.
Finish by styling hair using pomade: get a good hair-pomade and then rub a small amount between your hands. Afterwards, run the hands through your hair inorder to distribute the pomade. Additionally, smooth the top-section of hair forward from the back to the front inorder to create side-swept bang/fringe if you like.
METHOD-3: How to create a spiky short-hairstyle:
Wash and dry-up hair: you will need to wash your hair and then leave it to completely dry for best styling results. In fact, a spiky-hairstyle can be achieved well when your hair isn't freshly washed and when it's dry. So, consider waiting for at least a day or more after washing hair and begin styling it.
Section-up hair and apply a styling-gel: apply a small amount of extra-strength gel into your hands and then run it up each section of hair starting from the roots to the tips. Hold each section in place for a moment inorder to ensure that hair stays spiked in every section.
Set your hairstyle: after making as many spikes as your desire within your hair, spray your entire head of hair with hairspray inorder achieve extra-hold and shine. Lastly, consider wearing a headband inorder to help hold hair in place if you're like.
METHOD-4: How to create a slicked-back short-hairstyle:
Begin with unwashed and dry hair: this hairstyle requires holding your hair in place against that natural grain and that's why you need to start styling hair with a little natural-oil distributed throughout inorder to achieve extra-hold. In fact, if you consider styling washed and moist hair then expect it to flop forward afterwards.
Comb hair backwards: use a hair-comb to brush your short-hair away from the face and then straight towards the back-section of your head. So, insert the comb at the roots and then lift hair form your head without pulling the comb through. This will actually help to add some extra-volume to the slicked-back short hairstyle. On the other hand, for a super-slicked look consider skipping the volume-adding technique and just comb your hair backwards very close to the scalp. For a less-severe look consider parting your hair on one-side and then slick it around the front and then back-section for best results.
Apply a hairspray to your styled-hair: apply a maximum-hold spray all over your hair inorder to hold the style into place. On the other hand, you may consider wearing a headband to prevent your hair form coming forward due to applying a hairspray.