Tips On How To Dye Your Hair Purple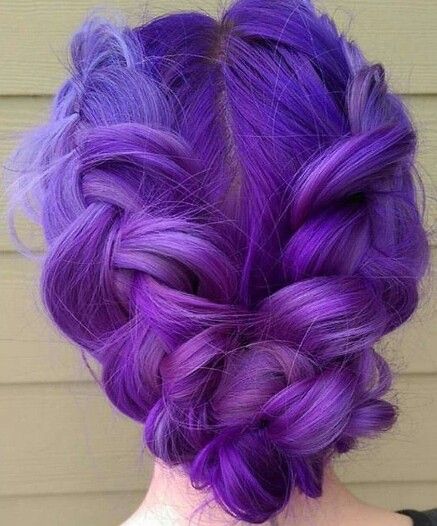 Dyeing your hair to a unique color like purple can be a great way to express yourself as a lady and young girl. in fact, purple is available in different shades that you can choose from which include;
Adore Purple Rage, Adore Violet Gem, Crazy Color Burgundy, Crazy Color Hot Purple, Crazy Color Lavender, Crazy Color Lilac, Crazy Color Marshmallow, Directions Violet, Special Effects Pimpin Purple, Stargazer Plume, Stargazer Purple, Stargazer Violet, and a lot more.
Turning your hair purple can be expensive in case you go to the salon and it can also be a hassle if you decide to do it yourself while at home.
So, I have decided to provide you with some of the steps that you can follow in order to dye your hair purple easily and without damaging your hair.
How to prepare your hair for dyeing
Get your Hair trimmed to a desired length or shape:
You will have to first trim your hair to a desired length of style before dyeing in order to achieve effective results. It's very troubling to first dye hair and then realize that you need to have a new hairstyle.
Consider your hair's natural color:
In case your hair has a natural dark shade then it will be harder to turn it into a purple shade. So, you will need to go for a darker purple shade for best results but still, the purple color may not be as vibrant as that of lighter hair.
Choose a purple color shade that suits you:
It's normally recommended not to go 2-shades lighter or darker than your natural hair color for the best results. Additionally, it's best, to begin with, a lighter shade then consider going for darker shades if you want.
Some purple shades may not work with skin tone and this implies that you need to first choose a purple shade that matches your skin tone in order to achieve great looks.
For example, if you have a pale-skin the bright purple shades could make you appear to be glowing.
Get and prepare your dyeing kit:
You will need to get a hair dye kit and also gather other extra items to use during the dyeing process. You will also need to gather extra items like; hair clips, rubber gloves, Vaseline, old clothes/towels, a timer and dyeing brushes, and a lot more in order to make the hair dyeing process easier.
Find or ask a friend to help you:
Although you can dye hair on your own, the dyeing process will be much easier if you do it with help from a friend who can help you dye the hard-to-reach places hence making the dyeing-process efficient and effective.
How to dye your hair purple
Bleach hair if necessary:
You will need to first bleach your hair so that it can be able to take in the purple dye. However, you may skip the bleaching process if you have white-to-blonde hair and the fact is that bleaching hair is expensive and time-consuming.
You may also have to go through multiple rounds of bleaching in order to reach the desired hair-lightness but this can damage your hair by making it brittle and prone to breakages.
Wash hair a few days before dyeing it:
It's actually recommended to dye hair that is a bit "dirty" in order to achieve effective results. This is mainly because the natural oil that develops within the scalp help to prevent hair irritation and even makes hair much easier to work with during the dyeing process.
So, consider washing your hair for a few days just before dyeing it in order to achieve the best hair-coloring results.
Cover yourself before beginning the dyeing process:
Before you begin dyeing hair, you will need to wear old clothes and then cover your shoulders with an old towel in order to prevent the dye from dropping over you during the dyeing process.
You will also have to coat the hairline and ears with Vaseline in order to prevent the dye from getting onto your skin even consider placing some old towels on the floor where you're going to sit in order to prevent the dye from dropping onto the floor.
Mix-up the dye:
You will need to mix the dye by simply following the instructions given on the dye package. Most hair dyes require mixing before being applied to the hair and this implies that you will need to get a bowl and then mix your dye as recommended until you get a well-blended and smooth mixture to apply to the hair.
Apply the dye to the hair:
Start by applying a layer of dye at the hair roots while using a dye brush and working in sections. In fact, you should section up hair in order to make it easier to apply the dye.
Afterward, run the dye brush through the hair several times in order to ensure that the dye is thoroughly and evenly distributed within the hair, and then cover your hair with a shower in order to wait for the dye to soak in.
Wait for about 30-to-45 minutes for the dye to set into the hair but the time duration at times varies depending on the type of dye and hair type.
Rinse out your hair:
Once the recommended waiting time has passed, carefully rinse your hair until the water running through it runs clear in order to ensure that the dye is completely removed. In fact, the best way to rinse hair after dyeing it is to get into the shower and then lean backward as you run water through the hair.
How to maintain the color of your dyed hair
Always use a color-safe shampoo on your hair:
Most wild-color and semi-permanent colors will wash out from hair quickly unless you start using color-safe shampoo. So, always use a color-safe shampoo coupled with cool water to wash your colored hair in order to enable the color to last for longer within the hair.
Try using dry shampoos:
Dry shampoos actually play a great role when it comes to maintaining your brightly colored hair. In fact, dry shampoos won't strip off the hair color and will even prevent your hair from becoming too greasy.
Re-dye hair after 3-to-4 weeks:
you will need to re-dye your hair after 3-to-4 weeks in order to replenish its vibrant purple color. In fact, it's mostly the hair roots that will be most affected by color loss and you consider giving them extra attention during the dyeing process.
REFERENCE: