Tips On How To Dye Your Hair Neon Purple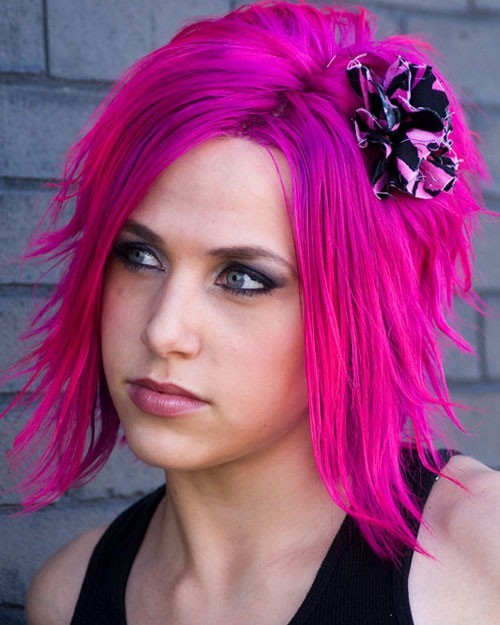 Many young girls and some ladies love colorful hair because it makes them look awesome and gorgeous. In fact, some of the bright hair colors loved by most ladies is purple, and this is mainly because purple features different shades of color and can even be mixed up with other hair colors in order to create an amazing effect within a specific hairstyle.
So, in this article, I'm going to provide you with some of the steps that you can follow in order to dye your hair neon-purple while at home.
Steps on how to dye your hair Neon-purple
Begin by washing your hair:
You will have to start by thoroughly washing your hair with a good-quality shampoo and then rinse it out using cool water. Avoid using a hair conditioner on your hair until you finish dyeing it, and this is mainly because the conditioner prevents the dye from sticking into the hair well.
It's usually recommended to wash your hair a few days before dyeing it so that natural oils can develop within the hair in order to protect it from getting damaged by bleaching and dyeing products.
Prepare your hair-dyeing tools:
There are several tools that you will need while dyeing your hair and these include; hair-clips, combs, a tinting brush, bowls, rubber gloves, Vaseline/petroleum jelly, and purple dye.
Put on old clothes and coat your hairline with Vaseline:
You will have to put on old clothes that you don't mind getting stained before you start bleaching and dyeing your hair. Additionally, coat your hairline and ears with some Vaseline in order to prevent the bleach and dye from sticking to the skin thus saving you a lot of time and effort to clean yourself after dyeing your hair.
Mix-up bleach powder with a cream developer:
Afterward, you will need to get bleach powder and cream powder and then mix them up in a bowl while using a small dye brush. Stir up the mixture until it turns into a frost, whipped cream just before applying it to your hair.
Apply the bleach mixture to the hair:
apply the mixed bleach to your hair using your finger or dye brush and make sure that the bleach is evenly distributed within your hair for best results. However, make sure that you are well protected in order to prevent the bleach from getting onto your clothes and skin during application.
Rinse out the bleach:
Wait for the bleach you set within the hair but the duration will depend on your hair type and then use cool water to rinse out the bleach. Wring-out your hair in order to remove excess water and then section up your hair.
Separate hair into different sections:
you will have to separate your hair into 3 to 6 sections depending on its thickness and length. Use clips to secure the sectioned hair and then prepare to dye it.
Tone your hair:
You may need to tone your hair in order to get rid of any brassiness. In fact, it's recommended to use a purple-based toner with lighter hair colors like ash-blonde.
So, mix up the toner and developer into a bowl while using a tint brush, and then apply the toner to your hair as you would with bleaching. Wait for about 15-to-20 minutes for the toner to set into the hair and rinse it out using cool water.
Get and mix up your purple dye:
get professional, high-quality purple dye with a special neon effect, and then mix it up in a bowl. Afterward, add some little conditioner into the mixture in order to dilute the purple color so that you can be able to achieve a great neon shade.
Apply the mixed dye to your hair:
Afterward, use a tint brush to apply this dye throughout the hair starting from the hair roots while moving toward the hair tips.
Make sure that each section of hair is dyed thoroughly and evenly beginning from the back section while moving towards the front section but remember to avoid dyeing the scalp.
On the other hand, make sure that your clothes and skin are well protected because it is very hard to remove the dye from your clothes or skin in case it drops on you accidentally during the dyeing process.
Cover hair with a shower cap after dyeing it:
You will have to cover your entire head of hair with a shower cap after the dyeing process in order to prevent the dye color from dripping or getting onto your skin and clothes and setting into the hair. So, consider leaving the shower cap on for about 1 hour and a half so that the dye sets into the hair well in order to achieve a great neon-purple effect after washing out the dye.
Wash out the purple dye:
Use clear water with vinegar to wash out the dye from the hair because this will help to set the color. In fact, continue rinsing your hair until you notice that the water running through is clear. Afterward, leave your hair to air-dry and then style it as required using color-safe hair products.
Maintain your bright-purple hair:
In order to maintain your neon-purple color, you will need to use a sulfate-free and peroxide-free shampoo in order to enable the purple color to last in your hair for longer. In fact, there are also purple shampoos and conditioners available on the market today and you just need to acquire and use these hair products in order to maintain that nice purple effect within your hair.
Additionally, consider re-dyeing your hair to purple most especially at the roots after 3 to 4 weeks in order to maintain a vibrant purple color throughout.
Tips To Consider when dyeing your hair neon-purple
Always mix the remaining hair dye with a conditioner
In order to boost the neon-purple color of your hair every time you have a shower. This will actually enable the neon-purple color to last for longer within your hair.
Apply a heat-protection product to your hair every time you use heat-styling tools on your colored hair.
A heat-protectant will actually help to protect your hair from the excessive heat from curling irons, blow-dryers, and flat irons.
Avoid applying any heat to hair after bleaching and dyeing it for about a week.
This is mainly because the bleaching and dyeing agents can weaken hair and applying heat to it shortly after will just increase hair damage and cause this like hair breakage and brittle hair strands.