Tips On How To Grow Hair Fast Naturally
Today, some women have decided to go for trending
short haircuts
inorder to look great and beautiful. However, growing long-hair again when someone is tired of short haircuts can be very hard and even takes time. However, there are a lot of ways you can use to help your hair grow thick, healthy, long and strong again as quickly as possible. So, below are some of the methods that will help you grow hair fast
naturally
again.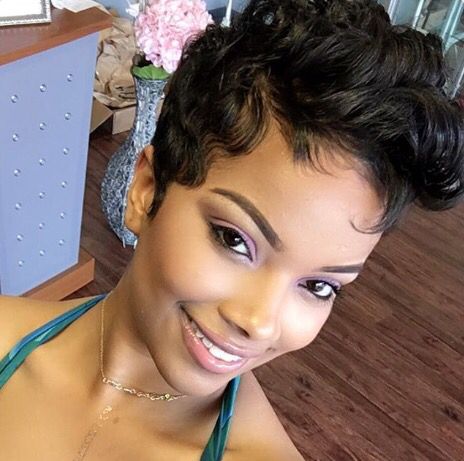 METHOD-1: Using Scalp and Hair-Treatments:
Massage the scalp: massaging any part of the body actually helps to improve on circulation by increasing on blood-flow within that area. So, massaging your scalp will increase on blood-flow thus stimulating your hair-follicles to grow fast. In fact, a scalp massage is a simple and easy technique that will help your hair grow healthy and fast. So, it's recommended to massage your scalp every time you take a shower by simply using your finger-tips to gently rub the scalp in a circular-motion. However, when massaging your scalp make sure that all sections of your head are covered which include; the crown, front, sides and back sections. Lastly, massaging your scalp also has extra-benefits of reducing on tension thus helping you feel calm.
Rub the scalp with essential-oils: some essential-oils have been proven to help stimulate new hair-growth and that's why it's recommended to massage your scalp with some of these essential-oils which include; peppermint, tea-tree oil and lemon-oil. So, you will have to apply about 5-to-10 drops of these oils over your fingertips and then gently massage your scalp after having a shower. On the other hand, each essential-oil has its own purpose like; peppermint helps to improve on circulation, tea-tree oil helps to sooth the scalp and reduces on dandruff while lemon-oil promotes healthy hair-growth.
Try an oil-conditioning treatment: an oil-conditioning treatment helps to promote hair-growth and also helps to keep your hair strong and soft. In fact, an oil-conditioning treatment that contains cocoanut-oil, almond-oil or castor-oil helps hair to grow thick and strong. So, to do an oil-conditioning treatment you will need your hair and then massage about 2-teaspoons of oil into your scalp for 5-minutes. afterwards, run your fingers through hair inorder to distribute the oil evenly from the roots to the tips then cover your hair with a shower-cap inorder to let the oil soak-in for about 1-to-2 hours. Finish by washing your hair with a shampoo and consider washing hair twice inorder to remove any excess or remaining oil.
Use a restorative hair-mask: incase your hair is thin or dry then treating it with a nutritious hair-mask will help restore its luster. In fact, a restorative hair-mask may not help hair grow fast but it will keep you from having to trim-off any split-ends which can take you a step backward towards the process of having longer hair again. So, below are the steps on how to make a good restorative hair-mask.
Crack one-egg into a bowl and then beat it lightly.
Mix-in 2-teaspoons of plain-yogurt and 1-teaspoon of honey.
Apply the mixture to wet-hair and then let it sit for about 20-minutes.
Finish by washing your hair with a good-shampoo inorder to remove any remaining hair-mask.
Comb hair with a boar-bristle brush: A boar-bristle brush is made with natural fibers that resemble the texture of human-hair. In fact, a boar-bristle brush is used to pull sebum which is natural-oil secreted by the scalp and then move this oil all the way to the tips of hair. This will actually protect your hair from the roots to the tips and even helps to keep it healthy and strong. So, below are some of the steps on how to use a boar-bristle brush.
Place the boar-bristle brush against your scalp and then rub it back and forth inorder to massage your head and pick-up any natural-oils.
Pull the boar-bristle brush from the roots to the tips of your hair in one long stroke. You should keep brushing the same section of hair until it becomes glossy and smooth.
Continue brushing hair from the roots to the tips until your entire head or scalp is massaged. Make sure that you use a boar bristle brush inorder to achieve effective results.
Avoid using certain substances/chemical on your hair: if your major aim is to grow hair fast, then it's very important to pay attention to the products your using. In fact, many products contain chemical that can damage your hair and even cause it to dry-out or become brittle. So, aim at using hair-products that are composed of majorly natural ingredients inorder to achieve effective hair-growth results. So, avoid using hair-products that contain chemicals like sulphates. silicones and alcohols because such chemicals can strip your hair of natural-oils, dry it out, weigh it down and even make it feel brittle.
METHOD-2: How to grow hair fast using a healthy-diet:
Eat a lot of proteins: your hair is mostly composed of proteins and that's why it's very important to make proteins an essential component of a hair-healthy diet. So, make sure that your eating a lot of protein-based foods inorder to help your grow fast. So, protein-based foods include lean-meat, fish, eggs, diary-products, beans, leafy-greens and tofu.
Eat foods containing biotin: biotin is actually a B-vitamin essential for hair-growth and biotin is mainly found in animal-products, vegetarians and vegans. So, to make sure that you get enough B-vitamins in your diet you will need to eat the following foods; eggs, salmon, nuts, avocados, wheat-bran and meat-products. However, if you think that you can't meet your B-vitamin needs with eating food alone, then consider taking a biotin-supplement.
Eat foods rich in vitamin A and C: vitamin A and C help to keep your hair looking glossy and healthy. In fact, if you lack these 2-vitamins then your hair will become weak and dull. So, to get these vitamins you will need to eat foods like; sweet-potatoes, kale, carrots, pumpkin and butternut-squash which are rich in vitamin-A while foods like pepper, citrus-fruits, leafy-greens, broccoli are rich in vitamin-C.
Eat food containing omega-3 fatty-acids: foods rich in omega-3 fatty-acids help to support your scalp's health and even promote healthy-growth of hair and skin-cells. In fact, omega-3 fatty-acids are found in foods like; sardines, salmon, flax-seeds, walnuts and mackerel.