Tips On How To Curl Short Hair
Short-hair is actually very versatile than long-hair and this mainly because short-hair is very easy to style and maintain. In fact, most women today are opting for
short-hairstyles
because they are very versatile and can even be styled in various ways just like long-hair. So, in this post I'm going to list for you some of the best ways you can curl your short hair inorder to look great as a woman.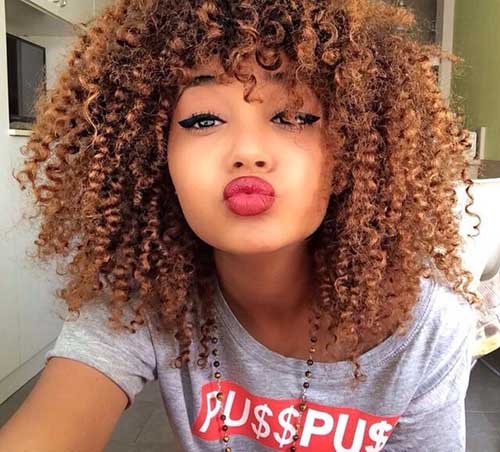 METHOD-1: How to curl short-hair using a curling-iron:
Wash and dry-up your hair: wash your hair thoroughly using a conditioning-shampoo and then run a blow-dryer over head inorder to dry-up your hair. In fact, putting hot curling-iron onto damp hair can damage your hair seriously. Lastly, consider keeping the blow-dryer at low-heat setting inorder to prevent over-heating your hair.
Brush your hair: afterwards, brush-out any tangles from your hair starting from the roots while moving towards the hair-ends. Continue brushing hair until you feel like the comb passes through the entire length easily. In fact, tangle-free hair is very easy to style and even helps to remove any split-ends from hair.
Apply a heat-protection spray to hair: you will need to apply a heat-protection spray to your hair just before you begin styling it with a curling-iron. In fact, a heat-protection spray helps to guard hair from the damage caused by the exposure to high-temperatures and even helps to prevent hair form becoming dry and frizzy.
Heat-up your curling-iron: most curling-irons actually require a little time to heat-up before being used. In fact, if you try to curl hair before it reaches the correct temperature then the curls won't hold into place well. On the other, curling-irons have different heat-settings that you easily play around with until you achieve the best results. However, consider setting your curling-iron to the lowest temperature possible inorder to avoid hair damage during the curling-process. For example, set the curling-iron to 320ºF (160ºC) for fine-hair and 430ºF (220ºC) for thicker-hair.
Part your hair into sections: if you have short-to-medium length hair then consider parting it into 2-section inorder to facilitate for easy styling. However, if your hair is shorter then consider not sectioning it but make sure that all sections are curled-up.
Start curling your short-hair: take a small section of hair and then wrap it around the curling-iron then begin curling hair. In fact, you should roll the hair within the curling-iron upwards towards the hair-roots but stop rolling hair a about an inch away from the roots inorder to prevent curling-iron from burning your scalp.
Hold the curling-iron in place for 10-seconds: you will now need to hold the curling-iron with hair wrapped around it for about 10-seconds inorder to allow the hair to heat-up and get great curls. However, the time you hold the curling-iron in place may vary depending on the type of curling-iron or set temperature-level.
Curl the entire head of hair: if you happen to like the way your first curls turned-out, then consider moving onto section of hair and do same curling-process as before inorder to achieve eve curls throughout your head. Additionally, make sure that you wrap all the curls around the curling-iron in the same direction inorder to achieve a uniform look and in case you prefer having less-uniform curls then consider mixing-up the curling-direction a little inorder to achieve those messy-curls.
Loosen-up your curls: in case you want your curls look a bit looser and softer then consider running your fingers through for a few times. This will help to pull-down and loosen-up your curls thus giving you an amazing look. However, never brush through your hair with a comb/brush because it will just loosen-up the curls too-much and even make them fall-out or disappear.
Set your curled hair: set your curls with a good hold and shine hairspray in case you're worried about the curls falling-out or becoming frizzy during the day. So, mist some hairspray over your head after finishing curling all the hair. In fact, never apply a hairspray to your curls while they are still wrapped around the curling-iron because a combination of heat and alcohol in hairspray will just fry-up your hair.
METHOD-2: How to curl short-hair using the hair-scrunching method:
Wash and condition your short-hair: the scrunching method actually works well on wet-hair and this implies that you will need to first wash your hair with a good volumizing and curl-enhancing shampoo coupled with warm-water. Afterwards, apply a small amount of conditioner into your short-hair and then gently brush through it inorder to remove any tangles/knots. Finish by thoroughly rinsing-out any products from your short-hair inorder to achieve effective styling results.
Towel-dry your short-hair: after washing and rinsing your hair, use a good towel to pat hair dry inorder to remove any excess water. However, avoid rubbing your hair with a towel because this will just damage it and make it look frizzy.
Apply the curling-product into hair: there are several hair curling-products available that can be used to scrunch-up your hair like; curling-gels, curling-creams, curling-mousse and curling-sprays. However, the best curling-product that provides defined and long-lasting curls is a curling-mousse. So, consider using a strong-hold and volumizing mousse if your hair is not naturally wavy inorder to achieve long-lasting and voluminous curls. On the other hand, to use the curling-mousse, you will need to shake it well before applying a small-amount of it into your hands and then work the mousse evenly throughout your hair using both hands. Lastly, only apply the mousse into the hair-ends and avoid putting it into the hair-roots because this will just weigh-down your short-hair or even make it look greasy.
Scrunch-up your short-hair: while keeping your head upside-down if it's of a short-to-medium length or straight upwards if it's very short, scrunch it up towards the scalp using your hands in a motion that you would use to crumple a piece-of-paper. Keep scrunching your hair for 1 or 2 minutes until you feel happy with the achieved curls.
Dry your short-hair: you can either let your hair air-dry naturally or use the scrunching motion every 5-minutes until hair dries up. On top of that, you may even use a blow-dryer with a diffuser-attachment to dry hair gently without blowing-out the curls. However, if your hair naturally curly/wavy then the air-dry method will work perfectly for you but if your hair is naturally straight or flat then consider using a diffuser for best styling results.