Steps On How To Wash Your Hair
Washing your hair is very important because it helps to remove any dirt and excess oils thus giving you a fresh and great look. In fact, you will need to use the right shampoo and conditioner coupled with the right washing and conditioning techniques inorder to achieve the best hair looks and feel. However, it's not recommended to wash hair on daily basis because this can actually dry it out and make it brittle or hard since the natural-oils within hair will be removed. So, you should consider washing your hair for at least 2-to-3 times a week for best results. All in all, below are some of the steps that you will need when it comes to washing and conditioning your hair and i think they will be of great use to you.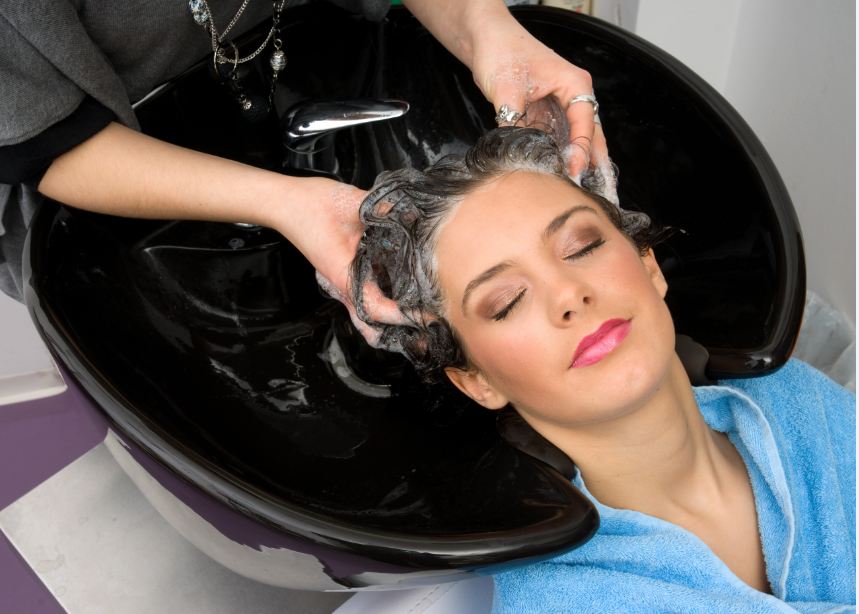 SECTION-1: How to wash your hair:
Rinse your hair with warm-water: you will need to thoroughly rinse and soak your hair with warm-water before applying a shampoo. In fact, using warm-water to soak your hair will help to open-up the cuticles within your hair and even help remove any dirt and build-up that may have accumulated within hair. On top of that, warm-water will even help your hair and scalp to absorb oils in the conditioner you're using. Lastly, consider filtering your water with a water-filter inorder to help extract any harsh-minerals from the water so that your hair doesn't get affected.
Condition long-hair before you shampoo it: if you have long-hair that falls past the shoulders then you need to condition it before you wash it with a shampoo. This is mainly because the ends of long-hair need more conditioning inorder to remain strong and to get protection from splitting. So, apply a small-amount of conditioner into your palms and then massage it gently into the ends of your long-hair. This process is very important because it will help protect your hair-ends form splitting and even add extra-shine to your long-hair.
Apply and massage a shampoo into the roots of hair: apply a quarter-sized amount of shampoo into your palm and then massage it through your hair in case you have short-to-medium length hair. However, if your hair is falls past the shoulders, then double the amount of shampoo you're supposed to apply into it. In fact, you will need to rub between your palms and then softly massage the shampoo into the roots of hair but avoid scrubbing hair during the process. Additionally, don't forget to shampoo the nape-section of your neck and avoid using tight circular-motions or scrubbing because this may damage your hair-cuticles.
Don't shampoo the ends of longer-hair: you should not shampoo the ends of longer-hair because the tips of your hair are the oldest and driest whereby they don't need to be ripped of any remaining natural-oils during the washing-process. In fact, you will only need more shampoo at the roots of your hair because that's where most of the oil is. However, if you have product build-up within your hair, then you can shampoo it with a purifying-shampoo for at least once a week.
Carefully rinse your hair inorder to remove any excess water: after washing your hair thoroughly with a good conditioning-shampoo, you will need to rinse it thoroughly with warm-water until all the shampoo is removed. Afterwards, consider running your fingers through short-hair inorder to wick-out any remaining water. If you have longer-hair, then gently squeeze-out any water at the midsection and end inorder to prepare hair for conditioning.
Use a towel to fairly dry-up hair: you will need to use a towel to pat your hair dry but don't squeeze or rub during the drying process because this may damage the hair-follicles. On top of that, make sure that your hair is left a bit moist inorder to facilitate for effective conditioning and styling results.
SECTION-2: How to condition your hair:
Apply and spread the conditioner evenly if your hair is less than 3-inches long: apply a quarter-sized amount of conditioner into your palms and then evenly spread it into your hair. Leave the conditioner within hair for about 3-minutes for best results. Afterwards, rinse your hair thoroughly with Luke-warm water into to remove all the conditioner. In fact, if you don't rinse your hair well after conditioning then it's most likely to get build-up or accumulate dirt in the long-run.
Apply the conditioner to the midsection and ends if you're having longer-hair: if you have longer-hair, rub a quarter-sized dollop of conditioner between your hands and then apply into your hair. In fact, you don't have to worry about applying the conditioner to the ends of hair or hair-roots because they already have enough oil. Afterwards clip your hair or use cover it with a shower-cap inorder to prevent the conditioner form rinsing-out when showering.
Leave the conditioner in your long-hair for about 10-minutes: you will need to leave the conditioner within your long-hair for about 10-minutes after having a shower. This will actually give your long-hair the extra-time it needs to absorb the oils within the conditioner. All in all, the longer your hair is conditioned, the more it will absorb the conditioner. However, remember to keep your hair clipped-up or covered during the waiting process so that nothing drops into it.
Rinse-up long-hair with cool-water: if you have long-hair, rinse it up using cool-water inorder shut the hair-cuticles and to keep the moisture and oils sealed within hair. Additionally, make sure that all the conditioner is rinsed out of your hair because if any conditioner stays within your hair then it will make hair look limp and oily.
Consider using a leave-in conditioner: there are actually leave-in conditioners for both men and women hair. In fact, leave-in conditioners help to strengthen hair and even make hair more flexible. So, a leave-in conditioner should be applied into damp-hair after having a shower. All in all, most people claim that leave-in conditioners help to make their hair more manageable in case they shampoo it daily and this makes leave-in conditioners a perfect alternative to regular conditioners.