Steps On How To Ombre Hair – Detailed Guide
Most women love adding color to their hair and ombre is one of the nice-looking colors that someone can try-out. However, changing your hair to ombre implies that you will have to bleach it or color it and this is simple and easy task if followed carefully. So, in this article I'm going to provide you with some of the general steps that you may follow when turning your hair to ombre.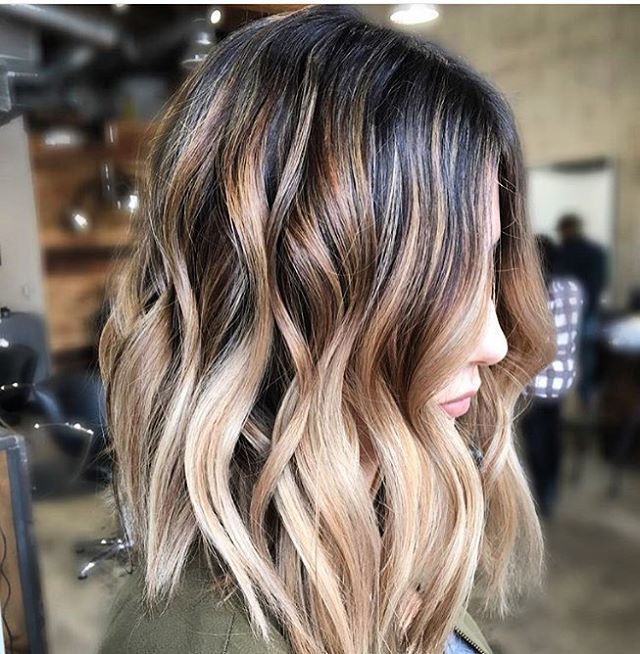 SECTION: How to prepare your hair for bleaching or coloring:
Select a desired ombre color or tone: you should consider choosing ombre color/tone that works well with your natural hair-color. Some of the regular colors/tones you can choose from include a lighter shade of brown, shade of red/auburn and a shade of blonde. On the other hand, there are actually 2-types of ombre which include traditional and reverse whereby the traditional-ombre features a lighter color at the tips of hair than at the roots while the reverse-ombre features a darker-tips and lighter-roots. All in all, should select an ombre-color that is not more that 2-shades lighter than your existing hair-color and also consider using mild or all-natural dyes that are less damaging to hair.
Plan and decide on where you want the fade to stop: you need to decide and choose where your natural hair-color and dyed-color will meet before you begin styling your hair. In fact, the lower-down your natural hair-color meets the dyed-hair the safer your look will be. This is because the higher the 2-colors meet, the bigger the risk of looking like you have grown-out hair-roots rather than a nice-looking ombre hairstyle. So, always consider toning your hair somewhere below the jaw-line because it's the best place for having 2-tones meet.
Brush your hair: afterwards, you will have to brush your hair well inorder to ensure that no-tangles are left within inorder to make the applying the beach easier. In fact, brushing hair even helps to ensure that hair is evenly colored thus giving you a nice-looking ombre-hairstyle.
Wear an old t-shirt or a styling-smock: there are higher chances of the bleach/dye dropping onto your clothes and skin during the bleaching-process and that's why you will need to put on a styling-mock or an old t-shirt to prevent the dye from dropping onto your good clothes or skin.
Wear your gloves: most dye-kits usually contain a pair of gloves that you can put on before you begin the dyeing-process. However, if the dye-kit doesn't come with gloves then consider getting and using normal rubber, latex or vinyl gloves. In fact, it's very important to wear gloves while dyeing your hair inorder to prevent bleaching your hands with color during the process.
SECTION-2: How to bleach your hair:
Mix-up the bleach: you will have to use a bleach to lift the color from the hair but this can be skipped if you're doing a reverse-ombre. On the other hand, there is also an option of using blonde hair-dye because it's safer on hair-strands but it won't lift as much color as other bleaching-methods. So, you will have to mix-up equal parts of peroxide and powdered bleach. Consider mixing 2oz each of the 20-volume peroxide and power until you get a complete creamy-mixture. Lastly, always mix the bleach in a well-ventilated area inorder to avoid inhaling any dangerous fumes during the mixing process.
Divide hair into sections: part your hair for the middle so that it's split into 2-halves then divide both halves into multiple sections as you prefer. In fact, f your hair is long and thick then you may consider dividing it into more sections, pin each section off from the rest of the hair and then tease-up the hair around the section you want the ombre-color to start. In fact, teasing hair helps to prevent a stark-line where you apply the bleach.
Select a bleach-application tool: some dye-kits are provided with a small brush which is used for applying the bleach. But if your dye-kit doesn't include this brush then consider getting a small and soft brush that is easy to hold and use during the bleaching-process.
Start bleaching your hair: you will have to add the bleach starting at the ends while working your way up to a desired fade-line. Additionally, make sure that the hair-strands are evenly coated with the bleach by using a mirror during the bleaching-process. Lastly, try to inspect your hair-strands inorder to check for any missing-spots before you complete the bleaching-process.
Wait for the bleach to set: you will now have to let the bleach set about 10-to-45 minutes depending on how light you want your hair to be. In fact, to check if the bleach is set you will need to remove/scratch the bleach from a single strand-of-hair after 10-to-20 minutes. So, if you like the color-shade that you're seeing then remove the rest of the bleach but if you to achieve a lighter-shade then leave the bleach on and check again after 5-to-10 minutes.
Wash-out the bleach: with your gloves on, rinse-out the bleach using warm-water then finish by washing your hair with a sulphate-free shampoo. However, make sure that all the bleach/dye on your hair is completely removed and if it's not, then your hair will continue to lighten-up over time. Lastly, wait to condition your hair after washing it.
SECTION-3: How to color your hair to ombre:
Dry-up your hair: after washing your hair, dry it up using a towel by simply patting it and avoid rubbing or pulling hair during the drying process. On the other hand, you may even consider waiting for about an hour or 2-hours inorder to allow your hair to air-dry.
Section-up your hair again: divide the hair into several sections and then tie off the hair-ends using elastic-bands or hair-clips inorder to make the coloring/dyeing job easier.
Put on your gloves: wear your gloves once again and these are usually provided with dye-kit and if they are not included within the dye-kit then consider using regular latex, rubber or vinyl gloves. All in all, it's very important to wear gloves during the dyeing-process inorder to prevent bleaching your hands.
Prepare your ombre-color: most hair-dyes actually require measuring and mixing so consider following the instructions provided on how to prepare your dye. On top of that, make sure that the dye is mixed in a well-ventilated area inorder to inorder to avoid over inhaling dangerous toxins from the dye.
Brush-in the dye into your hair: you will need to follow the application instructions that were provided with your hair-dye inorder to properly add the dye into your hair. In fact, if you're dyeing hair using traditional-ombre (lighter-ends), then consider applying the dye to all the bleached sections of your hair but a bit further up your hair-strands. If you're doing a reverse-ombre then consider adding color just up to the color fade-line of your hair and then add a second heavier coat near the hair-tips. Lastly, inspect your hair-strands using a mirror inorder to check for any missing spots so that you can be able to do the needful if necessary
Let the color set into your hair: check the instructions that come with the dye-kit inorder determine how long you should leave the dye to set within your hair before removing it. However, since you're hair has been bleached already, you won't have to leave in the dye for more than 10-minuites for best results.
Wash-out the hair-color: with your gloves still on, rinse-out any remaining hair-dye using warm-water and then was hair with a sulphate-free shampoo. Afterwards, apply a deep-conditioner to your hair inorder to help add some extra moisture and shine into the hair-locks.
Dry-up and style your hair: use a towel to pat hair dry or leave hair to air-dry and then style your hair as needed with the help of a blow-dryer. Finish by applying a hold and shine-enhancing spray for best results throughout the day.