How To Prevent Frizzy Hair – Step By Step Guide
Hair is very complicated because it's made-up of 3-layers and multiple-cells whereby it can easily get frizzy and damaged if not cared about properly. In fact, it's the hairs outer-layer (cuticle) that gets frizzy especially when you run a brush through dry,
curly hair
and this mainly because the shingles lift and create frizz on the surface of hair. All in all, below are some of the methods and steps that you can follow inorder to prevent
frizzy-hair
but you consider your hair-type before trying-out any of these steps.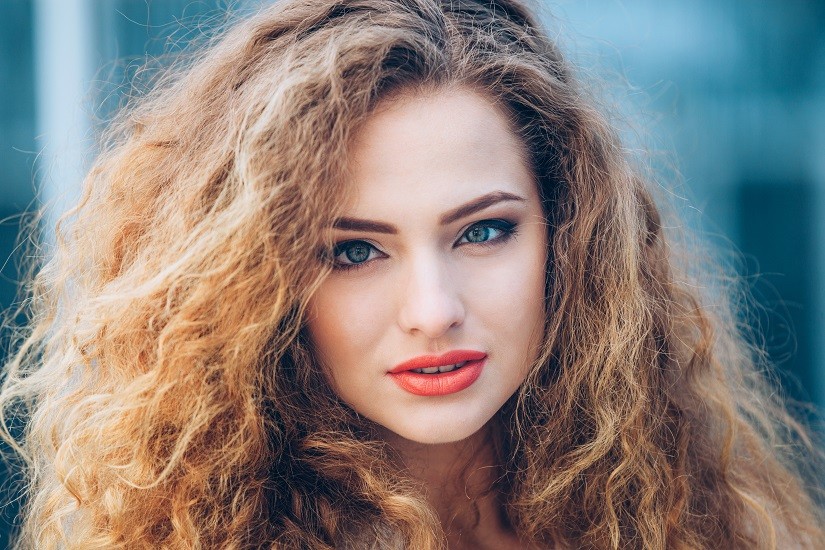 METHOD-1: Using professional hair-products to prevent frizzy-hair:
Apply a silicon-serum before styling your hair: using a silicon-serum before styling your hair is actually one of the best ways to prevent frizzy-hair. This is because silicon-serums operate by coating each strand of hair inorder to ensure that cuticles stay smooth and don't frizz-up. So, use a wide-toothed comb to apply the serum and them let the hair dry or style it along with a blow-dryer.
Apply a hairspray to the comb before brushing your hair: applying a hairspray to your comb just before using it to brush through your hair will help to weigh down your hair and even flatten it with lasting-hold.
Apply a children's detangling spray to your hair: using a children's detangling-spray on your hair will help to make combing easier. In fact, children's detangling-spray isn't as oily as other hair-products and it will even help brush through any tangles/knots easily while using a comb. Lastly, you can even create your own detangler-spray by simply filling a spray-bottle with a ⅓ hair-conditioner and ⅔ of water.
Use a shine-spray over your hair: lightly misting your hair with a shine-spray and then brushing through it will help to tackle any flyaways and any tiny frizzy-hairs that don't want to stay down.
Style your hair up into a bun or top-knot: in case you have just a few minutes to try to tame your frizzy-hair in the morning then the best solution is to just throw your hair into a stylish up-do and go for work. in fact, buns/top-knots are great options for a frizzy-hair up-do because they give your hair a messy but casual look.
Use a mild-shampoo with moisturizers on your hair: you should avoid using shampoos containing harsh-products because they can easily dry-out your hair to the extreme. so, always use a mild-shampoo with moisturizers on your hair and also consider conditioning your hair after shampooing it. on the other hand, the number of times you shampoo and condition your hair will depend on the type of your hair, scalp-type(oily or dry) and the water-quality in the shower.
Buy and use a protein-rich conditioner: using a protein-rich conditioner on your hair will help to manage hair-frizz and even give hair a nice, healthy shine. In fact, you should always use a deep-conditioner on your hair and then leave it in for about 5-minutes just before washing it out. However, if you have fine-hair, then consider using other regular hair-conditioners for best results.
Avoid using hair-products that contain alcohol: hair-products containing alcohol can actually dry-out your hair thus making it look frizzier. So, avoid using alcohol-based hair-products and consider using salon-quality hair-products because they don't have a long shelf-life and don't contain alcohol compared to drugstore hair-products.
MEHTOD-2: Using natural remedies to prevent frizzy-hair:
Tryout a carbonated water-rinse: a carbonated water-rinse is the simplest method for treating frizzy-hair. In fact, the low pH-level within carbonated-water helps to reduce on frizz thus making hair feel soft and smooth again. So, you will need to wash your hair with a good shampoo and conditioner and then give it a final-rinse using carbonated-water.
Use an apple, cider and vinegar rinse: the acidity in the apple, cider and vinegar solution helps to tame frizzy-hair and even gives your hair a healthy-shine. So, after shampooing and rinsing-out your hair, apply the apple, cider and vinegar solution into hair starting from the roots to the tips and then wait for about 30-seconds. Rinse-out the solution with cold-water and then condition your hair. Additionally, you should do this treatment for at least once a week inorder to prevent frizzy-hair.
Use an avocado and olive-oil mask on your hair: this mask actually acts as a natural-conditioner for your hair and fact is that avocado and olive-oil offer very good hydrating-benefits. additionally, avocado contains good fatty-acids and vitamin-E which help to tame frizzines with hair. so, mix-up an avocado with a splash of olive-oil in a bowl, wash your hair with a shampoo and rinse it then apply the mask allover your hair. let the mask rest for about 30-minutes to an hour and then thoroughly rinse it out. afterwards, conditon your hair inorder to remove the avocado-scent and you should remember to use this mask for atleast once or twice a week inorder to prevent hair dryness and frizz.
Hydrate your hair using raw-eggs: eggs actually contain a natural amino-acid that is highly beneficial in-terms of revitalizing hair-follicles and smoothing-down frizzy-hair. on of that, eggs also contain enzymes that kill bacteria and even remove unwanted oils on your scalp. so, get an egg and separate the yolk from the whites. pour the whites in a bowl and mix them with olive-oil and lemon then let the mask sit for about 30-minutes so that all the ingredients dissolve. Afterwards, apply the mask to your hair and leave it in for about 20-minutes then rinse-out the mask using cold-water and shampoo. However, if you find raw-eggs disgusting then consider using egg-oil within your mask.
Apply natural-oils to the ends of your hair: natural-oils like coconut-oil and olive-oil are very hydrating and smell good. so, consider putting some coconut-oil or olive-oil into your hands and then run it through your hair if it feels very dry or frizzy. Additionally, rub the oil to only the ends of your hair and not the roots inorder to prevent the scalp form getting oily.
Tryout a hot-oil massage or mask on your hair: you can actually make a hot-oil treatment using virgin olive-oil, castor-oil, almond-oil, coconut-oil or rosemary-oil while at home but make sure that the oil is at a comfortable temperature just before applying it to the scalp. So, choose any natural-oil and pour it in a pot then warm it on a stove for about 2-to-4 minutes. Let the oil cool to room-temperature that is appropriate to your scalp then add 2 tablespoons of honey to the oil inorder to help smooth-out the fibers in your hair. Afterwards, apply the oil onto the scalp while massaging from the roots to the tips then wrap-up your hair with plastic-bag or shower-cap inorder to hold-in the moisture from the hot-oil treatment. Leave the hair covered for 1-hour and then shampoo and condition your hair to remove the oil.
Tryout a beer-rinse inorder to moisturize hair: beer actually contains natural-enzymes that help to tame frizzy-hair and even give hair a shiny and healthy look. in fact, dark-beers offer most of the nutrients and moisture than lighter-beers. so, coat your hair with dark-beer and then let it sit for several minutes then rinse it out with cold-water inorder to remove the beer-smell. on the other hand, you can even pour the beer in a spray-bottle and then just it over your hair.