How To Cut A Short Bob – Step By Step Guide For Bob Cutting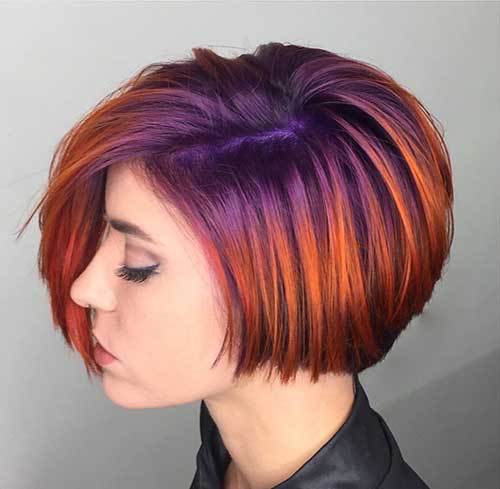 A short-bob is a simple hairstyle that is easy to cut and modify compared to other women's hairstyles. In fact, a short-bob will look great on short and straight hair thus making it a perfect hairstyle for most ladies.
However, you can also go for a bob hairstyle in case you have curly or long hair hence this implies that you can achieve a great bob hairstyle no matter your hair type.
On the other hand, a short-bob haircut is very easy to style and maintain whereby you can even achieve this hairstyle by yourself while at home as long as you have the necessary supplies.
So, if you really want to try out a short-bob while at home, then consider following the simple steps I have provided you below in order to get that amazing bob look:
Getting the necessary supplies/equipment:
Get a good pair of cutting shears for hair:
In case you have decided to cut your own short-bob while at home then you should consider looking for a good pair of cutting shears for hair. In fact, you can find quality hair-cutting shears online or at any nearby beauty supply store.
It's actually recommended to use good-quality shears in order to easily cut/style your hair while at home. On the other hand, you should consider getting cutting shears that have a stainless-steel blade that is well-sharpened for effective hair-cutting.
However, never use kitchen shears, household scissors, or gardening shears to cut hair because such scissors will just pull or damage your hair.
Get a hair clipper and hair razor:
You can actually find hair clippers from any online store or at any beauty-supply store in your region. So, try to get electric hair-clippers that are of high quality in order to achieve an effective short-bob haircut.
On the other hand, you may also consider buying a hair razor because it allows you to easily shape and trim hair into a bob-hairstyle without having to do any major cuttings.
However, make sure that the hair razor is sharp enough because dull razors are more difficult to use.
Acquire a hair comb and hair ties:
You also need to get a hair-comb and about 3 hair-ties if you're going to create a bob-haircut. In fact, hair combs and hair ties can be found in different online stores or beauty stores in your region.
On the other hand, the hair comb will help you create even sections of hair before cutting it while the hair ties will keep sections of hair out of the way as you trim.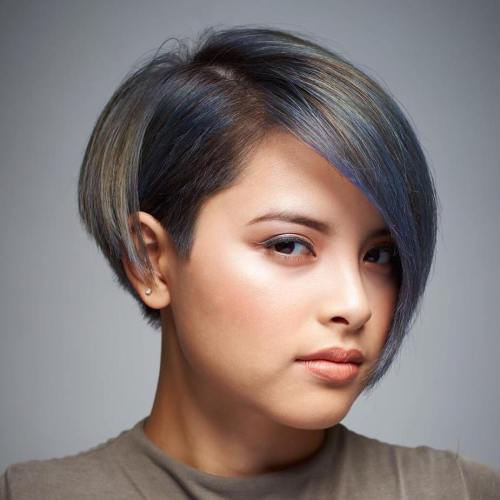 How to Cut and Style a Short-Bob
Confirm the style and length of the short-bob you want to create:
Confirm the style of short-bob you want to cut if someone else is going to cut your hair. In fact, you should tell the other person the length and style you want for a bob haircut before you start working. During the cutting and styling, you should also communicate with your friend and confirm that they do what you want with your hair.
Wash and dry up your hair:
Before you begin cutting and styling your hair, you need to make sure that it's clean and dry. So, grab your hair shampoo and conditioner then start washing your hair. Dry or blow-dry hair after washing it then use a comb to remove any tangles and to part your hair.
Divide hair into 3 even sections:
You will need to use a comb to divide hair into 3 even sections which include; a back section and 2-sections on either side of your head. Afterward, you may have to secure these 3 sections using hair ties. On top of that, make sure that the back section sits just above the back of the neck, and also try to determine how short you want the hair on the sides to be.
Trim the back section with scissors:
Use scissors to cut the hair at the back section and you also need a hand mirror in order to clearly see the hair you're cutting at the back. In fact, most bobs are short in length and this implies that you may have to opt for a shorter cut in the back.
Cut across the hair at the back slowly in order to ensure that you get an even cut through especially if you have thicker hair. If you want to get a more blunt look then consider using hair clippers to trim uneven hairs underneath the already-cut hair.
Trim hair on the side sections using a hair razor:
After trimming the hair at the back section and ensuring that it's evenly cut. You now have to get a hair razor to trim and shape the hair on the side sections until you achieve the desired bob length.
However, if you're going for a more A-line short-bob, you may have to keep the side sections a bit longer than the back section. For a straight short-bob look you will need to use a hair razor to shape and trim the side sections evenly and in line with the back section.
Afterward runs the hair razor through the bottom section of your cut hair in an upward motion until all the sides are trimmed to the length of the back section.
Add some layers to your short-bob for some extra volume:
In case you would like to add volume to your short-bob then you consider adding some layers. In fact, adding layers is very ideal especially if you have thinner hair because layers help to add some body/thickness to your thin hair. However, if you have thicker hair then you may avoid adding layers so that your hair doesn't look too puffy/round.
On the other hand, in order to add layers to your hair you will have to use a hair comb to comb out the sections of hair on the sides of the head towards the back section.
Hold those sections so that the hair ends are facing upwards and then use a shear to trim the ends while pointing down as you trim.
Continue doing this on all sides and back sections of your hair and then let the hair loose. This will actually create layers throughout your hair giving your short bob a more voluminous look.
Lastly, don't cut hair straight across when creating layers because this will lead to jagged ends.
Blend the ends of your short-bob hairstyle:
When doing final touches, you should consider blending the ends of your hair so that your short-bob looks even and polished. In fact, blending the hair ends will even help to remove any stray pieces of hair that are too long.
Carefully lift-up small pieces of hair and run a hair razor on the ends in a downward, angled motion in order to achieve more blended hair ends.