African American Curly Wigs
For all the African American women out there that would love to rock curls, I have taken time to work on this post just to have your needs satisfied. You do not have to necessarily struggle with your straight hair if you want to go curly once in a while, so in such times a curly wig will definitely have you fooling everyone that you actually went curly.
We can absolutely not debate about how curly wigs stand out and look very stylish the simple trick is to choose one that will not just blend well with your personality but also match your face shape and the color of the skin. With that in mind let us look at these curly wigs that will make you turn heads with your fabulous looks.
Black African American curly wigs

If you are afraid of the way colored wigs stand out or simply love to keep your look simple then this black curly wig will surely work for you, the main reason for that is the fact that it is black in color and black will always match with any skin tone, dress code and does not shout.
The wig she wore is styled with half braids at the front which is very trendy by the way so you should be considering trying them out as the rest of the curls spring down slightly below the shoulders. Much as it has a lot of volume it is not pushed too much towards the face so that her pretty round face can also stand out and I love every bit of her appearance with this wig. You do not have to worry about face shape before trying this wig out because any face shape will nicely rock this one.
Tip: always remember to detangle the wig before you go on to wash it, a curly wig can get really frizzy and tangled so if you get it wet before detangling you will be making matters, even more, worse than they were. And when you are washing it, it is best that you do not rub it as rubbing weakens wig fiber and causes more frizz.
Celebrity-inspired African-American curly wigs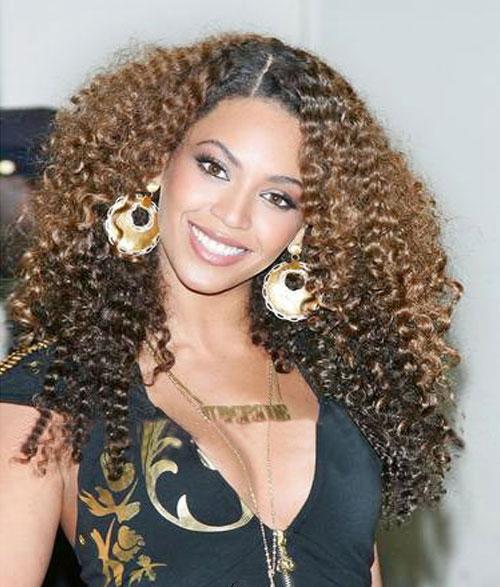 I know that a big number of African American women out there will go in for a wig just because they saw their favorite celebrity wearing that particular wig. On this one, it is the ever-gorgeous and sexy beauty Beyoncé whose fan base is one of the biggest rocking a curly wig.
The wig features a color contrast of dark brown and light brown where the lighter shade is on top for that outstanding appearance and the lighter shade at the back for a trendy look. A few strands of the wig go down below the shoulders while most of it hangs just above to add up to the volume and create that bouncy effect.
I love how the slight side sweep looks perfect with her oval face shape and the accent of those pretty gold earrings Tip: finger combing is the best way to tame and manage your curly wig, it helps to prevent your wig from getting tangled and causes less frizz compared to when you use a comb. If you feel like giving your curls some more definition, just fold small hair sections on your finger and roll out.
Then to give your curls more volume wait until the hair is completely dry and pass your fingers through as you separate them, you will be giving them more volume.
Medium African American curly wigs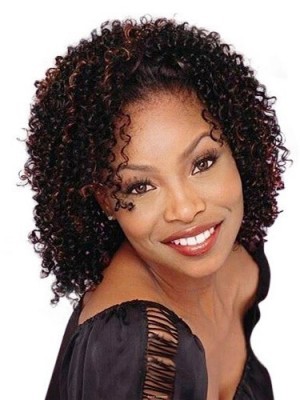 Source:-
Since curls create a lot of volume, wearing a long curly wig may get somehow heavy but then if you are not a fan of short hair either then a medium curly wig will surely have all your needs worked upon.  This one has medium volume and at the same time has medium length, most of it is styled away from the face with just a few strands hanging down to the forehead for that up-to-the-minute look.
These spring curls are preferable by women around their 40s and above but still want to look fashionable and will look very nice on anyone with a square face shape. If you can be able to keep your wig looking that moisturized and shiny then be ready for all the compliments you will receive for it.
Tip: one good way to keep your wig well moisturized is to cut down on the number of times you wash the wig and when you choose to wash it let it be done with a moisturizing shampoo meant for curly hair. Do not be reluctant with caring for that wig because it will determine a lot of how you will look.
Voluminous African American curly wigs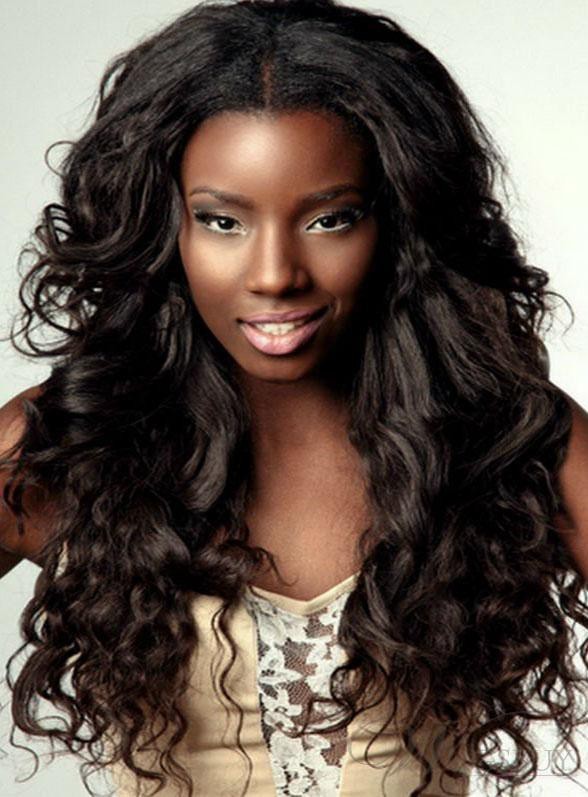 Source:-
With such a voluminous wig you will have all the attention you need especially on those red-carpet events where everyone wants to be the most outstanding. Balancing out all that volume can perfectly be done with a center so it was really nice for her to style her wig that way.
It features both medium and long layers with large and tiny curls on the ends. This combination of curls is very unique I highly doubt you will find anyone else with the style so you will be the most exceptional. As the wig fall way down passed her shoulders, it gives the perfect frame to her round face shape.
Tip: Avoid sleeping on the wig, you will be destroying its shape and making the curls lose, hang on a wig head just before you jump into bed.
Short African American curly wigs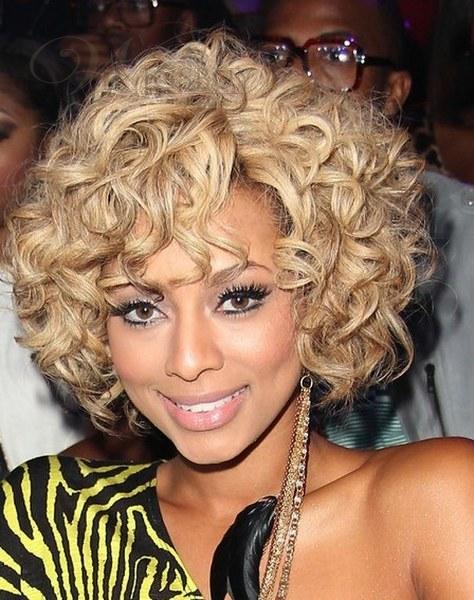 I always tell the curly-haired curls that going short is one of the ways that they can make their hair more manageable and less problematic since curly at times seem difficult to deal with. I will also tell say the same thing to you, if you are not ready for the hustle of caring for a long curly wig then simply go short.
On this one it is the beautiful Keri Hilson rocking a short blonde curly wig, it has large curls and a side swept bang which is extremely stylish. There is no problem in rocking a blonde wig with your gorgeous dark African American skin tone.