Full Lace Wigs For Black Women
Today, most black ladies are using full-lace wigs, and this is mainly because these wigs rest properly over the head hence creating an illusion of real natural hair although it is a wig being worn.
Additionally, full-lace Wigs are available in different hair types where some of them are made of synthetic fiber and others are made out of natural hair.
On top of that, full-lace wigs also come in several hair textures which include; spiky, curly, wavy, and straight textures hence the user will be able to choose a wig that meets all her styling needs.
In fact, I have presented some of the trending full-lace wigs worn by black ladies today and these actually include; short and long wigs with different hair textures so that you can be able to find a wig that will work perfectly for you.
Take a quick look through the full-lace wigs listed below in order to learn about the different wig types and how to style or care for a particular wig hairstyle.
Full Lace Wig for Black Women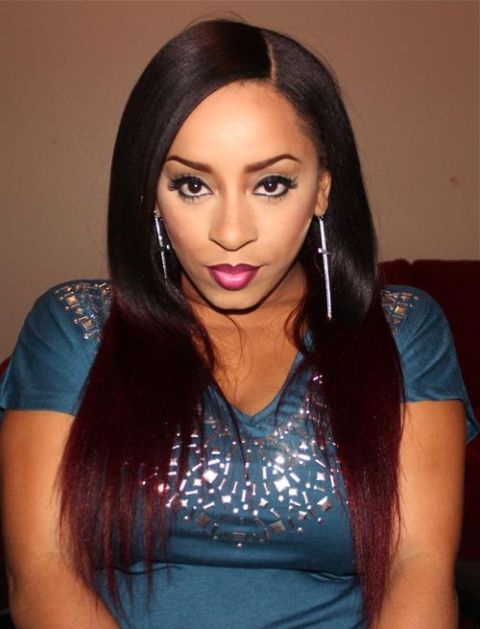 The beautiful black woman in the image above features a straight and slightly-textured full-lace wig which is actually made of high-quality Indian Remy hair. This straight-wig hairstyle has a soft texture which is just perfect for any black woman who prefers having a natural and realistic look.
In fact, this straight-wig hairstyle is deeply-parted and left to drop gently over the shoulders and it also features 2-tones of color whereby the hair at the crown has black-color which transitions into a dark-brown tone as hair reaches the mid-sections and it retains this color until it reaches the tips.
With this type of wig, make sure that its hair dries straight and you may even decide to flat-iron it in order to generate a sleeker look. However, for added versatility, the user may decide to wet-set this wig on rollers in order to create a curly or wavy look.
In fact, the versatility of this wig allows it to be worn in a variety of styles including up-do styles and high-ponytail hairstyles.
How to care for a full-lace wig
Store your wig on a wig stand but only when it's fully dry so that it doesn't get stretched out. In fact, a wig stand will help to keep your wig in good shape for a long period of time even when the wig is stored for long periods.
Always use a shampoo and conditioner meant to work on wigs for the best results. In fact, it's recommended to use these 2-products in case you notice that your wig is becoming dirty and frizzy.
Apply a wig hair spray in order to give the wig hair some shine and hold it throughout the day in case you are going to wear it.
Curly Full-Lace Wig for Black Women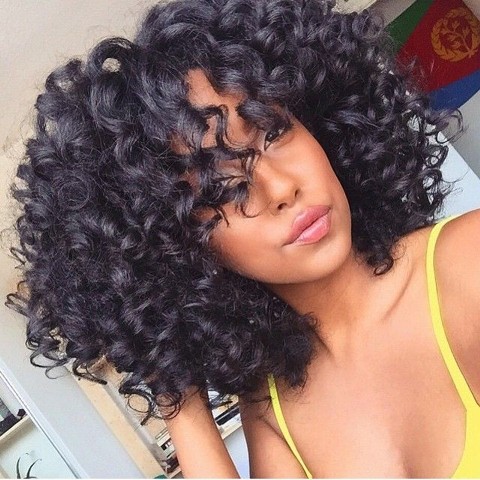 This simple black lady features a medium to long curly full-lace wig which softly drops over her shoulders coupled with a long, curly fringe that hangs just over her face hence framing her oval face shape. In fact, loose curls within this wig mean that it's made out of natural part human-hair because some synthetic wigs may fail to achieve curls due to their rigid structure.
Likewise, this wig comes along with a full-lace cap with a stretch panel so that the user can always achieve a perfect look, feeling, and movement when wearing it. On the other hand, this curled full-lace wig contains a dark color tone throughout and this really contrasts well with this lady's lighter tone of the skin thus making her look extremely beautiful, elegant, and simple enough to rock any occasion.
All in all, if you really want to achieve a curly hairstyle without styling your natural hair, then this curly full-lace will help you get that look in just a few minutes.
Short Full-Lace Wig for Black Women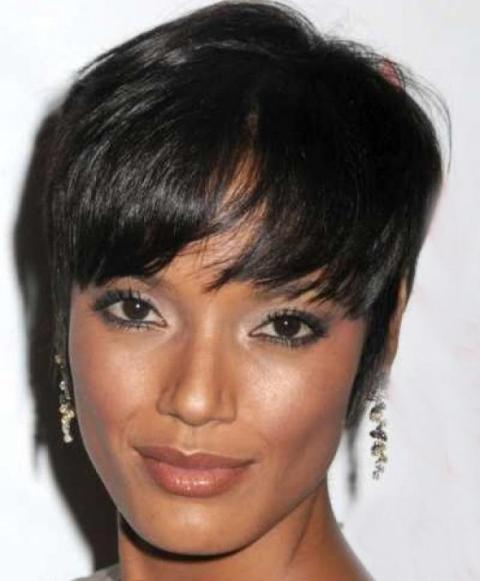 The black lady you see in the image above is wearing a short full-lace wig with sassy and textured hair which actually mimics natural African-American hair which has been freshly relaxed and blow-dried. This short-wig hairstyle also features a feathery or textured fringe that covers the entire forehead and stops just above the eyes while framing her square-shaped face.
In fact, all the hair within this short wig contains short layers on the sides while the top features longer layers and these actually help to enhance the volume and shape of this hairstyle. In terms of color, this short wig contains a black color throughout and this actually contrasts well with her skin tone which is light.
In conclusion, ladies who would like to achieve a short haircut but without trimming their hair to a short length should actually acquire this short and textured wig hairstyle because it can even be styled in different ways yet it looks like a natural hairstyle.
Wavy Full-Lace Wig for Black Women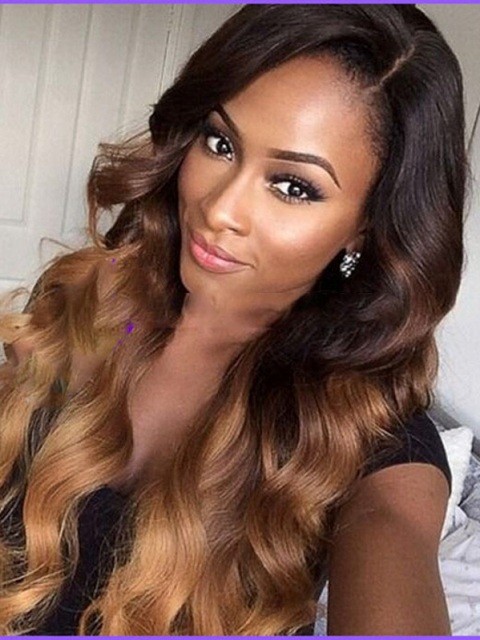 This woman has an extremely long full-lace wig hairstyle with a sleek top coupled with bouncy, soft waves at the lower sections which gently drop past the shoulders. In fact, this wavy full-lace wig is deeply-parted at the crown and then the hair is left to flow gently on both sides while the simple side-swept bangs that slightly cuts over one side of her forehead help to enhance her oval face shape.
The most amazing feature about this full-lace wig is that it contains 2-tones of color whereby the hair at the upper sections features a black color which transitions into an ombre color tone as hair approaches the sections and this actually creates a lot of movement and dimension throughout this wavy hairstyle.
On top of that, the hair is lightly textured at the top while lower sections have rough textures and actually help to create volume with this hairstyle while drawing a lot of attention towards the face of this black princess.
Blonde Full Lace Wig for Black Women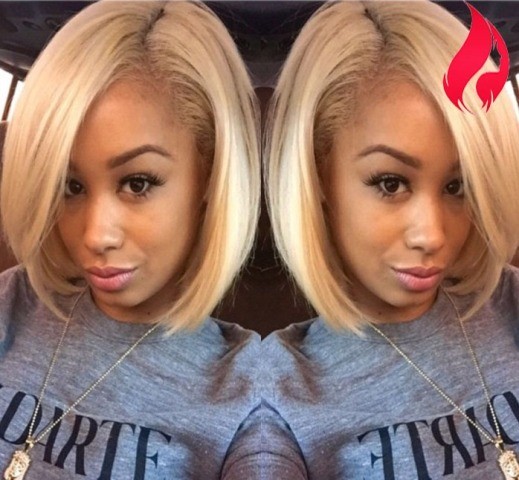 Tinting your hair to a blonde color tone is not actually an easy task and this is why I would recommend any black woman who wants to try out a blonde hairstyle to just acquire a blonde full lace wig.
As you can see, the gorgeous black lady in the photo above is wearing a full-lace wig with blonde throughout and you may actually think that she tinted her hair to blonde because this wig looks like real blonde hair. This lady actually styled this blonde wig into a long-bob hairstyle that drops just below the jaw-line coupled with a deep side parting which develops into a huge side-swept fringe that partially covers her forehead in order to frame her oval face shape.
Additionally, this blonde wig is roughly textured all over and this actually helps to add movement and dimension to the entire bob-hairstyle making this lady very pretty, simple, beautiful, and elegant enough for almost any occasion.