9 Steps On How To Take Care Of Short Hair
Cutting and keeping your hair short can actually help to liberate you from any tangles and heavy-weight of long-hair. In fact, short-hair is very easy to style and maintain compared to longer-hairstyles but you still have to follow a regular routine inorder to keep your short-hair in good shape. So, in the post I have decided to provide you with some of the ways and steps that you can follow when it comes to taking care of your
short-hair
and this implies that it you're planning to go for a short-hairstyle then consider following the steps provided below for best maintenance of your hair.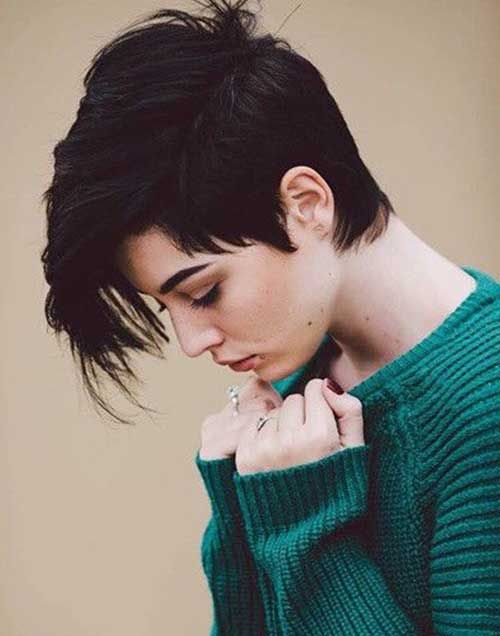 Steps on how to take care of your short-hair:
Spritz your short-hair with a good hairspray every morning: you actually need to acquire a quality hairspray and use it over your short-hair every morning inorder to keep it in good shape. In fact, bed-head can be a ruthless thing on short-hairstyles and that's why you need to spritz your with a good hairspray or water and ten comb through it inorder to achieve a desired hairstyle and to keep your short-hair in shape.
Consider applying a small-amount of hair-product into your short-hair: applying a small amount of gel into your hair will help to tame your short-hair. On top of that, a texturing-hairspray or gel can also help to fix the flat-appearance of some short-hairstyles thus making you look great throughout the day.
Wash short-hair regularly: short-hair tends to get stiff and clumps into spikes if it gets slightly greasy. So, if this happens then consider washing your short-hair more often than you did with longer-hair for best results. On the other hand, you should know that hair-length doesn't affect the scalps oil-productions so don't get worried to try-out a short-hairstyle but avoid keeping your short-hair greasy/oily by washing it regularly.
Use less shampoo and conditioner on short-hair: short-hair doesn't actually need a lot of shampoo and conditioner because the natural-oils tend to easily spread to the tips of the strands of shorter-hair than with longer-hair. Additionally, people with dry-hair may need to reduce on the amount of shampoo you use because over-using shampoos can cause hair-dryness, hair-frizz, and even irritate your scalp. In fact, it's recommended to consider skipping the use of a shampoo or conditioner every 3rd shower you take while washing your short-hair most especially if you're washing your hair frequently. On the other hand, a 2-in-1 shampoo and conditioner is a safe and easy way to reduce on the amount of conditioner you use within you're short-hair. Lastly, an anti-frizz or smoothing shampoo can be of great help in case you have trouble keeping your short-hairstyle under control.
Be cautious when blow-drying short-hair: you actually need to blow-dry short-hair carefully because if you don't then it will tend to frizz-up and stick-up everywhere. In fact, it's highly recommended to let short-hair air-dry for best results but if you decide to blow-dry it, then set the blow-dryer to a low heat-setting and then brush through hair with a big, round brush as blow-dry. On the other hand, if you want to add extra-volume to your hair then scrunching it with fingers helps to provide more even results than blow-drying.
Try-out different styles as your short-hair grows: short-hair actually takes less time to style and its appearance can also change rapidly as hair grows-out. So, always try to experiment different styles on your short-hair inorder to keep looking great throughout the hair-growth process. All in all, you can have any hairstyle you want or prefer with short-hair as long as its styled in a proper way.
Plan for the next hair cut/trim: you will actually need to schedule for your next haircut inorder to prevent your short-hair from becoming longer. In fact, most people having short-hair need to have a trim every 4-to-6 weeks and a full hair cut/trim every 2-to-3 months. However, if you're tired of short-hair and you want to get back long-hair then consider not cutting/trimming your hair for a longer period of time until your achieve a desired hair-length.
Be gentle when brushing short-hair: short-hair doesn't have to be brushed as often as long-hair because it's less prone to tangles. In fact, if you want to add texture to your short-hair then you need to gently comb throughout it using your fingers and this will even help to add extra-volume at the roots. On the other hand, if you want less-volume within your short-hair then brush through it using a pocket-sized boar-bristle brush.
Be selective with the styling-products you use on short-hair: you actually need to be very careful when choosing hair-products that are designed to add texture and hold to your short-hair. Additionally, be very cautious when using heat-styling tools over your short-hair because they can easily damage it. In fact, it's recommended to set any heat styling-tool to a low-setting when styling short-hair inorder to prevent hair frizz, dryness and strand-damage.
Note:
if you really tired of being stressed by long-hairstyles then consider trimming your hair short and there are also various short-hairstyles that will help you look great no-matter your face-shape or hair-type. All in all, whether you have thick, fine or coarse hair, there is always a short-hairstyle for you and you may also consider consulting professional hair-stylist inorder to get advice on the best short-hairstyle that matches your face-shape and hair-type.
REFERENCE: