Top 5 Wedding Relaxed Hairstyles For Black Women
Originally black hair is hard textured to a category of some black women and others have soft hair but to those particular women with hard textured hair they find that it convenient when hair is relaxed. It makes hair easier to be pulled lots of designs without hassle. Not only does hair become manageable but also look prettier when you compare it to natural hair.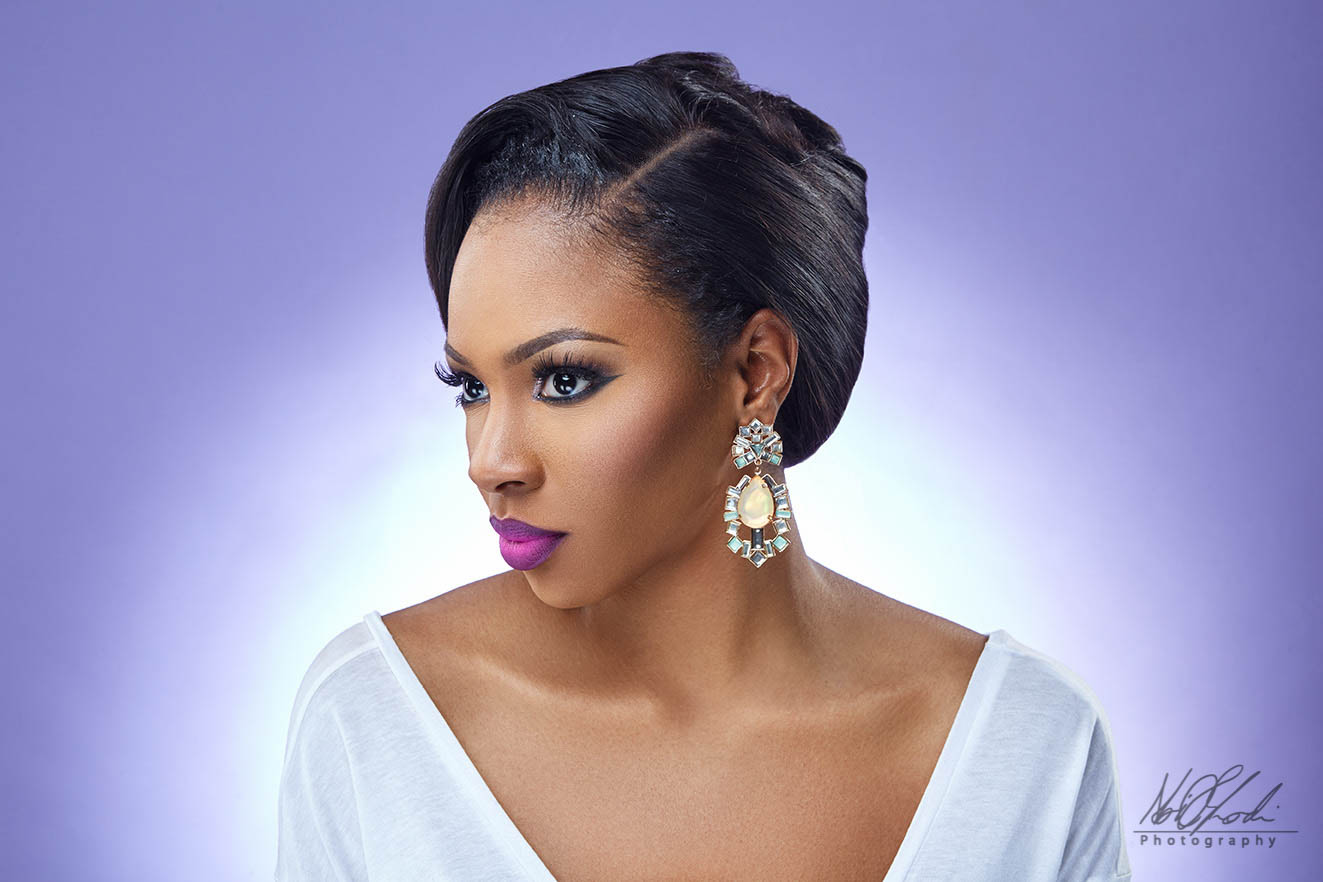 I have listed below Five Top
wedding relaxed hairstyles
for black women that can turn your ordinal look into an amazing beauty. The styles I have listed below suits all any length that you fall for whether short, medium or long hair to your satisfaction. 1.
Top Wedding Relaxed up do Black women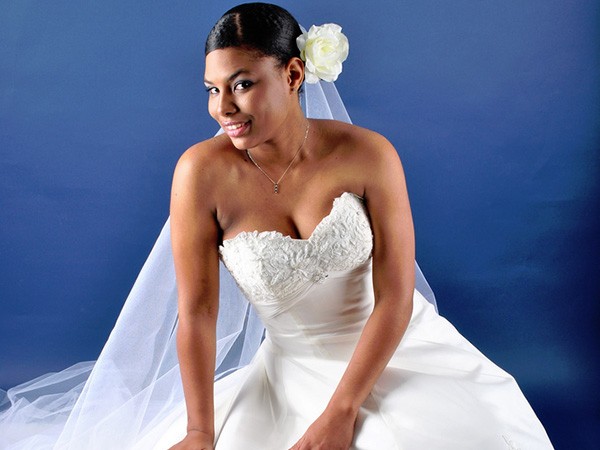 Source: 
If you're that black bride that wants to pull long veil that covers you up to the butt short relaxed hair can look that great. What you need to work out is to after relaxing your hair; you add a spray to make hair smooth. So you draw a line between your front hair just parallel and part hair on the sides towards the back of neck. As well push the rest of hair in the mid section towards the back and roll it up to the last tip then fix it with hair pins. So you will fix your floral veil on top hair on one of the sides just around ears up to the back of neck then leave the rest of veil fall on your back. it looks beautiful when you put on strapless gown that hugs your bust up to waist then as it flows down your legs it en larges appropriately.
Determine your face Shape:
This hairstyle looks good to any face shape but round face shape looks prettier. Remember to add small necklace to improve your looks.
Hair product to apply:
If you want to keep this hairstyle for a short time you need to add just hair lotion to make your hair manageable and smooth to cover you up to three days but since most brides spend week and over on honey moon you will need to add hair gel that kind of makes you hair stiff so that you take break from combing hair but instead you can fix a hat of top after your wedding to keep looking trendy.
Which styling tools apply?
The day before your wedding your hair has to be worked upon, when your hair is already relaxed you're advised to have little bit of growth of three to four weeks because you will have to work upon it as your wedding is drawing closer for you to look nice. At this time of the hour you will already have spotted the best salon to work on you and your bridal intrigue at large. The best relaxes that make black hair look great is TCB hair relaxer. it doesn't burn your skin but leaves your hair manageable of course under a professional personnel. After washing off the product with cold water and shampoo add conditioner to your hair as way of restoring your hair with necessary ingredients that will make your hair strong and healthy. 2.
Top Wedding Relaxed hair with extension Black Women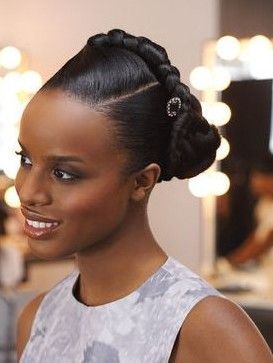 Source: 
You can alternately go for relaxed hair with Extension on your wedding as the bride on top, to kind of make your hair short even though it's long. The extension that is added on top of your relaxed hair has to be human hair piece that is long because it looks almost your natural hair. After shampooing your hair and adding conditioner that helps to restore the texture of your hair, you set your hair on rollers with appropriate size of rollers to make your hair dry fast. When hair is dry you apply a big comb to make your hair towards the back. Divide hair into two parts using the end tail of a small comb between the left side and the crown up to the back of neck. Push hair on respective directions then on top you add hair extension then make big cornrows. Push the cornrow on the right sides towards that on the left then finish it rotating round top of hair to make small bun then last add hairspray to keep hair look original and evenly moisturized.
Determine your face Shape:
This hairstyle doesn't discriminate any face shape of any black bride out there but there's a way particular face shape looks beautiful that the other, if may state it as follows that this bride on top with an oval face shape looks fabulous as you check in the pic above while any bride with a different face shape looks cute too but remember each face shape comes out different no matter you go for the same hairstyle. The nest item that is crucial about your looks on your wedding is the way you pull your make up and attire you to determine your looks.
Hair product to apply:
Use Jojoba Oil to make your hair because it's it will keep your hair fully moisturized and lasting healthy look. Apply in small amounts on the scalp and small amounts on top the comb your hair for even distribution. On top of hair apply Organic R/S Root Stimulator Olive Oil Sheen Spray, 11.7 Ounce to moisturize the extension thus giving your hair a lasting nice look.
Which styling tools apply?
You work out your hair using the usual tools like rollers to make hair straight right from roots to the last tip. After putting rollers off your hair you use a big toothed comb then complete with a small toothed comb to make hair neat. After adding the extension on top of hair join it together using weaving needle with braid threads to make it firm and pretty. 3.
Top wedding Relaxed Puff hairstyle Black Women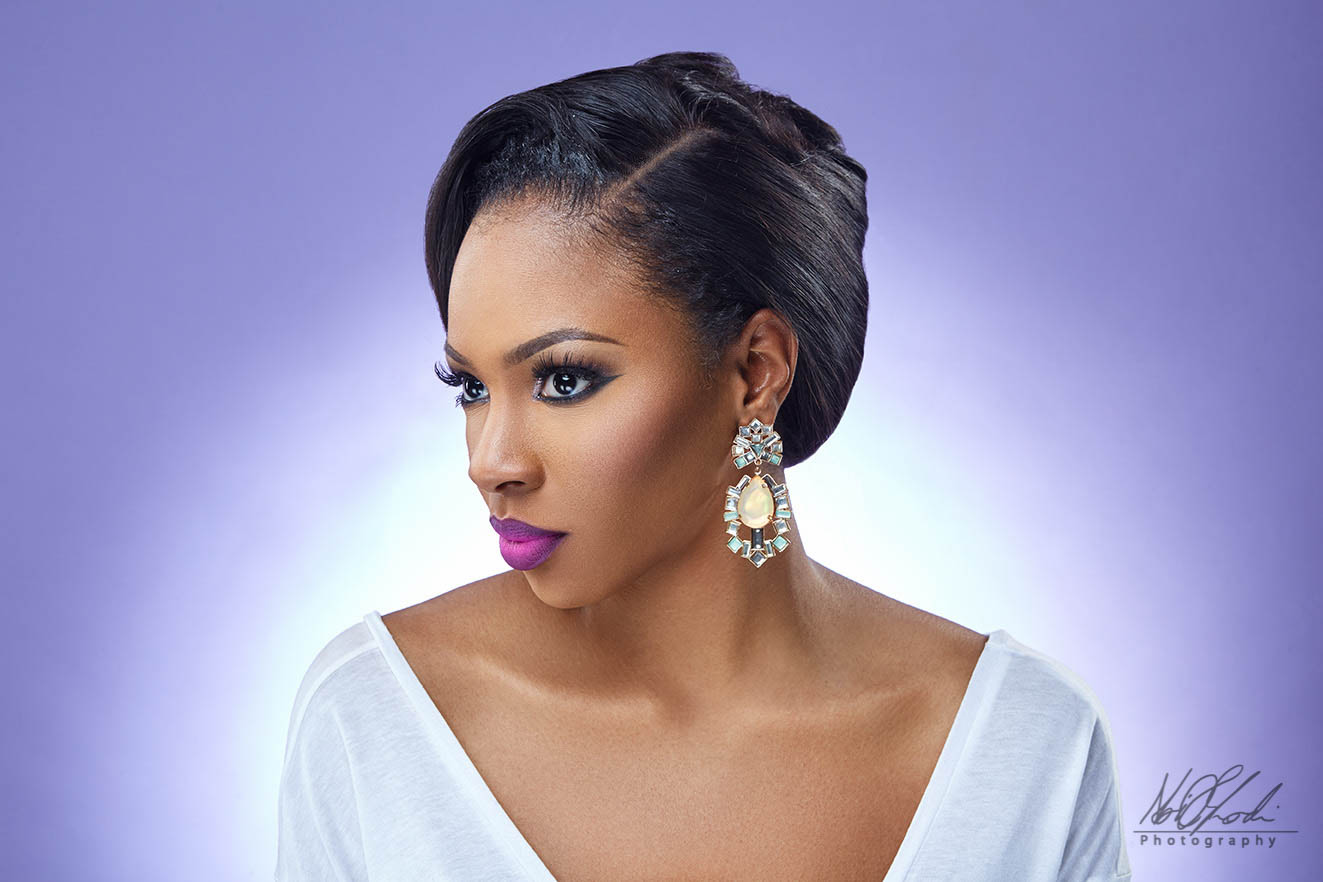 Source: 
Pull your natural hair in a convenient way that will first take fewer hours at salon, retaining part of your natural look but look amazing at last when you add make up, jewelry and gown of your choice to make your day memorable. As you take an example of the bride on top, she has medium length relaxed hair that has a small brown highlight as a result of relaxing hair natural hair for long. After shampooing hair and conditioning she adds hair product to make hair smooth and to give it that healthy look you check over there. she pull her hair Bob style with a shape edge on one of the side then of the opposite side, especially on the left a line is drawn to create a simple design while hair is pushed behind ears towards the back of neck .you proceed by pushing hair in the middle towards the back then put it together . push tips at the back of neck inward as you push it up little bit to make hair voluminous the secure it with hair pins to keep it intact. She goes on to add make up that blends with her natural complexion, pulls long shapely eyebrow and colorful lip sheen to complete her looks. at the end of day she adds medium length jewelry that can either match with her dress shoes or clutch to stand out.
Determine your face Shape:
The bride in the background has an oval face shape but to be realistic this hair style looks great on any other face of black women out there. What makes statement after pulling such hairstyle is make up, jewelry , gown , dress shoes and off course if am not mistaken the way you shade your eyes. If you have short eye lashes you can as well add artificial then add wanja around your eyes to look sparkling.
Hair product to apply:
Apply Mizani Rose H2O Conditioning Hair dress Unisex Moisturizer, 8 Ounce for silky sheen your hair needs and above all your hair will be fully moisturized thus leaving your hair smooth and looking lovely.
Which styling tools apply?
As you take your hair through a wash use natural extracted shampoo by applying small amounts on wet hair then gently message to foam rather. Focus should be put on the scalp so that dirt and dandruff is removed from the skin thus opening hair follicles for easy respiration. After hair is dry assuming you applied rollers apply hair product on scalp on small amounts to cover entire hair. Apply big toothed comb to make your hair then last apply small bristled comb to make hair in your preferred style. Last use hairspray on top of hair to keep lasting sheen and healthy look. 4.
Top Wedding Relaxed Wavy hairstyle Black Women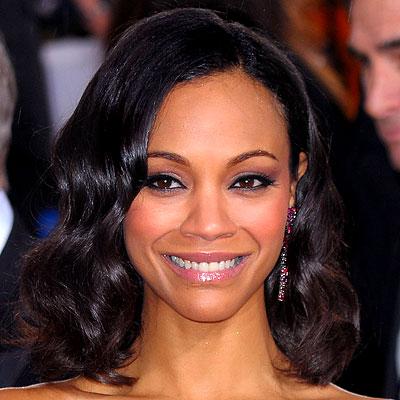 Source: 
Another way forward to looking fantastic on your wedding relaxed wavy hair can turn you on, if its medium length you make it straight from crown towards eye length. It looks nice when you create a mini line between hairs at the front above the left eye. Then from mid crown up to half way mid back then from this point up to shoulders you push hair with big waves and with volume. You can make your hair on color or leave it on natural look whichever way that drives you on. With such a hairstyle you fix small tiara as at the start of the right hand side to complete your looks. This hairstyle looks simple but its impact drives you beyond your expectations. Match this hairstyle with staples fitting gown to shape you body then add jewelry, makeup , striking dress shoes then last keep a fresh smile that comes from the depth of your heart to look charming.
Determine your face Shape:
The bride in the pictorial has a heart face shape the way she shaped her eye brows, lip gross she applied and jewelry pulled her to great heights. If you're black bride out there and this hairstyle turns you on no matter you have a different face shape am assuring you will look pretty too.
Hair product to apply:
Apply organic root stimulator olive edge control gel 2.25oz lasting sheen, strong hold, make hair slick up to edges and lock in moisture.
Which styling tools apply?
After shampooing hair, add conditioner up to roots and let it stay for 30 seconds then wash it off use big size rollers to make hair because of its length. You can choose to use hand drier to dry your hair or sit under drier at your convenience. First use big comb with big bristles to make hair starting at front going towards the back of neck. Then last apply small bristled comb to push top hair straight up to ear length then proceed with waves up to shoulders. Add hairspray to lock in waves and for your hair to have lasting fresh look. 5.
Top Wedding relaxed long Hairstyle Black women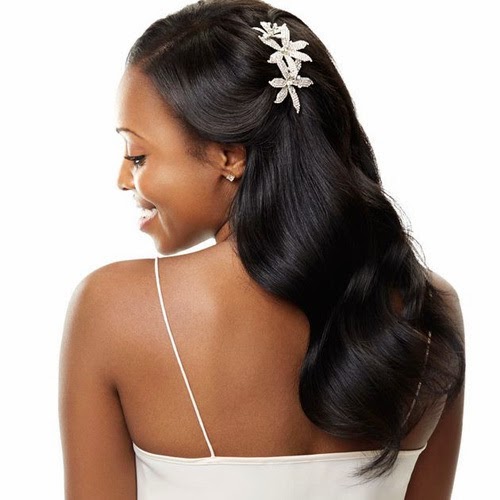 Source: 
If you're fun of relaxed hair and want it long on your wedding, nothing can stop you from looking stunning. but there few black woman with such long hair what one needs to do is if you're not secure with the length of your hair you can as well add long hair extension that falls of shoulders. Part of your natural hair is left out that's from the front up to mid crown. Then rest of hair is pulled with cornrows up to the back of neck then hair extension is added on top. as you check the bride on in the image, her hair is parted on both sides from the left hand side towards the back. Natural hair covers the extension but on one of the sides it's collected together and fixed on top extension then secured with tiara to keep it in place. Then the opposite side it's fixed together with the extension pulled with loose waves. This hairstyle looks great if matched with fitting gown with tiny straps. Add tiny ear pins on white color to blend with the color of your gown.
Determine your face Shape:
The hairstyle shown in the background looks great on round face shape, oval face shape, long face shape, square face shape and other face shapes of black women that i have not mentioned.
Hair product to apply:
Use jojoba oil on your natural hair then on the extension add Bobos Remi Wig & Weave Detangle Spray for purposes of detangling , adding moisture, keeping it smooth and locking in lasting sheen.
Which styling tools apply?
You will need weaving threads to make cornrows on back part of hair , weaving needle to add extension on cornrows and on your natural hair after shampooing add leave in lotion then fix rollers for your hair to dry. For this section of hair apply small bristled comb to make it then complete it using small bristled comb.