10 Best Braided Hairstyles For Kids With Beads
One of the best ways to have a fun and exciting braided hairstyle for kids is by accessorizing the braids with beads.
Braided hairstyles with beads look great on little kids, and teenage girls also as a few mature women but for mature ladies, the nature of the beads mainly differs from that used by little girls.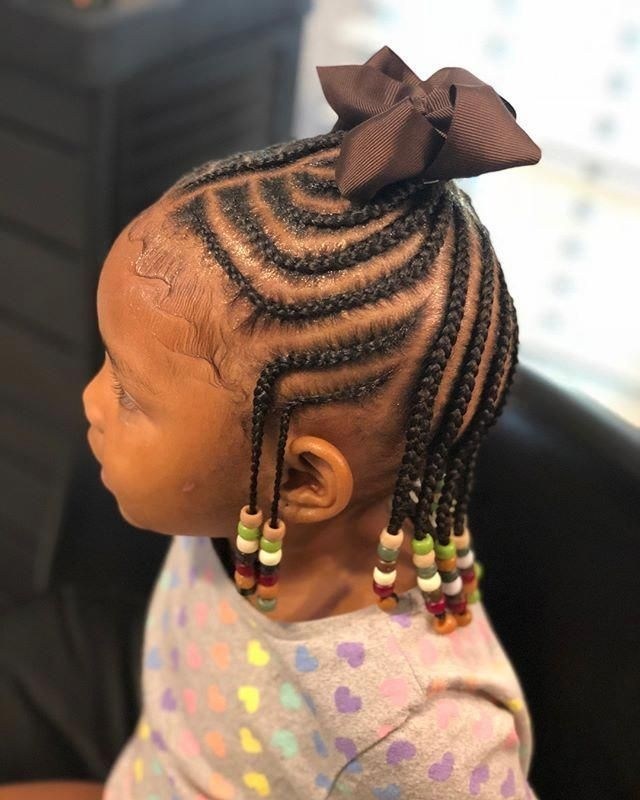 We created a catalog of several braided hairstyles for girls with beads that we believe you and your little girl will love.
These black braided hairstyles will definitely look great on kids and teenagers when dressed for school, casual happenings, or any special events such as weddings, homecoming parties, and prom parties among others.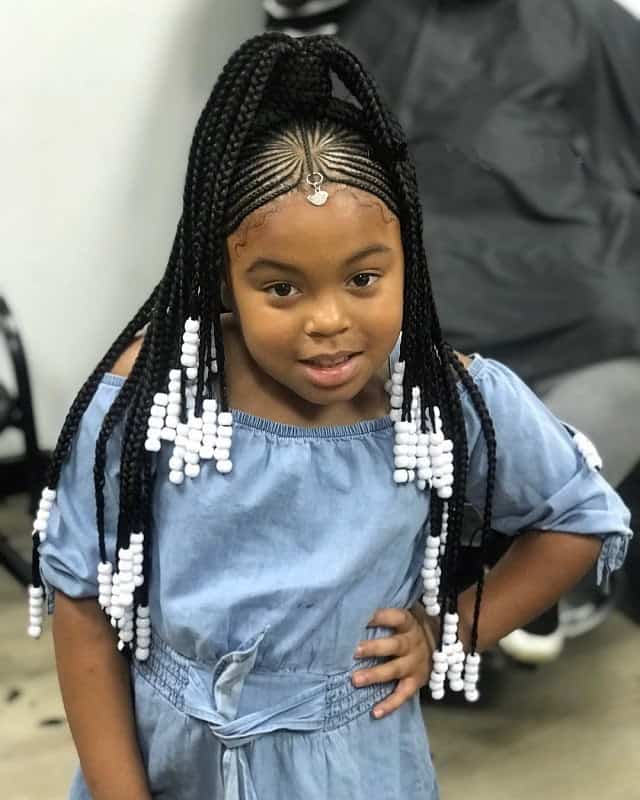 If you have been looking for braided hairstyles for black girls that will put a smile on your girl's face; you are in the right place at the right time as we have featured the best, most exciting, and interesting black braided hairstyles with beads that will look amazing, adorable and charming on your girls or kids.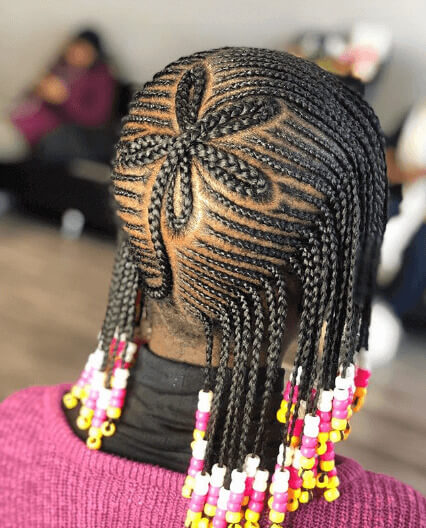 Accompany me as we explore these creative braided hairstyles with beads that will not only make you look great but they will as make your daughter look like a little princess or queen as she will definitely stand out among her peers with different black braided hairstyles.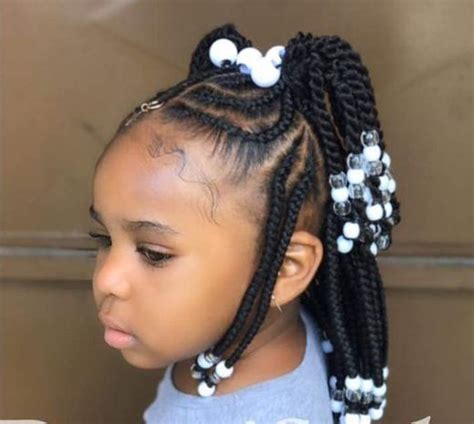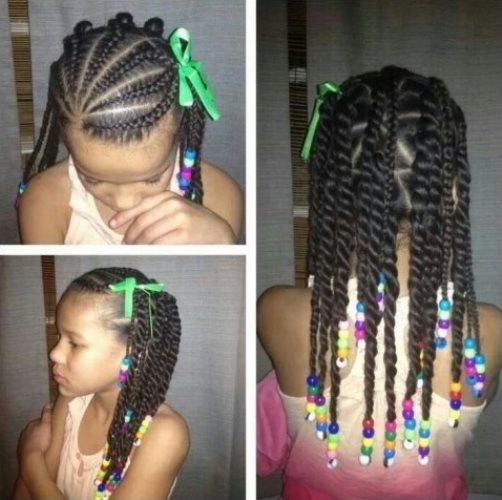 AFRICAN GIRL BRAIDED HAIRSTYLES WITH BEADS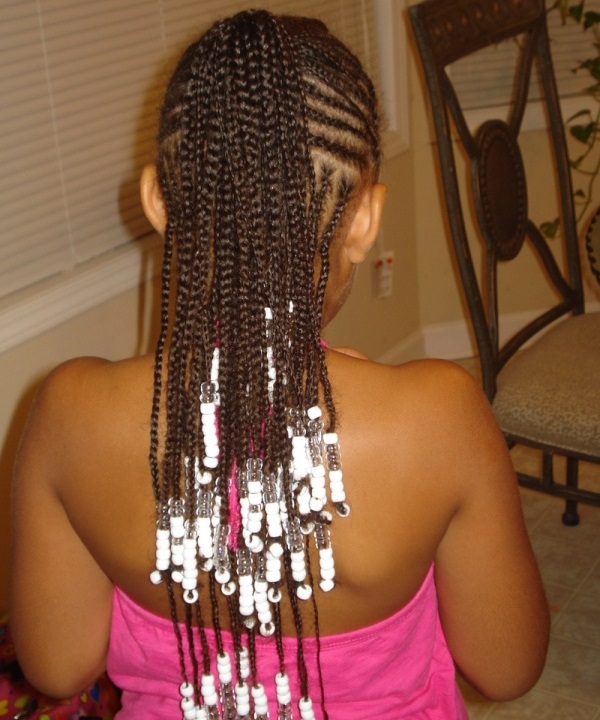 When it comes to choosing which braided hairstyle to make your African girl look wonderful on that ceremonial occasion or even at school, this African girl braided hairstyle with beads will be the best and most appropriate choice for you.
It looks elegant, and stylish and will look great on every kid or girl with long faces ( striking braided hairstyles for long faces you must have) as it will involve removing all the hair from her face which will expose the corners of her face (cheeks) and it wouldn't be a great idea for girls with round or square faces.
Her hair was installed flat on the scalp into rows that look like cornrow braids. The braids were installed in a way that they meet towards the center or middle of her head which was then styled into a high ponytail. The ponytail was secured in place using a ponytail holder.
Now as you can see from the image above, the braids towards the nape of her neck were installed down and then made to look magnificent, wonderful, and super elegant by accessorizing them with various colorful beads. The beads added beauty and attractiveness to the braids which will draw attention to her braided hairstyle hence making her look cute, stunning and adorable.
This kind of braided hairstyle for kids is ideal for school, kids' parties, and weekend casual happenings, among others. Get a few styling tips from this lovely and exquisite African girl to come up with your personal stylish and super cute African girl braided hairstyles with beads.
BLACK BRAIDED HAIRSTYLES FOR BLACK GIRLS WITH BEADS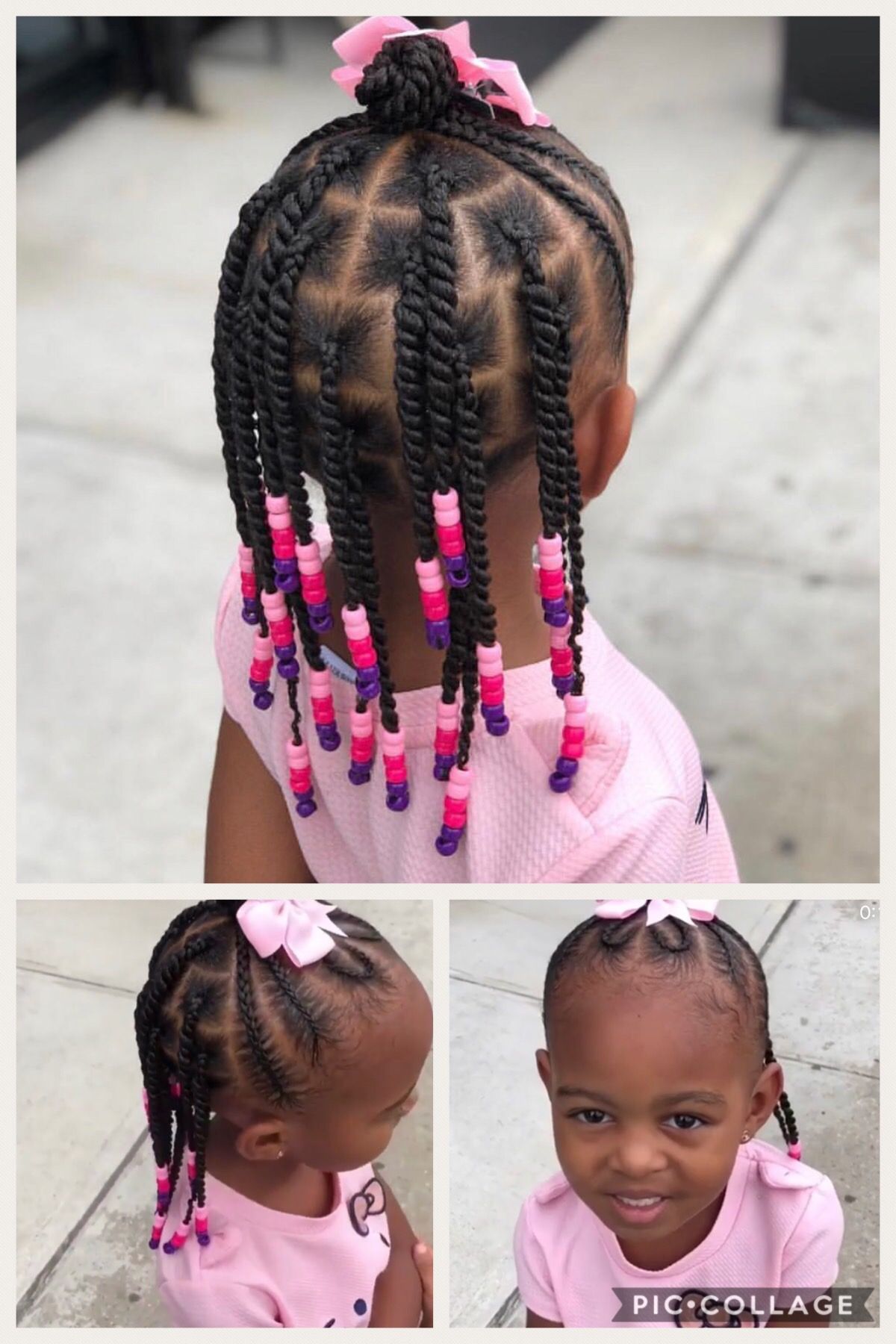 On many occasions, when opting for braided hairstyles with beads, most of us will go for braided hairstyles that involve installing braids or twists on the scalp. We guess this is because such kinds of braided hairstyles installed on the scalp are easy to accessorize with beads to make them look more exciting and charming.
Look at how this fine-looking black girl installed her braids on her head? She had her braids installed into cornrow-like braids on the scalp slightly beyond the crown section of her head.
At the point above the ears, we see her adding or incorporating beads into the braids and then the rest of the hair installed into braids off the scalp of her head. Install the section in the back into braids as portrayed in the above image.
Since the beads are in kind of an organized pattern on her head, it gives her that confidence and stylish look on her face making her ready to go turn heads on any extraordinary occasion and or formal occasions. Choose the appropriate attires that match the occasion your girl or kid is dressing for and she will be to go.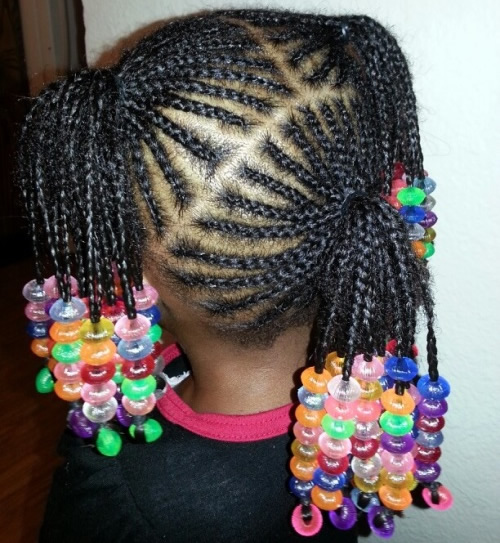 There is always joy when you see your kid enjoying playing with her friends and they are all admiring her braided hairstyle. Kids surely make us happy and amused most especially those below 10 years when you install braided hairstyles for black girls with beads on their heads.
They like to play with braids and to make it more exciting for her when you add in beads you will make her feel loved and cared for. We bring to you this braided hairstyle for little kids that will look great on all kids below 13.
The braided hairstyle for little girls with beads features both braids and twists. Her hair at the front up to around the crown section was installed into beautiful cornrow-like braids flat on the scalp. The remaining hair strands in the back were installed into loose twists that hang freely in the back.
Wow, I like the color mixing (combination) of the beads that were used to decorate this little girl's twists. A combination of yellow, white, and golden makes the braids to be outshining coz yellow is mainly a shouting color.
When choosing the color for the beads to add to the braids or twists of your kid, always look for various colors that match the majority of the dresses in her closet. Otherwise, she is an awesome cute little girl and we believe you can borrow some ideas from her to create that head-turning braided hairstyle with beads on your girl or girls.
Also, you might decide to make it look a little different and more decorative by adding beads at different lengths of the braids.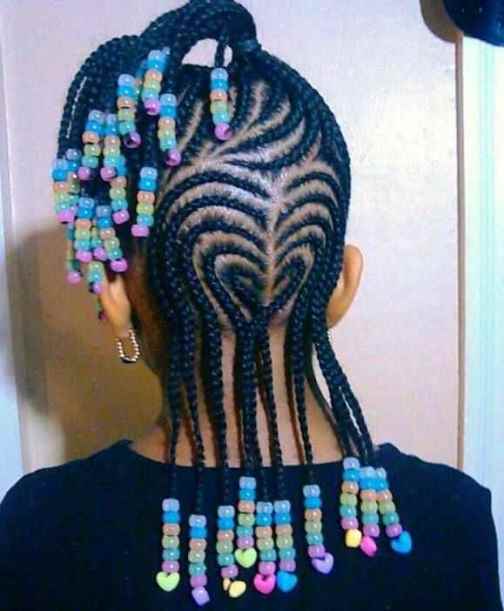 Looking for a simple yet stylish braided hairstyle with beads that will make your girl look endearing; well we hope this black kid's braided hairstyle with beads will suit your needs as it's simple, easy, and quick to create or install.
All you will need is to create two diagonal sections one running from about the temples of your eyes towards the front and the other from about the temples of your eyes on the way to the back of her head.
With the front section, you will install quick braids or twists flat on the scalp which will then be gathered at the center of your head to create a braided ponytail (Black Braided hairstyles with ponytail you won't resist).
For the back section, you will divide it into smaller sections and then install Bantu knots using those sections. The ends of the braids of the ponytail can be decorated with numerous beads per braid. The braids of the ponytail may as well be let to cover up the Bantu knots in the back in case you don't want them to be visible.
Otherwise, get her the best attires which will match the braided hairstyle with beads and she will be good to go to any formal, casual, or exclusive events.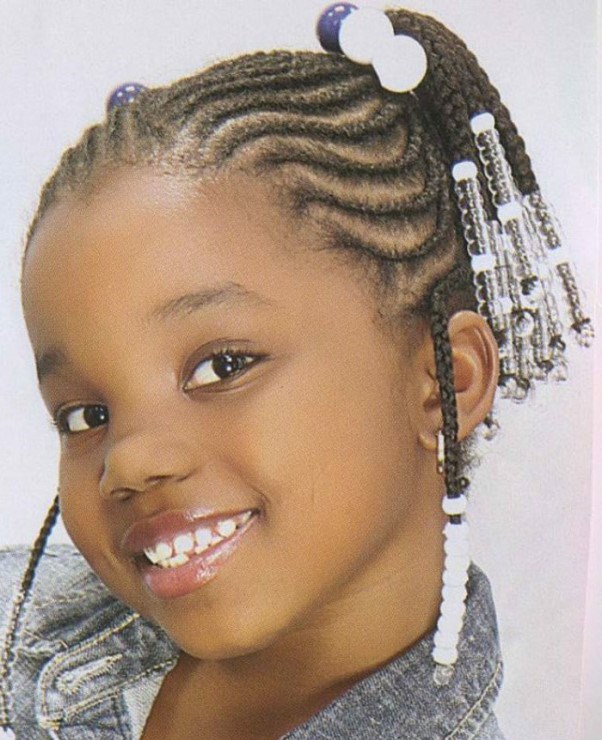 African American girls or kids look amazing and awe-inspiring when they style their hair into creative and inventive braids and styles and then accessorize them with beads. I like the creativity of the person who installed the braids on this cute African American girl as it's a unique and idiosyncratic design.
The rareness of the braids pattern or design made this black kids' braided hairstyle with beads to be one of the best-braided hairstyles for black girls in 2019. It's our prayer that you all get inspired and motivated by these distinctive braided hairstyles for African Americans with beads to think of creative and unique designs when installing braids on your kids.
The shouting colors of the beads will draw attention to her head which we believe will make her braids look attractive and eye-catching. It's an all-season braided hairstyle for black women with beads that you can wear to all functions.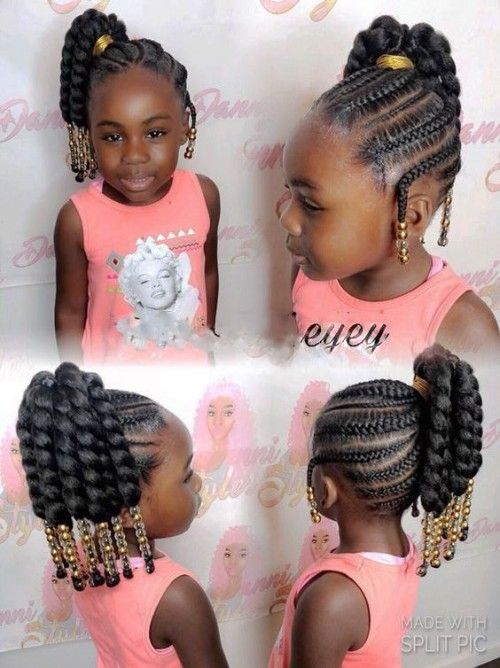 An alternative way after installing the braids on your girl will be to section them into various sections and then secure each section as if you are going to create a ponytail.
I used to like pigtails when I was younger but now I think you can have more than two kinds of "pigtails" on your head. As portrayed in the image above, section your braids into various sections and designs as you would like them to look on your girl.
Hold together the braids as if you're going to create a ponytail then secure the base of the ponytail with a ponytail holder or hair elastic. Now you can add numerous colorful beads to the ends of braids in each section as clearly depicted by the little girl featured above.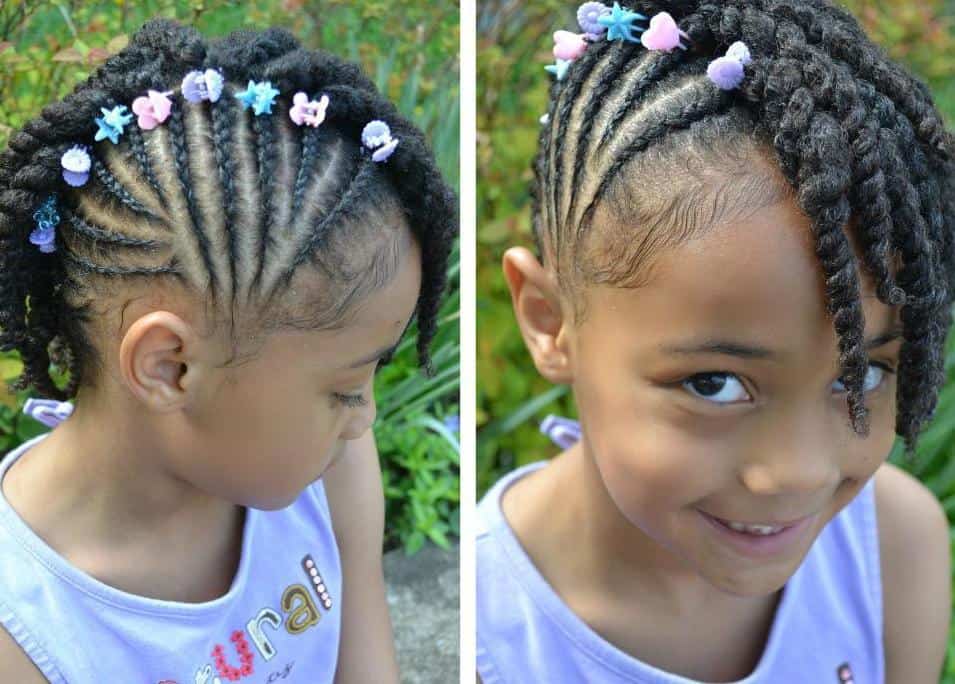 Some braided hairstyles for girls are meant specifically for some kind of hair. Girls with thin or fine short hair may find it a little challenging to install their hair into braids. I remember my cousin's sister used to face this challenge till when we discovered a braided hairstyle that worked for her according to the length and texture of her hair.
This cute black girl brings to you an outstanding black braided hairstyle with beads ideal for girls with thin (fine) short hair. Install simple three-strand braids on her head as portrayed by this cute girl and then accessorize the ends with colorful beads.
The design of the braids on your head may vary according to the face type of your girl. For girls with round or square faces, styling the braids around their cheeks will be the best way as the braids in the sides will cover up the round or square corners of their faces making the faces look slightly longer than they are wide. And for girls with long faces, any style will work for them.
CREATIVE BLACK BRAIDED HAIRSTYLES WITH BEADS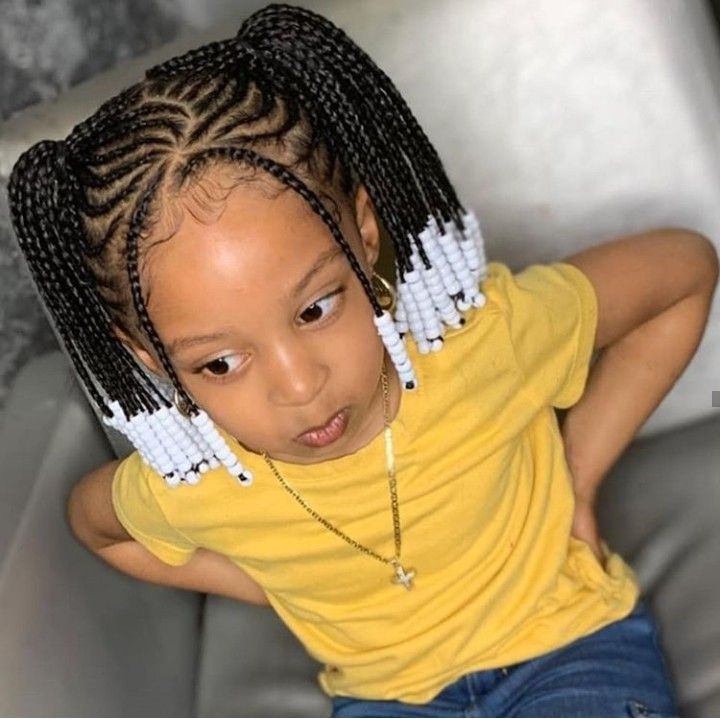 Is our girl or kid having short hair and kind of think which braided hairstyle with beads to style on her head for an amazing and super cute look? Well, this creative black braided hairstyle with beads will be the ultimate choice for her.
It brings out creative and unique patterns of braids that are installed in a rare design on her head. The braids move in opposite directions giving them that pretty distinctive design and making her look matchless and adorable. It's a quick braided hairstyle for kids which will take you less than an hour or 30 minutes to have a finished look?