African American Pixie Wigs
When you hear someone talk about the pixie wigs they seem like such a simple style but after trying it out you will realize that this is one of the most daring, boldest, and really flattering styles you could ever try out. pixie wigs are however very tricky you cannot just bump into wearing one without consulting first or when you are not sure it will suit your face shape.
This is why I have come up with a few examples that you can look at to know which pixie wig you fearlessly go in for. Because the style is getting common lately giving your pixie some more detail will help you to have the one-of-a-kind look that will make you the most outstanding.
If you are ready to show each and every beautiful feature that you have check these African American pixie wigs out.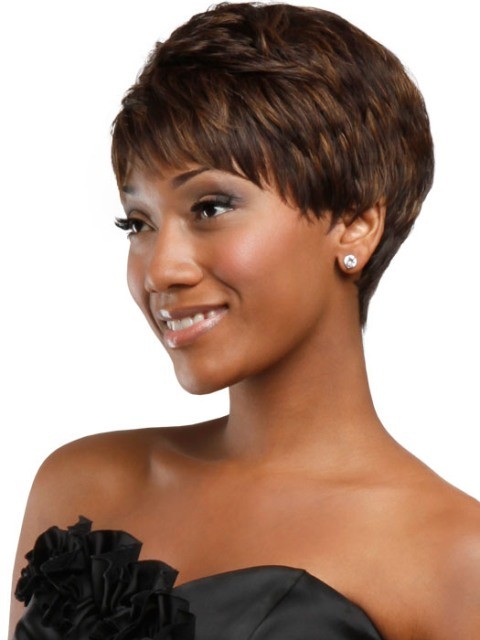 African American Pixie Wigs with Short Bangs These short bangs give you the true feminine appearance that will leave everyone admiring you and how bold you are, therefore for that fresh and really popular expression, this is simply the way to go.
This pixie wig has very short and smooth layers that are very nicely organized with very short bangs that do not just expose how gorgeously the color of the wig blends with her skin tone but also create an extremely daring appearance for her face shape.
The length of this pixie allows us to notice every facial feature, from her pretty smile to those beautiful sparkling eyes. Whether it is for those cooperate days to work or for your own leisure time and social gathering this pixie wig will have your back any time. Long and oval faces will find no difficulty in rocking this amazing wig.
Tip: if you want to rock your pixie with bangs then layering and making the ends a bit pointy is one way of adding a lot of fun to your look. this is because layering is a trick for increasing your volume yet pointy ends help to add up to how feminine you will look.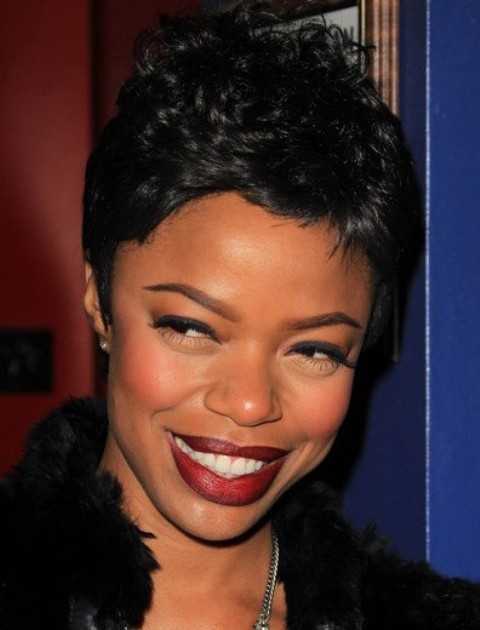 African American Curly Pixie Wigs One of my all-time favorite ways of rocking the pixie is with curls which is why this pixie wig got my attention. It is styled with all hair away from the face as the curls filled with texture on top help to create more length for her face shape.
I love every bit of that shiny black the way hair curls upward is really stylish, on the other hand, the sides are left very smooth and sleeked down. Most of the texture is concentrated around the crown and that is where we see most of the volume there is doubt that this is the best pixie wig she could ever have chosen for her face shape.
Those short sideburns are what form a more gorgeous frame to prove even more that the style was perfect for her.
Tip: when it comes to styling your pixie wig it is best that you apply products that are more texturizing and lightweight, the reason being the style can easily wear down. In your pixie, the texture is very important for the overall appearance therefore only apply products that will not sacrifice your texture.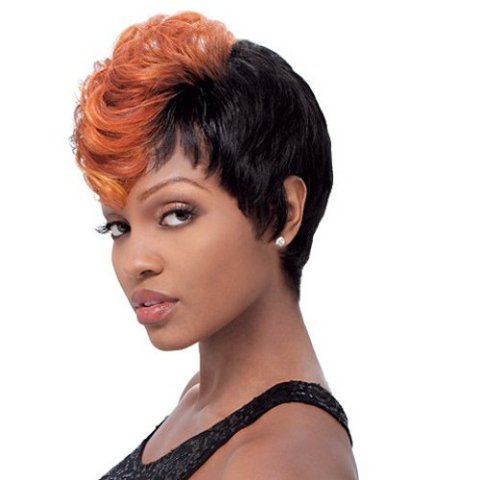 African American Colored Pixie Wigs Fashion style is what most African American women are about and this colored pixie wig will give you every bit of that, it is uniquely styled and allows you to experiment with any color for those that love to be noticed far from a distance.
The most adorable thing about the pixie wig is that it gives you the chance to test out different ways of styling like that false Mohawk that she has, it is one of a kind. Side layers are very sleek and curvy hanging down at her nape with just a few of them reaching forward to her face. I
n the middle hair is brushed upwards and pulled really towards the face down into her forehead, the appearance is entirely attention-grabbing.
Tip: always ask your hairstylist what the best products to add to your wig are, adding just anything you find right may instead ruin the wig. Also, remember that the amount of product you add greatly determines the appearance of your wig. Only apply a reasonable amount of product, too much only makes the wig greasy and makes the strand heavy.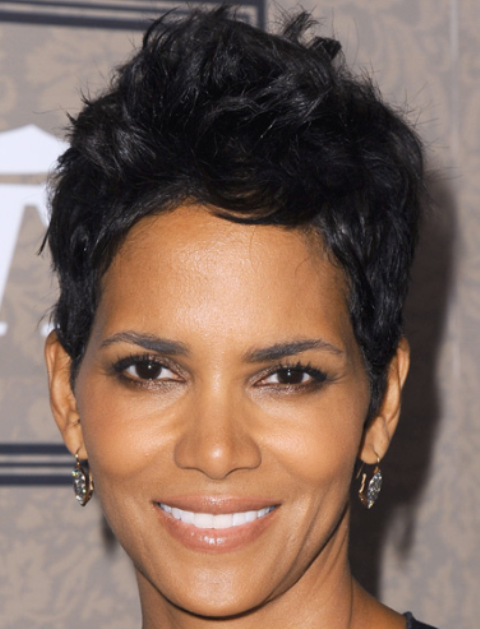 African American Wavy Pixie Wigs There is no way you can talk about pixie wigs and not talk about Halle Berry because she has proven to be the goddess of this style of wig. For her, it is never a problem to pull off any pixie wig because she really knows how to choose those that best suit her face shape.
The texture is one of the tricky ways of pulling off the pixie style, a wig that is overly textured will be easy to style and make it suit the face shape that you have. Halle's wig has sides that are brushed down while the top features spiked layers, to add some more interest to her wig it is somehow messy.
Messy is the current trend, unlike back then when everyone used to minimize it. This style will only take a few minutes for you to pull off and that is why I recommend you give it a shot especially if you have a diamond shapes face like the one this star has.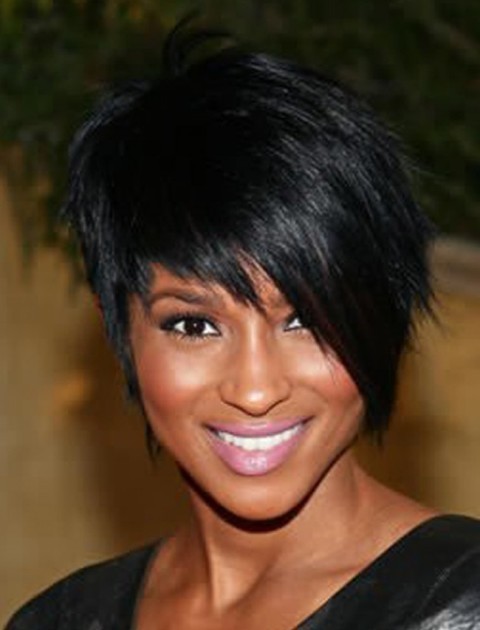 African American Pixie Wigs with a Side Bang We all know that the side bang will never run out of fashion more so if it is put together with a pixie.
Ciara usually rocks long wigs to the point that I did not expect her to look this exquisite with this pixie but to my surprise she really did. I love every bit of how her square jawlines and pretty white eyes pop out of the style.
The wig has point ends and is all full of textures but what we love most about it is that exceedingly stylish and trendy side bang.