5 Superb Wedding Hairstyles For Black Women Matrons
There's no specific formula narrating how a wedding matron should make her hair, but what I have in mind is that she shouldn't overwork herself to shadow the bride.
However, even though the matron is more beautiful than the bride, a bride will always make a statement and everyone can easily spell the difference between the two.
So matron should pick a hairstyle that suits the occasion she's attending to look elegant. Find here with me five superb wedding hairstyles matron black women wore and stole the show in different makes to give you several options to choose the best if chance works for you.
Superb wedding up do matron look for black women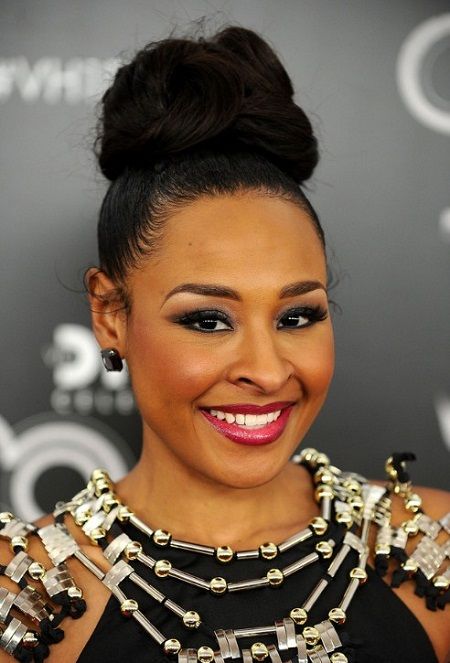 Given a chance to judge the lady in the pictorial, can you tell me that this hairstyle isn't good enough to match the occasion she's attending? In my own way of understanding check, the lady is stunning, for this kind of hairstyle your natural hair is relaxed if natural hair has a hard texture so that it comes out smooth.
However, for those black women out there that have not been gifted with soft hair that has loose waves of this kind, you can shampoo it, dry it, and add lotion to make it soft. The hair is gathered in the middle and tied gently using braid threads, you make one cornrow out of this hair so you turn it around and thread it through.
When I check this hairstyle I see she added a hairpiece on top that looks exactly like her natural hair and this can be a human hair weave or hair extension.
Determine your face Shape: The lady right before you have a round face shape, she made it by shading her eyebrow with brown color. The shapes of her eyebrow are big at the start then completely is going slim and curvy. She added color to her eyelashes, the red lips she pulled, and last she added small size earrings to match her outfit. I have seen several black women with different facial shapes pulling the same hairstyle and looking great.
Hair product to apply: Apply Jojoba Oil because it has stood the test of keeping hair moisture, making it smooth, and making hair keep shin since it's formulated from the best natural extracts like castor oil, coconut oil, and soybean.
Which styling tools apply? To achieve this look you must have your hair already relaxed because it looks neater. However, you have to grow it within three weeks. Add dark and lovely or equivalent hair product around you then put hair under steam.
Then you wash off the product and add a conditioner which you later wash off too. Add setting lotion then add rollers on your hair and set it to dry. Apply a comb with big bristles first to make hair manageable then apply a small bristled comb to complete it. On top of the hair add a weave with volume to make a bun.
Superb Wedding side push matron look for black women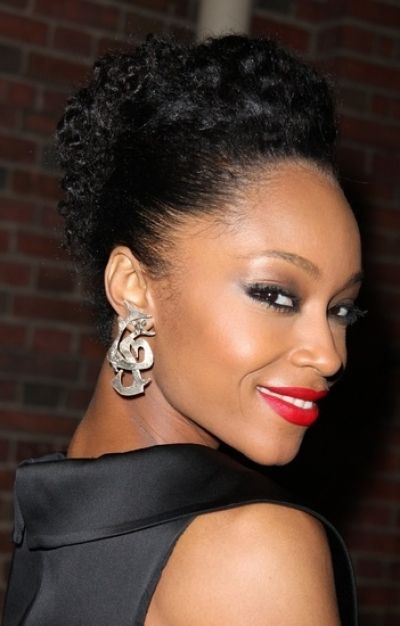 Alternatively, any black matron with medium-length natural hair can pull her hair with loose curls at the back of the neck, and push hair straight on both the right and left-hand side so at the crown hair is handled up with volume to have better hair design and look decent.
You may be wondering how to make it, first, your natural hair is relaxed with a curly relaxer for the purpose of creating curls within your hair. After applying a relaxer to your hair and washing it off when hair is done is advised to add conditioner for your hair to be added with vitamins that will make it strong.
After hair is made clean you dry it using an absorbent towel handling hair with care to avoid pulling it hard. Add perm rods on small volumes of hair until your entire hair is done. Your hair is set on moderate heat to dry.
Determine your face Shape: The black babe on top had an oval face shape, the way she pulled her hair to the sides and pushed her front hair with more volume made her pretty face clear and visible. She never applied any color to her eyebrow thus looking natural and cute.
And she remembered to apply red gloss on her lips and added medium-length silver earrings guess to match her dress shoes or clutch bag. There is no way she would fail to make a statement, if too have fallen for the same hairstyle and want to pull it on another face shape be assured you will look great too.
Hair product to apply: Apply The Roots Naturelle Curly Hair Products Bouncy Curls (16 Ounce) is known to lock in curls, make hair pretty soft, prevent hair from frizzing, and provide hair with proteins since it's extracted from the best natural extracts like grape seed and Olive to support this cause. There's no need to worry that curls will fade out but this product will return curls to their original look every other day.
Which styling tools apply? Apply a small comb with small brittle to make hair after adding the hair product. Use it to push hair on the sides straight then fix black long pins. at the crown push your hair gently up as push little hair bit to lock in curls when it comes to hair at the back of the neck after making it with a small bristled comb use the sharp end tail and your thumb to organize it on different volumes from the top towards the back of the neck.
Superb Wedding short-hair matron look for Black women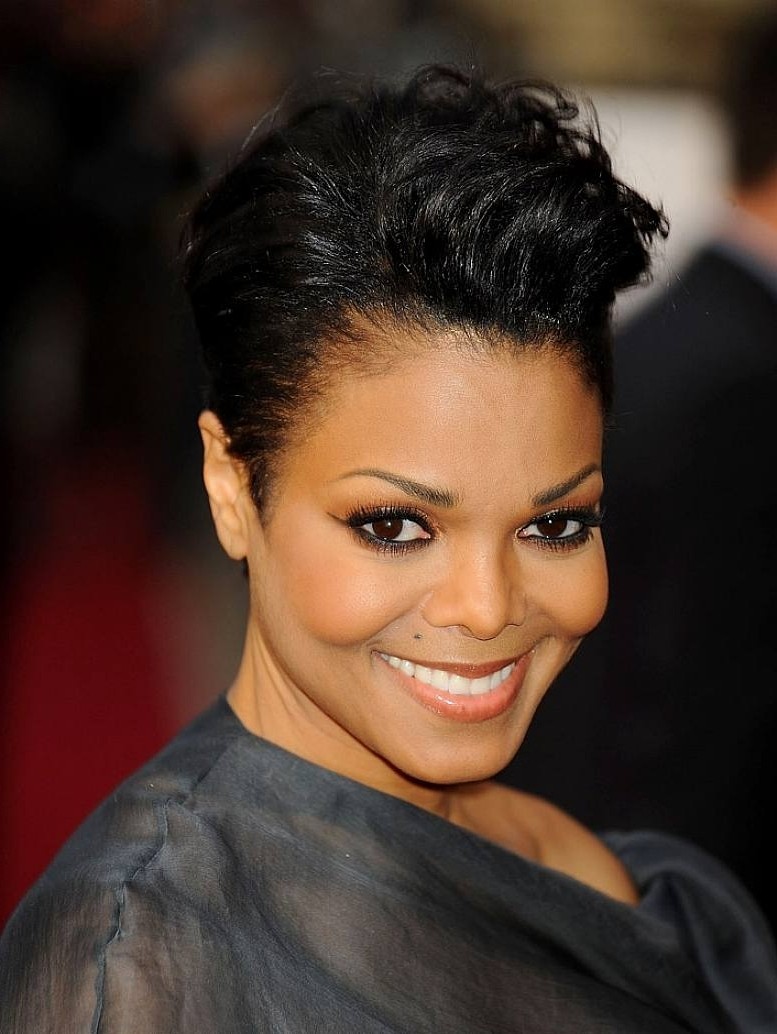 Likewise, you can choose to go for short wavy as matron, for a petite look. First, your natural hair is trimmed short and on the sides, hair is leveled to medium length then the back of the neck is cut super short. At the crown of your hair, you trim it with more length to pull waves that point at the sides.
Your natural hair is added with a relaxer for straight hair, when you're done shampooing hair with cold water, dry it using a cotton towel to absorb most water then leave a few and add setting lotion. Apply small-size rollers on your entire hair starting from the back of the neck and going forward.
Set a time to dry hair according to its length when it's done remove rollers and apply hair product on the scalp and get a few amounts of the product to rub between thumbs and apply on top.
Determine your face Shape: This hairstyle on top is featuring Janet Jackson, she has a round face shape, and sexy eyes and her skin looks great on this haircut. If you've fallen for this haircut and have hopes for being a matron on a different face shape no doubt you will look stunning.
Hair product to apply: Apply Castor Oil hair product on the scalp and on top of the hair to keep hair smooth, healthy-looking, and with adequate moisture.
Which styling tools apply? Nothing much is needed to make this hair look great but if you take it through normal procedures of straight hair, at the time of combing it, you apply a tong comb. Use the other side of this comb to part the hair from the left front side pointing on the right then hair at the crown towards the left with more waves then hair at the back which is shorter facing backward, of course, use tong bristle to make this hair stand out.
Superb Wedding back push matron look for Black Women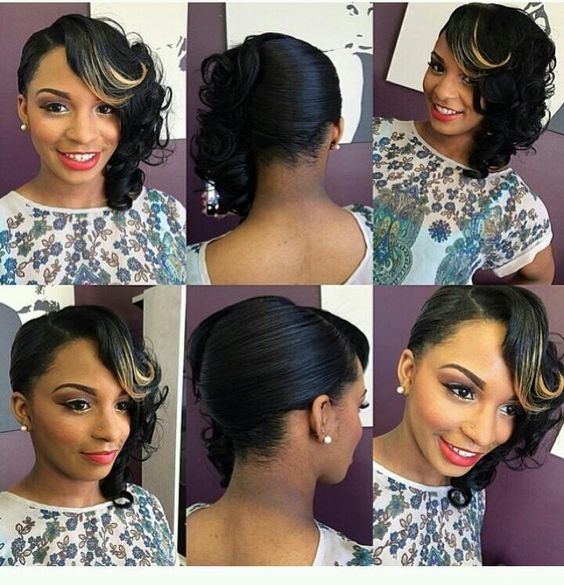 Nothing can stop a black woman matron from wearing this hairstyle because it has lots of art to display which too can be worn by the bride if am not mistaken and grab all attention.
This hairstyle can be worn with women with long hair and if you have medium-length hair it can be added with human hair weave to achieve your goal. In case you're wearing this hair on long relaxed hair, you add dye to part of your front hair on top from mid to tips to make it look colorful.
Assuming your hair is long and have applied dye to the front hair as stated on top, of course, you shampoo it with naturally extracted shampoos because it determines the texture of your hair a lot. For best-looking straight hair steaming is essential because it facilitates nutrient hair product that is applied through steaming to penetrate deep through hair follicles to bring forth good textured hair.
Determine your face Shape: The lady in the pictorial has a heart face shape; she looked great with front hair that features brown highlights and red lip sheen. Nothing can stop other black women who intend to be matrons however on other face shapes to look cute so let your beauty shine when you work on your skin and hair because this is what defines your personality most.
Hair product to apply: They're several hair products that work for straight hair but for me, Jojoba hair product does it best for me. The moment you apply this product to your hair no matter how dry your hair has been in a matter of seconds your hair becomes smooth, fully moisturized, and above all locks in lasting sheen around your hair.
Which styling tools apply? This hair is thick and long after washing it clean and taking it through the process to dry it? You then apply a big-toothed comb to make hair smooth and manageable. So when hair is smooth apply a small comb that has a sharp end tail to divide hair into sections.
Draw a line from the start of the left-hand side pushing it straight as you go round up to the end of the right back side. Fix long black pins to hold the hair in position. As you come back at the front in a position where you parted the hair on the left? push hair towards the right with a big push kind of bob style then push tips towards the forehead and wave it on the side, turn to hair you pushed from the left towards the right and push tight waves to cover ears in a bouncy look up to shoulders using a small bristled comb. Complete hair with hairspray for a stronghold and a lasting fresh look.
Superb Wedding short wavy matron look for black women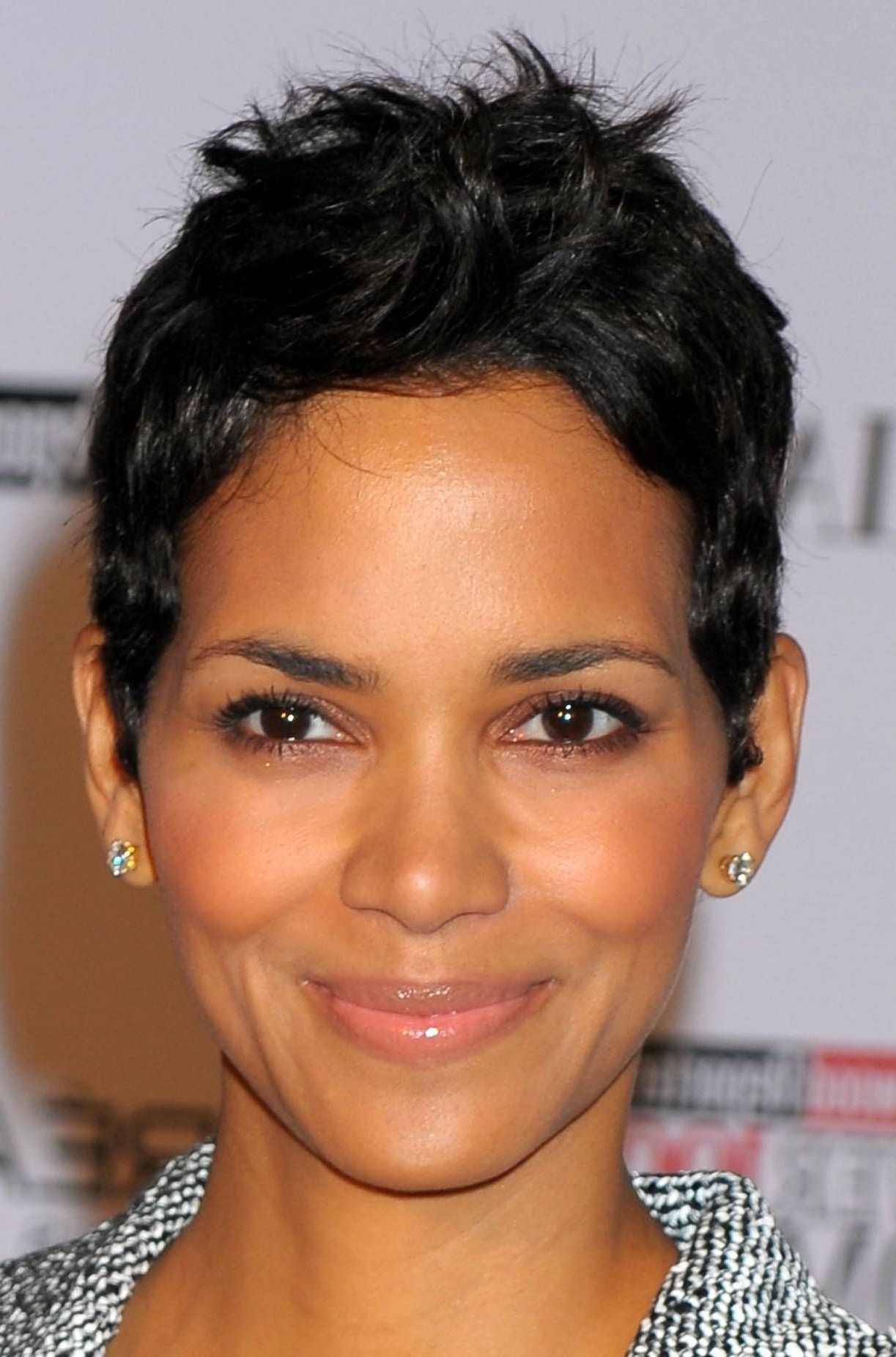 As one can get exhausted with ideals, the hair industry has lots of interesting ideas to give women that can keep them on trend. Likewise, you can try on a short wavy weave that is light on the head but looks great on any face shape of anyone out there. at the bottom, you pull your natural hair with cornrows so as to join the weave on top using braid threads and a weaving needle.
On clean hair you make cornrows starting at the bottom and coming forward toward your forehead. You fix the weave clockwise then gazette a small section of cornrows around the crown but fix the weave with more length from inward thus the tips will be pointing up.
Determine your face Shape: The lady pictured above is wearing a short wavy weave on a heart face shape, this hairstyle doesn't discriminate against other face shapes either so anyone can look perfect with it.
Hair product to apply: On the scalp use an anti-sulfur hair product to prevent dandruff and itching and on top of the hair use Bobos Remi Wig & Weave Detangle Spray to moisturize, detangle and keep hair looking shiny.
Which styling tools apply? To make this hairstyle have handy braid threads to make cornrows, a short weave that is wavily featuring on black color then a weaving needle to join the weave on cornrows. Use a tong comb to pull waves with ease. You also need to shave your face so that it clears of wild hairs then shape your face and at the back of your neck using a decent razor to avoid bruising your skin.