5 Stunning Wedding Two Way Design Hairstyles Black Women
When any woman gets chance of becoming bride what comes in her mind is the type of hairstyle to wear that is elegant enough to suit the occasion. Another factor one considers is the kind gown to put of course it has to connect with her body shape for her to look outstanding. The next item is to choose a particular salon or personnel that will met her expectations. And the next item but not least is to choose the bridal intrigue at large including the flower girl, peg boy, maids, matron and the rest of team.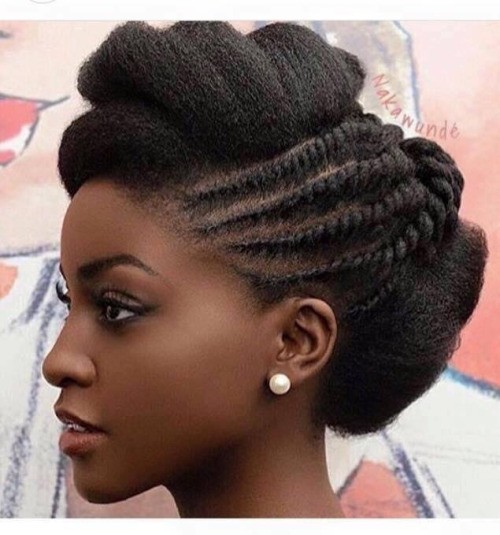 Now back to the topic of the day, we are looking at several hairstyles for brides that are style two way to make hair look stylish. With me in this article I have gathered five different styles on different women to give you a wide view of options to choose from. 1.
Stunning Wedding Natural Two design puff black women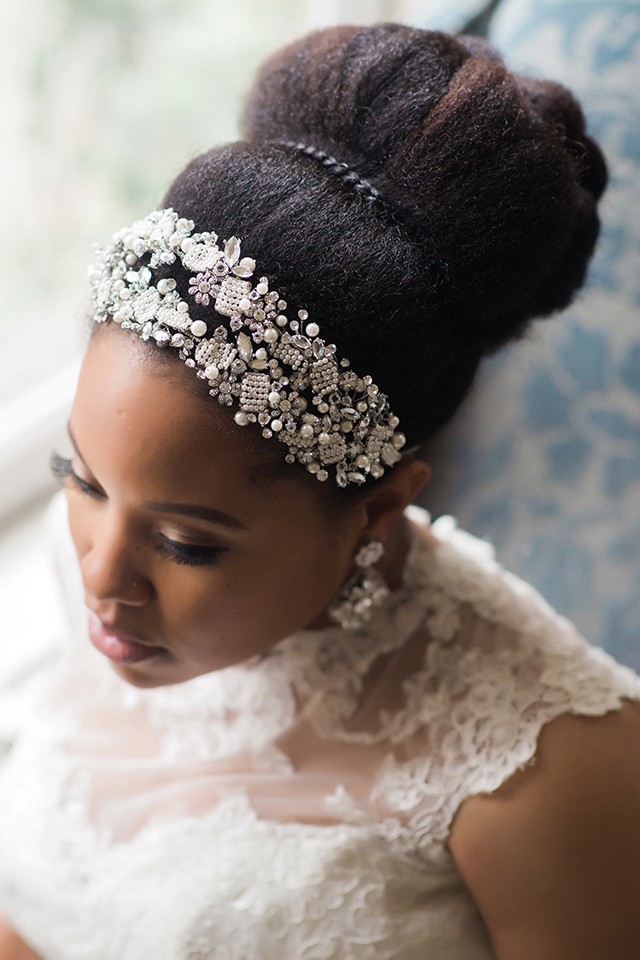 Source:
The bride in the pictorial has long natural hair featuring natural black but towards the top end feature brown highlights on small volumes which make her hair look awesome. so she makes her hair going backwards and she creates mini puff on minimum volume so she fixes a stretchy hair band. since her hair is long she makes it with more volume going backwards while hair at the back of neck is pushed forward to make one big bun and it's folded inwards with curling tool then long black pins are pushed with in to make hair intact. So this bride hard enough art to tell that if she fixes a wide tiara that covers entire front part and matches with her earrings. She looks so pretty looking natural likewise she picked decent lace gown of course it has to be fitting to bring out her entire shape perfect.
Determine your face Shape:
The bride in the pictorial has a long face shape but with this kind of hair and telling you can't go wrong if pulled on another face shape. i love such natural hair myself because it preserves your original look and this puts confidence in you that you're really presentable.
Hair product to apply:
Natural hair looks great when its well moisturized and smooth so I recommend any one with such hair to use Mizani Rose H2O Conditioning Hair dress Unisex Moisturizer, 8 Ounce:
Which styling tools apply?
Have your hair shampooed with natural rich shampoo, it be egg shampoo or any other natural extract to provide vitamins to your hair for a good texture. Use cold water when washing your hair because it preserves natural oils your hair needs than hot water. Use big toothed comb to make hair from bottom going upwards while doing this process you can as well use hand dry to dry hair. Repeat this process until all hair is soft then apply big comb to make hair starting at front going backwards. Have in place black stretchy hair band to tie round hair in the center. Continue making your hair with big comb but not squeezing it because it has to look big and with volume. Use a curling tool with moderate heat to curl end tips looking inward then apply long black hair pins to make hair firm. 2.
Stunning Half cornrow and curly hair black women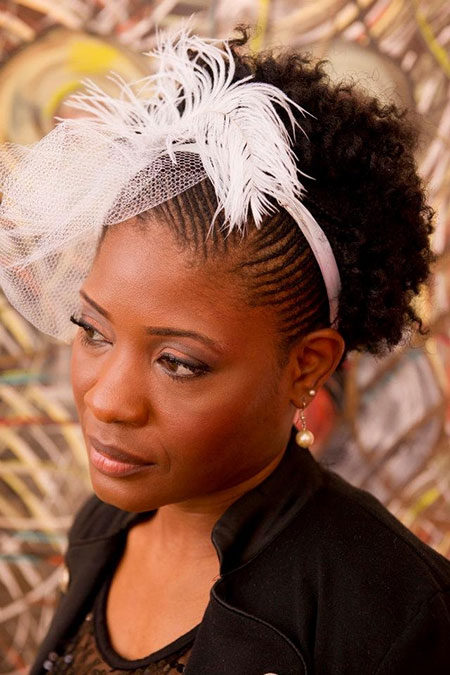 Source: 
If you're fun of short hair that is half braided and the rest of hair is free, I guess this hairstyle will work out for you? You can apply short curly weave that features both black and brown color to make hair colorful, so some pieces of weave will be set aside to make those micro cornrows you check in the image that is off forehead going backwards at ear length. Then for the rest of your natural hair beyond this section you will make big cornrows going round then add the weave on top suing sewing threads and sickle needle. Later you use your fingers to make up this section as you pull hair upwards.
Determine your face Shape:
the African American babe in the background is wearing this hairstyle on long face shape, what i want to assure of women out there thus is one of the hairstyle that looks good to everyone that falls for it. It takes fewer hours to make and is convenient at all times.
Hair product to apply:
Apply beeswax hair product on scalp to moisturize it and even help you out when the skin seems to hurt especial on day one. Since the back part features curly weave you will need to apply Organic R/S Root Stimulator Olive Oil Sheen Spray, 11.7 Ounce to put off frizz and just restore curls to order.
Which styling tools apply?
You will need in place braid threads to make cornrows especially the back section because after weave is added on top. At the front part of hair, you pick small pieces of the weave to make micro cornrows as you check them in the pic. 3.
Stunning Wedding straight and wavy hair black Women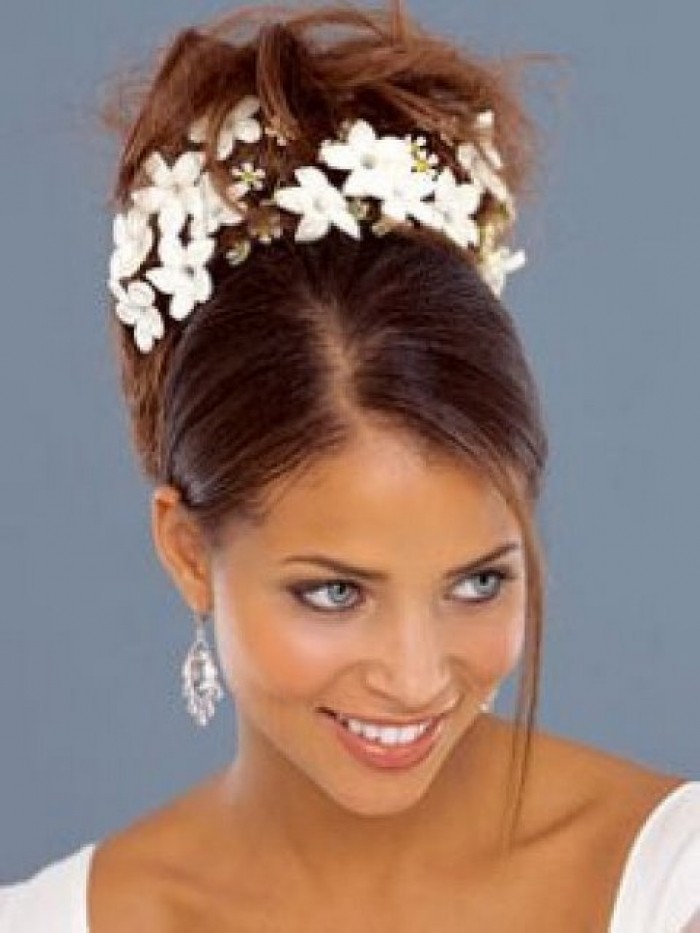 Source: 
However you can have your natural hair colored brown and straight. As a way of styling this hair to look cute, you draw a line between the crown to sides and some hair from mid crown towards the back. Leave out small volume of hair at the front that parts to the left hand side forward towards forehead long enough to touch shoulders. Since you parted hair right at the front on sides gather it at mid back of neck and put it together using braid threads then on top fix a wide hair accessory and before it fix floral tiara to complete your hair.
Determine your face Shape:
The black bride before you is wearing stunning hairstyle on round face shape, considering how this hair is styled there's no way any woman with another face shape can get negative results only compliments will accompany you.
Hair product to apply:
Use organic root stimulator olive edge control gel 2.25oz to give your hair great look, add shine, and protect hair from hush rays that can damage your hair. Last it will leave your hair fully moisturized.
Which styling tools apply?
your will need in place small bristled comb to organize your hair, have in place braid threads to join hair at mid back together then put on top teaming color weave with more volume to bring out the actual shape of your hair and last wide floral tiara to complete you. 4.
Stunning Wedding Natural straight and puff hair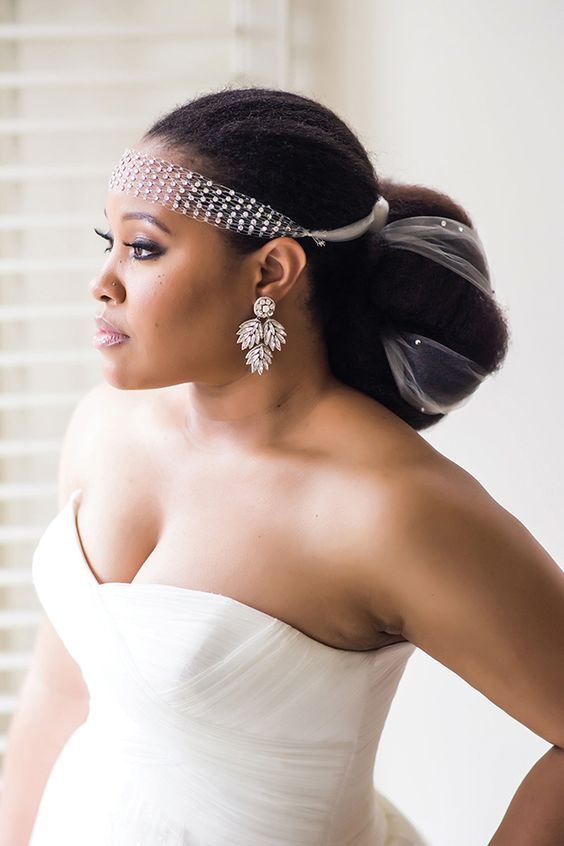 Source: 
This is one of the most beautiful bride I have ever seen with long natural hair, its thick and has much volume. The bride has beautiful natural complexion that anyone just admires on spot, this gives me confidence that if you work out your natural skin without bleaching you look war because natural is best. this bride fall for natural hair and it you grow it long am telling you look exception since most women go for relaxed hair or apply weave and other hair extensions but if you keep your natural look that's how one can tell that you're naturally beautiful. She added on little makeup to her natural skin tone because you can hardly notice she's wearing it. Never the less she painted her eyebrow with faint brown color, added few amounts of pink lip sheen. What made her strike far is the kind of tiara she applied which isn't common. She fixed round her forehead then tied it first below the crown. Since its long part of it covers on top of hair and the rest on the sides that's on the voluminous hair at the back of neck.
Determine your face Shape:
The bride in the pictorial is wearing her hair on round face shape, what i must say about this hairstyle is that it goes beyond borders thus any face shape looks perfect with it.
Hair product to apply:
Apply Mizani Rose H2O Conditioning Hair dress Unisex Moisturizer, 8 Ounce: because it restores lost moisture to your hair after wash, it keeps hair smooth and manageable to pull any design, it keeps your hair looking shinny while the scalp is nourished to prevent hair from breaking.
Which styling tools apply?
To go about this hair, first you wash any dirt off your hair using natural formulated shampoos from egg, avocado and other to mention few because it add nutrients to your hair to preserve its texture. Use cold water because it doesn't wash way natural oils within your hair but you only add on to them to keep your hair looking beautiful. Wet hair first then pout small amounts of shampoo on your hair and rub gently on the scalp and hair to remove deep seated dirt, once it foams rather you continue. You will see the color of rather changing from white to brown color which shows that dirt is coming out that result from hair products or dandruff. add water until its comes out clean, dry it off using cotton towel then leave few amounts of water .Don't forget adding conditioner after washing hair clean. Use big hot comb to dry hair and to stretch it , in mid of this process apply small amounts of hair product then proceed for purposes of making hair smooth. For that short hair that can't fit within the hot comb use normal small bristled comb to stretch hair up while blowing heat round the area then last do the styling. 5.
Stunning Wedding Natural half twist and wavy Hair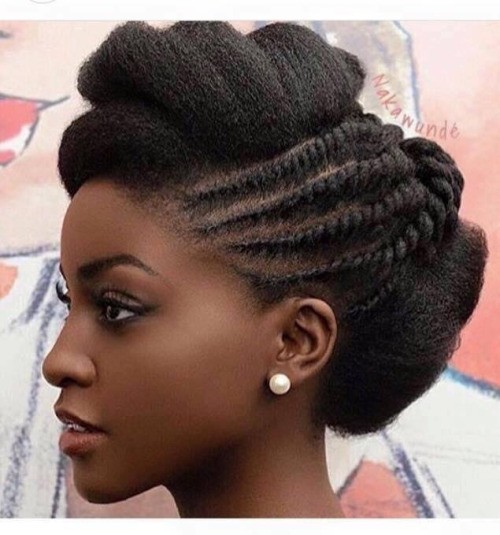 Source: 
Most black women find it hard to grow natural hair because they're scared of maintaining it, with a view that it hurts when making it and some lack knowledge of styling. Am telling you if you have tips handy to maintain you won't regret growing it long. What makes black hair hard is when it's dry so the solution for this kind of hair is to add hair product on time to keep it moisturized. It has a attendance of frizzing and when you its' not plaited before going to sleep you create temporary big boxes to make it manageable the following day when making it. Now for the hairstyle in the pictorial, has to be medium length or long so after wash you hot comb. You divide it in sections using end tail if small comb. Divide hair into two and part it on both sides starting from the left hand side going towards ears up to mid hair. Twist hair on medium size up to mid back and join it using black threads. Now for the right hand side starting at the front pull hair into big loose waves and in the mid part pull hair with volume going towards the right cheek but of course the tips are made small. Turn to the opposite side of twisted area likewise pull hair with waves looking exact like the front part. Then last below the twisted area pull hair from both ends towards the middle and roll it into one then secure it with long pins to keep it intact.
Determine your face Shape:
The black babe in the back ground is wearing this hairstyle on oval face shape, be rest assured that this exact hairstyle looks great on all other face shapes of black women out there, just explore your beauty now!
Hair product to apply:
Use Design Essential Stimulations Super Moisturizing Conditioner 6 Oz because it's both conditioner and hair food, it penetrates quickly through the scalp to make dull looking hair manageable, smooth and healthy looking.
Which styling tools apply?
Use black braid thread when twisting hair and to put it together. Make big loose waves using curling tool but avoid using much heat. Fix hair pins at the lower part of hair between one big fold that locks inward.