5 Statement Making Wedding Dreadlock Hairstyles
Some time back dreadlocks were known to be worn by Rastafarians and they were worn long, done in big sizes, and would fall off shoulders.
But as the hair industry explores more art in this field it was now worn by anyone that falls for it, nowadays it's women by black and white women for formal, special functions and other casual meetings. The first aim of wearing dreadlocks is to keep hair for long period without worries of combing.
The remaining issue with this hairstyle is to wash off hair products and dirt that results from sweat every two weeks or so. I now check black brides wear dreadlocks and look so awesome. You can style this hairstyle in various ways that make a statement and some are displayed in the article below.
In case you want to pull dreadlocks for the wedding you need to give an allowance of about five days to give room for making it then give a hair break because hair hurts on the first day or so. Actual styling should be done on the actual day of the event.
Statement-making wedding updo deadlock hairstyle for black women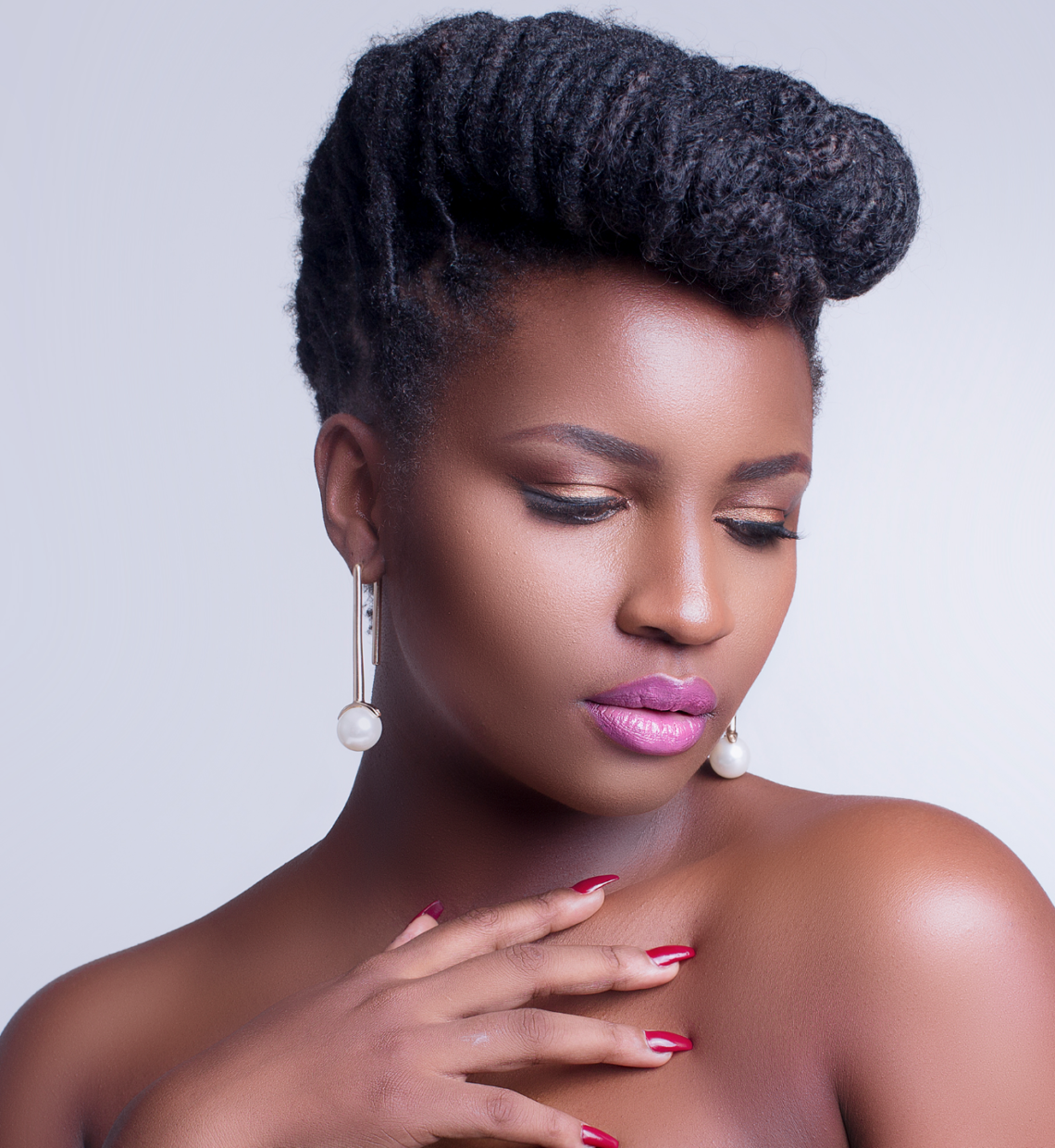 The black bride in the pictorial fell for long dreadlocks that she pulled into an updo. She gathered hair on the sides and at the back of her neck towards the crown.
As you make hair at the back of the neck is pulled into two big cornrows from the bottom up to the top. So hair on the sides is rolled inward up to the last stretch and likewise on the opposite side.
The hair on the right is drawn short at the front and within a few inches, you increase volume. The opposite side hair is finished with volume as you proceed toward the front. You then add weaving threads through both foldings using a weaving needle to make the hair firm.
Prior to actual styling is proper to add hair product on the scalp to moisturize it because it's easy to reach all areas with the product when you're done with styling.
Determine your face Shape: the statement-making wedding dreadlocks are worn on the round face shape of a black bride, so interestingly this hairstyle does discriminate any face shape of any black woman at any time, anywhere for any purpose.
The length of jewelry you pull depends entirely on the shape of your outfit. Likewise, the makeup one adds depends on each individual complexion because on market each complexion is considered.
Hair product to apply: I have seen women add beeswax on dreadlocks because the product is rich in moisture and another thing it fades out quick thus you rest assured of not getting buildup.
Which styling tools apply? All I know is that you apply rough fiber like kinky to make dreadlocks. So it depends on the choice of color you fall for if it's one color you maintain throughout.
So small volumes of your natural hair are picked and added with kinky fibers and you start weaving natural hair with fiber until you reach to the top. It takes quite some time and it's worth the waiting since you look stunning.
Wedding colored with highlight dreadlocks for black women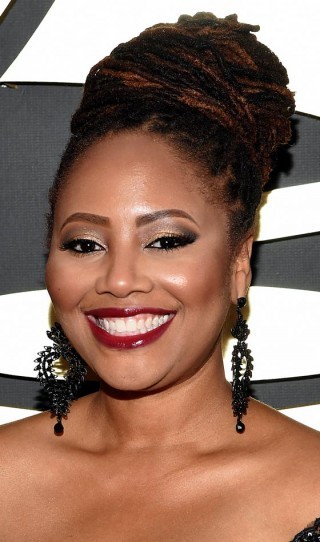 Wear dreadlocks with all fun on color like brown then as you're making each dread on the way you fix lighter highlights to make hair look colorful.
The bride in the background wore a smiley face with long dreadlocks that feature on color brown and while on the way you add light highlight either in the middle of a few inches to the tips.
She picked small volumes of hair to make each dreadlock lock up to her shoulders. You then hold hair together on the mid-top of the hair, so she pulled it into a high bun by folding it clockwise from the bottom up to the top.
Then you weave it through using more threads across several rounds to make the hair fixed. as stated before after making dreadlocks it's convenient to add hair product on the scalp prior to styling because hair is compacted together. If done vice versa you might fail to distribute the product fairly.
Determine your face Shape: the statement-making wedding colored with highlight dreadlocks is pulled on the round face shape of a black bride.
She has fat cheeks and her bust is fully covered as well when she adds an open gown she looks so hot. However, this hairstyle makes a high bun looks pretty to all facial shape of a black bride even if it means pulling a different style altogether.
Hair product to apply: use Argan Oil Hair Mask, 8 oz to bring life to damaged hair by conditioning it, however, hydrates hair to bring transform dull hair into healthy-looking hair.
It as well transforms the texture of your hair by stimulating steady growth of hair and above all it doesn't leave behind any residue. Thus your scalp won't keep dirt however it will surprise you with steady performance and healthy-looking hair.
Which styling tools apply? The length and color of the fiber differ from the previous one but apply the same material. When you put hair together you tie around several weaving threads to keep it in position.
Then when it comes to styling you turn it around from bottom to top with the push tips in the middle. Last you apply weaving threads and needles to fix it in position.
But the weaving and sowing needles differ the sowing one has a sickle shape to be able to push through fibers in and out until it's firm.
Side-swept wedding dreadlocks for black women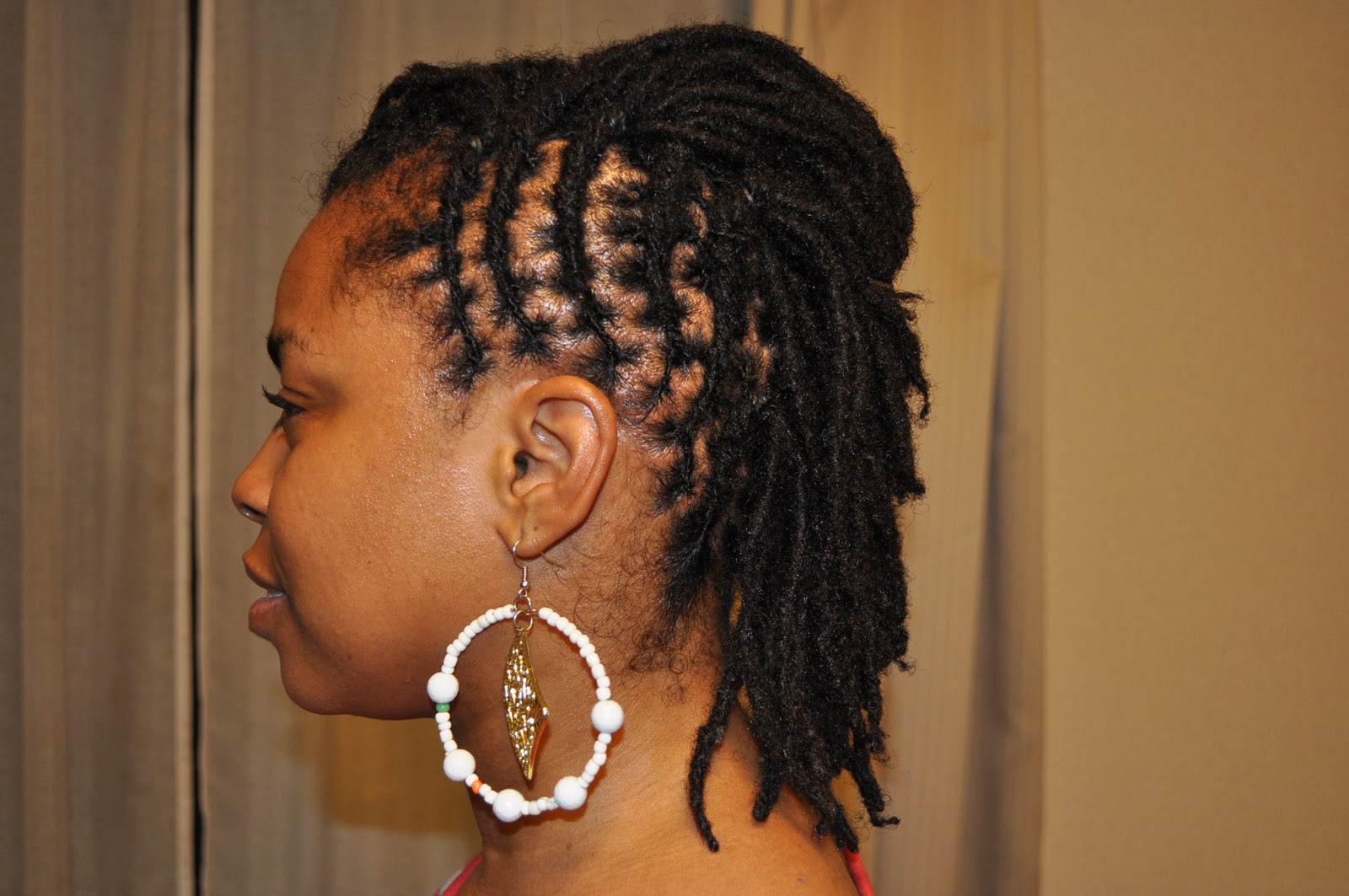 Other brides fall for medium-length dreadlocks because they're light to carry. On one of the sides, you pull small volumes of hair and add with fiber then you interlock one with another from bottom to top to cover the entire side.
You tie the knot on top of each dreadlock then you complete it towards the center of the hair. You proceed with the back of your neck; you pull short dreadlocks that touch your shoulders pointing down.
At the front mid part of the hair, you make medium-length dreadlocks that cover all the way to the upper back of the neck. On the right-hand side, you pull dreadlocks too that reach neck length.
So at the front part of the hair, you push hair with some volume then weave it through. So add on top dreads from left then fix it together as a way of styling it then pulls tips at the top back of the neck to create a short bun then weave it through.
Determine your face Shape: The lady in the background is wearing statement-making side-swept wedding dreadlocks on a round face shape, with such hairstyles no matter your face shape will look totally awesome.
It means with no doubt all black women regardless of each individual shape look beautiful with this style of dreads. As one side of the hair is drawn towards the top, part of your skin is visible and by doing so this design makes hair look wonderful so whichever face shape you add with it just looks perfect.
Hair product to apply: You can apply Amla coconut oil to oil the scalp and add a few amounts on top because it will evenly moisturize your hair the good thing about it is that it doesn't leave any residue thus it will make you feel comfortable all through.
Which styling tools apply? You will have in place kinky fibers at medium length, round five to six packs however you may not consume them all.
On one of the sides after making a dreadlock for a few inches you then interlock each dread with one another from the bottom then finish on top of that every side.
However, you apply this design up to the end of the side as if touching part of the hair at the back. Once you're done with plaiting you then apply weaving threads that look like your natural hair then you join sections of hair as you check in the pick using a sickle needle.
Colored dreadlocks  for black women that make a statement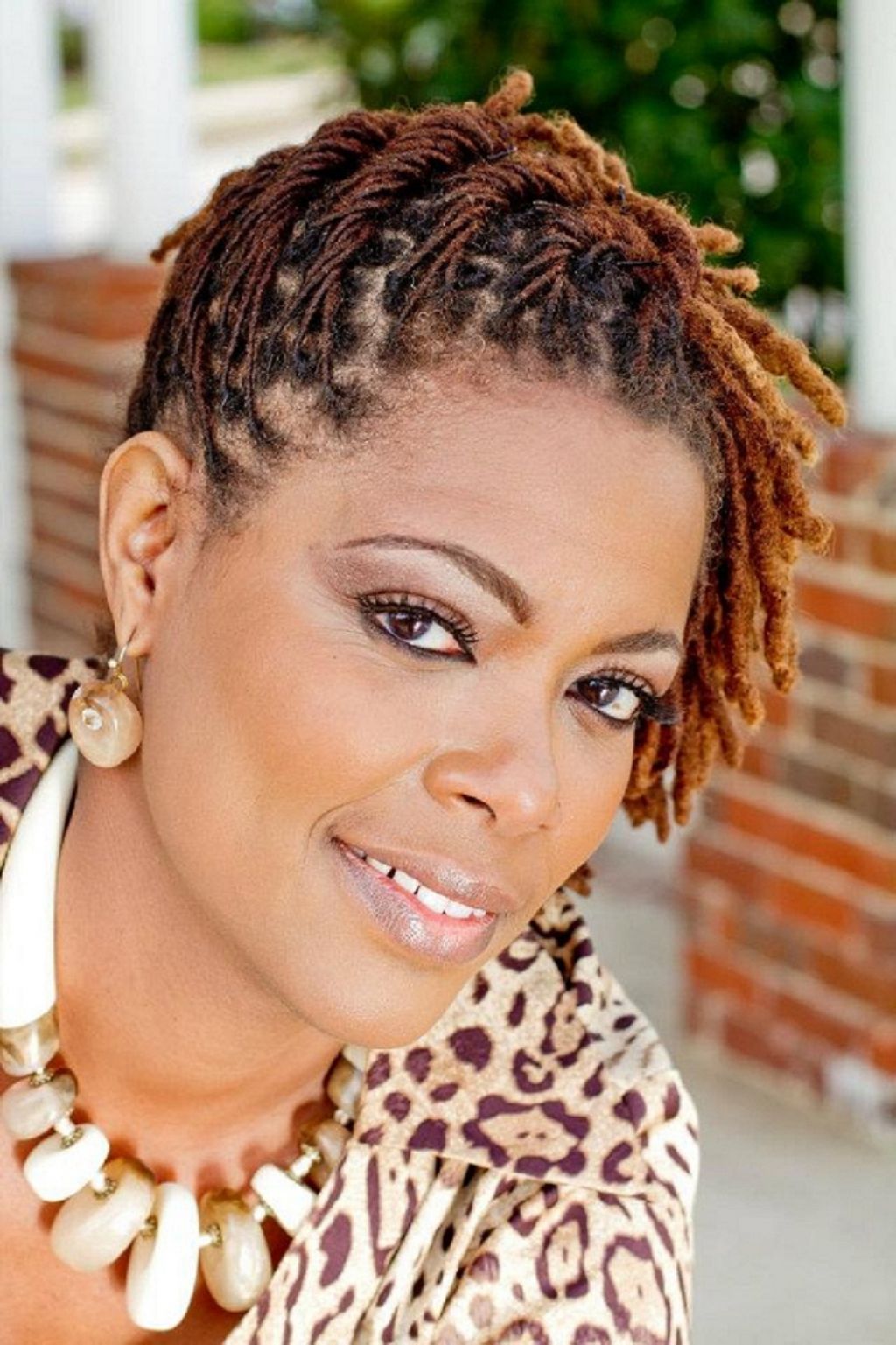 You will agree with me if though you're not a fan of dreadlocks that this hairstyle indeed makes a statement. It features on shouting color and is medium short. it's then styled by rolling small volumes of hair starting at the front and part of the crown and the entire right-hand side towards the mid part of the hair and the entire back of the neck.
On the entire left side dreads will feature short at the back and then will increase in length as you complete it towards the front. Finally, your hair will have an adorable design from each side thus making you look pretty.
You on the left front part of hair knot dreads tough mid cheeks as if drawing bangs. At the end of the day, this hairstyle will give you all the comfort you're looking for when you plait your hair.
It can take you from three to six months depending on the period you want to hold it. However, between two weeks it needs you to wash it clean to maintain its original look and even prevent dandruff.
Determine your face Shape: the statement-making wedding-colored dreadlocks in the background on top are worn on a long face shape, as an experienced hair stylist I just tell you this hairstyle will look perfect to all faces shapes of black women around the globe.
Hair product to apply: Since kinky is a dry fiber that you only alternate colors just according to how you want your hair to look, it looks great when you apply oily hair product for the scalp to be fully moisturized and the fiber itself to be smooth. If you don't use coconut oil, you can either apply hair product from olive oil or Rosehip Seed Oil.
Which styling tools apply? As we all know dreads are done using a weaving needle by adding both natural hair and fiber because it's woven from the bottom up to the top.
For styling, it requires when you to have clue about different designs. For this particular hairstyle, small volumes of hair are rolled from start towards the middle part of the hair and then secured by stitching.
Statement-making Swag wedding dreadlocks for black women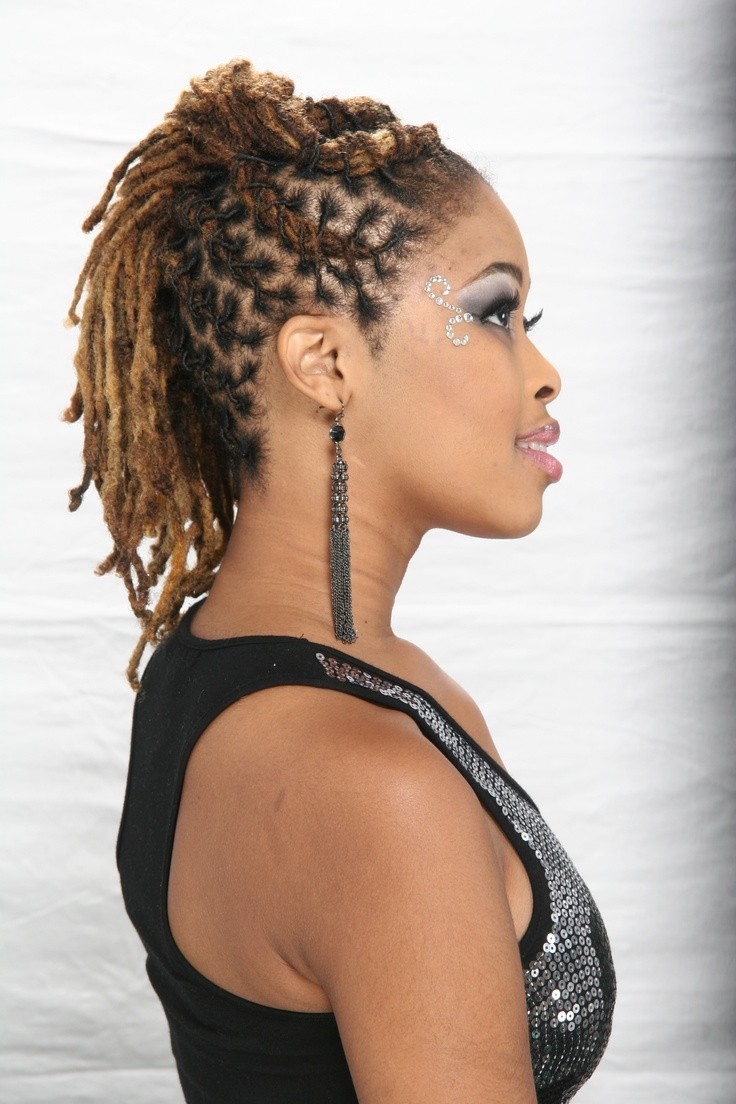 Shine on your wedding with a statement-making swag wedding dreadlock that features a light brown color that is medium length. Small volumes of hair are picked and added with a medium volume of fiber too to pull medium short dreads.
So when hair is done with plaiting hair at the front is rolled in two bits one after another from the left towards the right but mid-way above ears stitched in position.
The tips are pushed on the rest of the hair pointing towards the left. So cornrows are drawn using dreads on the right side and partly a few inches at the back of the neck and completed on top of the side to make hair look fashionable.
Partly the hair on the left front part is put together on top hair at the back and then stitched together to avoid blocking it .so the rest of the hair is pushed at the back of the neck touching the shoulders to look stylish.
Determine your face Shape: The statement-making swag wedding dreadlocks are worn on the light complex on black women with round face shapes, to be sincere this is one of the hairstyles that go well with all face shapes of black women no matter your skin complexion.
Once the styling is perfect this hairstyle will match any outfit, at any place, at any time for any special function. It's also perfect for formal and stays long to put off all the stresses of combing hair or frequent salon visit.
Hair product to apply: Apply beeswax hair food for moisturized and healthy-looking hair and scalp.
Which styling tools apply? Once you have in place weaving needle, weaving threads, and kinky colored fibers you're done. For the styling options, part of the hair at the mid front is rolled from the right towards the left half the secured with stitching. Likewise, on the right-hand side, you draw cornrows using the same dreads to make your hair look trendy.