5 Must Try Red Short Haircuts African American
Red is such a lovely color that is applied to your hair and you look fantastic regardless of your face's shape, but what I want to point out is that on lighter skin it pronounces loud to make you enticing.
However you can wear red hair in various ways listed to make your hair outstanding; you can opt for it short wavy for all purposes, pull it short straight either for special functions like weddings, parties, or formal as you love it.
Also Read : 50 Best short haircuts for african american women
You can pull it short layered or try it Mohawk style and last but not least wear it short bob style to keep on trend African American women out there how mind keeping good looks no matter what?
Must Try Red Short Haircut African American Wavy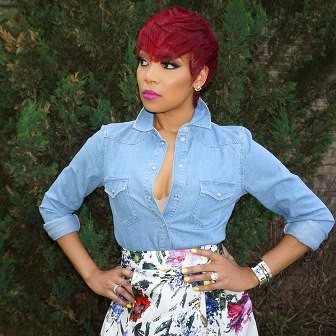 Keep looking good African American women of this century from their twenties bridging the gap up to your forties, because it doesn't cost you much to have this look but it takes determination and knowing what exactly you want to be.
The African American woman in the picture looks fabulous with a Red short weave that is pulled wavy. There's a variety of weave brands on the market and each serves you differently.
But in case you want to wear your favorite color weave for some time make sure the brand you're wearing doesn't necessarily frizz because in the process it becomes hard and wears out quick.
You have to keep it well moisturized to keep it looking original and after a period not exceeding three weeks it's necessary to wash it to keep off dirt and the same time unblocks hair follicles on the scalp to facilitate hair growth.
Because the worst enemies that hinder the growth of hair is much-seated dirt that comes from natural oils that lubricate the scalp and hair build-up from hair product because your scalp finds it hard to pass out and in the air.
So to put up this red haircut, after washing clean of your natural hair, you pull it with cornrows then the short red weave is added on top. As you comb your hair you push it forward, especially from the mid part of the hair coming forward.
Then from the midsection of hair going towards the back push hair towards the back then the hair on the sides respectively.
Determine your face Shape: This haircut is pulled on a long face shape, she's light-skinned and what makes her stand out most is the makeup she added that made her skin look brighter.
She also colored her eyebrow and added nice color to her lips in trendy outfits to make her look awesome. But to be more legalistic this haircut looks perfect on other face shape types of African American women out there.
Hair product to apply: Apply different hair products on the scalp that will keep off buildup from forming thus making it congested, so use bees wax, then on top of the hair use Bobos Remi Wig & Weave Detangle Spray to provide even moisture distribution, make it frizz-free and maintain original look always.
Which styling tools apply? Your natural hair is pulled with cornrows using either seagull threads featuring natural black or an equivalent brand near you. Then you stitch on top of cornrows using the same materials to fix it. Last you apply small scissors to trim hair as desired then complete with a normal bristled comb to make your hair.
Must Try Red Short Haircut Wedding African American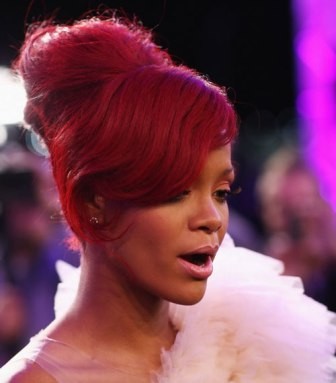 Show up in your own style on your wedding day by pulling red short hair secured with bangs and then the rest of the hair pulled up to do to give you more comfort through the day, as you won't be afraid of feeling the heat since all atmosphere is made conducive for you.
Since hair doesn't touch your body you're expected to have all fun, as you're expected to make several movements though out the event you get cool breaths thus keeping you fresh and a smile on your face.
This red haircut is pulled on the medium short human weave, as in push some hairs from the top left side towards the right-hand side with loose waves to feature bangs then push ends at the back of ears then pin the rest of hair tips with colored pins.
Part some hairs at the crown towards the back with volume to pull an updo, push hair on the sides, and lastly fix it at the center with more hairpins to make it firm.
The reason you use human hair weaves is that it takes you more period than usual weaves and can be used for another application in any kind of style thus making it economical and worth investing in.
Determine your face Shape: The red haircut wedding African American is pulled on the oval face shape of Rihanna, the color of the hair makes your face clear and loud for your audience to view you even at a distance.
For any other brides out there with another face shape this haircut will come out right once you use an experienced hairstylist.
Hair product to apply: Use Organic R/S Root Stimulator Olive Oil Sheen Spray, 11.7 Ounce throughout your hair to maintain a fresh, shiny look and to moisturize dull, dry weave into nice-looking hair.
Which styling tools apply? In case you're pulling this haircut on the weave, your natural hair will be pulled with cornrows then red medium short weave fixed on top using colored braid threads. After spraying hair you apply a normal bristled comb to make hair as desired.
Must Try Red Short Haircut Layered African American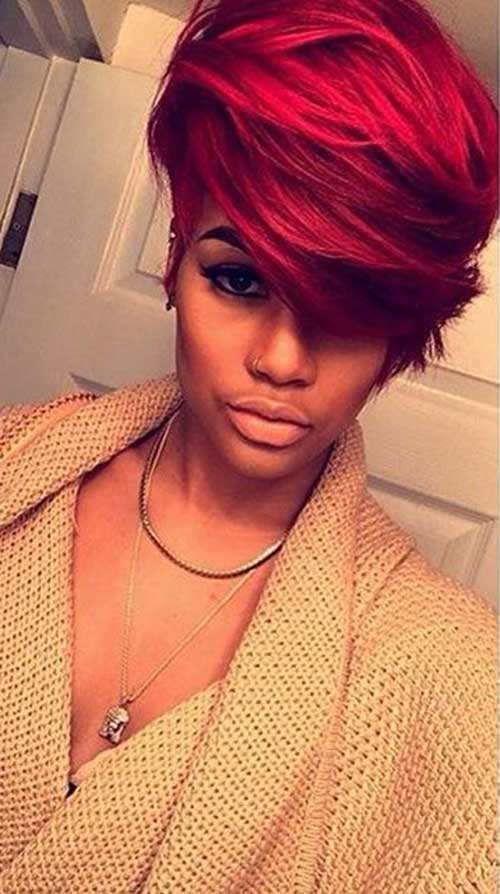 In case you have wanted to make your head appear sizable on lightweight, wearing layered hair is the way forward. The African American woman in the picture above is wearing a red short haircut with layers.
You can consume one and a half pieces of the weave to meet your goal but for purposes when your pocket is small, you divide the entire weave into two to fix more pieces in a place to give your hair volume as you so wish.
At the back of the neck hair is fixed short and on a few volumes then from the top back of the neck coming forward you fix weave on more pieces to make it voluminous.
Push hair from the back towards the front with waves; push part of hair from the right front side towards the forehead to ass bangs that cover one of the eyes.
So push hair on the left-hand side from the top towards the ears then trim short some hairs at the back of the ears while before the ears trim hair to mid-cheek length.
Make sure the hair on the right-hand side appears shorter and in small volumes for the shape of the haircut to come up perfectly.
Determine your face Shape: This haircut is pulled on the long face shape of African American woman on a layered red weave; however, this same haircut looks great on any other face to shape the trick lies in proper measurements when trimming and fixing it.
Hair product to apply: Nothing works perfectly on the weave to keep it looking original and with even moisture distribution other than hairspray, so let's apply Bobos Remi Wig & Weave Detangle Spray.
Which styling tools apply? As usual, your natural hair has to be cleaned then pulled with cornrows then the top red layered weave is fixed on top. Use a tong comb to push waves and apply pair of scissors to trim sections of hair on different lengths.
Must Try Red Short Mohawk Haircut African American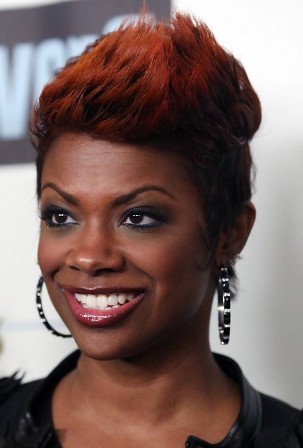 Another way to wear red short hair is to pull it Mohawk style, it requires your natural hair to be cut medium short then the hair in the midsection is colored red then the lower section of hair, especially on the sides and then back of the neck going towards the bottom hair is kept halfway colored and looking natural.
You push hair in the midsection upwards wavy, then the lower sections of hair straight. So far this haircut is easy to make, once you trim your natural hair medium short on the top midsection of hair then the hair on the sides and back of the neck respectively is trimmed shorter.
You then add color on the top midsection of hair and then a few inches around the top areas of the lower section of hair.
Determine your face Shape: This haircut is pulled on the heart face shape of African American woman with a dark skin tone, and it's one of the haircuts that are easy to make and match with any face shape.
Hair product to apply: Apply Jojoba Oil to add strength to your hair, lock in lasting sheen, and with moisture.
Which styling tools apply? Use a curling tool with controlled heat to avoid burning your hair because it loses its original texture if you do it consecutively.
Turn the normal side of a tong comb to make straight hair on the lower sections of hair. For the top section of hair uses the tong-toothed side to pull your hair with waves.
Must Try Red Short Bob Haircut African American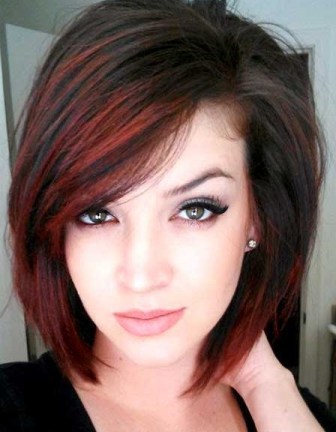 Look for a lovely young African American woman with a short bob haircut that is filled with red highlights on top of one side, then on the lower parts of her hair to make this haircut colorful.
Push some hairs on one of the sides with bangs then trim sharp edges on ends especially at the front of both sides while at the back of the neck, hair is cut normally.
This haircut is pulled on medium short natural hair and red highlights fixed on designated areas to make hair look wonderful.
This hair is relaxed so after shampooing it clean add medium size rollers then dry it at your convenience.
When hair is done remove rollers and apply hair product on the scalp and a few amounts on top then apply a small comb to make your hair.
Determine your face Shape: The red bob short haircut before you are pulled on an oval face shape; just to be sincere to any African American woman out there this haircut looks nice with all face shapes so utilize resources around you to maintain better looks.
Hair product to apply: Use Marrakesh Oil Hair Styling Elixir 2 oz to keep your hair looking good, and smooth, improve the texture of your hair, and lock in a shiny look.
Which styling tools apply? This haircut involves applying scissors to trim hair, using rollers to set your hair then a small bristled comb to complete your hair.