5 Must Have Wedding Straight Medium Hair Black Women
You find that every
black woman
has choice when it comes to hairstyle to wear on her wedding, and varying lengths for convenience. Others love to wear short hair; others love long hair either worn on natural hair, weave or extensions. Above all hairstyles that black brides wear to look stunning on wedding is straight medium hair however it can be done differently to meet every bride's expectation.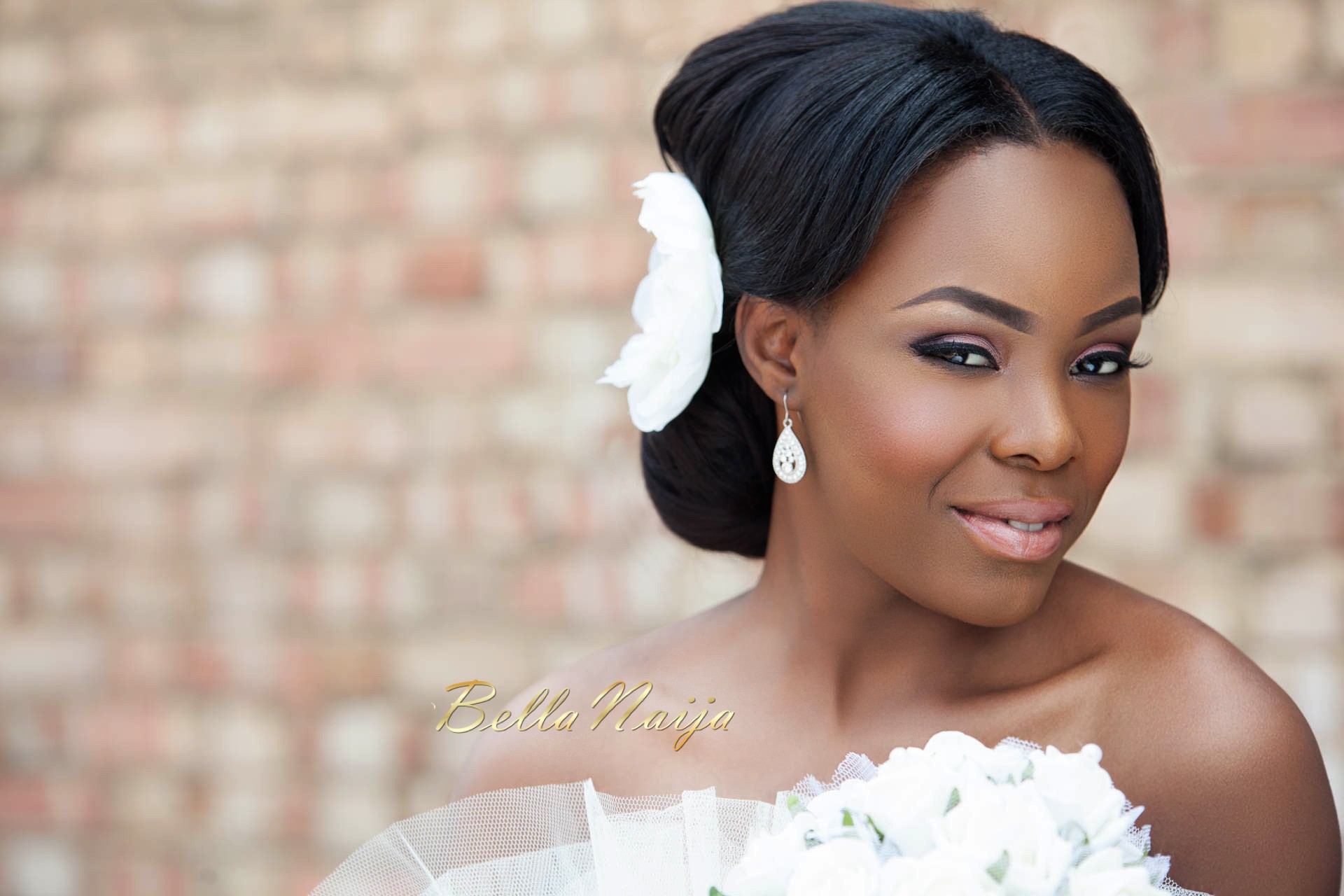 Much as the topic of the day talks at length on straight medium hair for black, each of the hairstyles shown in the pictorial displays different art to spice each hairstyle. However it's not guaranteed to pull entire hair straight but part of it can be pulled in any style the bride fall for. So as you scroll down this article you find 5 must have straight
medium hairstyles
black brides wore to look hot. 1.
Must have wedding straight medium hair on straight bangs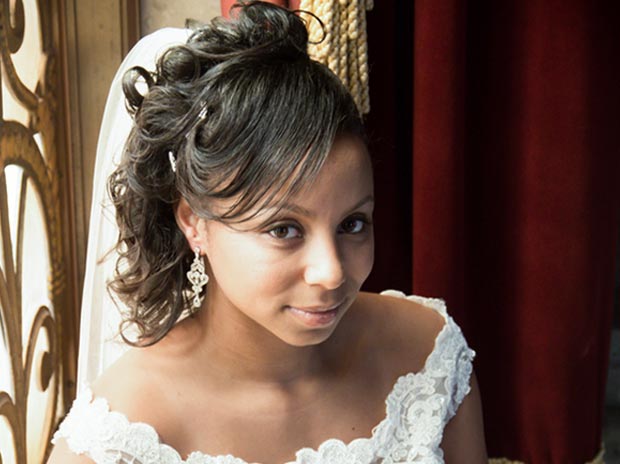 Source: 
The bride in the background has medium length relaxed hair, so her front hair is pulled straight on bangs then the rest of hair on sides and at back of neck is pulled on loose curls. This hairstyles takes less time to make and very easy to make. So part of hair at the crown is pulled with volume while curls look backwards so between hairs at the back of neck veil is fixed long to fall off back . Originally the bride in the pictorial has relaxed straight hair and for you to have healthy looking hair you have to take it through these steps; wash hair clean using shampoo that works with straight relaxed hair. You proceed by adding conditioner on your hair to have steam because steaming makes hair product that is formulated with nutrients to penetrate to hair follicles to nature healthy looking and strong hair.
Determine your face Shape:
the black bride in the pictorial on top has a square face shape so she looked stunning with bangs covering part of her forehead. She kept looking natural because you can hardly notice she applied any make up un less she add few makeup that blends with her skin tone.
Hair product to apply:
You can apply among the following hair products on hair like; Castor oil, TCB hair food or Jojoba hair food because all these products are formulated from best natural extracts if filled with moisture and vitamins necessary to maintain good texture of hair. So it minimizes chances of hair falling off because your scalp and hair won't go dry to cause your hair to lose strength and its original texture.
Which styling tools apply?
Once hair is shampooed and few seconds you add conditioner for purposes of making hair strong to stand hush conditions. There and then add steam and when this process is done you add setting lotion to style hair with rollers. But it's not a matter of adding any size of rollers but appropriate size for hair to dry on time and perfect. Then you apply big bristled comb to push all hair towards the back and to remove tangles. So you need to change the size of comb thereafter that's a small bristled comb to pick small volumes of hair and set it on rollers until entire hair is done. When hair is done with drying then you remove rollers off your hair because the purpose you add rollers to your hair it to dry hair and waves locked so that styling becomes easy for you. for the front part of hair after putting off rollers you comb hair straight and secure bangs too the rest of hair is pulled on loose curls using curling tool but of course you apply this tool on average heat to avoid hair from burning or getting weak. 2.
Must have wedding straight hair with back puff black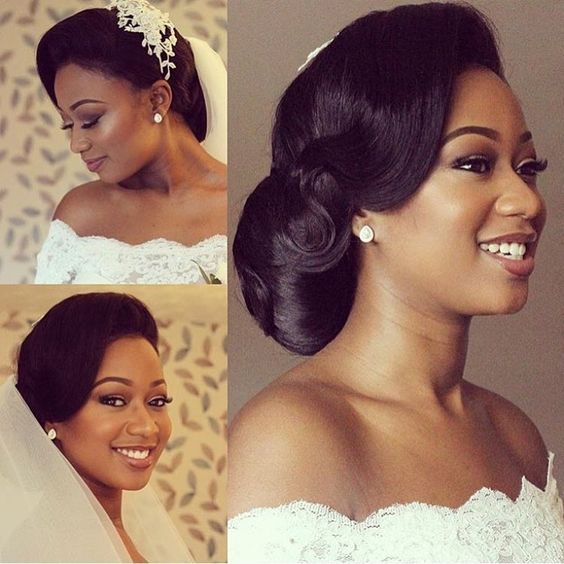 Source:
If you're an aspiring black bride that fall for straight hair and love it medium and have been wondering which particular hairstyle that will work for you on your wedding? I encourage you to look no further because the hairstyle in the back ground sorts your expectations out. This hair is relaxed and has more length, so towards the left hand side hair is pushed on top with big bump and as you come down the cheeks hair is pushed straight and round ears it's pushed with big wave. So hair on the right hand side is pushed behind ears on low volume and as you proceed towards the back of neck hair is pushed towards then the right end behind ears to draw big puff that touches neck end to push hot hairstyle. This hairstyle gives you more options positions to fix either veil or tiara. This bride up front looked great with her tiara fixed on the left top touching part of mid hair. And if you fix veil at mid back part of hair I assure you the bride will look hot. The bride in the background picked a colorful gown that fit bust perfect with v shape design. And to keep a trendy look the gown has to hug you up hips and elastic to hold your figure better.
Determine your face Shape:
the black bride in the background is wearing straight hair with back puff on long face shape. What made her look that stunning is the colored eye brow she pulled, and the size of bridal earring she added blended well with her outfit. She has pretty looking skin tone that doesn't have any blemishes or acne. however if you are aspiring to become a bride that this hairstyle captures your heart and you have a different face shape that is mentioned on top just relax this hairstyle will look great on you just put in mind that if you have an experienced personnel to work on you will show up perfect.
Hair product to apply:
the bride in the image above has long relaxed hair, so what anyone would put in mind is that any straight hair product for black women can work here. So in my own view i check Jojoba oil will add moisture and lock in lasting sheen within your hair. So when you're done with hair stylings add spray for strong hold and keep hair looking fresh.
Which styling tools apply?
first you will have to wash clean your hair off any because you can't have good looking hair on a congested scalp .hair looks great with steam so add it too because steaming will add strength to your hair and its texture improved. 3.
Must have wedding straight hair on short puff black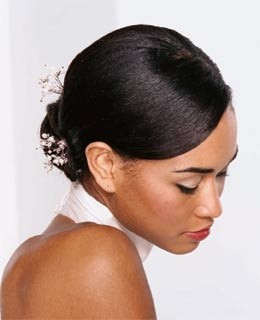 Source: 
You can be one of those black brides out there who falls for straight hair on medium puff so that you appear light on your head. Nothing can stop you from achieving your goals, their several options of styling you can pull on your hair to look elegant like the bride featuring in the image. This is one of hairstyle that carries light hair just in case you don't want to wear long weave or hair which takes more time styling and doesn't require too much of plaiting your natural hair. The black bride up front parted hair on top right side to add bangs and pushed it behind ears then completed it at back of neck. So hair on the left is also drawn towards back of ears pushing it straight up to back of neck too. So all hair is put together and pulled into one cornrow. You make knot out of it then add weaving threads to make it firm. So on top of hair you add with short hair extension to look hair look pretty.
Determine your face Shape:
the bride up in the pictorial is wearing straight hair on short puff on an oval face shape, what I want to highlight more on this image is that this hairstyle looks fabulous on any face shape of nay black bride. Since hair is pushed short you need to apply small bridal earrings too to complete yourself. If you apply medium or long earrings you might be off trend.
Hair product to apply:
the bride up in the pic is has straight hair that is relaxed so you can either apply castor oil or any equivalent hair food that apply on relaxed hair, otherwise this hair food works perfect but in case you fail to get it then look for alternative hair food. On top of hair you can add hairsprays to keep hair looking original and healthier.
Which styling tools apply?
This hairstyle doesn't look different from previous straight hairstyles that have stated before. As usual after shampooing hair, adding conditioner and steam so you add rollers on to your hair ready to dry. You can apply either hand drier or sit under one at your convenience. It's in order to apply first big bristled comb to remove tangles round your hair and to make it manageable. Add with setting lotion to make hair wet enough then proceed with adding rollers on to your hair. When hair is dry you off course put them off and you message few volumes of hair product on scalp then pick small volumes of the same product rub it between palms and apply on top of hair. 4.
Must have wedding straight Natural hair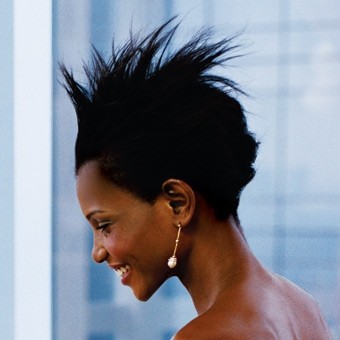 Source: 
Be the kind of bride that set phase for others to follow, by pushing your natural hair straight to look short on the sides. so at the back of neck hair is pulled with more volume and big waves and secure with pins in steps then at crown coming towards forehead hair is trimmed medium straight to keep still and pointing up while some hairs at beck of crown backwards. And with the kind of hairstyle in the pic, it is in order if you add match your looks by adding hugging gown that fit from bust coming downwards. However if you add medium length earrings and wedge bridal shoes you will look awesome. This hairstyle looks cute for black women who fall for natural looking hair with in thirties up to forty plus.
Determine your face Shape:
the black bride in the background is wearing straight natural hair on oval face shape on dark skin tone. However this hairstyle looks beautiful on light skin tone too and on and any face shape of other women out there. So the best position you will fix tiara is either on the right or left side round center of hair.
Hair product to apply:
apply Coconut oil, Amla oil or Mizani Rose H2O Conditioning Hairdress Unisex Moisturizer, 8 Ounce to keep your natural hair smooth, moisturized and easy to comb.
Which styling tools apply?
You will apply pair of scissors to trim hair at mid top using small comb as you pick small volumes of hair to trim on tips. So hair on the sides and at back of neck is pushed towards the scalp then finished at back of neck. Towards the end of crown and extreme end of back of neck you collect hair towards mid back of neck and you fold it in wards across this section then apply hair pins to hold it firm. 5.
Must have wedding straight medium hair parted at front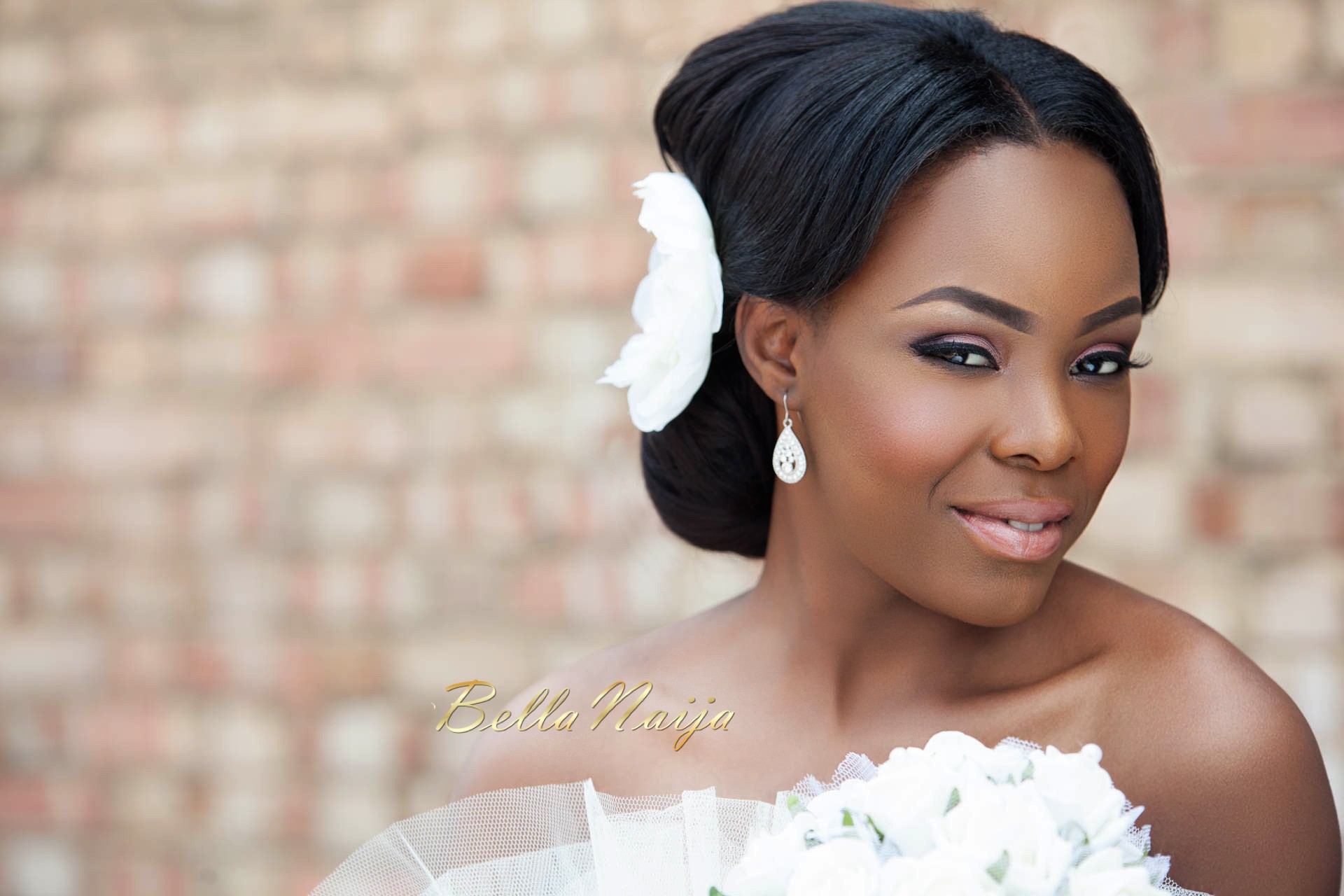 Source:
The bride in the pictorial styled her hair straight on medium length by parting hair at most front in the middle towards then right and left sides. Both sides hair is pushed behind ears to join hair at back in to one low puff. However the puff is pulled with volume and locks in ward. This hairstyle is pulled with original hair which is medium to long length. For someone with short hair that is straight you add medium short weave to make hair get this volume. The bride featuring in the background chose to add short bridal earring, wide circular tiara that she fixed between hairs on the right. As the order of day bride show the top part of their bodies if so wish, she added with bust fitting gown that hugs her body and towards the bottom it has to have fish like shape to look awesome.
Determine your face Shape
: The bride in the pictorial on top is wearing straight medium hair parted at front on round face shape, to stretch this point clearly this hairstyles looks perfect on any black bride even on another face shape. However this hairstyle can look great for other purposes whether casual or formal.
Hair product to apply:
Apply Jojoba Oil because it fully moisturizes your hair, make it easy for styling, locks in lasting sheen thus making your hair look healthy.
Which styling tools apply?
To make this hair you need to have in place shampoo to wash clean hair off any buildup that collect from previous hair products and dirt. After washing hair you reduce water in your hair then add setting lotion to make hair smooth and easy to make. as usual you pick small volumes of hair and add it with appropriate size of rollers to make your hair. According to the length of hair you set heat to dry your hair. When you're done with this process you remove rollers form hair. Apply hair product on scalp and hair then make your hair using medium bristled comb and finally apply small bristled comb to complete hair.