5 Most Anticipated Wedding Afro Hairstyles Black Women
Afro hair has stood tastes as far as black hairstyles is concerned, I have seen afro hairstyle on short hair, natural hair, braids and weave. I for one am fun of afro hair whether on short or medium length hair. I have looked round the globe and collected five Anticipated Wedding Afro hairstyles for black women that any black lady aspiring to be a bride can choose from. It's all fun wearing afro hair on your day that gathers lots of people around you.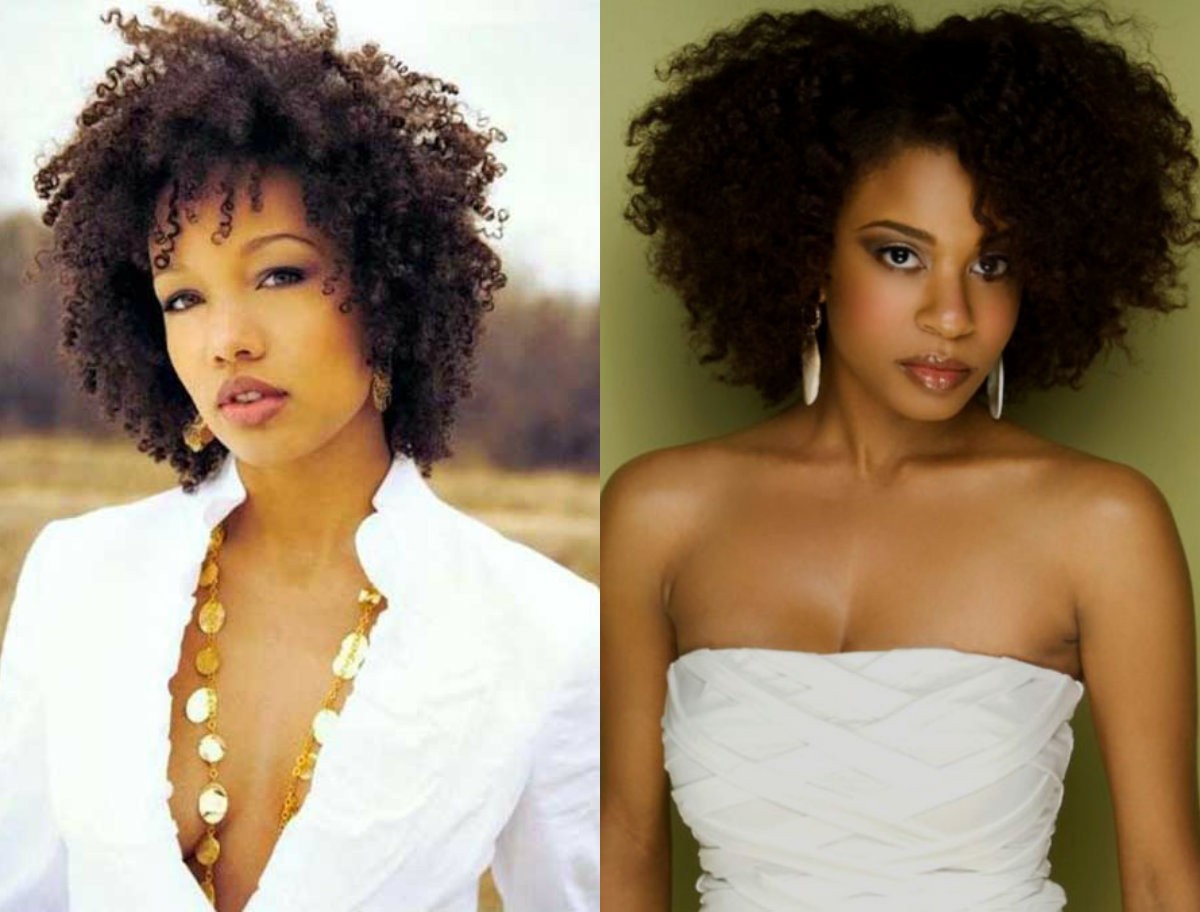 One of you might be less knowledgeable of how afro hair looks like, it only states to kind of hair that almost look as Mohawk but the difference is that on afro hair you only reduce the volume of hair on the sides and at the back of neck then in the mid top you preserve hair with more volume. While Mohawk refers to shaving off hair on the sides completely then in the middle of hair you keep more length and volume. 1.
Most anticipated wedding afro hair black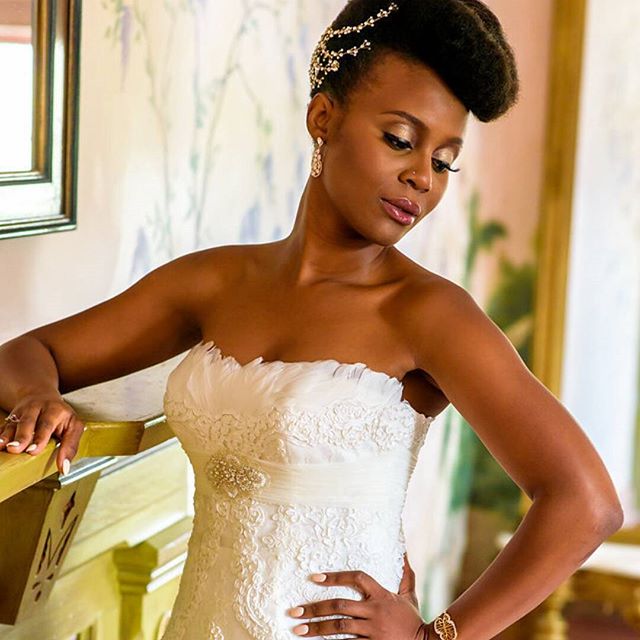 Source:
Who says you can't make it with afro on your wedding day? Surely afro hair looks fabulous as the bride in the image on top proved it right. She styles her natural hair in a fashionable way by combing hair on the sides towards the back of neck when its light so all hair collects at the back of neck. Hair from the right is rolled inward up to the last tip and likewise on the opposite side. Rather hair on one of the sides is put together at tips the rolled inward and secured with long hair pins and just fixed from bottom going up. So hair in the med top is gathered from either side towards the center of crown then you join put it together to make the hairstyle look stylish. Mean while as you make hair at mid top you kind of push hair forward bit towards forehead to make hair shapely. The bride in the background added long tiara that she placed on the right hand side that
Determine your face Shape:
the bride in the pictorial up is wearing Wedding Afro hair on long face shape, however this hairstyles looks awesome too on oval face shape, Oblong face shape, square face shape, round face and others in queue including yours that isn't listed.
Hair product to apply
: Use Mizani Rose H2O Conditioning Hair dress Unisex Moisturizer, 8 Ounce: to keep your natural with even moisture distribution, thus your hair will be smooth, manageable to style into several designs and last keep it looking original.
Which styling tools apply?
This hairstyle is so easy because you can make it yourself as in, if your hair is moisturized that implies that is quite manageable. So first you apply big bristled comb to remove tangles and to make it stretchy. Then you turn to small bristled comb to style hair and make it neat. Then you have to have handy long hair pins to pin hair in some positions. 2.
Anticipated wedding afro short braids black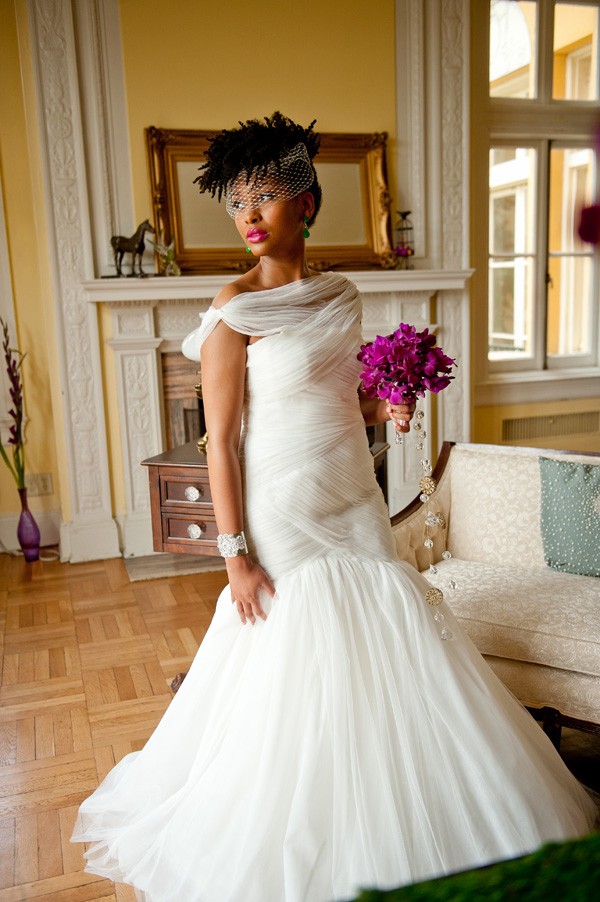 Source: 
Well you can be that bride whose fun of braids and prefer it short because it's light on head and at the same time takes you through honeymoon without worries of checking with salon to make your hair. Then the bride in the background is one of the examples one can look at and draw a true picture of hairstyle to make on your day. There's any easy way of making this hairstyle, you actually you apply short fiber with tight curls either on color or maintain it looking natural. So this bride made cornrows on mid top of hair to fix weave on top covering entire mid top up to upper back of neck. So at back of neck small cornrows are drawn using the same weave but on small volumes. You start it at bottom coming up. So on the sides you too you pull small visible cornrows exactly as the one done at the back of neck then join it at top to mix up with the mid top hair. Originally you pulled cornrows on mid top section and it has to start from one side finishing to the other and on top you fix tight curly weave placing the shortest at the back and the long at front. Because you push hair forwards towards the forehead to shape afro style perfect.
Determine your face Shape
: the bride in the background is wearing wedding afro short braids on round face and she blended it with fitting gown that hugs her up to butt and at bottom it spreads up to toes. It has loose sleeve that drops on one of the shoulders. However nothing stops the rest of other black brides with different face shapes that fall for this hairstyle to be afraid. It will look stunning on you too otherwise each bride has a different tiara to fix that makes the whole look different from the other.
Hair product to apply
: Use Dr. Miracle's Braid Relief 4 oz that will add moisture and sheen to your hair thus keeping it looking healthy, since the gel is effective It distributes evenly round scalp to wake up dead follicles even when you seem to stop feeling it.
Which styling tools apply?
You will need comb with big tooth to made hair first then pick small bristled comb with long tail to divide hair into sections both the mid top and then back part of hair. Have in place short weave with tight curls to fix on top of cornrows on mid top section. Have handy weaving needle and threads to fix weave on to cornrows. Then last use your hands to make hair as desired. 3.
Most anticipated natural wedding afro black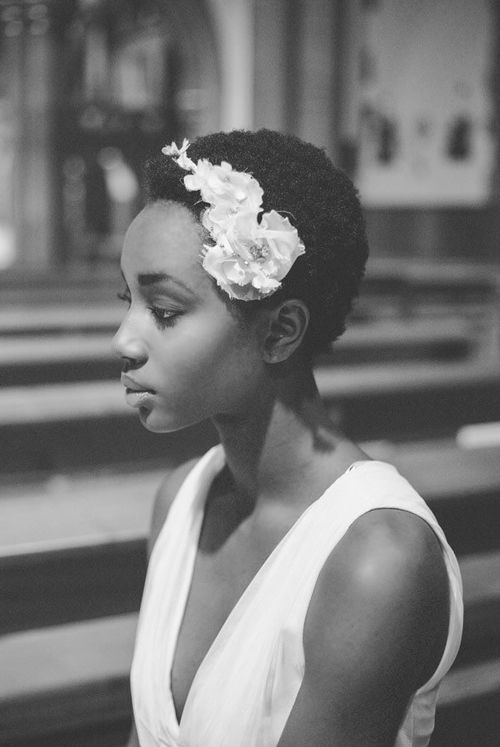 Source: 
Maintain looking natural on your wedding with medium short hair. Your natural hair is trimmed afro style thus meaning hair on sides and back of neck is kept on low length then hair in the middle top up to upper back of neck is reserved with more volume to shape hair perfect. You proceed by shaving your face then shape the eyebrow with more length to make you look hot. You can leave your hair straight or curly but I prefer when it has curls. It doesn't mean you have to apply chemicals on to your hair but can apply curly hair product before combing hair, so that make becomes soft, lock in sheen thus your hair will look hot throughout. The bride on top wore long white floral tiara on the left and part of mid top looking small on tips and bigger at start that later made her look so colorful. Nothing to get nervous at with this looks on your wedding because what you take your wedding to be is what will manifest. You may want to wear an easy hairstyle but the way you apply accessory to complete you will either put you down or up. So accessories are major item on your body and hair that adds value on you.
Determine your face Shape:
This is a young black bride with medium short afro natural hair; she wore it on round face shape. In my own way of analyzing ideals I guess this afro hairstyle looks stunning to all face shapes of black women round the globe. What differs from one bride to another is jewelry applied and gown according to different sizes of each bride. At the end of day each bride will look come up with an anticipated fabulous look.
Hair product to apply
: Apply world of curls curl activator gel to make your hair curly, lock in lasting sheen at the same time looking original.
Which styling tools apply?
Use small pair of scissors to trim hair on required length. Use big bristled comb to make your hair and you trim it. Thereafter shampoo hair and apply hot comb to dry hair. So add hair product on few volumes on the scalp and on top of hair then message gently. Apply comb to make hair orderly and finally fix tiara proportional. 4.
Anticipated wedding thick and loose curly afro black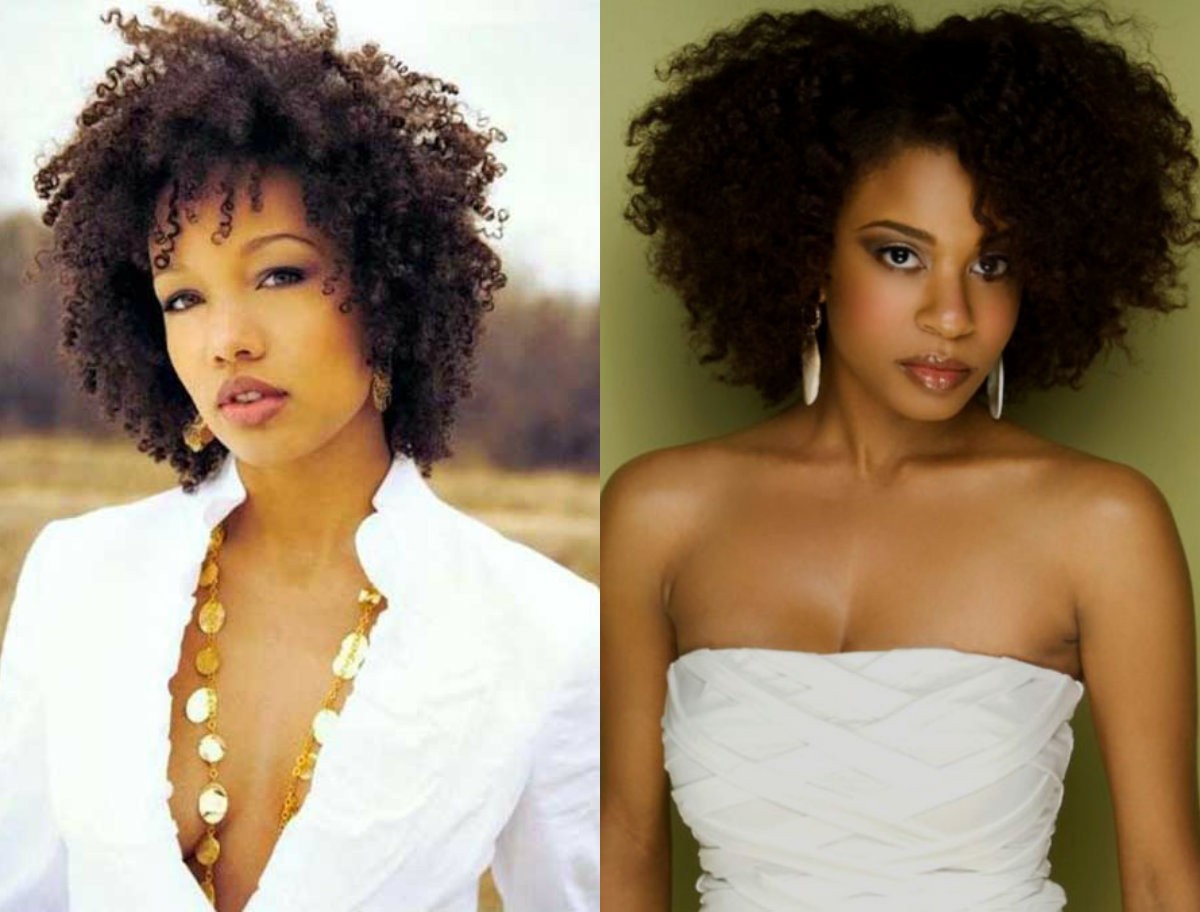 Source: 
Here two afro styles of hair worn by black brides on their weddings. The bride on the right wore loose micro curly medium short weave that is fixed on top of cornrows. some areas this weave is fixed pointing down at back of neck, on the sides while on mid top front area it's pushed forward and in the middle and upper back hair points backwards. So she matched with v neck and long sleeved gown that has standing collar. Therefore she added same color of jewelry round her neck and ears. Guess she wore brown heels to complete her looks. The image on the right shows black bride wearing medium length loose curly weave that features on color brown. Just you fix it on top of cornrows and fix round from bottom up to mid top center. So you trim it on tips to have shape. But more length and volume of hair has to focus on the sides, and front part of hair. You part hair at front on one of the sides and some forward to secure bangs. She matched her hairstyle with shoulders gown to shape her size and figure of her body size.
Determine your face Shape
: The bride on the right hand with micro curls weave is wearing this crazy looking hair on long face shape but what i know about his hairstyle is that it look perfect to all face shapes of black women. The other bride on the right hand is wearing loose colored weave on oval face shape. This hairstyle look looks perfect to any face shape of black bride out there below the age of forties.
Hair product to apply:
On both hairstyles at bottom you apply either sulfur based product for those brides with dandruff or apply bees wax for normal skins then on top you add Organic R/S Root Stimulator Olive Oil Sheen Spray, 11.7 Ounce hairspray to make hair moisturized and make hair lock in sheen.
Which styling tools apply?
On both hairstyles you draw cornrows on your natural hair using weaving threads. Each bride apply different weave but they fix it on top the same way using weaving threads and threads. And with both hairstyles you need not to apply comb but you scrunch through using your fingers until hair becomes orderly.