5 Lovely Wedding Braid Hairstyles Black
I have seen black brides wear lovely braids on the day of exchanging vows in different styles and all look stunning. You can support it or put it down but this time round you're wondering which hairstyle exactly can do that will leave everyone look amazing and always follow you with mere eyes just to look at you.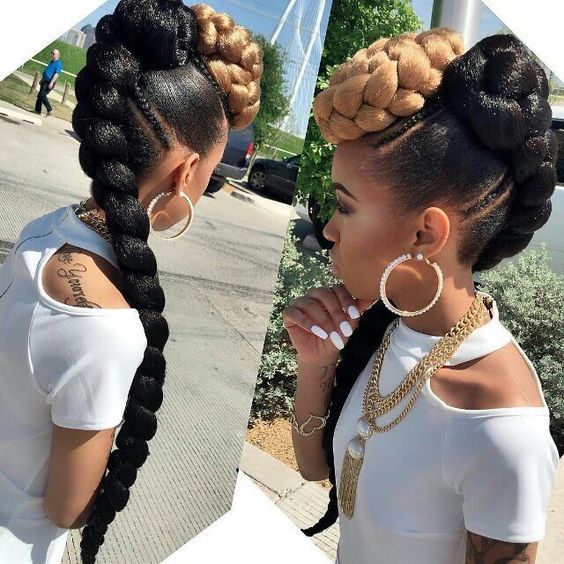 You find some black brides wearing twists, boxes or twist big extensions to make hair styles that make statement. Others wear colored or natural color as per each individual choice. In this article I have picked 5 Lovely
Wedding hairstyles
that you shouldn't miss wearing and are easy to style by you. 1.
Lovely Wedding Box and twist Braids black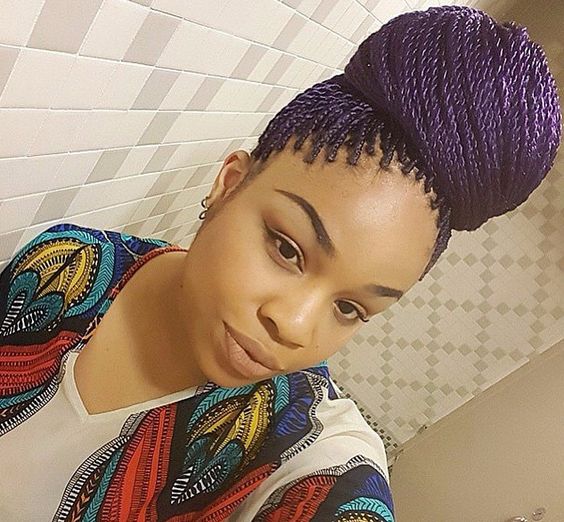 Source: 
If you're one of those black women planning to hold a wedding and you've been looking for colorful braids to wear then you shouldn't go further than this hairstyle on top. It looks great featuring on purple color, so at every start of braid hair is started as box up to one and half inch then completed as long twists on medium size. This hairstyle can either be pulled on natural or relaxed black hair from medium short hair up to long hair to hold hair perfect. You can use five to six pieces to complete hair but preferably five can work to hold minimal weight on your head. By the way this is one of hairstyles that look great for all purposes and will take after you special event in life up to four weeks and more depending maintenance. You might be asking yourself, if you're to fix tiara which position looks better and from my opinion I guess if you placed it on the right side part of hair between the lower part of hair and part of bun.
Determine your face Shape:
the black babe in the background is wearing colored box and twist on long face shape. She looked so hot with bold and long shapely eyebrow which she added with brown pencil. Indeed this is one of hairstyles that look cute on every black bride on both dark and light complexion.
Hair product to apply:
Add Better Braids Braid Gel 6 OZ to stop itching and frizz then leave your hair smooth and looking healthy.
Which styling tools apply?
To make this lovely box and twist braids featuring on purple color. You can use among these popular fibers that are near to your destinations, Darling or Janet collection. So on clean hair that is dry you pick small volumes of hair using sharp tail of comb to add with medium volumes of the fiber then start each braid as box for one and half inch then proceed with twists up to last tip then make small knot at the end. Repeat the same process until all hair is done. So gather all hair at mid crown then tie it at bottom going round using weaving threads. Turn it several rounds at this point to make it strong. Hold the rest of hair as bun with volume by turning it round the crown a bit loose and finally push last tips on sides and apply weaving needle and threads to make it firm. 2.
Lovely wedding blonde twists black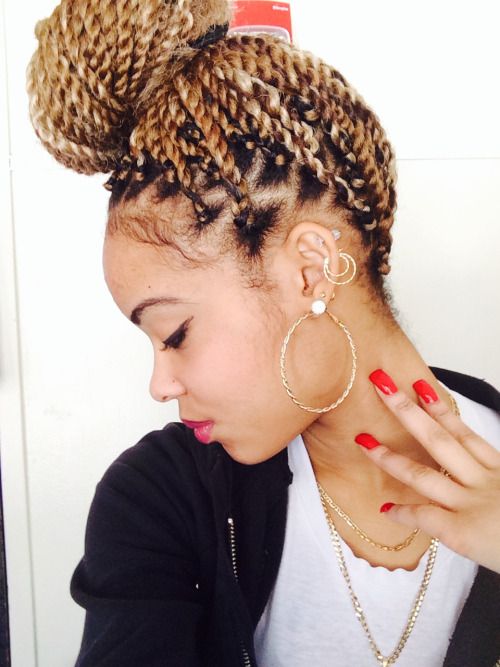 Source:
Have you thought it before that you can wear long blonde twists on your wedding and look that stunning? The hot babe in the background preferred holding all hair at center top. Once she collects hair at top remember it's long so tips will fall off her forehead. What she did was to push tips going round the crown then pushed last tips at front part of hair and applied weaving needle and threads through to make it fix in place. If you have natural or relaxed hair it requires you to rinse it clean to remove build up from previous hair products. Use hot comb on low heat to dry hair and to make it manageable. Next is to check with hairstylist to make hair make your hair. If you're not certain you will find your preferred fiber to use then go with it. You find designated locations everywhere that sell black weaves and fibers so get any at a cost. So your natural hair is added with big volumes of fiber and twisted long with blonde fibers from bottom up to last tip and finally held into an up do. Be always an innovative bride that looks extra ordinal by definition of hair. You may seem using the same brand of fibers other women apply but always the kind of style you pick will reason you better.
Determine your face Shape:
the lady in the above image is wearing lovely wedding Blonde twists on round face shape, have no doubts this hairstyle will look superb to any face shape of any black woman out there. However for those black women with light skin tone look more striking. I guess if you're to fix your tiara of day it looks best placed on the left top touching both the up do and twists down.
Hair product to apply
: Use Africa's Best Braid Sheen Spray with Conditioner 12 OZ because it deeply conditions, moisturizes hair to make it look healthy. Another issue with this product is that it reduces chances of hair breaking and itching and the scalp hydrated.
Which styling tools apply
? Use Jumbo Janet collection blonde fibers to make hair, four packets of fibers will take you through since you pull big twists, big volumes of hair. 3.
Lovely wedding colored box up do black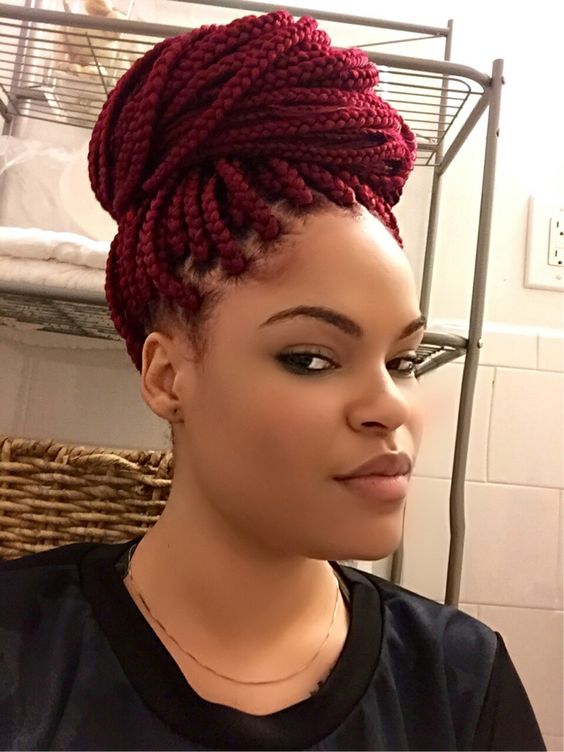 Source:
Have you ever thought of wearing colored braids for anything purpose? Haven't seen any black woman wearing braids and go wrong with it. Usually black women wear braids to relieve themselves off normal combing of hair. But it goes beyond normal combing of hair; rather it makes you look more stunning. If at all you could choose to plait your hair with maroon fibers on medium boxes. Then you hold hair together on top and tie it round to hold it tight. However you don't need to over stretch it because it hurts and makes it hard for you to move your neck. Then hold the rest of hair into an up do by turning it round this point while tips should be pushed within and last thread it through using same color threads with weaving needle.
Determine your face Shape:
The black lady in the pictorial is wearing colored box up do on long face shape, beyond this is looks great on oval face shape, round face shape, long face shape, square face shape and other faces shapes of black women round the globe. However you can make as many styles out of this hair within a range of weeks time to avoid pulling hair that can cause hair to break in long run or hurting your scalp.
Hair product to apply:
Use Sulfur8 Loc Twist & Braid Butter 4 OZ to keep hair soft, lock in moisture and shinny look. Since this product is added with sulfur it makes your scalp dandruff free. Prior to styling you add hair product so hair becomes manageable and works best with extensions and natural hair.
Which styling tools apply?
Nothing as much is needed, but if you have handy fiber that makes hair and small bristled comb that has sharp tail to help pick manageable volumes of hair to add with the fiber. You will also need weaving threads to tie hair at bottom of the up do then few other pieces to put hair together and make it firm. 4.
Lovely wedding long boxes with clamps black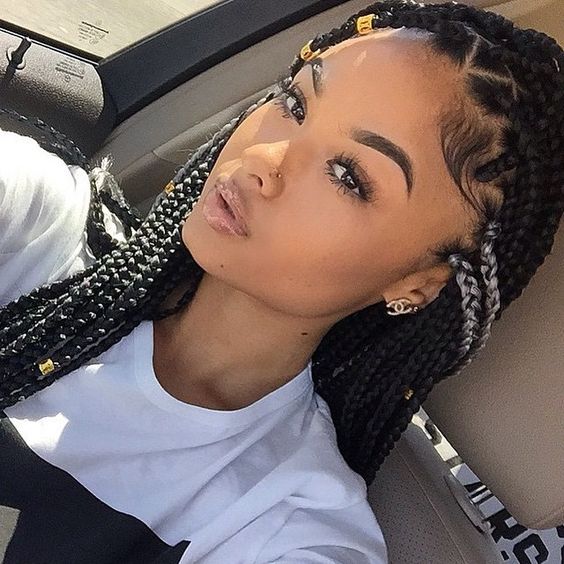 Source: 
For this time round you pull your hair with long big boxes that feature on black color then you add like two fibers featuring on white color to make your hair look awesome. You make it facing backwards then you pick one box braid and push forward with clamps on just round forehead. It lies on the right hand side of your shoulders. When you're done with making long box braids you push some hairs of shoulder then some hairs on the right hand side pushed forward to touch bust and with clamps on fixed on few areas. The white boxes fixed with in her hair comes first on the left hand side, so you use these white boxes to tie on top of hair to avoid hair from shadowing you. This kind of hair looks great when matched with an open gown.
Determine your face Shape:
The black lady with long boxes with clamps is wearing this hairstyle on an oval face shape; she looks beautiful with big eye shadow that is big at start then narrows at the end. She fixed small gold earrings that blended perfect with her boxes. But if you're black woman aspiring for wedding and you fall for long boxes this hair is the best option.
Hair product to apply
: Use Better Braids Hair & Scalp Oil 8 OZ that will keep your scalp moisturized, it doesn't form buildup, adds sheen to your hair and puts off flakiness.
Which styling tools apply?
Apply black color jumbo Darling fibers to make your hair. After shampooing and drying hair you apply big bristled comb to put tangles from hair. Have clamps handy to fix in few areas round your hair. Have in place white fiber too to pick small volumes of fibers to make two long boxes. Part of your natural hair is left out to make hair look fashionable. 5.
Lovely wedding two way color big twists black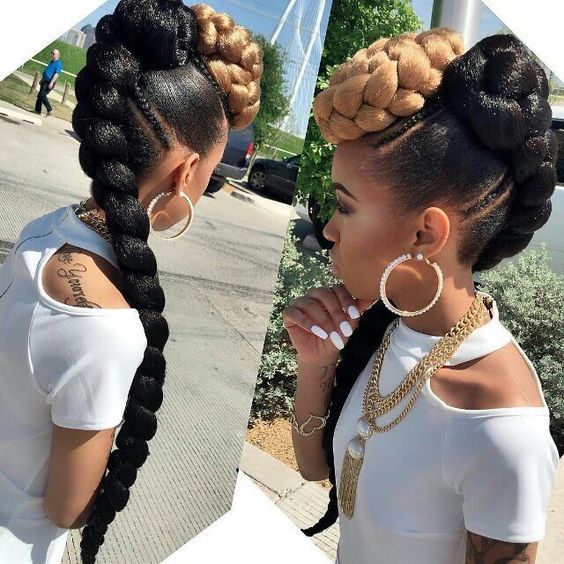 Source:
Here comes yet another lovely two way color big twists you can wear on your wedding and surely make heads turn. First your natural hair is put straight and pushed towards the crown. At front part of hair you pull tiny cornrows up to mid part of top hair. You leave out single cornrow on each side out so in the middle you add with blonde big twist extension. You make it going round then complete it in the middle. so as you proceed towards the back especially hair on both sides is pushed straight towards the top and at back of it you also make one cornrow on either side running from bottom towards the top center. so your natural hair that is collected on top is finished with small knot then on top you add long black hair extension with more volume on top then as you complete it you twist it long towards one of the shoulders long enough to reach waist. This hairstyle gives you great view from all angles so at the end of day you look gorgeous.
Determine your face Shape:
The black babe in the background is wearing this lovely hairstyle on round face shape, for sure this hairstyle looks great to almost everyone, once you have better hair stylist you will come up perfect.
Hair product to apply:
Within hair you apply TCB Naturals Hair & Scalp Conditioner, Olive Oil, 10-Ounce Jars to keep scalp and hair moisturized. It eliminates hair breaking and on top of hair you add with hairspray to keep hair looking shinny and fully moisturized thus apply Organic R/S Root Stimulator Olive Oil Sheen Spray, 11.7 Ounce.
Which styling tools apply?
You will have in place blonde extension on medium length to be pulled with big cornrows and natural color extra long extension to make to pull long twist that touch waist. You need in place weaving threads to make cornrows and weaving needle to fix extensions on. After rinsing hair clean you need hot comb to make hair stretch and easy to style.