5 Interesting Wedding Hairstyles With Tiara At The Back Black Women
Hair is one thing that has no formula when making it, but the difference comes in when you're making it for which purpose, on which length and on following categories; natural hair, relaxed hair or when you apply weave or hair extension. You can either make in on color or leave it looking natural this decision depends on you the customer. Now originally bride would fix tiara few inches off forehead but as hair trend is moving first, hairstylist come on with lots of styles fixing it on different positions within hair just for the bride to look pretty.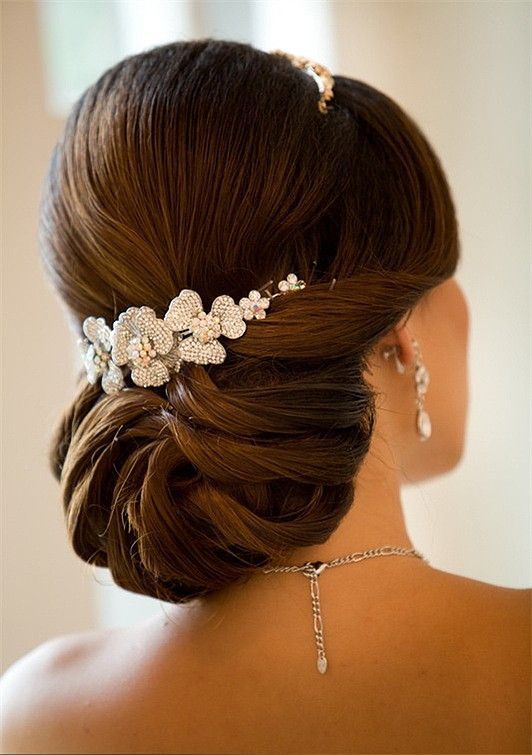 Now the topic of the day is about black brides fixing tiara at the back that's more inches off the forehead just to make hair look outstanding. Check below for five different hairstyles bride pulled fixing tiara at the back and I must say all showed up wonderful. 1.
Interesting Wedding Puff and tiara on side black women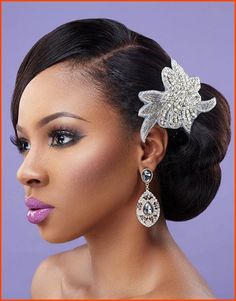 Source:
Look beautiful on your wedding with long relaxed hair black women out there that's if you fall for such hair. The bride before you pulled Bob hairstyle on the right hand side of her hair then she pulled puff on the left round ears and at the extreme back of neck. She created line few inches between the left hand side and the crown that adds style to her hair. So she places her favorite tiara between hair on the light and the puff thus looking so awesome. This hairstyle is trendy in a way that on one of the side hair is pushed straight then on the opposite side begging at front up to round ears hair is pulled straight and held at center so the rest of hair that completes this section is pulled into mini puff. Likewise hair at the back of neck is held together at bottom then is completed as elegant puff.
Determine your face Shape:
The black bride in the image above is wearing interesting wedding side bun with tiara on the side on oval face shape. But to be realistic this hairstyle looks wonderful on all black face shapes.
Hair product to apply:
Add Jojoba Oil because it will restore moisture to your hair, make hair strong and lock in lasting sheen since its formulated from best natural extracts that have strong oils and vitamins to give you healthy , nice textured hair. To support this cause these extracts are namely; castor oil, soy bean and coconut oil.
Which styling tools apply?
To make this hairstyle on top in case your natural hair is original you have to have handy Revlon or TCB relaxer. in case your hair is already relaxed you will have handy shampoo to wash your hair, have rollers to set your hair to dry, have in place big toothed comb to make comb hair after wash to avoid breaking it then small bristled comb to apply last to complete it. you will need black braid threads to tie hair at bottom of each puff to make it fix in position. you will need curling tool to puff tips , you will need to apply hair product and for strong hold of your hair your can as well use holding spray which will keep hair looking original at the same time making your hair look shinny always. 2.
Interesting Wedding colored hair with tiara at back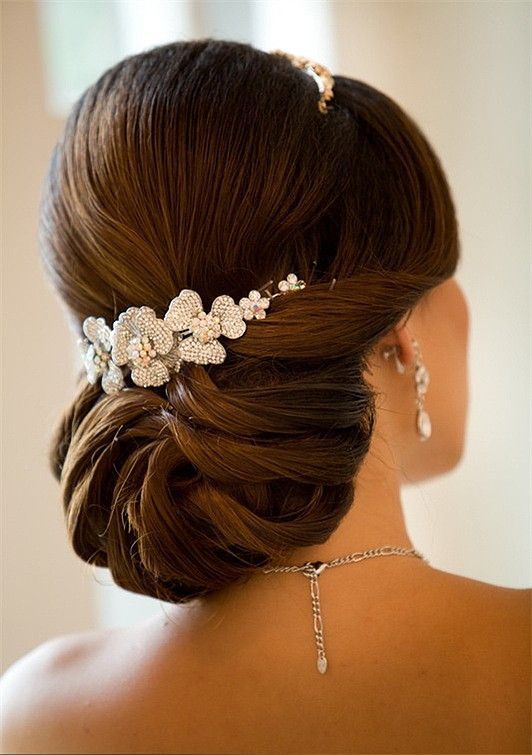 Source: 
Here comes black bride with colored long hair that is held at mid back of neck to look exception as shown in the background. All hair is pushed backward that's on the left side and hair in the mid section. Part of hair on the right hand side is pushed with loose long wave that is added on rest of hairs at mid back of neck. So hair below this section is pulled on small volumes loose round entire back part to collect in one place. it looks as if it inter locks to give best view from the back. Later on a long design floral tiara is fixed at center top of mid back to cover all tips thus making hair look beautiful. This bride goes on to add another hair accessory few inches off forehead to hold hair in shape and just to make it look spicy.
Determine your face Shape:
This hairstyle looks perfect on all face shapes no matter the complexion of your skin whether dark or light. It's in order to add matching bridal earrings on medium size and blending necklace because all complete your top part. This hairstyle matches strapless gown because you show bust, shoulders and back part of your body which makes you pretty attractive.
Hair product to apply:
Apply Tropic Isle Living Coconut Jamaican Black Castor Oil Hair Food 4 Ounce: because it's dependable to lock in moisture, quick at penetrating through the scalp to promote steady growth and last to give hair lasting shinny look.
Which styling tools apply?
Assuming your hair is already colored, this hair is straight so after you've gone through the process of washing it clean the next step is to dry , it needs you to create waves round it so you set it with big size rollers on small volumes of hair up to when your entire hair is done. When hair is dry the process of styling is made easier. When the process of drying hair is done you remove rollers off then apply small volumes of hair product on scalp and finally when get more products on small amounts and add on top of hair after rubbing it between palms to make it light. First apply big toothed comb to make hair manageable then last use small bristled comb to complete it. Make hair starting at front going backwards; push it straight up to mid back of neck. now for the rest of hair from this point up to extreme back of neck, pick small volumes of add small amounts of hair product as you pull it from bottom up to the last tip make sure you push it from sides towards mid back of neck then fold tips and fix it in position. Repeat the process as you check in the image above put together all tips and make one cornrow then thread it through. Last fix tiara on top for your hair to look colorful. 3.
Interesting Wedding Straight Hair with floral tiara black women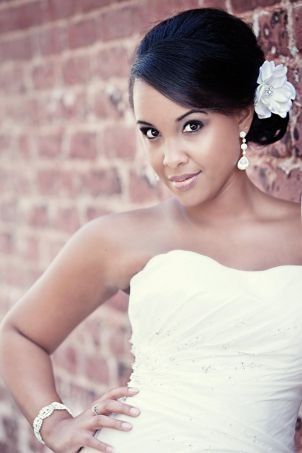 Source: 
Likewise you can wear simple hairstyle as a bride on medium length relaxed hair and look amazing as the black bride featuring in the background. This hairstyle is done like ordinary straight hair, but what makes difference is the way you style it. the bride in the background puller her hair straight so the art she added to her hair is that she pushed some hairs from the right front side towards the left behind ears covering part of her forehead and mid crown. so hair on the left hand side too is pushed towards the extreme end of the right hand side. Likewise the rest of hair in middle part is pushed too towards then left corner then is put together as puff. Since hair is long you make it folded looking inward and fix long hair pins to make it intact. So tiara is fixed at top center when puff joins.
Determine your face Shape:
for the bride in the pictorial above is wearing this hairstyle on long face shape, what i want to assure any upcoming bride out there is that it looks beautiful to all face shapes. Make sure you choose a gown that hugs your body either strapless or with straps then the next factor here is the jewelry and dress shoes you put on to look stunning is the taste that you choose to follow.
Hair product to apply:
Use Jojoba Oil to keep your hair smooth, lock in sheen and add moisture and to keep it looking healthy.
Which styling tools apply?
Since this bride is wearing straight hair so you have to have both big toothed comb and small seize to make it. But before making this hair to look organized you set it on rollers after washing so your hair will come out smooth, waves created with in to make it easy for styling. Also you have to use black braid threads to tie at bottom of puff. 4.
Interesting Wedding Natural Hair with wide tiara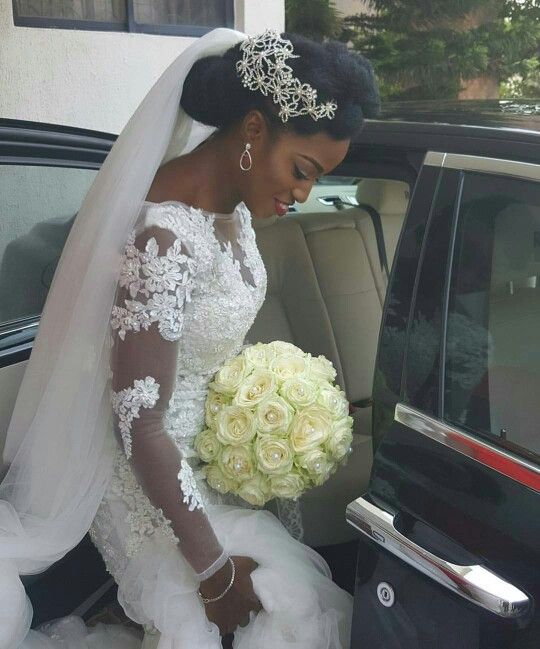 Source: 
I have seen of recent black brides falling for natural hair and feel ok to wear it on special moments in their life. Here's yet another bride with long natural, it has volume and is thick. She pulled big waves on most part of her hair then at the back of neck she pulled decent bun too with volume. She fixed wide tiara that covers right hand side up to mid back of neck. so she place long veil on top of bun trailing down the back to embrace her fitting gown.
Determine your face Shape:
the black bride above in the pic has round face shape , I want to reason you out that any black bride with another face shape too will look awesome, so explore your opportunities.
Hair product to apply:
Use Mizani Rose H2O Conditioning Hair dress Unisex Moisturizer, 8 Ounce: because it recommended to restore lost moisture quick, makes hair soft, it works hard in hard with natural oils with your hair to give your hair healthy look.
Which styling tools apply?
This hairstyle is made up using hot comb, culling tool to make waves, hair product to moisturize hair then to hold bun intact that's at the back of neck long black pins support this cause. 5.
Interesting Wedding Hair Extension on floral tiara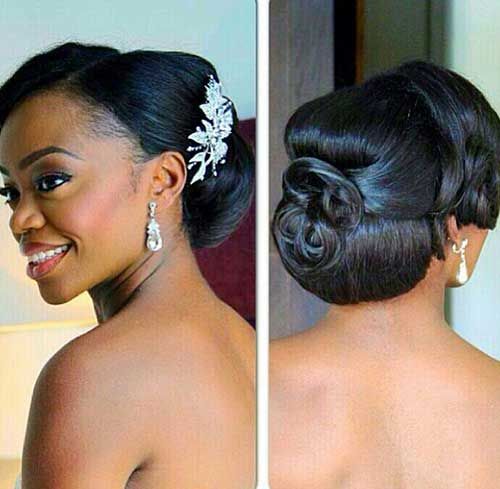 Source: 
Look great on your wedding day on relaxed medium to long hair that is added with hair extension that looks like your natural hair. The instance of adding hair extension to your hair is to give your hair more volume and at the same time giving you more options of styling outstanding styles that will turn on your audience. You can leave out part of your natural hair especially where parts on sides at front part of your hair. It helps s to cover the extension and make it invisible. You will have to draw cornrows on your natural hair one inch round the area you parted hair up to the back of neck. It's easy to make them going clockwise because when you fix the extension on top hair just comes out perfect. Before plaiting hair it needs you to add conditioner that comes on relaxed hair then proceed with steam for the product to penetrate through hair follicles to make your hair strong and healthy looking. so part of hair that you have left out will stand any hush condition that comes its way so you won't have any stress of hair falling out anyhow. At front part of hair your will part hair securing line between on the right and left side just securing bangs on left. Make sure hair on the left touches mid cheeks, as you make the rest of hair in mid section and the right side push it towards the back of neck. Push hair at back above ears into big bump then pick hair from sides to hold it. Since tips are long pick it on small volumes and turn it clockwise to form floral shape when all hair is done you find that the floral design you pull on top will make your hair look pretty. Mean while push hair below this section inwards using curling tool to make it kind of stiff and firm.
Determine your face Shape:
The black bride in the pictorial is wearing this hairstyle on round face shape, but to be sincere this hairstyle doesn't discriminate any face shape of any black woman out there once you have a professional hair stylist.
Hair product to apply:
Apply bees wax on scalp and small amount of natural hair that you cover the extension then finish off by apply hairspray for strong hold, make hair look brilliant and keep that lasting fresh look.
Which styling tools apply?
To work out this hairstyle you need in place hair product, both small and big bristled comb to make your hair, tiara to fix on right side above ears to make hair colorful, you will need to use curling tool especially on hair at the back of neck to make it strong and intact and last apply hair pins on the floral design at mid back of neck ready to shine on your slated day.