5 Exquisitely Natural Up Do Wedding Hairstyle For Black Women
Natural hair for
African American women
has taken a step than before because it didn't carry more weight as it is the case this the world is moving to modernity. African American women have noticed that maintaining your natural beauty is the best any bride would go for because it means you're confident of your looks. It doesn't stop any bride from adding little makeup on her face but it has to match your natural skin tone to make it hard for someone to tell you have added any make up. African American women do all interesting techniques when pulling Natural up do on such a big day to turn their audience and to impress their spouses too. 1.
Exquisitely natural up do wedding hairstyle black women at 40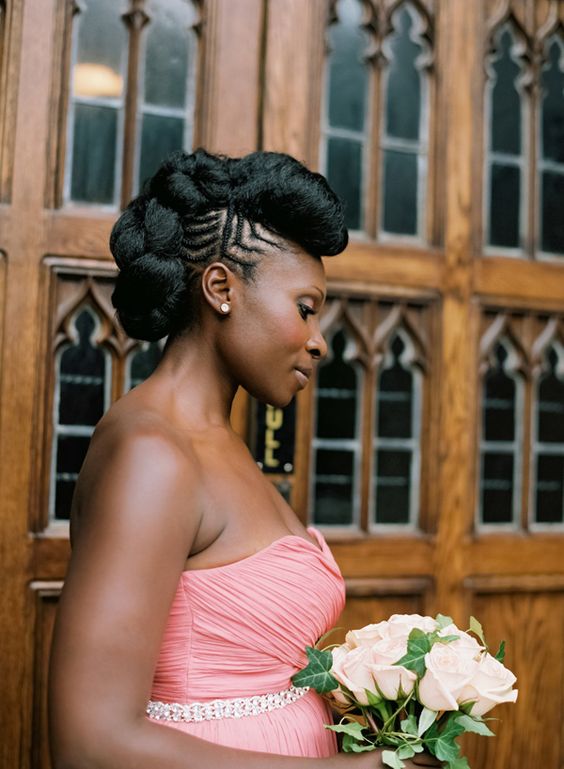 Source: 
Check how stunning this bride at the top looks with her natural hair being pulled with design cornrows on sides then from the center of her hair going towards the back of neck their covered with hair extension. The front part of hair is reserved with natural hair which is pushed with volume and made towards the sides with tips locking inward and fixed with black hair pins. For the section of hair that is pulled with cornrows black long hair extension is added on top then pulled into fish tail which is later pushed in ward at ends and sown intact using braid threads. So before plaiting your hair the best thing would be to shampoo your natural hair thoroughly off any build up from previous hair product and dust that collects within your hair from environment that surrounds you. You can as well add conditioner to make your natural hair strong and with better texture. After this step dry your hair using hot comb up to when hair is smooth. For the front part of natural hair that is going to left out apply hair product on top to make it smooth and shinny then complete it with small normal bristled comb. Pick the hair extension and plait big cornrows to later form fish tail then fix it at mid part of hair from center of crown going towards the back of neck.
Determine your face Shape:
The bride in the pictorial is wearing natural up do on a square face shape, the most important issue with this hairstyle is that it blends any face shape of African American women so take a move and you will receive no regrets.
Hair product to apply:
Use Kera care product for best looking natural hair, that is easy to lock in moisture, keep hair manageable and lastly looking healthy.
Which styling tools apply?
You apply hot comb on your hair to stretch it, then use pull cornrows with sea gull threads or equivalent brands nearest to you. Make big cornrows with the extension then use the exact threads that pull cornrow to fix weave on top. Feel free to add hairspray on top of hair to keep hair well moisturized and to lock in lasting sheen. 2.
Exquisitely Natural straight up do wedding for black women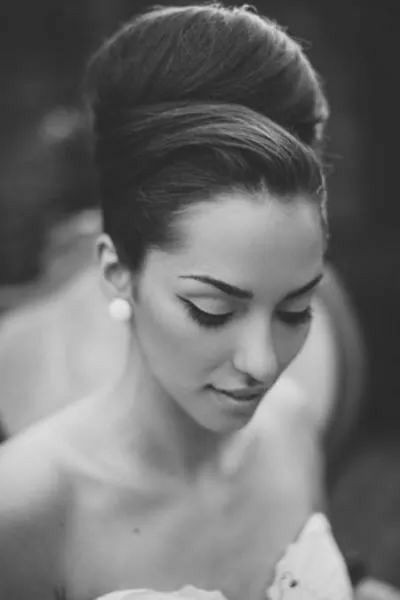 Source: 
feel fun to play around with your natural hair when you pull an up do round mid top area of your hair then hair on sides is pushed towards the back and added on to the up do then fixed at the center to make hair look short and stylish. So hair at the front is pushed straight towards one of the sides and joined too on the sides of the up do to look make hair look fabulous. This bride has long relaxed hair so as usual you take hair through washing to keep it clean with best shampoo for your kind of hair. Apply big rollers on your hair as you set it to dry on moderate heat, when hair is through apply big toothed comb to remove tangles as you're pushing it towards the back. Now get hold of small comb with normal bristles to push hair from back of neck upwards then with the end tail divide hair into two parts. From midpoint push part of hair up and on the sides then push it at the back of crown. Apply hair pins to make hair intact, push hair on the sides using the same comb towards the back of crown remove hair pins temporary and pin it in the middle using the same pins. Come towards the front part of hair then push it from the left top side towards then right mid crown to rest on top of hair while hair at the bottom is made too pointing to the sides and last it will fix with in on the right hand side.
Determine your face Shape:
The natural straight up do wedding for black women is pulled on long face shape of light skinned black woman, however any African American woman of another face shape other than the one listed on top also blends perfect with this hairstyle.
Hair product to apply:
Use Mizani Rose H2O Conditioning Hair dress Unisex Moisturizer, 8 Ounce, to keep your hair silky soft, healthy looking and moisturized.
Which styling tools apply?
After washing your hair off dirt, add conditioner then steam it to make hair have more strength and looking bright. Then after wash conditioner off, add the right size of rollers on your hair as you prepare hair to dry. Push hair straight respectively on different sections following the procedures discussed on top. 3.
Exquisitely natural up do secured at front for black Women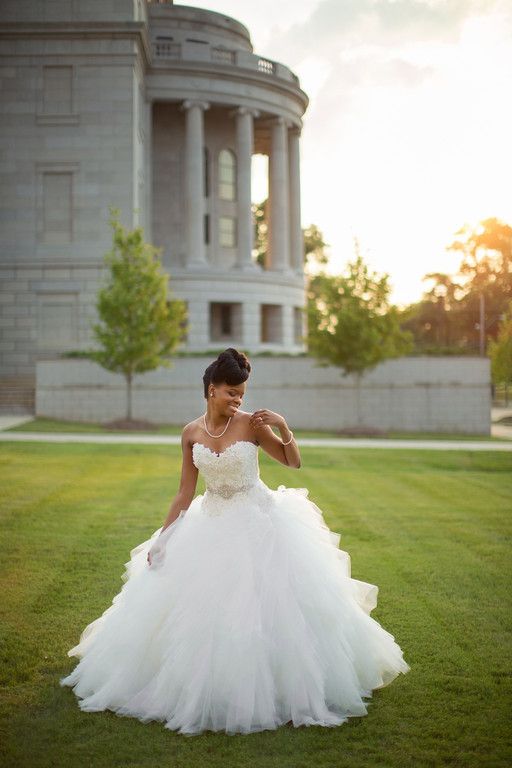 Source; 
look fabulous on your wedding day by wearing elegant natural hair up do that needs you to push all hair from the back of neck and hair on sides towards mid crown area. Now all hair is collected around this point from the sides, front area and from back midpoint inward into a floral design and pushed at the center of hair finally fixing it with hair pins all round the center of hair to keep hair in position. So you push hair forward from sides and at the back of neck towards mid center of top hair. So to make this up do you divide hair into manageable sections then apply curling tool as you roll hair over inward and towards the end you loosen it to become voluminous until entire area is done. Or alternatively instead of pushing all hair at the back of neck forward, from end crown push hair towards back of neck and hair at the sides to join with rest of hair at lower back of neck, add hair together and roller it over in the middle towards on one of the sides then make it firm by pinning
Determine your face Shape:
The natural up do in the pictorial above is worn on round face shape of black bride, but to be realistic this hairstyle also blends perfect with the rest of women on other face shapes.
Hair product to apply:
Use Design Essential Stimulations Super Moisturizing Conditioner 6 Oz, for best looking natural hair which is manageable, smooth and healthy looking.
Which styling tools apply?
You apply hair pins to fix hair intact where necessary, you need hand small comb with normal bristles to make your hair, at point where you need your hair to be pulled with big waves you apply curling tool then complete hair with holding spray to keep hair looking fresh throughout the event. 4.
Exquisitely natural curly up do wedding black women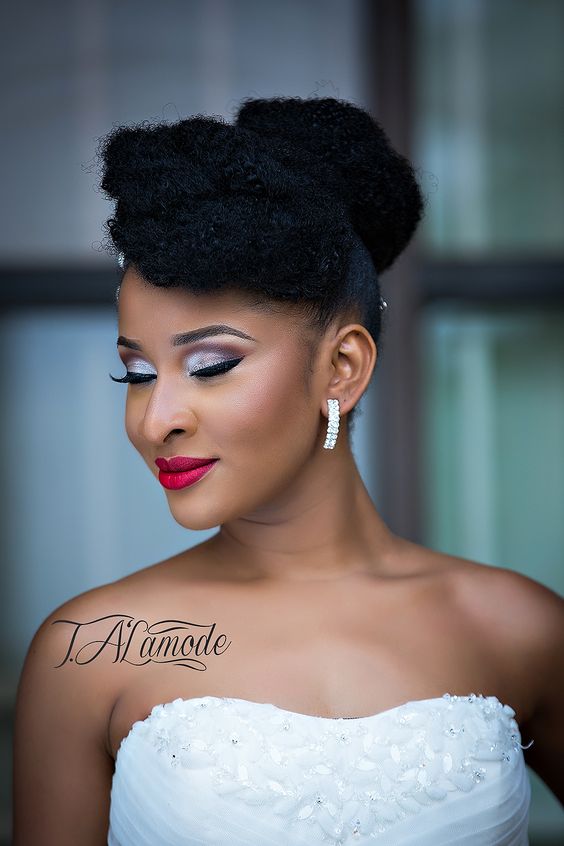 Source:
You might pick interest in wearing natural curly hair on your big day and with me I have no issue with it, so long as it looks decent for the day. This bride originally has soft textured hair so after shampooing and conditioning hair, leave hair with few waters apply hot comb to dry it out. Divide hair into two sections that's from top center of hair coming towards the front then other section of hair from this exact point towards the end of crown area. Hair is pushed from then back of neck, and on both sides towards the end of crown. Tie hair together using black braid threads round several rounds, then branch the rest of hair above going round then back up do then fix ends on the sides and pin it through . So for the rest of hair the front area pull some hairs with bangs then part of hair pulled with volume towards the right hand side then using the end tail push tips at mid back part of hair then secured with pins too. Finish with hairspray to keep hair curly, smooth and with required amounts of moisture your hair needs to keep going.
Determine your face Shape:
The curly natural up do pulled with black bride up is worn on oval face shape, at the end of day you find that this exact hairstyle looks great on all other face shapes of black women if same procedures are followed.
Hair product to apply:
Use Cantu Shea Butter Natural Hair Coconut Curling Cream 12 OZ, to condition dry hair, to make strong weak hair then provide intense moisture for a healthy look.
Which styling tools apply?
After shampooing hair, you then add conditioner for your hair to regain moisture wash it off after seconds then apply hot comb to remove tangles from your hair. Add hair product on scalp and on top of hair on few amount then proceed on with drying hair using hot comb. Complete hair by styling it using spaced bristled comb to shatter hair in to messy curly look. 5.
Exquisitely natural up do Loose wavy wedding black women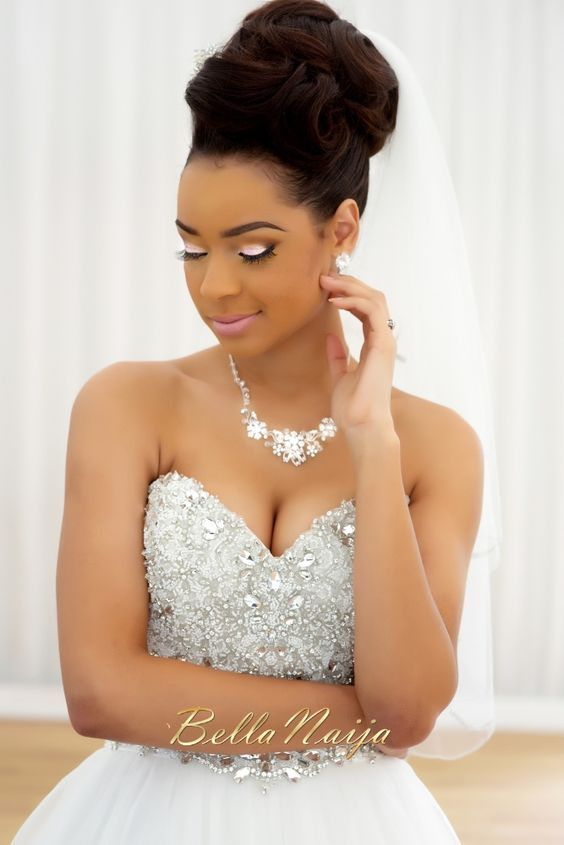 Source: 
Look great upcoming brides with elegant natural up do that is pulled voluminous and loose wavy for your hair to come up stunning. This bride up has long relaxed hair that blends with two colors black and brown .The coloring of hair is automatic due to long period of relaxing hair so your hair loses its original color gradually and in the long run it begins adding brown highlights on top of hair on different sections of your hair to make it colorful. So your hair is shampooed as usual and it's recommended to go through steaming for purposes of making hair bold, strong and to improve texture. Don't forget adding conditioner because it's also necessary to make hair look nice since it's extracted with essential nutrients that work with natural oils within your hair to bring forth nice looking hair. When hair is dry first comb off all tangles and before doing this apply hair product on scalp. Puff all hair at the end of crown from the sides and at the back of neck straight. Leave out few hairs at the front part of hair to pull big loose waves then complete the up do with loose waves too so that they connect then last add make up and jewelry to complete your looks.
Determine your face Shape:
The natural loose wavy up do featuring in the background if pulled on round face shape of black bride, however if you any black woman with another face shape falls for the same hairstyle you too will look fabulous.
Hair product to apply:
Use Jojoba Oil because it formulated from three major natural extracts that are known to work on hair best namely; castor oil, soy bean and coconut oil to make your hair well moisturized, lock in sheen and to give your hair more strength.
Which styling tools apply?
To make this hair stylish you will need, natural extracted shampoo for treated hair, have big rollers hand to match with the length of hair, pieces if sea gull threads to tie hair in the middle on either black or brown color. Have handy hair product to make hair manageable then small normal bristled comb to pull different designs on your entire hair.