5 Best Wedding Hairstyles- Heart Faces For Black Women
Everyone one regardless of sex is born with particular face shape, but when you're still young you put less interest in knowing which kind of face shape you have. It's when you grow up that you find interest of knowing the nature of your body shape or face shape. When I was still young I took less effort in studying my all body and what has opened up my mind is different hair that black women pull to look cute.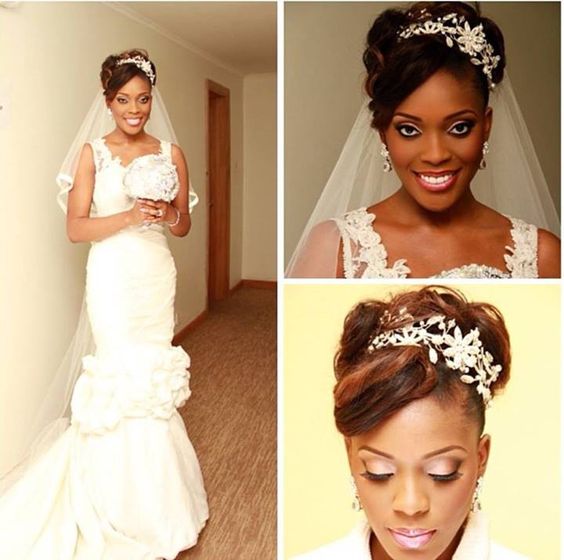 At times their particular face shapes of black women that look beautiful to almost any kind of hair but to some faces certain hairstyles don't count. So in this all article have decided to look for ever best wedding hairstyles black women wear to score high on Heart faces. I have just listed five examples but a lot more styles for
black women
on heart faces are yet to be exploited. The different hairstyles have listed include fall in these categories; braids, relaxed hair and on weave. 1.
Ever best wedding long twists heart faces black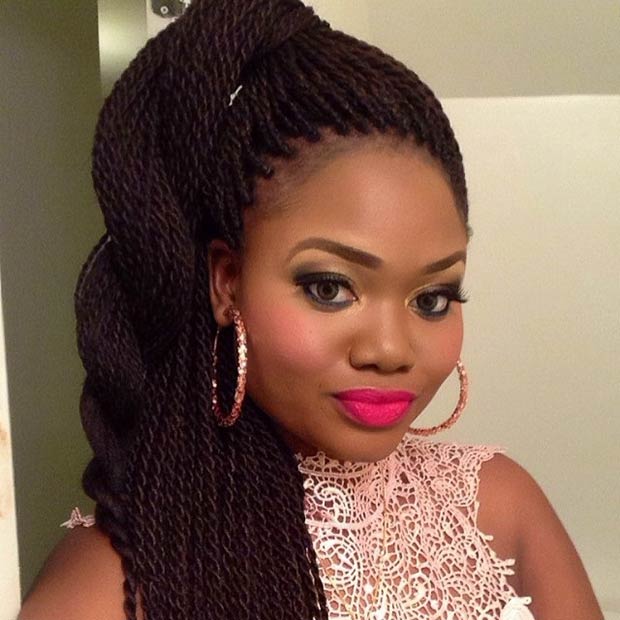 Source: 
Now check this lovely black bride wearing long colored twists on heart face shape? She held part of hair into puff on one of the side and rolled it over up to shoulders at tips she put a knot using the same fibers. And some hairs at the back of neck is left free and pushed on the same side the puff is pushed. This hair looks great when blended with medium length earrings. She wore a trendy gown with short sleeves and the top part of the gown is made with beautiful transparent collection that shows part of her body to make her looks standout. This bride looked hot when she pulled big eyebrow, colored her eyes with dark color and the red lips she wore for the day.
Determine your face Shape:
Of course as the article states, the black bride on top is wearing long colored twists on heart face shape. Another point I must bring out is that this hairstyle looks great on any black face shape whether you have dark or light complexion. The next issue that defines you at most is the jewelry you apply and make up you wear determines you look at last.
Hair product to apply:
Use Sulfur8 Loc Twist & Braid Butter 4 OZ that will condition, make twists smooth for easy styling and adding a shinny look to your hair. The sulfur ingredient that is added in this product prevents your scalp from foaming dandruff therefore keeps your scalp clean , however on application you should apply much product . Pick small amounts of the product and message on the scalp and twists.
Which styling tools apply?
Have in place four long Janet collection fibers on color to pic small volumes of hair and fiber too to make long twists. Repeat the same process until your entire hair is done, occasionally there's no formula for which particular position to start with. You can make hair going round then finish at center top or start from the back of neck coming towards the forehead. 2.
Ever best wedding long wavy hairstyle heart faces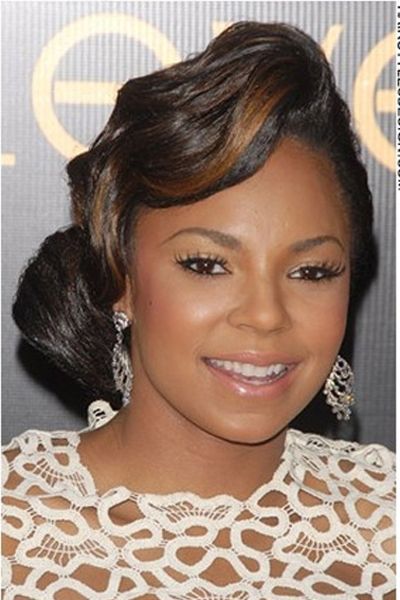 Source: 
Here comes another bridal style of hair where the bride adds color to her relaxed hair. Color is only added on front hair and sparingly and you also have to put in mind that colored hair needs additional care that you normally give normal relaxed hair. This is so because when you add chemicals to your hair it tends to become weak compared to natural hair. This bride has long hair and is pulled with loose waves at the front that cover the top side of her forehead. You pull waves up to ear length. So hair on the left is pushed through back of neck straight and completed at back of right ears and rolled round kind of creating bun. You fix it in position using hair pins for strong hold. At the end of day you find yourself pulling an ever best hair design for your wedding.
Determine your face Shape:
The bride up front has heart face shape; she has sexy eyes, pulled long curvy eye brows to blend with medium length earring and lovely gown. But any black bride of round face, square face, oval face or long face can grab attention with this same hairstyle. But at the moment this is the bride with heart face shape that looked wonderful with this hairstyle yet more hairstyles on same face shape in the queue.
Hair product to apply:
This hair is relaxed so the best hair product to use on this hairstyle is Marrakesh Oil Hair Styling elixir 2 oz to make your hair smooth and silky, improve the texture of your hair to better. Best for treated hair on color and lastly to make your hair frizz free.
Which styling tools apply?
Wash hair with cold water that is best to preserve natural oils that your scalp produces. To every relaxed hair that has a good texture it's a must to steam. it's the conditioner that differ from the other depending to your hair, so add conditioner and take steam for the product to distribute evenly on hair roots and on entire hair. Steam helps hair out to have strength, prevent hair losing it original texture but to improve it. it reduces on chances of hair breaking ,so wash the product off when steam is done. Add rollers on to your hair on the right size that fits the length of your hair. Set the required amount of heat to dry hair then put rollers off. Add hair product on the scalp and few amounts on top. First use big bristled comb to push hair of tangles from front towards the back of neck. Apply small bristled comb to style hair as you pull waves. For the back section where hair is rolled round you can use curling tool on controlled heat to make hair firm and add few hair pins where necessary to fix hair in position. 3.
Ever best wedding curly bun heart faces black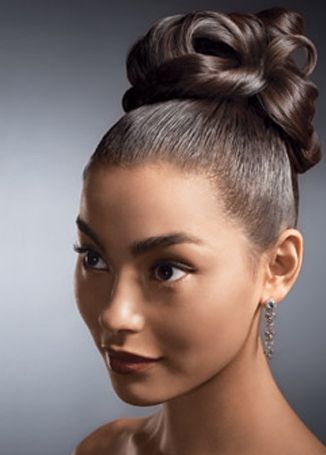 Source:
The black bride in the background has relaxed hair which she held into puff and on top she added hair extension that she pulled in to curly bun on heart face shape. So after processing your hair through the following steps; washing, drying and combing you then push it straight from all sides towards the center. You put all hair together and make one cornrow. You make knot out of it then you weave it on top. So you pick small volumes of the extension and use curling tool to curl each volume as you make it narrow. When all hair is done you fix it round top of hair with pins creating curly bun.
Determine your face Shape:
As the topic of the day the black bride on top is wearing curly bun on heart face shape, other wards this hairstyle looks perfect on any face shape of any black woman out there who inspires to be a bride. This exact hairstyle can as well work for other purposes great for other important functions and casual too.
Hair product to apply:
Use Jojoba Oil that will keep your hair moisturized, looking healthy, make it strong and feel it with vitamin E because it's formulated from best three natural extracts that contain soy bean, castor oil and coconut oil.
Which styling tools apply?
After shampooing hair and adding conditioner thereafter that is filled with vitamins that make your hair look good. You make it straight starting at bottom towards the top center. Hair is made stiff using either by applying gel or pink lotion to make it less stiff. When you apply one of the products you then sit under drier for hair to dry. On top weave the extension through the knot to be intact. Wet the extension with setting lotion then pick small volumes of hair and curl it straight up to the last tip thereafter roll it back to previous position. Repeat the process on entire extension and style as to form curly bun. Complete hair by applying hairspray to lock in moisture and locking in curls. 4.
Ever best wedding hairstyle full bangs heart face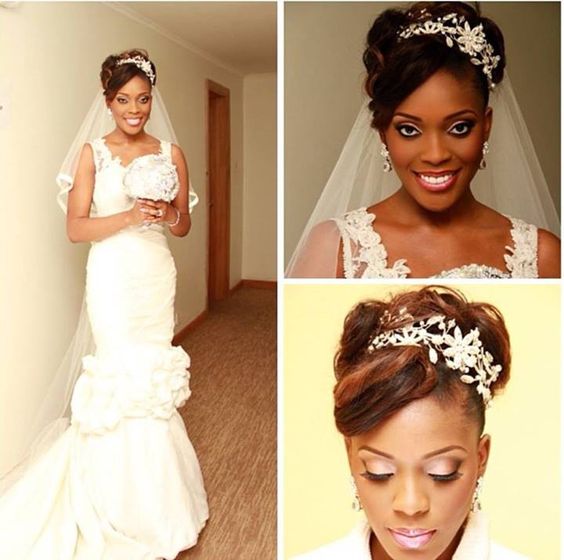 Source: 
The bride in the background looks best by pulling her hair with colored wavy weave. Some hairs in mid section and that at the back is held into puff and weave added on top with volume that covers wide part to cover up to mid back of neck and touching sides. So hair at the front is pulled with mini cornrows then the weave is added on top to pull wavy bangs that point backwards then tips secured with hair pins. So wide floral tiara is fixed between puff and front hair that secures bangs wide enough to touch mid left side up to center of her hair to make the bride look best.
Determine your face Shape:
As the statement in the article on top about brides with heart face shape rocking with best hairstyles, this bride is heart face shaped. However it doesn't guarantee that this hairstyle only blend with this particular shape but focus is emphasized on to this to particular face shape and hairstyle to combine the two for better. Any other black bride with a different face shape will look hot too. It's necessary to use experienced personnel no matter the cost but to make your day interesting for you.
Hair product to apply:
Add bees wax on scalp and hair for even moisture distribution then on top of weave add Organic R/S Root Stimulator Olive Oil Sheen Spray, 11.7 Ounce to lock moisture with in weave, make weave smooth and to keep it looking healthy.
Which styling tools apply?
Push hair straight from all sides and at the back of neck and held into puff. Then on top weave is added and picked using the end tail of small bristled comb to spread all over. The front part of hair is drawn on mini cornrows then on top weave is added in slangy position to pull bangs. Prior to styling add hair spray for hair to become smooth and manageable. 5.
Ever best wedding short hair heart face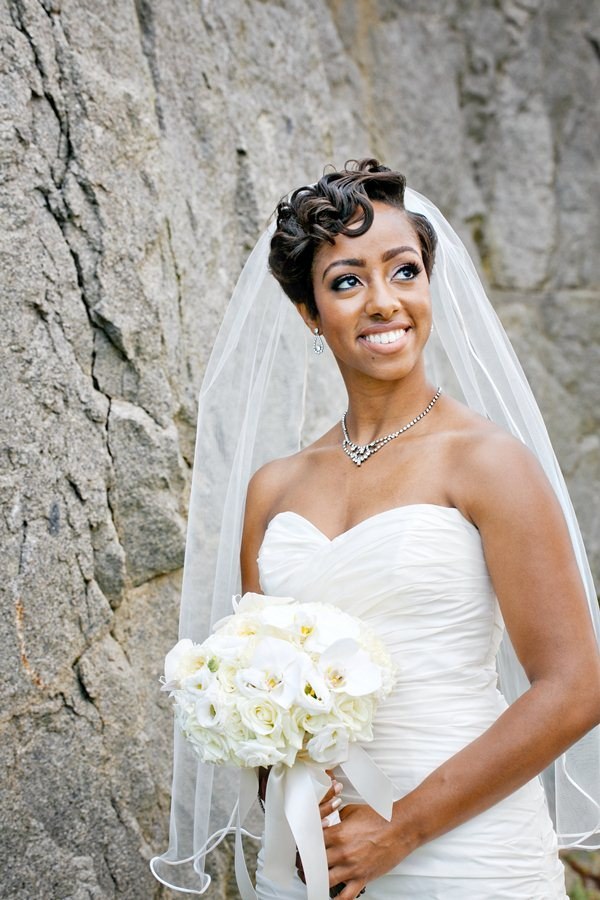 Source: 
The black bride in the background has medium length hair that is relaxed. Her hair is straight however part of her front hair is pulled with curls to look shapely. Hair on the sides is pushed towards the back of neck and is put together then rolled across and pinned intact. so hair round the crown is pushed forward and pulled with curls that fall within forehead for a stunning look.
Determine your face Shape:
Surely the bride in the background is wearing a stunning look on heart face shape, but there lies an option of other face shapes on black women out there to look awesome with it.
Hair product to apply:
Apply castor oil on relaxed hair like the bride in the background is wearing because it will keep hair moisturized, lock in sheen and curls.
Which styling tools apply?
Hair is set with rollers after shampooing. In case you want to do away with steaming you add leave-in spray as you set hair to take less time and to make hair look healthy. so you set hair to dry and when this process is done you put off rollers. Push hair on the sides and at the back of neck straight up to mid back of neck and roll it inwards and fix it with hair pins. So when you remove rollers off hair round the crown you pull each hair with hair product letting it to bounce back with curls finally add hairspray to lock in curls and lasting sheen.