5 Cute Wedding Natural Twist Hairstyles Black Women
Natural hair looks wonderful when you care for it, but you find that most black women out there shun it because it bothers them to comb often and because of the hard texture it consists it sometimes hurt when making it.
Once you know to handle natural hair it's one of the hairstyles that look unique for all purposes, and what I realize about it is that when most women go for relaxed hair because of convenience few women choose to go natural.
In so doing you find that you find few women wearing your hairstyle thus you too look extra ordinal unique. In this article, I have put together 5 Wedding Natural Twist Hairstyles for you to choose the best that works for you.
It cute wedding natural Box and twist black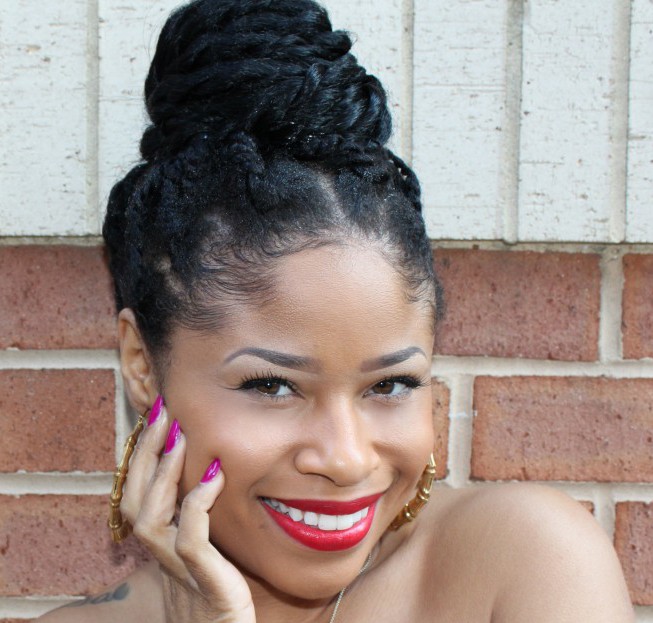 Look how cute you can show up on your wedding when you choose to make big boxes added with fiber and then pull them to medium length. At the end of the day collect all hair on top and tie it at the bottom weaving threads to hold it. Then you twist the hair on top going around to pull the bun.
This hairstyle is simple to make even at home. You can either call your stylist at home to make it or if you ask high personnel around to volunteer. At the end of the day, you will look fabulous for your day without wearing complicated hairstyles that require you to spend long hours at the salon. Fix your tiara of the day at the front bottom of the bun all on the sides to complete your hair.
Determine your face Shape:
the black bride up has a tiny forehead, slightly long jaws, and a sharp chin thus having an oval face shape. Without beating about the bush this is one of the hairstyles that look wonderful to any face shape of any black woman the world over.
Which Hair product to apply?
Apply Jojoba Oil to moisturize, lock in shine, and make hair smooth when making it since it's formulated from the best natural extracts namely; Soybean, Castor oil, and coconut oil to keep hair looking healthy too.
Which styling tools apply?
To style Natural boxes and twist hair for black, have a handy comb with the big tooth to lift hair from the bottom towards the top up to when it's manageable. Now pick your favorite fiber to apply to your natural hair on a smooth texture and look exactly like your natural hair. Use a tail comb to pick medium volumes of hair to draw medium-length boxes just halfway through the rest of the fiber-free to do the finishing. When hair is done you put it together on top then tie it at the bottom for several stretches using weaving thread to keep hair in position. Later on, you twist the ends around to form a bun.
Cute wedding natural twist high bun black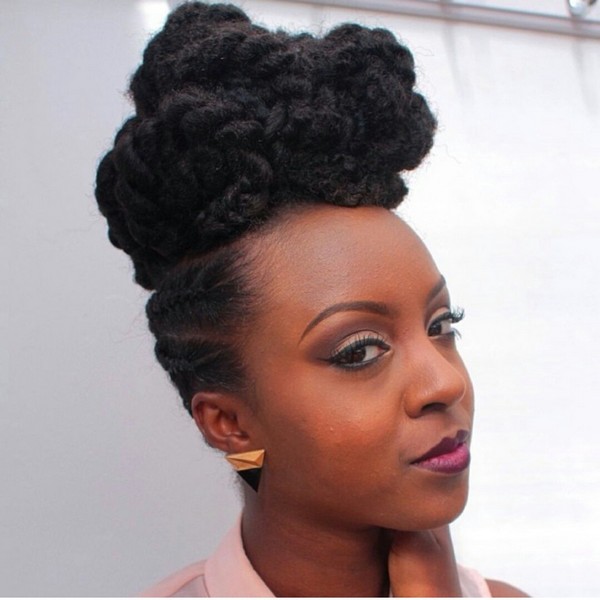 As every bride looks to look superb, you can choose to make big cornrows on your natural hair on the sides, beginning at the front and going towards the back of the neck. Then at the back of the neck, you join cornrows into one big cornrow starting at the bottom and coming towards the top. So hair at the mid-top is pulled to with cornrows going clockwise.
On top, you add long twisted hair extensions that will form a high bun. Use weaving threads to fix it and weaving needles. it just takes a few hours to make this hairstyle, after making cornrows you twist long kinky fiber then you fix it in style as you check the image on top.
Determine your face Shape:
The black bride wearing a natural twist high bun on a long face shape. Her wide forehead looks wonderful with the high bun. One of the features that I can't skip talking about with her looks is the sexy eyes she has, her pointed nose, and her long shapely eyebrows that leave no stone unturned.
I guess you will back me up that this hairstyle looks cute with all most any face shape of black women worldwide.
Which Hair product to apply?
On cornrows you add beeswax hair product for even moisture distribution then on top of the hair, you add Organic R/S Root Stimulator Olive Oil Sheen Spray, 11.7 Ounce hairspray to make the extension smooth and look healthy.
Which styling tools apply?
To make cornrows on your natural hair you apply black weaving threads for a long last and neat looking. you pick long kinky fiber featuring natural black make a big twist and add it on mid-top cornrows using weaving threads and needles through the bun until it's firm.
Cute wedding natural twist on a curly bun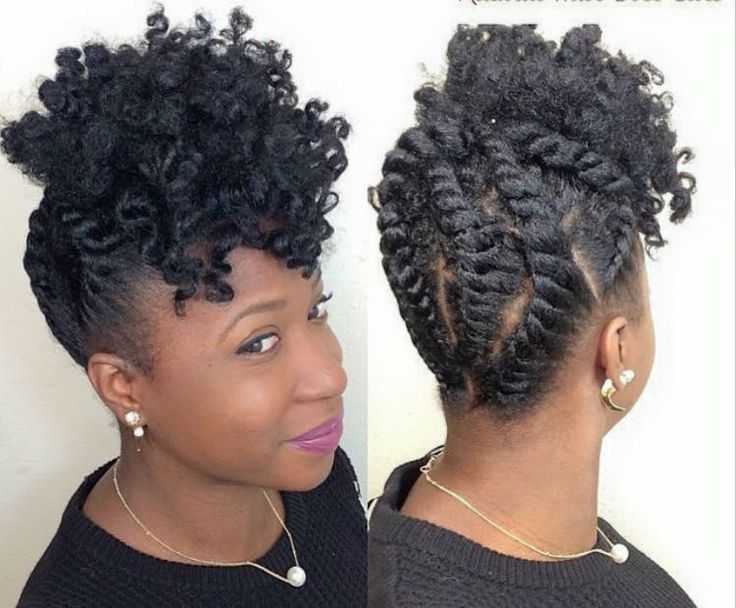 For this time round, you part your natural hair into two sections, In the back section of your natural hair, you pull twist cornrows drawing them from the bottom towards mid-top as you check in the background.
Cornrows in the mid back are medium size and curved in between to make hair look colorful, so the ones on the side are then drawn up ears and curved towards the front part then ends pushed on top of other cornrows.
So the front part of the hair is partly fixed with curls flowing towards the forehead and the rest of the hair looking up. So the front part of the hair is left compacted to create a crazy look then tips are parted in different directions to make the hair look adorable.
Determine your face Shape:
The black beauty wearing a wedding natural twist on a curly bun has a long face shape however this hairstyle is perfect for all black face shapes. This hairstyle takes a few hours to make but its impact is just superb.
Which Hair product to apply?
Use ECO STYLER OLIVE OIL HAIR FOOD WITH VITAMIN A, D, AND E 6.8 OZ to make hair soft, and condition both scalp and hair to leave it looking healthy. As this product is blended with all these vitamins; E, A, and D to apply to all hair types.
Which styling tools apply?
To make cornrows you apply weaving threads on big volumes of your natural hair while twisting it. So for the front sections of hair, your natural hair is kept compacted and some hairs at the front are pulled with curls using a curling tool to pull bangs. Other tips are pushed toward the top to make this hairstyle look crazy.
Cute Wedding Natural braid Twist up do black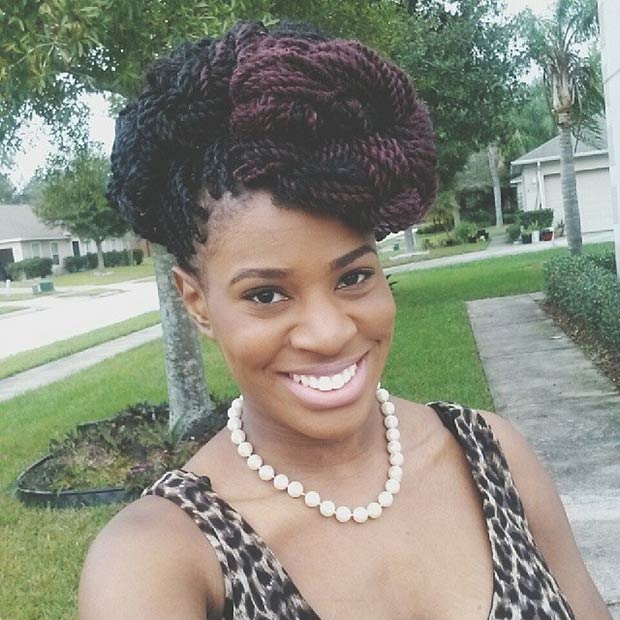 This hairstyle too is great for weddings, once you have long natural hair and feel you want to twist it on the color you can opt for medium-length fiber to add and pull long twists. You apply black and maroon fibers to make your hair, and then make maroon fiber feature at the front while the other color is fixed at the back.
For the maroon fiber twist them through each other to get a floral design then pull the rest of the hair into an updo. When you push the hair from all sides and the back of the neck towards the top you push it intact using a weaving needle and threads.
This hairstyle will take you through honeymoon up to four weeks if you so wish, what you will require is to alternate the styles let's say one every two weeks weekly but of course putting in mind that you shouldn't pull the roots excessively to avoid weakening your hair.
Determine your face Shape:
The black woman featured in the image on top is wearing a natural braid twist updo on a long face shape; otherwise, this exact hairstyle looks good to all face shapes of black women out there regardless of skin tone.
Which Hair product to apply?
Apply Dr. Miracle's Braid Relief 4 oz to add moisture to your hair, and to put out those challenges of slow hair growth. Surprisingly the gel continues to perform its work seconds after application to give you stunning results.
Which styling tools apply?
You pick a pack of four packets of braiding fibers nearest to you like darling, Janet collection, and equivalent fibers to pull medium twists then secure un up for convenience and to look cute.
Cute Wedding Natural braid twist side swept black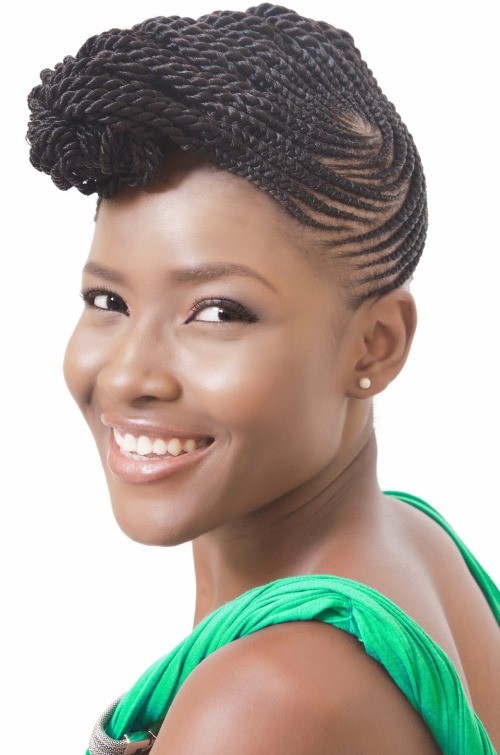 Furthermore, you can add cornrows onto your natural hair on one of the sides and then pull it up to the medium length. On the extreme side draw tiny cornrows pushing them towards the crown then join the ropes together and roll hair inward from the right-hand side keeping more volume at the front and less volume as you continue towards the back.
Determine your face Shape:
The African American lady on top is wearing a wedding natural braid twist side swept on an oval face shape. To be realistic this hairstyle is not discriminative when it comes to varying face shapes and complexions several women have.
Which Hair product to apply?
Use beeswax hair product to moisturize the scalp thus giving your hair an original look always.
Which styling tools apply?
You will need fiber to use that will hold your hair, it can be free tress, Angel braid, and any other brand that serves the same purpose on market. You need to use a tail comb to help you divide hair into small sections for easy plaiting. Finally have handy weaving needles and threads to fix hair appropriately.