5 Crazy Wedding Wavy Bob Hairstyles Black Women
I can't wait any long talking at length about different hairstyles black brides cherish to wear on their wedding. Among these enticing hairstyles that make black bride go crazy is Wavy bob; however you can pull it long, short or medium length at your convenience. Since different women have unique different face shapes you find that according to particular shapes even different lengths of hairstyles blend almost in a unique way.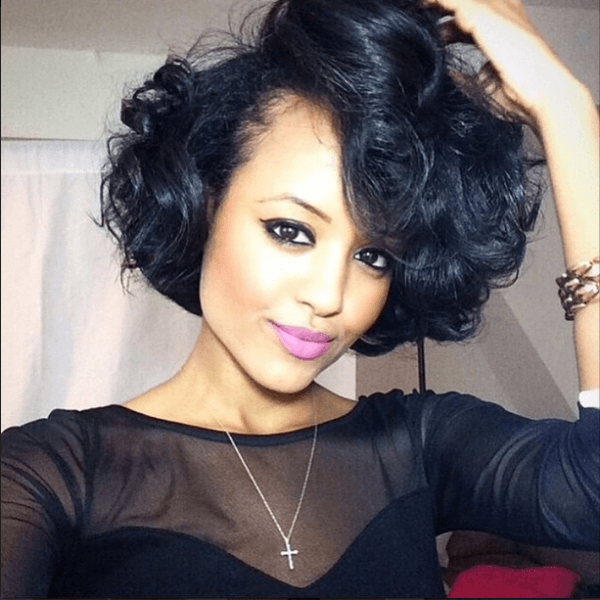 Usually it makes it easy for your hairstylist to select type of weave or styles that looks cute on you if you know exactly what blends with the nature of face shape. In this article below as you scroll down you find 5 Crazy
Wedding Wavy Bob Hairstyles
black women wore to kill. It has all the art you can imitate upon to give you stunning results. 1.
Crazy long wedding wavy Bob black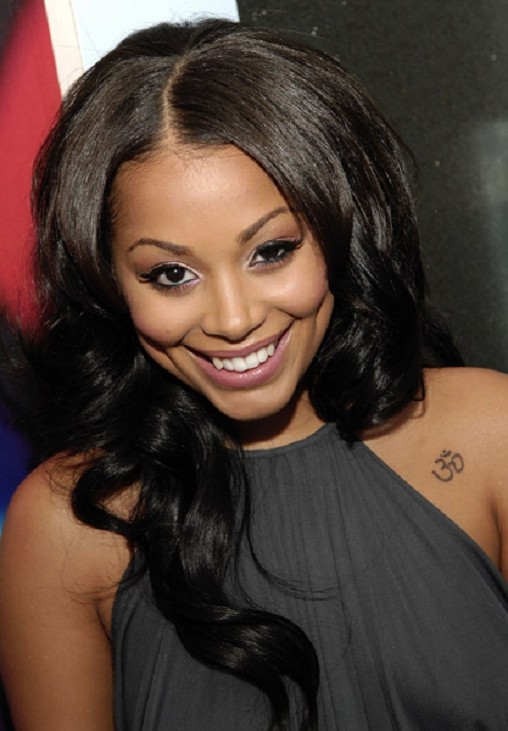 Source:
Who says you can go wrong with long wavy hair on your big day. Am telling you can choose long wavy human hairs weave to make your hair on relaxed hair. Don't be afraid about the length of your natural hair, as long as you have medium short hair to long you can add on hair piece on your natural hair to look that stunning. However if you're fun of natural hair too you have plan B if you have hair long natural hair, you can apply curling tool to create waves. As for the black lady up in the pictorial, has relaxed hair which is medium length. so part of her hair especially in the middle part left out to cover weave then the rest of hair going towards the bottom is pulled with cornrows then on top weave is added. Another issue am realizing about his hairstyles is that if you match it with an open gown it makes you look hot, since part of your upper body is visible some hairs is pulled towards your bust and some hair embrace your shoulders and part of back to give you better looks.
Determine your face Shape:
As I check this beautiful babe on top, she features round face shape. What makes her looks more interesting is that on her beautiful face she's gifted with dimples, sexy eyes and her eyebrow are shapely. i realize she applied small volumes of makes up that almost maintain her natural look thus making her look superb. This hairstyle too looks wonderful on different face shapes like long face, heart face shape, oval face shape and the rest of course under guidance of your hair stylist.
Hair product to apply:
Apply both on scalp and on top of hair a product that work on relaxed hair with high concentration of moisture to keep hair evenly moisturized and at the same time to lock in lasting sheen. So I recommend you to use Mizani Rose H2O Conditioning Hair dress Unisex Moisturizer, 8 Ounce:
Which styling tools apply?
As already stated up in this article , small volumes of your hair in the middle is left out and to keep it strong for any hush weather condition and looking bright it's advised have a steam because it keep it looking great for long. Beneath this section coming up to bottom back of neck you pull your hair on cornrows. Since you're pulling bob style you make cornrows go round. For the section of hair that is left out just on the sides where hair parts you kind of make cornrows across to make styling easy. Of course you need weaving threads, long human hairs weave that look exactly like your natural hair. Another issue with this weave is that you can set it after a while in to different designs. To make this hair you need small bristled comb with long tail to help you out part small volumes of hair to make cornrows and last to help you out for combing. 2.
Crazy wedding wavy asymmetrical Bob black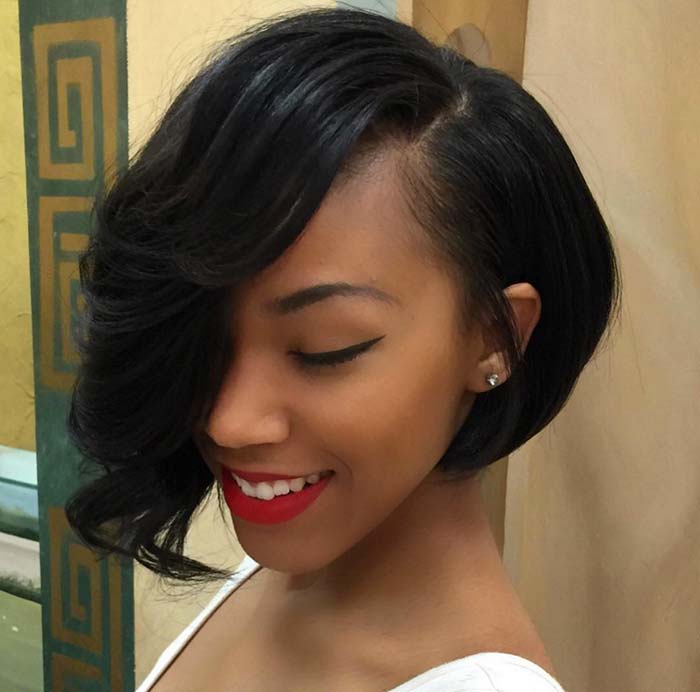 Source: 
Asymmetric means so parts of hair is pulled slightly long from other sections. For the bride on top she trimmed hair on the left hand short to start of jaw length and as well hair at the back of neck exactly on top of neck. So hair towards the right is maintained long with waves towards the neck. Likewise hair in the middle top is parted towards the right and also securing bangs. the kind of art this hairstyle has from the rest is that hair that is trimmed short is pulled straight then hair on the right and mid top is pulled with loose waves to make her look hot. As hair is pushed towards the right it covers one of the eye or else you can make it beside the eye for convenience. This hairstyle can either be pulled on long natural hair and medium length. For medium length hair you fix within weave on the right from mid side towards the bottom to make you hair come out perfect. Since this hairstyle has different lengths its wise to blend it with short hair pins just to cool you off.
Determine your face Shape:
the lady featuring in the background on top is wearing Asymmertic hairstyle on an oval face shape and it makes her look fabulous when she pushes part of hair natural hair forward on top of ears . This hairstyle looks nice on round face shape, heart face shape, long face shape, and square face shape and oblong.
Hair product to apply:
since mostly your natural hair is featured and on few areas weave is added then you apply castor oil or equivalent hair products that will keep hair silky smooth, moisturized thus making hair manageable.
Which styling tools apply?
To level hair accordingly you need to apply small bristled comb to pick small volumes of hair and with small pair of scissors you trim it proportional. Now on the right hand side from mid towards ears you add cornrows using black weaving threads. You trim these threads into small portions to add with natural hair for this cause. Actually at begging your hair has to be rinsed off any build up then you set it on rollers to dry and finally make it using the same comb. You can as well apply hairspray on to your hair to lock in waves and possibly add lasting sheen. 3.
Crazy wedding wavy layered Bob black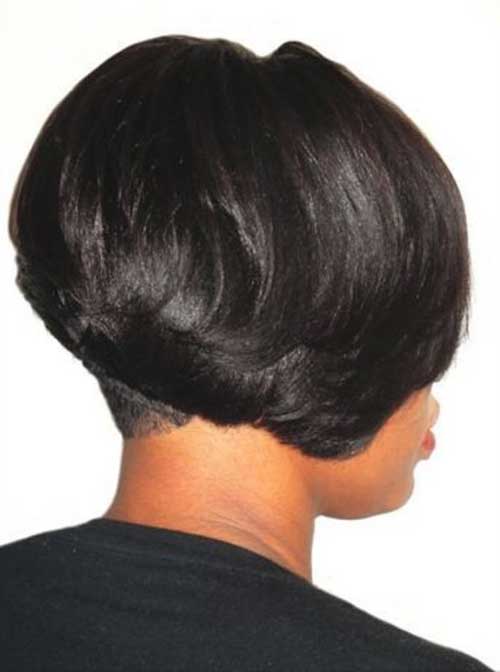 Source: 
As well if you choose to have layered bob for this time round pull it short. so one of the side hair is trimmed relatively short up to mid part of that actual side. So as you proceed towards the bottom hair is trimmed super short while the last level of hair is trimmed Mohawk and small area of back of neck to make the hair cut perfect. As you know well bob style means parting hair on to the sides on one of the selected so for this hairstyle shown on top hair on the right is kept layered and is pulled with loose waves up to few ends of cheeks. Likewise on this side hair round ears are trimmed fine towards the bottom to make the haircut outstanding. As you make hair you push hair towards the left and part of hair in the mid towards the right and last hair on the right is pushed too from front tips looking at the back and at the bottom as well.
Determine your face Shape:
This is one of the hairstyle that looks perfect on all face shapes of any black woman round the globe. However it needs perfection as in fixing it appropriate and exact trimming for the haircut to come better.
Hair product to apply:
Add Mane N Tail Hair Dressing 5.5 OZ for even moisture distribution and maximum conditioning.
Which styling tools apply?
You need hair trim first on your natural hair prior to plaiting. Later on you rinse your hair proper to keep off dirt. You then apply rollers on to your hair as you prepare it to dry. There after you apply hair product on the scalp and few hair products on top of hair after rubbing it gently round your thumb then you add it on to your hair. Apply comb with small bristles to make it perfect. 4.
Crazy wedding wavy short Bob black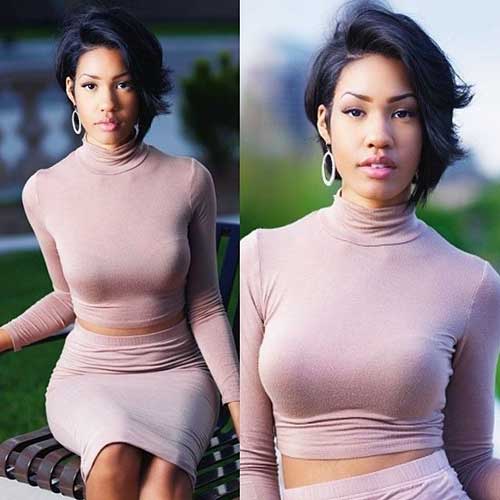 Source: 
If you happen to hold wedding when you're still a girl this is one of the hairstyle that blend with your chic look and it's easy to make. it gives you all the comfort you need at honeymoon and after without worrying your hair to give you stress. You can make it in these various options. On relaxed hair, natural hair and on weave which ever seems convenient for you? With an ideal gown that hugs you body you will make every one crazy. Let's assume you're wearing this hairstyle on weave that's if you don't want to trim your natural hair. Ideally part of your natural hair is left out especially on areas where hair parts on the right and left. This is done as in to cover where weave is added for the on looker to find it difficult to tell where it's your actual hair or weave. Since some of your natural hair is left out if you don't care for it it can become weak since sun rays hit it direct and it ends up becoming dry. Now you pull cornrows on your natural hair then on top you add weave on top. When weave is done thus you proceed with styling. You find that on one of the side hair is pulled on long edges. What makes this hairstyle stylish hair on the right hand side is pushed at back of ears then round the middle you push hair with volume. As you make hair at the back of neck you push hair straight then on the left hand side you pull hair on loose waves with some tips looking up. As you approach towards cheeks you push hair towards the back then as you complete hair at bottom you push some hairs with straight edges just to make hair look fashionable. On top of hair you push hair with more volume upwards then kind of push side bangs.
Determine your face Shape:
The black chic in the back ground is wearing Crazy Wedding Wavy short Bob on oval face shape. What I have in mind about this exact hairstyle is that it looks perfect on all face shapes on black women within a range of forties coming down to twenties.
Hair product to apply
: Apply Organic R/S Root Stimulator Olive Oil Sheen Spray, 11.7 Ounce on top then on scalp use bees wax hair pomade.
Which styling tools apply?
Just to be clear on this hairstyle, you need short black weave with loose waves. You need pair of scissors to trim hair appropriate. As well you need weaving threads to pull cornrows and weaving needle to fix it. Last you need tong comb to make your hair and on the side which is pulled straight you use the normal bristles then where hair is pulled wavy to turn to tong bristles to make hair look crazy as shown in the pic. 5.
Crazy wedding wavy bob with bangs black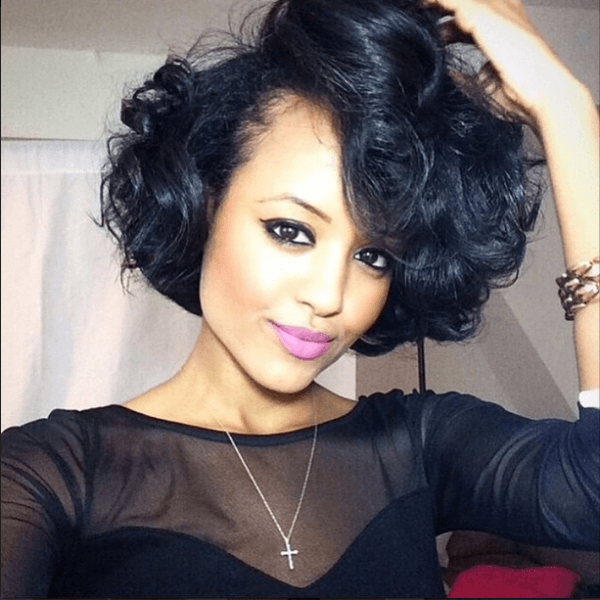 Source:
This is one of the hairstyle you can play with on your natural hair. it has to be long so you make hair using extra big rollers to make hair voluminous. When hair is done with washing, and drying? As you make it you pull loose waves and on the right hand you push it tender with wave's covering ears and fill entire back of neck. As you come forward from top you push hair towards left with kind of crown. Push some hairs forward towards forehead covering part of it then precede pulling waves on entire side. Add spray to keep hair looking fresh and for even moisture distribution round it.
Determine your face Shape:
The lady in the pic is wearing an oval face shape on Crazy Wedding Wavy Bob hair with bangs. What I must say about this hairstyle is that it looks perfect with women with long jaws, like the long faces, heart face and the rest you can tell that fall in this category.
Hair product to apply:
Use Palmer's Hair food 5.25 oz to restore hair texture, makes hair manageable by making it soft, it conditioners it to look healthy.
Which styling tools apply?
Wash your natural hair perfect and on these two options choose the convenient method. You can add rollers when drying your hair or you can apply curling tool on medium heat to pull hair with big waves. Then use small comb with normal bristles to distribute waves evenly then as well the tip of tail can help you out to make hair neat.