5 Breathtaking Wedding Braided Hairstyles For Black Women
Any bride out there wants to make heads turn on her special day in her life, so above all issue to be given priority is the hairstyle you choose to wear on this day.
Others love to make easy hairstyles but at the end of the day, you shine. As you check the bride in the pictorial below she fell for big cornrows that fall off shoulders, you hit two birds with the same stone because it takes you to spend a few hours at the salon and the next point is that you set a phase of your own since not many brides will choose your style.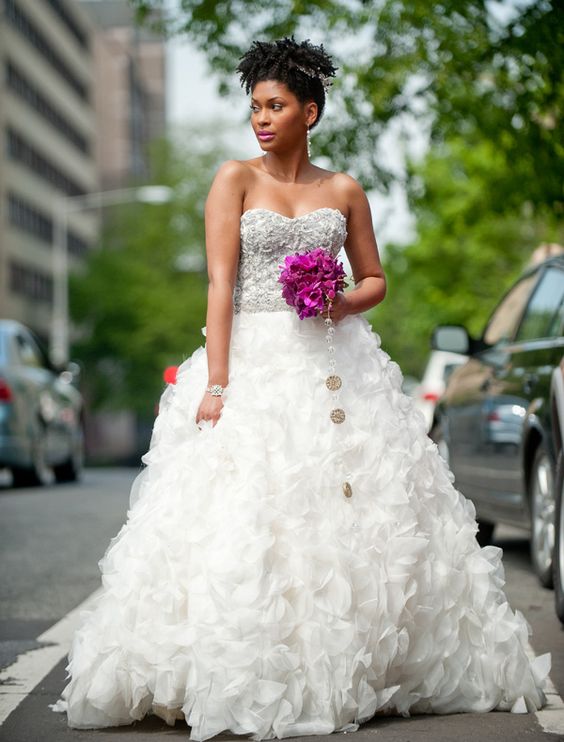 Others love treated hair wither to pull waves or curls, and the rest apply hair extensions to either pull up do's or any trendy hairstyle that makes a statement. In this article, I selected for you more than one braided hairstyle that can make your day and a variety of choices to pick from.
Breathtaking Wedding long braided hairstyle for black women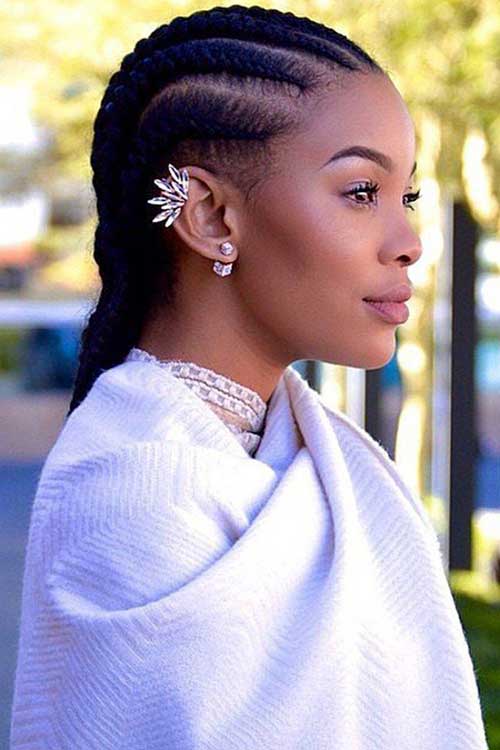 Have ever thought before that long cornrows can you look that great if you love to make easy hair and to remain to look natural and prettier. It requires you just apply a few kanekalon hair fibers to complete you. up. This kind of hairstyle looks neat on all black face shapes and makes them long to fall off shoulders and I assure you your audience will be tuned.
I have seen brides go for expensive hair do's, and attires because their wallet supports them in this cause but to those brides that want to make simple weddings, of course, it involves attires, hair, and makeup you too can look stunning.
What requires of you as a bride is to be selective in whatever accessory you choose to make you up, hair inclusive to keep your audience peep to take have a look at you.
This particular bride on top put focus to maintain her natural looks when she applied reasonable makeup and shaped her eyebrow with nice color than the ear pins she used in form of a small tiara to match her outfit.
Determine your face Shape: The bride on top has a round face shape and what I must really say is that the makeup she applied together with pink lip sheen made her stand, but any black bride out there with a different face shape to looks elegant with this hairstyle the chemistry behind her looks is that she wanted to look natural and simple.
Hair product to apply: Seconds after plaiting your hair apply Bees wax hair product because it's formulated from the best natural extracts that keep your hair fully moisturized and last locking in a lasting sheen. Apply small amounts of product on the scalp and rub some product between palms to apply on top of the hair.
Which styling tools apply? To make such nice-looking cornrows your hand has handy two pieces of Kanekalon fibers to join with small volumes of your natural hair to make cornrows. As you start it off your forehead it's made small then increases volume as you proceed towards the back of your neck. It needs to apply long fibers to achieve your goal, then small pair of scissors to cut tiny pieces that go through.
Breathtaking Wedding Cornrows For Black Women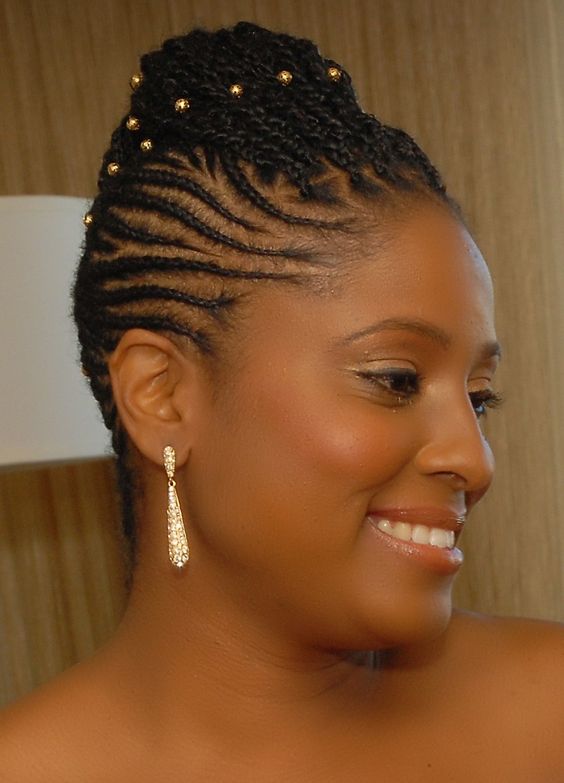 These cornrows in the background differ from the one on top because they are tiny and are only pulled on the sides in the midsection you pull small boxes. So to join hair together cornrows on the sides in the mid part of the back then you pull the boxes towards the mid crown to create a mini bun.
Complete hair into one cornrow just after the mini bun joins both hair cornrows from both sides as one up to the back of the neck. Then fix hair clamps around the bun and a few pieces on the sides. You will need stitching threads to fix hair together and make it firm.
For this hair to look neat some hair professionals apply small amounts of relaxer on hair that is left out, especially around the forehead.
Determine your face Shape: The black bride before you looks great with cornrows and part of hair with boxes on a long face shape, the same hairstyle looks perfect on an oval face shape, round face shape, heart face shape, oblong face shape, square face shape, name it because the list is endless. Also, pick an appropriate size of earring that will match your face.
Hair product to apply: Use Sulfur 8 Fresh Oil Moisturizing Crème 4 oz because it has a pleasant fresh fragrance, it moisturizes the scalp and entire hair, and promotes hair growth. Since your hair locks in moisture, it becomes difficult for hair to break.
Which styling tools apply? To make this hairstyle you will need a big comb to stretch your hair thus removing tangles. Next, you will need fibers to make your hair either kanekalon or other recommended fibers that hold black hair better. You will need stitching threads featuring the color of your hair, weaving needles, hair clamps, and last expertise to make this hair look cute.
Breathtaking Wedding Twists For Black Women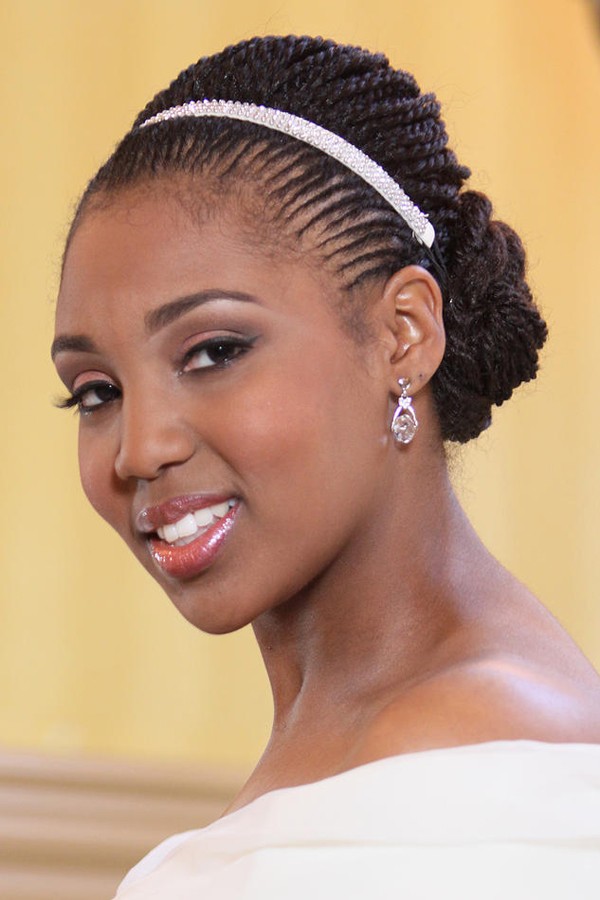 look stunning on your wedding when you pull mini cornrows at the front part of your hair and for the rest of the hair going back up to the back of your neck you pull medium-length twists that you pull into a bun, especially at mid-part of hair then round ears up to the end you fold it to interlock then weave it through using braid threads to keep hair in position.
This hairstyle is convenient as it doesn't cause you heat, it takes you through the event and after thus reducing salon visits you would need when hair is not plaited. This kind of hair blends with a strap gown because it makes your head appear small.
So you put your design tiara a few inches off the forehead head ears. For the bride in the pictorial added an elastic tiara and teamed small earrings to match the color of her gown thus looking great.
Determine your face Shape: This babe in the background has a round face shape, she pulled a big eyebrow that is well shaped, and she applied beautiful makeup that matched her natural complexion just making her beauty shine. However, any black bride out there with another face shape to looks amazing.
Hair product to apply: Apply Dr. Miracle's Braid Relief 4 oz which moisturizes your hair and scalp, it soothes the scalp beyond your expectations and helps to wake up dead follicles that would hind the steady growth of hair.
Which styling tools apply? Use Janet collection fiber to make your hair, you will need in place a big-toothed comb to detangle your hair, and divide it into sections using the sharp end tail of the comb. You can either start with cornrows or twists whichever seems easier. You will also need a weaving needle to thread hair through to make it intact. Last, add hairspray to keep hair looking original.
Breathtaking Wedding long Box braids for black women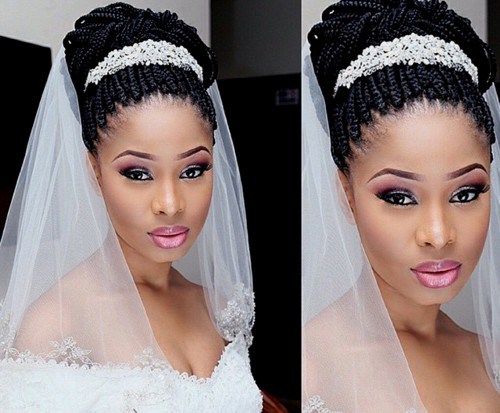 Alternatively, there's yet another option of wearing long box braids in natural color or any other color that captures your heart. But on such occasions, the black color comes out perfectly, so you gather all hair from all sides towards the back of the crown.
With the help of braid, threads use multiple of them to tie round hair, hold the rest of the hair as you fold it round pull it a bit tight then thread it through using a weaving needle. Make sure the end tips are pushed within and then fix the tiara on top between the boxes and the bun then fix the veil at the center of the bun. The next issue here to work out is shaping your eyebrow paint them with color that connects with your skin tone, avoid making your looks with much makeup then paint your lips with colorful gross too.
Determine your face Shape: The black bride featured in the image is wearing box braids on an oval face shape but am sure of is that this hairstyle looks stunning to any black woman of any face shape.
Hair product to apply: These boxes need hairspray to avoid much buildup from foaming within hair while hair locks in a lasting sheen and keeps looking healthy. Apply African Essence Weave Spray 6 IN 1.
Which styling tools apply? After shampooing hair off dirt and buildup you apply a hot comb to make hair stretch for easy plaiting. You will have handy like six pieces from Janet's collection to complete your hair. Of course, you will need in-place braid threads that can tie hair together firmly so you have to tie three rounds and then complete the fourth round. You're required to have a handy weaving needle to hold the bun in position.
Breathtaking wedding short braids for black women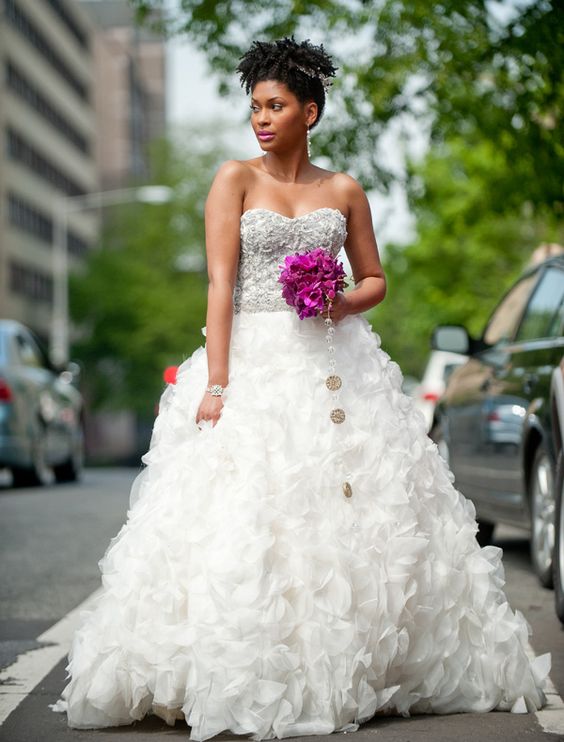 Look amazing on your wedding when you choose to go for short braids which are later gathered on top and tied at the bottom using weaving threads so that hair keeps in one position. Then on one of the sides, you fix medium size tiara to complete your looks.
Now to go about this hair, you apply short Afro Kinky fibers on natural color, originally your natural hair has to be of appropriate length for this fiber to hold it perfectly. This kind is fiber tends to be rough on top so it gives your hair a messy kind of look yet looks pretty. Small volumes of your hair are joined with medium volumes of fiber then a weaving needle is applied to make your hair up to the last tip.
This process is repeated until your entire hair is done. To make your hair stand out you gather it from the back looking forward at the end of the crown then you tie several braid threads around the hair to collect on top.
After tying the hair round you push tips according to direction, for hair at the front you push it forward, at the crown you push tips up, and the rest point in respective directions.
Determine your face Shape: The bride in the pictorial has a round face shape but I want to assure you that any black bride with a different face shape that falls for this hairstyle too will shine upon making this hair.
Hair product to apply: apply beeswax hair product to your hair because it will make both scalp and hair pretty smooth and above all lock in a lasting sheen thus your hair will always look healthy.
Which styling tools apply? Assuming your hair is already shampooed, you will need to dry it using either a hand drier or sitting under a normal drier with less heat. Use a big-toothed comb to detangle your hair until it stretches then pick small volumes of your natural hair and add it with small volumes too of the fiber to make your hair. After hair is done apply hair product on the scalp in small amounts and rub gently last style the hair as desired.