5 Breathtaking Oval Face Wedding Hairstyles For Black Women
Nothing can make any woman feel happy in life like taking holy matrimony with best hairstyle, outfit because not every woman achieves it anyway. However each of those black women out there has a particular face shape she falls in, so the topic day we are going to discuss about is which hairstyles oval face shape black women works best on brides. For sure I have put together 5 breathtaking Oval face wedding hairstyles for black woman down this article to inspire you for when selecting nice hairstyle on your
wedding
day. 1.
Breathtaking Oval face Wedding hairstyle black women at 30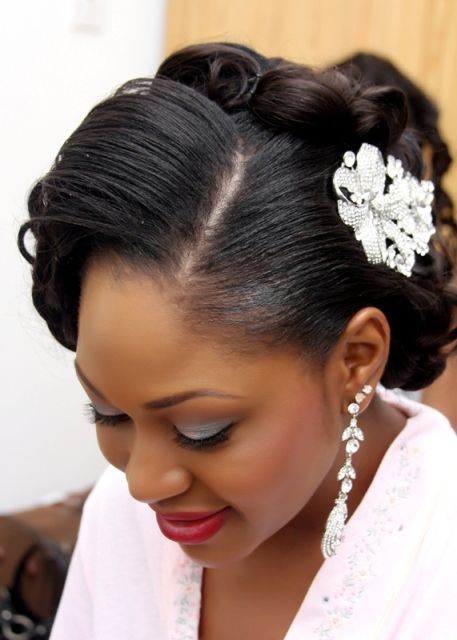 Source: 
Look cute on your wedding on oval face shape when you apply loose weave featuring on brown color fixed on most part of your hair then small section of your natural hair showing off at most front parted on the sides to look war. Since part of your natural hair is left out it needs to be provided with nutrients to make it strong so instead of steaming this area you can as well add nutrient leave-in lotion as you're setting it to dry. As you set to dry maintain marking a line between hairs so that so hairs is set facing on the right then hair on the left is made looking at the back. So for the rest of hair round ears going towards the bottom you pull cornrows with it then fix loose wavy weave on top and let this area look floral by fixing long black pins on each piece after turning it round wholesomely. So place tiara between hairs around the sides and ears especially on the left hand side.
Determine your face Shape:
Originally as the article states we are discussing about oval face wedding hairstyles for black women, however this same hairstyle can look great on other women of other face shapes, the technique focus on which hairstylist you choose to make your hair.
Hair product to apply:
On your natural hair apply Jojoba Oil for even moisture distribution , lasting sheen and for strong hold then on weave use Organic R/S Root Stimulator Olive Oil Sheen Spray, 11.7 Ounce; to tame dull / dry weave into silky smooth , well moisturized and healthy looking hair.
Which styling tools apply?
Pull part of your natural hair with cornrows and this is exact section you fix weave on top. For your natural hair that is left out especially at the front you apply to it leave-in lotion as a way of making stand hush weather condition that might wear it out. Use small comb with normal bristles to make your front hair. Since you want weave to look floral you don't need to comb it just pick small pieces of hair and turn it round into floral shape then apply hair pins to make it firm. 2.
Breathtaking oval face natural wedding hairstyle black women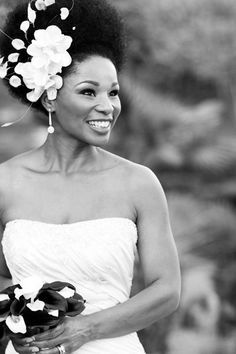 Source: 
Have ever thought that having long natural hair is a treasure any black woman shouldn't miss out, nothing else overwhelms me most on planet earth like looking wholesomely natural on my wedding day because it brings the true looks of you. This hair is just simple to make and for sure you will shine for your spouse because he will be feeling confident for the perfect choice he made which is you his bride. So you make your hair stretched looking up from all angles then place a big tiara of any sort either floral or what on one of the sides to make your hair look stunning.
Determine your face Shape:
The long natural hairstyle wedding in the background is pulled on an oval face shape black woman within her forties; this exact hairstyle can look great to a young woman at teens, twenties, thirties and with another face shape and look fabulous.
Hair product to apply:
Use Mizani Rose H2O Conditioning Hair dress Unisex Moisturizer, 8 Ounce, to keep your natural hair silky smooth, moisturized and looking original all time.
Which styling tools apply?
Have your natural hair shampooed with cold water because it's best at preserving natural oils within your scalp then leave it bit damp and apply hot comb to dry your hair as you lift it up with help of big toothed comb. When you're half way between frying apply hair product on scalp and few amounts on top then continue with the process until all hair is pretty smooth. apply the exact big toothed comb to comb through hair upward and kind of bring it together then either fix wide floral tiara on then right hand side of your hair to make your hair colorful. Your looks will really look lovely and giving you self esteem that you're the best of the bride before and after you. 3.
Breathtaking oval face short wedding hairstyle black women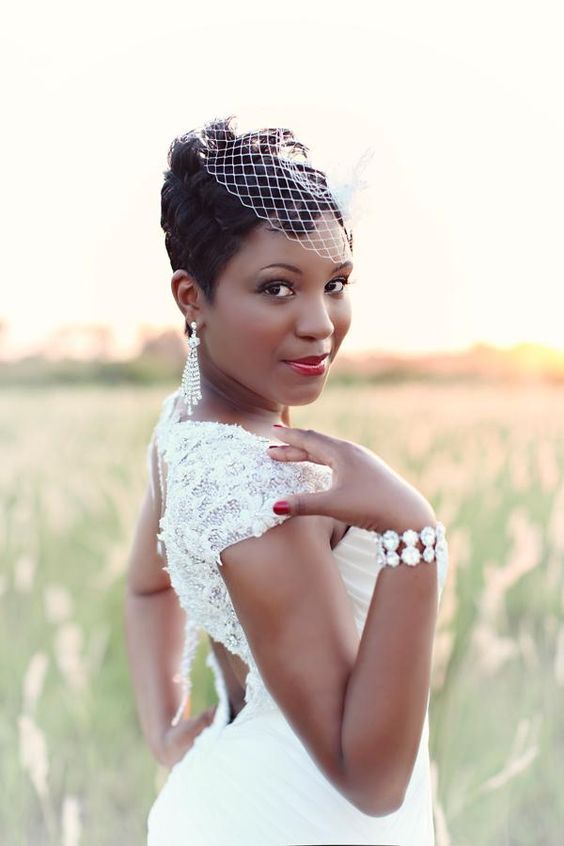 Source: 
For a change on your wedding day go for short hair that's pulled on loose waves, since this hair is rather short all your face is pretty visible making you look stunning. Assuming this hairstyle above is pulled on natural hair? It's trimmed so short at the back of neck then it goes on increasing on length as you're coming forward. Use a curling tool to make your hair, part hair on sides on the left top side for some hairs to look down especially on the left then towards the right hand comb it in steps according to length and finally pull some hairs partly towards forehead to secure bangs. Then on top fix short net between mid crown crossing your forehead to inspire upcoming brides with your looks.
Determine your face Shape:
Of course this hairstyle featured in the pictorial above is pulled on oval face shape, but with no doubt this hair looks great on all other faces shapes of black women out there so take a step and everything will be fine.
Hair product to apply:
If this hairstyle is pulled on natural hair it's useful to apply Kera care product because your hair will keep moisturized and looking lively but if you decide to use short weave to achieve this look then add Bobos Remi Wig & Weave Detangle Spray to detangle, moisturize your hair and to keep hair looking shinny.
Which styling tools apply?
Let's assume you have pulled this hairstyle on natural hair, first and foremost you will have hair trim first that involves leaving some sections of your hair longer than the other using pair of scissors then proceed rinsing hair with natural extracted shampoo that will put off dirt at the same time adding nutrient value on to your hair to make it look healthy. At time of setting hair to dry apply rollers on your entire hair to create lasting waves and to make it pretty manageable when combing. 4.
Breathtaking oval face cornrow and natural wedding hairstyle black women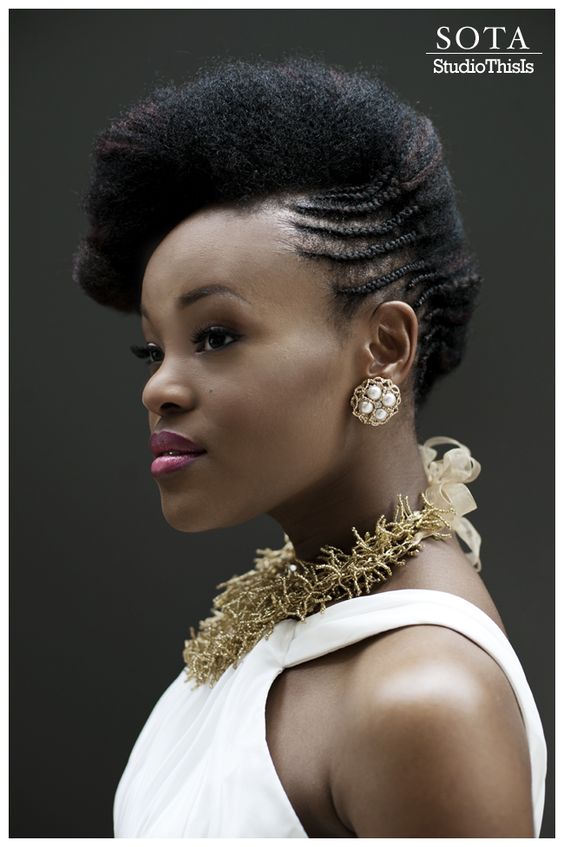 Source: 
For sure natural hair is the way to go for those black women who look for feminine black touch. Hair on the left hand side is pulled on medium size cornrows and covering the left side part of back hair on brown highlights fixed with black then tips lied on top of your natural hair to make hair look cute. For the rest of hair your natural hair is stretched to make entire hair smooth and manageable. Push all hair towards the right when it's raised up on mid part left side. Fold hair at tips looking in wards using a curling tool to make you look fashionable at the same time making your pretty face very clear. go ahead and add make up on your face, boldly shape you r eye brow , add elegant jewelry and least but not last apply colorful gloss on your lips for that beauty queen look you check over there in the pictorial.
Determine your face Shape:
The hairstyle before you in the pic is pulled on oval face shape of African American beauty queen, nevertheless these same hairstyles looks perfect with women of other face shapes regardless of your skin complexion.
Hair product to apply:
Apply Design Essential Stimulations Super Moisturizing Conditioner 6 Oz: to tame dull or dry hair into smooth and manageable hair that is moisturized for a healthy look.
Which styling tools apply?
Make your natural hair manageable using hot comb, when you're pulling cornrows on your natural hair at one of the sides apply both colored weave and natural black then fix them evenly to make hair look nice. When folding hair at tips use a curling tool on medium heat then fix it with black hair pins. 5.
Breathtaking oval face straight wedding hairstyle black women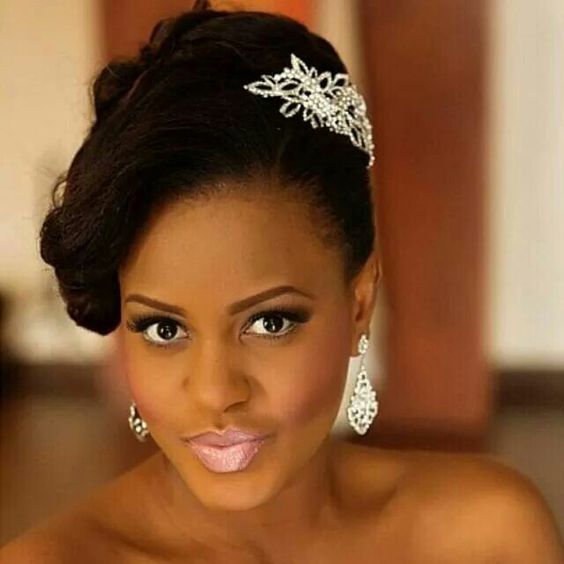 Source: 
Brides of this era don't be left out of trend with hairstyles that speak for themselves if you mind taking this direction. The bride in the background had long relaxed hair so she pulled hair straight towards the back on the left hand side pushing it upward towards the end crown into a bun. From mid crown area she pulled hair straight towards the right hand side with tips pulled on waves looking inward. Therefore as you fix tiara you place it in between top left side, the bun and partly hair at the crown. To make her hairstyle stand out she also added natural make up on her face to make her look stunning, she applied brown color bold eye brow , shading her lips with pink gloss and last adding bridal earrings that blend with tiara to look beautiful . Make your wedding memorable because it comes once in life by wearing trendy hairstyles, jewelry and gown that brings your whole figure out to make your audience look amazing.
Determine your face Shape:
This hairstyle shown in the image on top is pulled on oval face shape of black bride, other brides of different face shapes might be wondering whether this hairstyle works for them, have no doubt as these hairstyles will look perfect on you too.
Hair product to apply:
Apply castor oil hair product to make your hair look healthy and at the same time filling your hair with moisture.
Which styling tools apply?
Before anything your natural hair to look that stunning and strong steam it with best hair products that work with the texture of your hair, apply rollers on to your hair as you set it to dry then there after use small normal bristled comb to make your hair and last you can as well add hairspray for locking in hair for long and for looking shinny.