5 Beautiful Short Haircuts Oval Faces African American
Over the world, women have tried several hairstyles of different lengths per individual interests. Different women are born with different face shapes namely; Oblong face shape, square face shape, heart face shape, round face shape, long face shape, or oval face shape if am to cut the list short.
It doesn't necessarily mean that their special hairstyles are for different face shapes but we want to draw pictures of beautiful haircuts of African American women pulled on Oval face shapes to enlighten us on how to go about this particular face shape.
Allow me to take you through five short haircut oval faces African American women wore on different styles for a different purposes for your scrutiny.
Beautiful Relaxed Short Haircut Oval face African American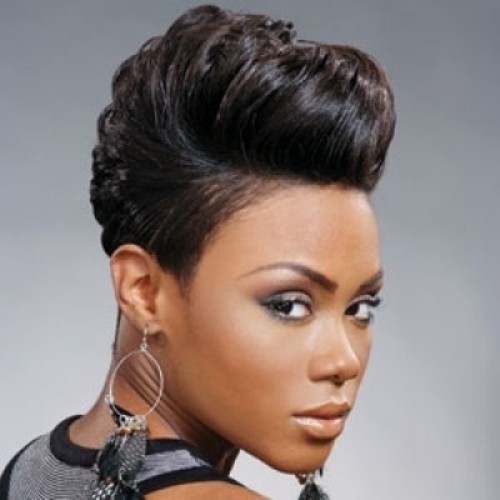 Check how great relaxed hair is that easy to style whether it's super short or medium short. You can make it curly if it's super short and possibly pull it wavy if it's medium short. You reserve hair at the crown with more volume and length than the hair on both sides short.
This haircut above is pulled with waves, wash it with natural extracted shampoo that is meant for relaxed hair, and add it with conditioner because it makes your hair strong and it preserves the texture of your hair.
After washing off the conditioner from your hair leave hair a bit wet then set it on rollers for purposes of making hair wavy. Use a hand drier or sit under the drier to dry your hair in the most convenient way.
Put off rollers from your hair when hair is dry; apply hair product on the scalp and a few amounts on top after rubbing it with your palms. First use a big bristled comb to push the hair from the front going backward to create your own waves, and make the hair on the sides look backward with loose waves up to the back of the neck.
On the right-hand top side part of the hair on sides, some hairs point upward towards the crown area then on the right at the beginning, you push the hair straight looking down and backward. For hairs on the left-hand side push it going backward and finish it at the back of the neck.
Pull hair at the crown with loose waves stretched up from the right pointing to the left-hand direction within the midsection then hair tips from the front part looking backward to look stylish.
Determine your face Shape: This haircut is pulled on the oval face shape of African American woman on relaxed hair, when hair is relaxed it becomes smooth, and manageable to style thus pulling any design with ease. This same haircut however can be styled on any face shape and look cute.
Hair product to apply: Use Jojoba Oil for well-moisturized, shiny-looking, and strong hair.
Which styling tools apply? You set your hair on rollers, dry it using a convenient way, then complete it with a small bristled comb to push waves.
Beautiful Celebrity Short Haircut Oval face African American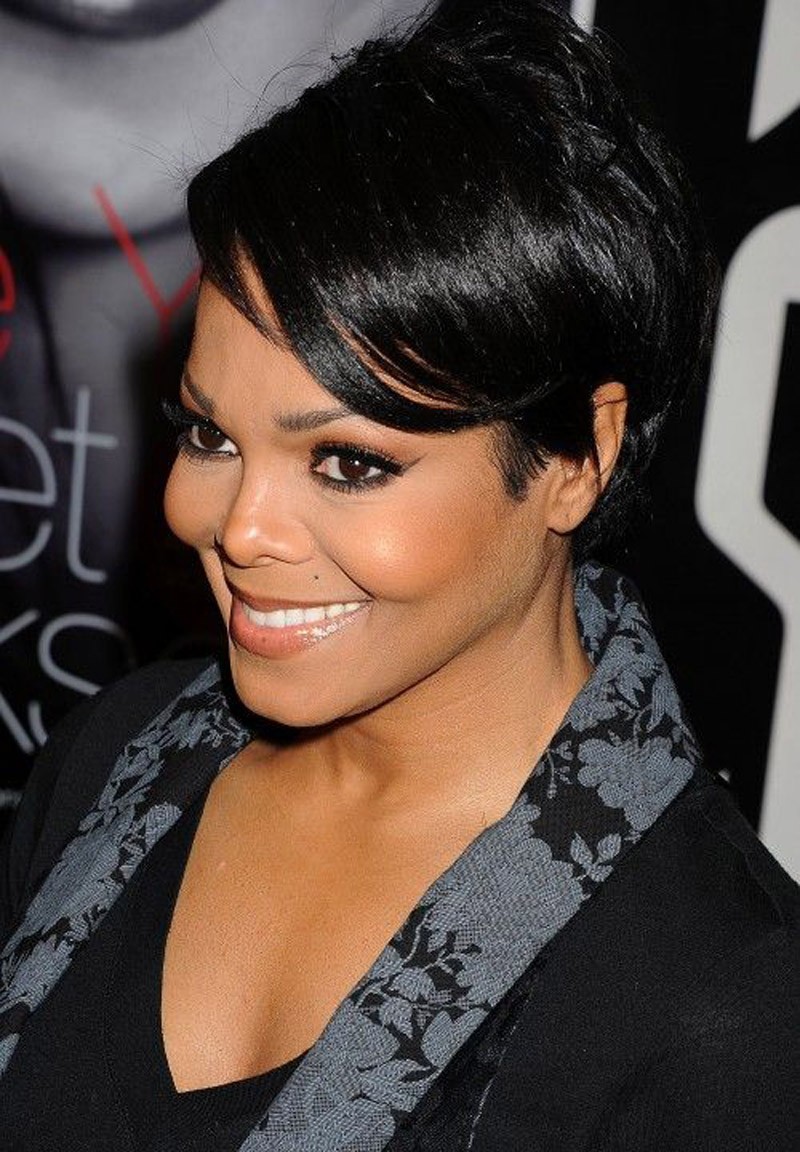 Janet Jackson fell for a short straight weave that features natural black on an oval face shape; she pushed her hair to one side and spiced it with bangs coming from right towards left-hand cheeks.
This haircut doesn't base on the length of your natural hair it can either be long or short but able to hold cornrows. You make cornrows with your natural hair then fix the weave on top, on the right-hand side, you fix the weave by looking down on a few volumes.
So at the crown back of the neck and left-hand side hair with kept with volume and is pushed straight all through. When making the hair on the right-hand side you push it from the top towards the bottom, and from the mid crown towards the back of the neck you fix more pieces of a weave on one cornrow for hair to have more volume and part of the mid left side going backward.
From the mid crown area coming forward and the front part of the left-hand side, you reduce the volume of pieces you fix for hair to somehow look flat. Push this section of hair from the right towards the left-hand side.
When you finish making your hair, especially the back of the neck up to mid crown going backward this section of hair will look curvy, with volume. Lift hair upward at the mid-crown section, for the haircut to show up great.
Determine your face Shape: Janet Jackson pulled this haircut on an oval face shape and at the front, she secured her hair with bangs. To be realistic this haircut looks nice on all other facial shapes of African American women.
Hair product to apply: On the scalp apply Sulfur 8 Fresh Medicated Anti-dandruff Hair & Scalp Conditioner 4 Oz to put bad odor from your hair, nourish it and leave it strong. On top of the weave apply African Essence Weave Spray 6 IN 1 to make hair smooth, and moisturized and to remove tangles.
Which styling tools apply? Make cornrows on your natural hair using seagull brand or equivalent brands within your reach, fix the weave on top using the same materials then make your hair using a small bristled comb and at front of the hair push bangs and you're done,
Beautiful Blonde Short Haircut Oval face African American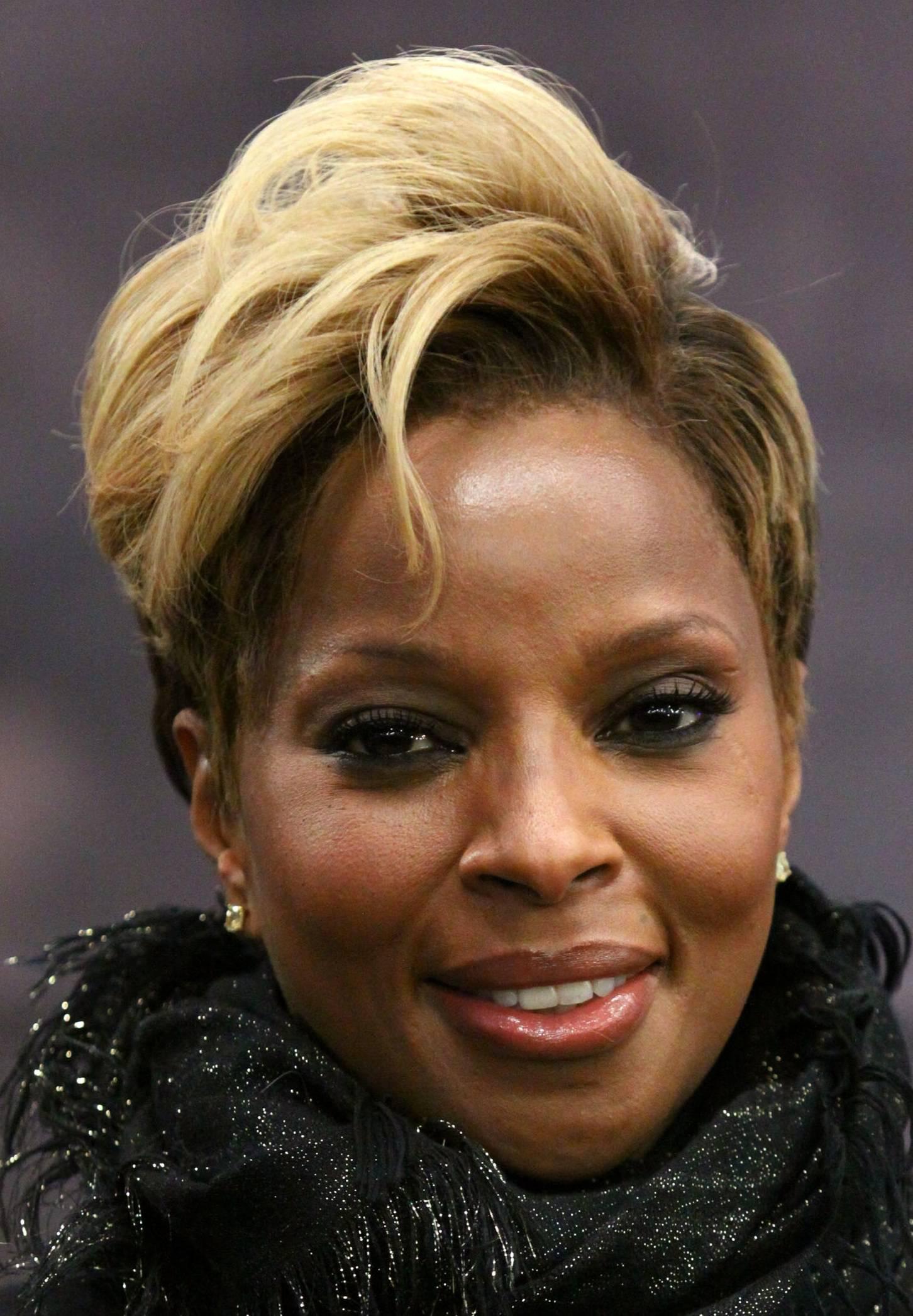 Have your hair colored even if you're above forty just to keep on trend on oval face shape African American women. The lady in the background colored her hair blonde; maintain the lower part of her hair with brown hair, then on the upper section white blonde for her hair to look colorful.
Assuming your natural hair is medium short and on original look and want it to look exactly like in the pictorial; first, you will have to trim your hair on three different lengths.
Going around your hair from the bottom coming towards halfway on hairs at the sides and at the back of the neck very short, from mid sides up top you increase the reasonable length up to the back part of your hair.
At the crown, you secure the hair on medium length to be able to pull bangs or rather push hair on one of the sides wavy to look cute.
The next step here is to apply dye to your hair, you can either use a curling tool to make your hair or after washing set it on rollers and then put it off.
In case you have time make your hairdo way by using a curling tool because it uses more heat and if you use it frequently your hair becomes weak in the long run. Spare time and set it with rollers and either air dry or any convenient method to dry your hair.
Determine your face Shape: This haircut is pulled on an oval face shape of African American woman blonde but any other young woman above her forties can wear it on a different face shape and look beautiful.
Hair product to apply: Use Marrakesh Oil Hair Styling Elixir 2 oz to condition your hair, leaves your hair smooth and Provides lasting shine, and work as frizz control.
Which styling tools apply? Use either a curling tool or set hair on rollers to make your hair wavy and complete it with a small comb.
Beautiful Short Haircut long bangs Oval face African American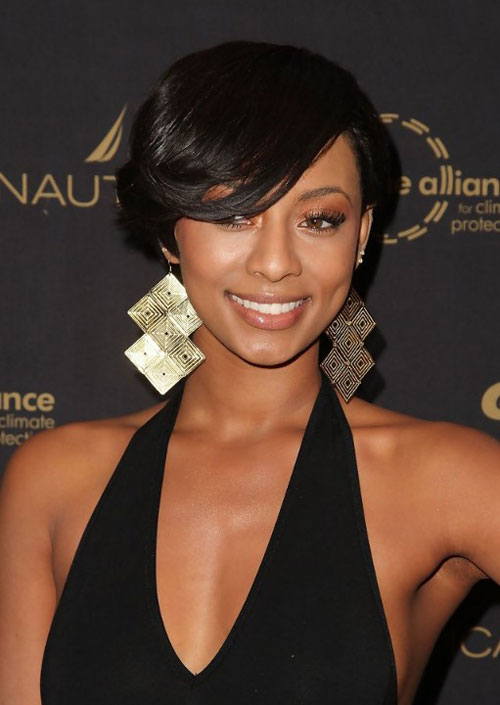 Look beautiful with a short straight haircut pulled on a weave featuring natural black, this haircut is basically short at the back of the neck and on the sides.
It's pulled straight and long from the end of the crown coming forward towards the forehead to pull bangs that cover half of the forehead then ends looking on one of the sides.
You make your natural hair with medium size cornrows then fix on top a medium short straight weave going clockwise starting at the back of the neck and coming forward towards the front.
From the bottom up borders of the crown going round you fix wear when it's short and looking down but from the crown coming forward you fix a long straight weave that reaches mid cheeks.
When you're done with fixing the weave make the front hair push hair from the left going in the right direction then secure with its bangs above the right-hand eye with end tips pointing on the sides. This haircut looks great for all purposes and to make it spicy add colorful earrings and an outfit to complete you.
Determine your face Shape: This haircut right before you is pulled off on an oval face shape of African American woman but can also be pulled on a heart face shape and the rest which aren't listed above
Hair product to apply: On weave haircut hairspray is more effective than hair product so on the skin apply anti-dandruff hair product to avoid itching then on top of the weave use Organic R/S Root Stimulator Olive Oil Sheen Spray, 11.7 Ounce to keep your hair moisturized, tangle free and smooth on the result.
Which styling tools apply? As usual use braid threads to make cornrows and fix some through the eye of a needle to join the weave on top. After applying hairspray to make hair manageable use a small normal bristled comb to make your hair.
Beautiful Short Haircut Girls Oval face African American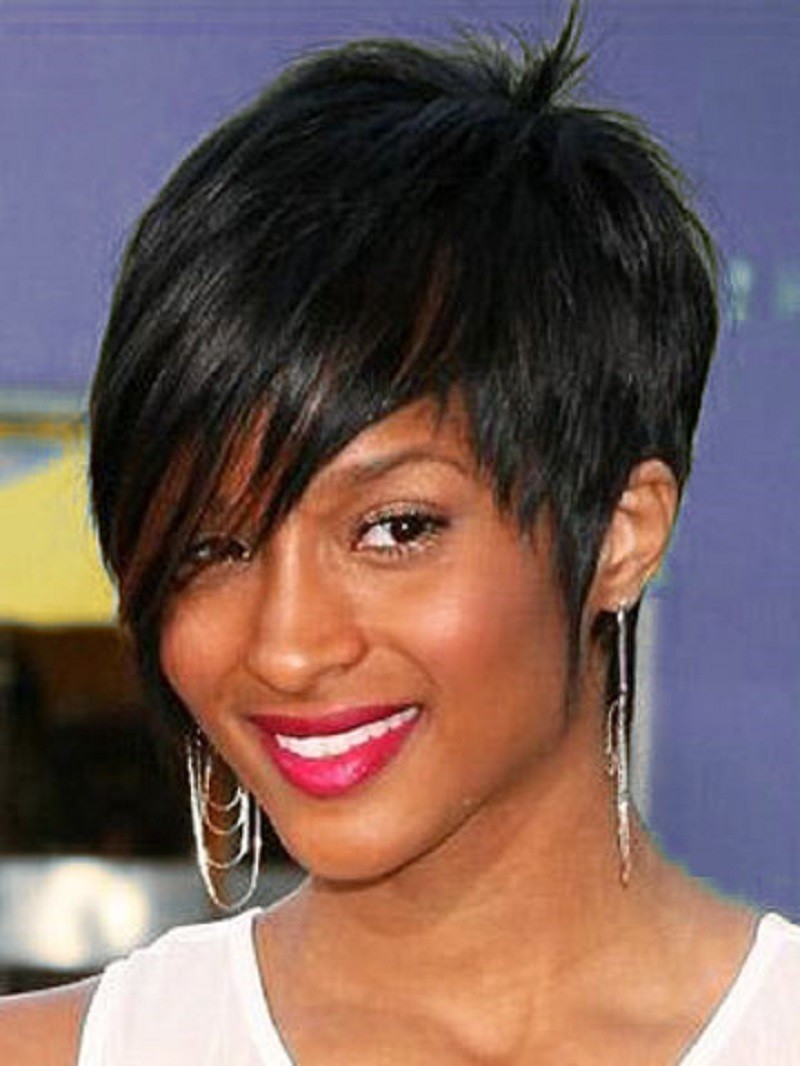 This haircut in the background can be pulled on the weave, natural hair, or on a wig whichever captures your heart. All these alternatives differ from each other in maintenance and making.
On the weave, you apply a medium short weave straight that features natural black, for some areas like the back of the neck, one side of the cheek and on sides weave is fixed so short then you pull it with long edges at the front part to push bangs and one side of the cheek with long edge that touches the end of cheek to look great.
Around the mid-crown area, some hairs are left out pointing upward kind of looking messy. If this same haircut is pulled on natural hair, first and foremost it has to be long then when you trim it you make it come from up going downwards.
While trimming it you begin with hair at the bottom coming upward, on the sides, and at the back cut hair short but before the ears after trimming the hair with sharp edges then at the back of the neck, you cut hair up to neck length.
Towards the mid-right-hand side coming forward up to mid cheeks cut your hair long and from that point, up to your forehead you cut your hair medium short and finally push bangs with sharp edges.
When making this hair you push it from the top coming downwards then at the top center of the crown, you leave out some hairs very short and made looking upward for you to look stylish.
If this haircut is pulled on a wig there's no hassle because you just wear it on top and make it with a tong comb to look exact. Over 10 times of application you wash it clean and dry it on moderate heat then store it in a cool dry place.
Determine your face Shape: Let's choose to pull off this haircut on natural hair, the African American woman in the above pictorial is pulling it on an oval face shape. This same haircut can be pulled off other face shapes of African American women to look beautiful.
Hair product to apply: Apply Mizani Rose H2O Conditioning Hairdress Unisex Moisturizer, 8 Ounces, to keep your hair and scalp smooth, looking shiny, and evenly moisturized.
Which styling tools apply? After trimming hair you wash it with natural hair shampoo then apply conditioner for a few seconds and wash it off, apply a curling tool to create waves on your hair.
Towards the end of curling apply hair product to your hair and scalp then proceed with the process for the hair product to melt within your hair thus your hair will be smooth and lock in a lasting sheen.