5 Awesome Twist Wedding Hairstyles For Black Women
Any woman out there wants to look outstanding at her wedding, with a wonderful-looking hairstyle that turns you on. As the topic of the day relates to twisting hairstyles however their several ways black brides can pull twists from the categories listed below.
I have seen some brides pull twists on braided however on different styles either colored or maintaining a natural black look.
Others pull twists on relaxed hair added with extensions to look extra ordinal, unique or any other statement one considers perfect to suit the nature of the hairstyle secured and above all to meet her priory.
As you scroll down the article you find that I have listed five wedding hairstyles with twists that look great on black brides to guide you take on the best choice.
Awesome voluminous twist wedding hairstyle for black women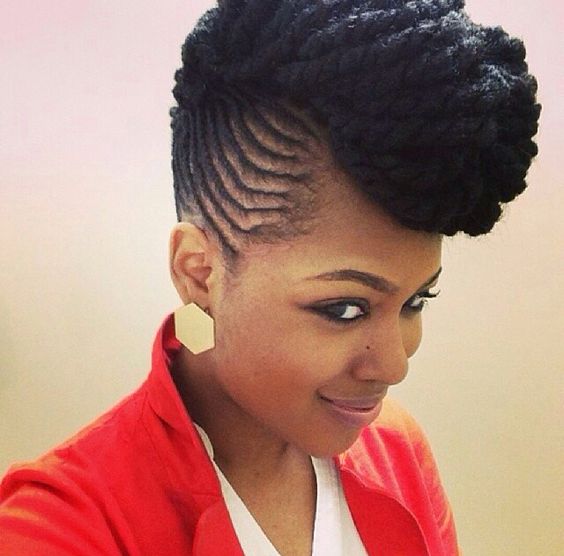 Check in the pictorial above how you play around with your natural hair when you choose to go braids. The lady on top is wearing medium-sized cornrows on the sides that start at the front going toward the edges of the crown.
Likewise, hair at the back of the neck is pulled with the same size of cornrows starting at the bottom and coming up wards the top. so long twists are pulled in the midsection of hair and once you're done you kind of push it forward forms one of the sides towards the opposite direction.
As you push hair in the midsection forward you increase the volume of hair gradually and at the frontest parts of hair you make hair voluminous thus forming a cute bun. Rather on the right-hand side mid of your hair, you place your colorful tiara to show beauty.
Determine your face Shape: The smiley black woman featured in the above image has a long face shape and her twists looked great on her.
This same hairstyle doesn't discriminate against any other face shape of any black woman out there, what matters here is the length of the bun according to a particular face shape for the sake of bringing out your face shape perfectly.
Hair product to apply: Apply Africa's Best Braid Sheen Spray with Conditioner 12 OZ; because it penetrates quickly through the scalp and hair it does away with an itching scalp, hair breakage, and dry scalp.
However, it leaves your hair and scalp evenly moisturized and is recommended for all types of hair.
Which styling tools apply? Since the hair on the sides and at the back of the neck is pulled with cornrows you pick small volumes of fiber to add to natural hair to make neat cornrows. You can use one of these fibers listed like Janet collection, Freetres, or synthetic when it's long.
However, when you're making cornrows you apply small volumes of the fiber. Twist the tips going around to join the hair in the midsection.
So for hair in the midsection make it using long fibers and with more volume then towards each end of the tip, you make a knot using the same fibers to prevent hair from coming out.
Now push the hair looking forward from one side to the opposite direction and put it together using a weaving needle and thread.
Likewise, the twisted tips of cornrows are also added together with the twists from the back. As you approach the front you make your hair look voluminous creating a bun then using black weaving threads and needles put it together.
Remember as you pushed long twists from the right towards the left side you push tips within the hair to look invisible then make it firm by threading it through.
Awesome colored twist wedding hairstyle for black women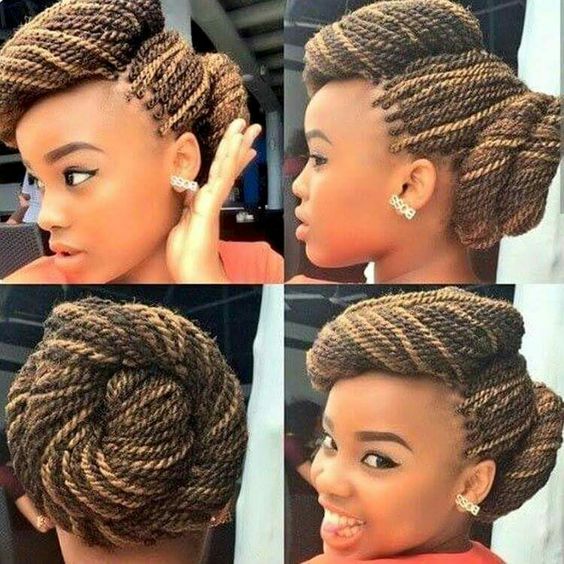 Look fantastic on your wedding day when you apply colored long twists that are constituted with light and dark brown colors.
The fiber you apply features on both colors or alternatively use two different fibers at most using the dark brown fiber and then mixing in the light one on sparing areas to make hair look colorful.
This hairstyle looks fabulous in a way since it's pushed in two styles. Hair at the front is pushed on the sides that are mid-front from the left towards the right so you roll tips looking backward and finish it at the back of the hair using the blending color of braid threads and weaving needle.
So hair on the right side is put together with hair at the back of the neck just at the center. So twists will keep hanging and in the way to make hair look short you divide it into two then you roll over each section of hair going circular then you thread it intact.
So make the other section sit on top and roll too then push it in the middle then make it fix in position using weaving needle and threads.
According to the style of hair shown in the background no doubt if you fix medium size tiara on the right between the two designs, it looks awesome or alternatively you can apply a round tiara at the bottom of the twisted hair at the front.
Then likewise add reasonable size bridal earrings to look sparking.
Determine your face Shape: The black bride in the background is wearing this hairstyle on a long face shape, however it can look great on a round face shape, an oval face, oblong, or square, and the rest of the face shapes you may have which is not listed on top and expect compliments.
Hair product to apply: Use Sulfur8 Loc Twist & Braid Butter 4 OZ, perfect for making twist and other braids lock in shine, smooth, easy for creating any design, and last for healthy looking hair.
But in case you have an itchy scalp this same product helps you out. Make sure you apply it in small quantities on the scalp for even moisture distribution around the entire hair.
Which styling tools apply? Assuming your hair is natural or treated you need to keep it super clean by using the respective shampoo for your type of hair.
It's of great advantage to steam hair before plaiting it because the conditioner you apply to your hair penetrates easily onto the roots and hair to make your hair strong and to reduce the rate hair breaks when you're removing it.
You will need to place a big bristled comb to remove tangles from your hair after washing and drying. Next, pick the best fiber that will hold your hair all through strong and look neat.
Apply synthetic-colored fiber or any equivalent that will keep your hair looking good and prevent unnecessary hair loss. You will need a small bristled comb that has a tail to pick small volumes of your natural hair and add fiber to pull long twists. Shortly after making hair add hair product to the last style as desired.
Awesome twist braids wedding hairstyle for black women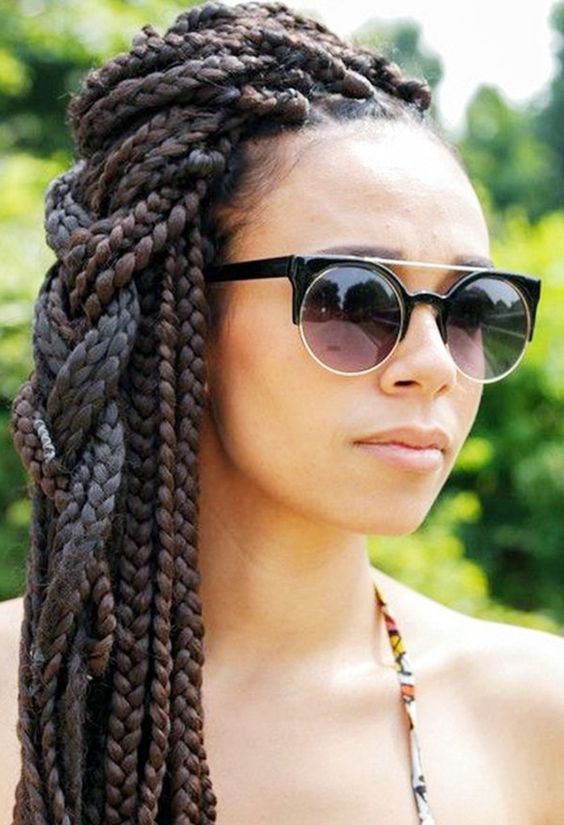 Take the initiative to become one of the black brides that pull your hair with long boxes that fall off shoulders then you pick a few boxes as they fall on shoulders to make loose twists for you to look stunning.
To make such a hairstyle it doesn't need to have long natural hair once your natural hair is medium length to long this hairstyle looks awesome on you. 
It looks beautiful when you make big long boxes then the hair on the left, mid top and that at the back is pushed towards the right. You kind of push hair at the front on medium volume, then put it together as you twist it downwards the leave some hair at the bottom free.
For this kind of hairstyle, you can add a small-size tiara on top of twists just above the ears. This hairstyle takes less time to make and looks simple but its impact is incredible.
This hairstyle too works for those brides that feel working on themselves more because the wedding is not the only way you can look hot but it carries more weight when you maintain a natural look thus if you're you look awesome this way then indeed you deserve to statement that goes as follows, black queen.
Determine your face Shape: The black babe in the image looks gorgeous with long twists on a round face shape. The light complexion she has makes her look hot, however, if this same hairstyle is worn on a dark skin tone too looks sparkling.
I must say this is one of the hairstyles among braids that look pretty to all women below their forties because at this age you still look more charming, and energetic than women who cross this bracket.
You can pull more designs that look good if the one in the background doesn't move you.
Hair product to apply: Apply Better Braids Braid Gel 6 OZ to nourish the scalp, add sheen to your hair and better still make hair itch-free and look healthy.
Which styling tools apply? Apply Kanekalon fiber with more length that blends both light and dark brown colors. Pull big boxes that fall off shoulders and at tips you can either insert them in hot water to hold them together.
Others heat them with little fire and after you squeeze them to avoid sharp tips others use hair clamps for the same purpose and to make hair look spicy.
Awesome twist updo wedding hairstyle for black women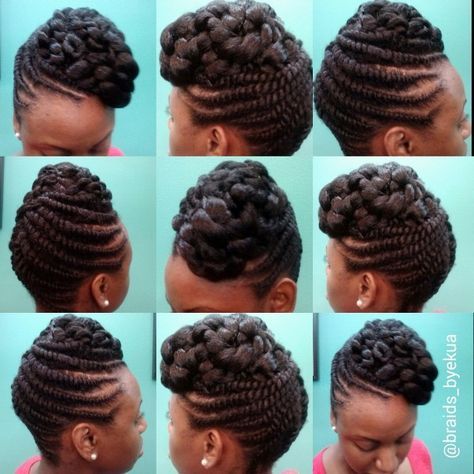 Look how amazing you can show up on your wedding day if you choose to style all your hair on the sides and at the back of your neck on big cornrows.
So hair at the front mid-section is pulled with small cornrows and finally, an extension is added on top and then twisted in style to pull the side up as you precede that towards the forehead.
Surely even the cornrows are twisted a few inches from the forehead up to the mid-back part of the hair. So put hair together from all sides using natural color braid threads and weaving needles.
This hairstyle looks great to women in their thirties and forty-plus while the secret behind it is to give you a charming young look.
Determine your face Shape: The lady in the background wears this hairstyle on a heart face shape, while cornrows tend to make your head appear small the updo that is pulled on the extension makes your hair shapely and proportional according to each individual face shape.
Without fear wear, this hairstyle on any faces for the same purpose or other purposes because you won't regret the outcome.
Hair product to apply: Use Better Braids Hair & Scalp Oil 8 OZ for purposes of keeping scalp and hair without buildup, moisturizing your hair, and locking in lasting sheen.
Which styling tools apply? You have to have a reasonable length of natural hair for the fiber to hold perfectly. you can use the same fiber to make cornrows and the updo because the fiber will make cornrows look pretty.
As you make cornrows you should put in mind that you start it on the sides pushing it towards the mid part of the hair. You will certainly use weaving thread and needles to put cornrows together.
Then at the front part of the hair, you make relatively small cornrows to add weave on top through weaving. It has to be a straight hair extension so before fixing it on you draw twists around the weave it on top of cornrows at the front.
Complete it towards the forehead you make it with volume and as if slipping on the side to come up with a unique hairstyle.
Awesome twisted bun wedding hairstyle for black women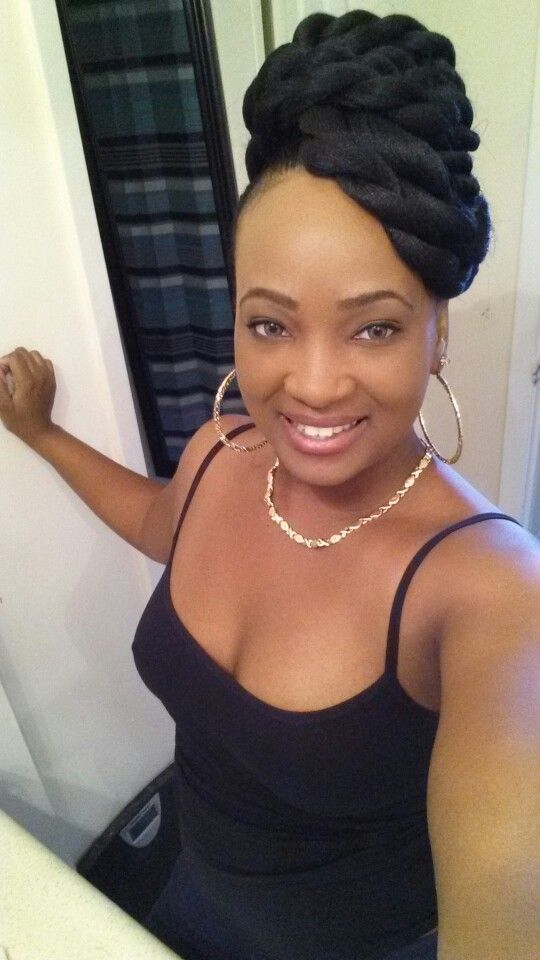 The difference this hairstyle has from the previous ones is that your natural hair is relaxed and held into a puff. So you add on top a long twisted bun formulated from hair extension.
On the top it is moved circularly then around the forehead you make the extension slip towards the sides covering the entire left-hand side.
The black babe on top is applied for a black long extension while if you choose a colored one is that once you style it perfectly you will keep on trend.
At the back of the neck, your hair is visible and part of the right side so the kind of view you have at the back makes you look wonderful if you're to fix the tiara on top of your hair it looks great at the front part of the bun.
The rest to complete you is a nice hugging gown, comfortable dress shoes, and jewelry. I prefer you add small-size bridal earrings to match the kind of face in the background.
Determine your face Shape: The hairstyle in the pictorial is worn on a long face shape but to be realistic this hairstyle doesn't discriminate against any face shape. What matters for you to achieve this exact look is to have a professional specialist because no doubt you will look beautiful.
Hair product to apply: Since this hair is relaxed and straight it in order to apply Tropic Isle Living Coconut Jamaican Black Castor Oil Hair Food 4 Ounce: moisturize hair, promote hair growth, and smooth it to make it manageable.
Add Olive oil sheen spray to keep hair moisturized and for a lasting fresh look.
Which styling tools apply? When hair is done with washing off dirt or build-up, you're advised to add conditioner and then add steam as a way of adding necessary nutrients to your hair as a result hair becomes strong, and its texture boasted.
You apply a small volume of hair food onto your hair to make it smooth as you dry. Hold it together and tie it gently using braid threads, make one cornrow out of this hair then fix it with braid threads and a weaving needle.
Then last add the hair extension on top of the hair and style as shown in the background.