Awesome Short Mohawk Haircuts For African American Women
Mohawk refers to cutting very short or barely bald hair on the sides and then leaving hair with volume at the middle section of your natural hair. You may add a little extra to your mohawk style by either adding a highlighted design or only cutting short hair from one side of the head.
For in this article, you find that African American women go for Short Mohawk Haircuts which implies that after shaving hair on the sides few volumes are left out to have the best of the best haircuts.
I have collected in this article five Short Mohawk Haircuts in different designs that African American women should try out before age clocks out or any way utilize every opportunity that is at their disposal to enjoy life.
Awesome Short Mohawk Haircuts on Chubby Cheeks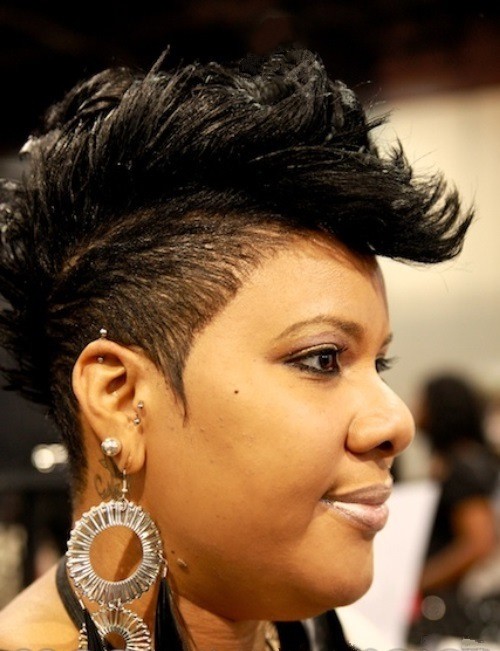 They're those plus-size African American women who think when they go Mohawk that they might look awkward, but that is not true cut your hair according to the shape of your face and balance it evenly for a stunning look.
You can be having fat cheeks and just look for a Mohawk haircut to stay looking pleasant, use re-known barbers to have the best Mohawk haircut regardless of your face shape you will show up great.
The lady in the pictorial above relaxed her natural hair, she cut a short Mohawk design around the lower part of her head then left her hair medium short in the middle section of her hair.
So hair in the middle section is pushed forward from the back for some hairs looking upward then the front hair long almost the length of her forward then ends looking up in style.
At the back of the neck also hair is cut to the same length with hair on the sides. On the right-hand side, a deep line is secured between the hair on the side and that at the center thus making your haircut advanced.
Determine your face Shape: The lady in the pictorial has a round face shape because her hair is cut an even length around the lower part of her head and the hair at the center is cut from the back going forward on different lengths to balance the shape of haircut automatically she comes out beautiful. And any African American woman of a different shape looks great too if the same procedure is followed.
Hair product to apply: Since this hair is relaxed it needs to apply a hair product that will keep it moisturized all time because relaxed hair too is found of losing moisture quick thus need to provide from other sources whenever needed.
So apply Jojoba Oil because in just one application your hair picks moisture plus vitamins since it's extracted from the best natural extracts like soybean, castor oil, and coconut oil for strong hair.
Which styling tools apply? Use a tong comb since it has two sides the normal and the other side that pushes tongs, use the normal side to make the shortest hair starting at the top and coming down then turn to tong bristles pushing the hair in the middle forward from the back.
But as you approach hair at the front push hair a little towards the forehead then make ends look up and you're ready to go.
Awesome Short Mohawk Haircuts For Black Women in  their 40s
You can be a fan of wavy haircuts and wondering how to pull the best Short Mohawk haircut for African American Women in their 40s to make a statement.
This haircut before you is the way forward, it only requires you to grow your natural hair to medium length then hair it cut on the sides super short then reserve more volume and length in the middle.
This haircut is on relaxed natural hair so if you already have relaxed hair you just for a haircut then wash your hair with shampoo, set it on rollers, and sit under a drier to dry then after you apply hair product on the scalp and a few amounts on top of hair then push waves in the middle from sides looking inwards.
In case your hair is originally natural hair first have the haircut then relax it and follow the steps mentioned above. The only point that is not mentioned and is crucial is when you relax natural hair after a haircut you find that some hairs will long out longer than the rest so to balance the length of hair you use a small pair of scissors and cut it to even length.
Relaxed hair tends to be nice and stronger if you steam it in this way the product penetrates through the hair follicles adding a touch to your texture and even making hair strong to stand any hush condition out there.
Determine your face Shape: The African American woman in the background has a long face shape, as her hair is cut shorter on the sides and at the back, it makes her face appear even longer and clearly visible from all angles, thus all the art that is applied in the middle comes out perfect. This exact hairstyle looks great on an oval face shape, heart face shape, or square.
Hair product to apply: Use Castor oil for your hair to be added with moisture and lock in a lasting sheen.
Which styling tools apply? Use a small bristled comb to push waves in the middle and the end tail to help you on hair at the top then push hair straight on the sides and at the back of the neck starting up and finishing at the bottom.
Awesome Short Mohawk Wavy Haircuts for African American Women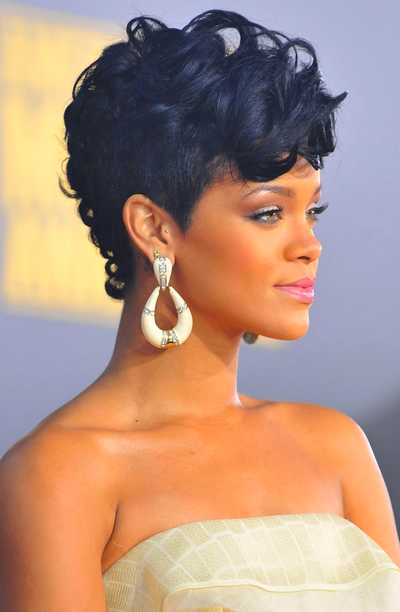 This haircut is celebrity-inspired, Rihanna showed up with a wavy short haircut that has fewer waves at the back of the neck and increases volume gradually until it reaches the top front. Only a small part of hair on both sides is cut very short to shape hair perfectly.
This haircut can be done on your natural hair when you cut it on the side's very short, hair at the back up to with more volume increasing step by step up to the front. Other African American women want to keep their natural hair long and thus prefer to apply a short weave instead to have this look for a period of time and then switch back to an ordinary look.
At the bottom of the hair, you pull cornrows then fix the weave on top sowing it through using hair and braid threads. after fixing the weave on top you again have to use small pair of scissors to cut it so short on the sides, reduce its volume at the back of the neck up to mid back then reserve more length from this point as you come forward up to the mid crown area.
From mid crown up to front hair is reserved long for purposes of pushing big waves and bangs. Add elegant jewelry to nice outfits to look spicy women of class out there.
Determine your face Shape: Rihanna featured this short Mohawk haircut an oval face shape and the great news about this haircut is that it blends with any face shape.
Hair product to apply: Since we have used short weave to make this haircut it needs hairspray to make it evenly moisturized all time and keep it looking shiny so use Organic R/S Root Stimulator Olive Oil Sheen Spray, 11.7 Ounce for all types of hair and for your hair to keep looking original. On the scalp apply beeswax in small amounts to keep it lubricated.
Which styling tools apply? Nothing much is needed to make this haircut stand out since it was made with waves originally, you apply a small comb to push back waves after fixing the weave and apply its end tail to push bangs and all the art it requires.
Awesome Short Mohawk Curly Haircut for black women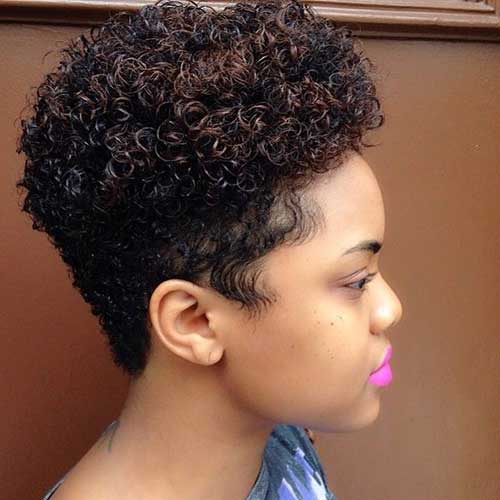 There are those African American women with tender hair that is naturally curly or looks relaxed on its original look, you only go for a haircut to have hair on the sides and at the back of the neck shorter than the hair at the central reserve with more volume then apply curly hair product to have this look.
For those other women with hard textured hair looking up to have a curly short Mohawk you first hair your natural hair cut as you check in the pic then you apply curly relaxer to your hair and later wash it off.
Add with conditioner to provide nutrients to your hair that is washed off after relaxing your hair for seconds then wash it off too and last apply hair product to your hair from the scalp and on top of hair to make hair moisturized.
Determine your face Shape: This African American babe up front has a heart face shape but anyone with a different face shape looks great too with it.
Hair product to apply: Use The Roots Naturelle Curly Hair Products Bouncy Curls (16 Ounce) best for naturally curly hair to make it smooth, bouncing curls and frizzy-free since it is made from the best natural extracts like grape and olive seeds that provide protein for good looking hair.
Which styling tools apply? Use a small comb with two bristles, for the normal apply it on very short hair, and on the other side that has steel standing bristles use it to lift up hair in the middle section for best looks.
Awesome Short Mohawk Haircut for oval faces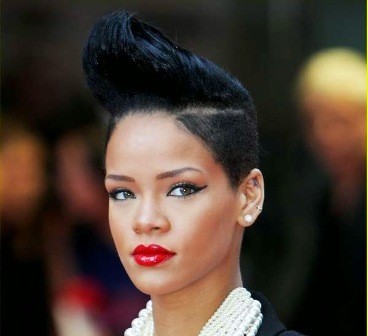 Check yet another short Mohawk haircut African American on straight natural hair whereby hair on the sides and at the back of the neck is pushed to the bottom.
As you make the hair on one of the sides right at the top you draw a line using the end tail of the comb. Thus in the middle section of hair starting at the back of the crown coming forward, hair is cut with volume and it goes on increasing up to the last tip of hair at the front.
Hair at most fronts is pushed high straight and ends pushed backward to join hair from back making a nice curve. This haircut looks nice on special functions name it; parties, weddings engagements, and so forth.
Determine your face Shape: This haircut is featured an oval face shape; in one way all another any face shape looks great with this haircut that's if you follow all procedures.
Hair product to apply: Apply Design Essential Stimulations Super Moisturizing Conditioner 6 Oz that on instant application calms down dull-looking hair to smooth, skinny looking, and manageable.
Which styling tools apply? Use a steel hot comb to straighten your hair and a small comb to make your hair look better.