5 Amazing Wedding Long Hairstyles For Black Women
For some reasons best known by each bride, you find that there those brides that fall for long hairstyles because it makes a statement to them yet others fall for either short or medium length hairstyles to meet their targets. In this article have solicited for 5 Black women wearing amazing long hairstyles for wedding in different ways and all in all they look amazingly stunning.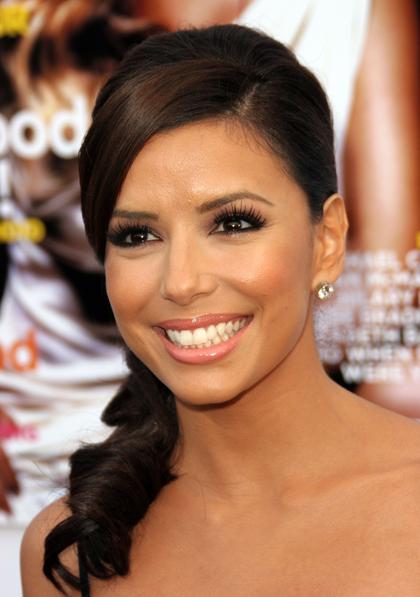 By showing you all these pics you get to tell the difference between colors worn on different face shapes, the styling and all in all you get to know which exact hairstyle can match with your face shape if you happen to fall among these categories shown below in the pic. Let's enjoy viewing these hairstyles at the same time learning more techniques on how to style hair to look decent. 1.
Amazing wedding long pony for black women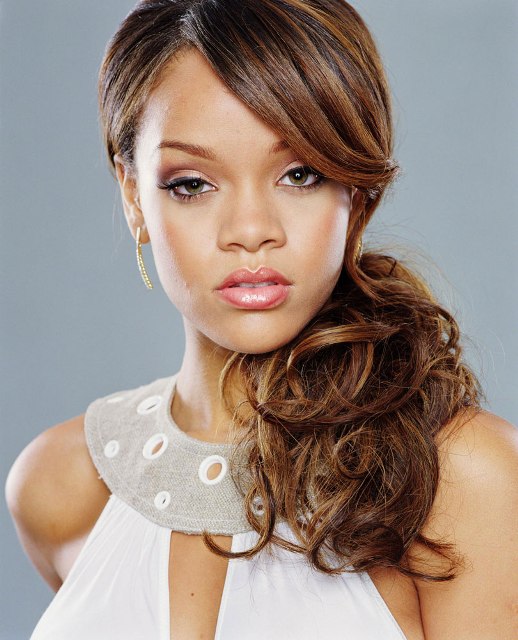 Source:
If I got an opportunity to become a bride and probably with long face or oval there's no way i would skip going in for long colored pony because as you complete it hair is dragged on one of the shoulders with bouncing waves yet with volume to make you look cute. Part of your natural hair is left out to sit on top of weave especially where hair parts on one of the sides to pull bangs and the rest of hair made going backwards. For this kind of hairstyle at bottom your natural hair is rinsed clean, dry it then pull cornrows using either black or brown weaving threads going clockwise. You fix weave on top from the last cornrow at the back of neck going forward. When you reach mid crown you start fixing weave from the bottom of sides coming towards the top on both sides leaving out part of your natural hair out. This section of hairs is then added with setting lotion and applied on rollers pointing according to each direction. This step is done before adding the weave on so when you're done with fixing weave on top you get hole of small comb with normal bristles to make hair.
Determine your face Shape:
Rihanna is wearing amazing long hair with pony pushed on the sides on an oval face shape, but genuinely speaking this hairstyle look cute to any bride of any face shape one you pick an original colored weave with nice fibers and must use a professional hair stylist to perfect your looks.
Hair product to apply:
On scalp apply Shea Moisture Jamaican Black Castor Oil Reparative Leave-In Conditioner - 16 oz, to condition hair, moisturize it and facilitate steady hair growth while on top of hair since you're applying weave use Organic R/S Root Stimulator Olive Oil Sheen Spray, 11.7 Ounce to keep hair with lasting original look, add it with moisture and lastly making your hair manageable.
Which styling tools apply?
If you have handy weaving black threads, sowing needle , long colored wavy weave and small comb with normal brittle to make hair then you will have this hairstyle complete. 2.
Amazing wedding long wavy hairstyle black women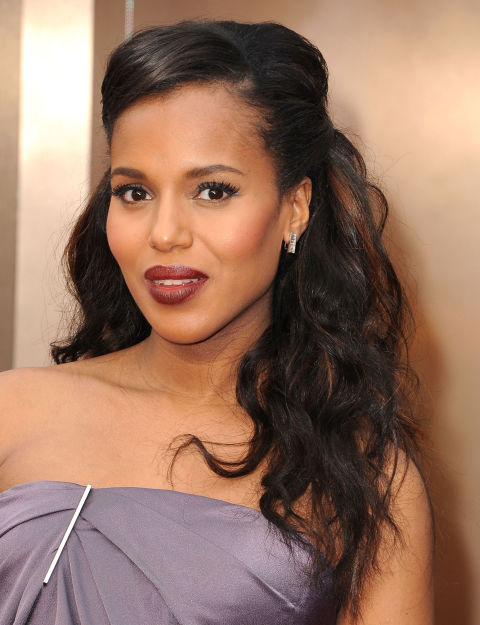 Source:
Be the kind of bride you want to be by choosing hair that makes you feel comfortable all through your day and putting in mind that the hairstyle you pick makes you look amazing. Check this beauty queen up here she has super long natural hair so what she decided to do is to pull hair on loose waves , partly push hair at the front towards the right hand into a big push then secured with pins. So she pulled some hairs on the left hand side and partly hair from mid crown and the rest of hair on the right hand side towards then top back of hair and tied into one long cornrow. It's then rolled back up to the bottom and secured with pins. So some hair below this point is left free to touch shoulders and partly some hair pushed at the back to slip of shoulders. So the bride fixed tiny ear pins and tiara can be fixed on the right side around ears to complete your looks.
Determine your face Shape:
The amazing wedding long wavy hairstyle up front is worn on long face shape of black woman , and to the best of my knowledge this hairstyle looks superb to any face shape of black women out there especially light weight but not plus size because this hairstyle make them appear more heavy.
Hair product to apply:
Use Cantu Argan Oil Leave-in Conditioning Repair Cream 16 OZ, to stop hair from breaking but rather make it strong, smooth and easy to comb.
Which styling tools apply?
For best results steam hair with hair product that blends the texture of your hair, after clearing off buildup leave hair with small amounts of water then add rollers on few sections of hair until entire hair is done. Make hair as it's shown in the image then add hairspray for strong hold and to keep hair looking shinny. 3.
Amazing wedding long curly hairstyle black women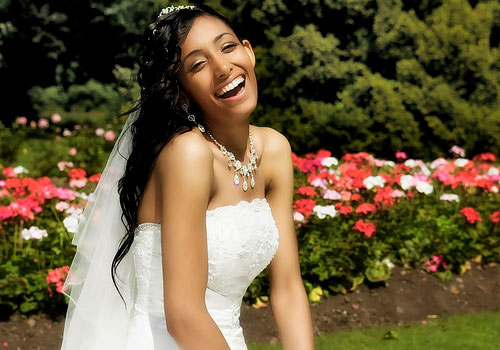 Source: 
For nice photography and decent looks on light weight bride, these looks up here can be that amazing when you apply long curly human hair weave. What you need to do is pull your natural hair with cornrows after you have rinsed it clean and added to it conditioner to it strength and beautiful texture. This kind weave looks exactly like your natural hair, so on the left hand side of hair you push off curls while looking towards the back of neck and on the extreme left end of pin hair in position. So push the rest of hair curly from the crown and the right hand long towards mid back. Position your tiara in the middle of crown then fix veil at mid back of neck then you're free to add white design necklace to match gown and at the end of day it will keep you with a smiling face with an amazing look.
Determine your face Shape:
The bride in the above pictorial is pulled on long face shape and the great news I have for you upcoming bride and you have fallen for this hairstyle just go ahead and wear it on another face shape because you have no regrets just your looks will be amazing and adorable.
Hair product to apply:
At bottom of hair use Sulfur Butter Cream 'n Ointment to stop scalp from hydrating and itching then on top of hair apply Bobos Remi Wig & Weave Detangle Spray to help you un frizz hair, detangle and locking in moisture.
Which styling tools apply?
Use normal weaving thread to pull cornrows on your natural hair, use the same materials to add then weave on top. use normal small comb on the side where hair is pushed straight then for the curly side after adding spray to your hair to make it smooth use a spaced bristled comb to push curls up from the top up to around shoulders then as you complete hair down the shoulders leave hair with loose curls and trim the tips using small scissors. 4.
Amazing wedding long hair with bangs black women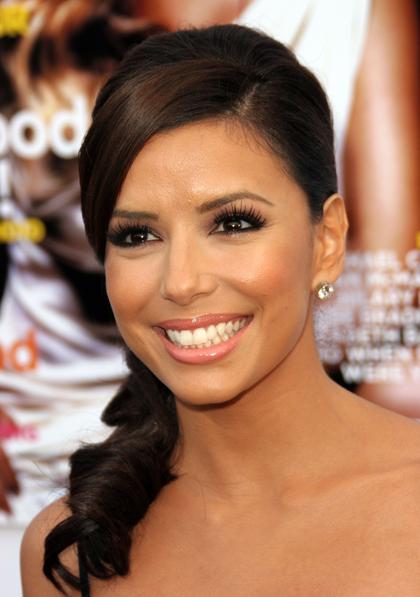 Source:
Look amazingly cute on your wedding like Eva Longoria as you style your natural hair partly some hairs pushed forwards on the side of forehead to pull bangs. draw a visible line between hair that pull bangs and that on the left using the end tail of comb so hair on the left is pushed towards the back of neck, and some hairs around mid crown made going backwards to join at the right end into one then the rest of hair is pulled with tight curls coming towards the bust. If you have medium length hair you will need hair extension added at ends to get the same picture. At a point where hair if joined on top you can either fix rubber band to ribbon accessory. In my own opinion if you're to fix tiara place it at the crown after pulling bangs thus you looks will strongly be amazing.
Determine your face Shape:
the black woman wearing am\zing wedding long hair with bangs has round face shape, while this hairstyle looks great on square face , Oblong face, heart face, long face, Oval face shape and much more the list is endless.
Hair product to apply:
Apply Mizani Rose H2O Conditioning Hair dress Unisex Moisturizer, 8 Ounce: to enrich your hair with natural oil that will keep it silky smooth, evenly moisturized and looking beautiful while your scalp will be nourished too.
Which styling tools apply?
After your natural hair is shampooed, add with conditioner for seconds that's if you're not going to add steam. Dry hair while it's set on rollers because it makes hair manageable. when hair is dry first use a big toothed comb to make hair tangle free then apply small comb to make your hair but at a ping where hair is put together that's at the right hand side behind ears curl hair using a curling tool then make it rest on shoulders coming towards the bust for you to look fashionable. Last add elegant small pins, shape your eye brow and add make up that will keep your natural looks and you look war. 5.
Amazing wedding long hair with up do black women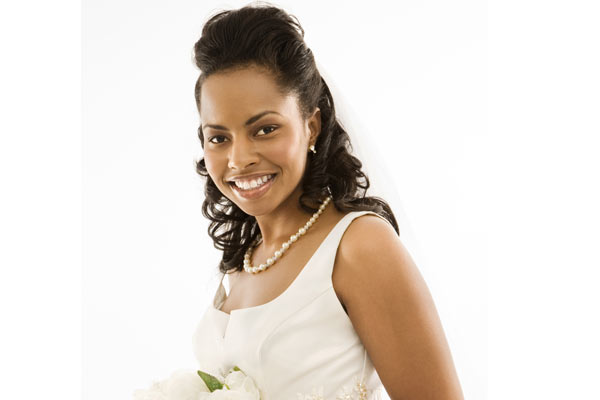 Source:
Get yourself simple looks by taking on simple hairstyle too if you have long natural hair, this hair seems relaxed and manageable to pull any design you fall for. For this bride up here pushed her hair with waves at crown then held it at the back, she also pushed hair at the sides too towards the mid back so she later on put all these sections of hair together then used a curling tool to roll it inwards from top up to bottom. Hair is then added with pins to make it intact from the back coming upwards. Then the rest of hair at the back is pulled in small sections then curled using a curling tool up to the last tip to fill entire back part. Lastly you add hairspray on top to make hair look healthier and to add a shinny look.
Determine your face Shape:
The bride in the pictorial up is wearing this haircut on round face shape; simply choose to go for this hairstyle rather on another face shape for your looks to come out quite amazing.
Hair product to apply:
Use Design Essential Stimulations Super Moisturizing Conditioner 6 Oz: that will leave your hair with bouncing curls, soft, and conditioned.
Which styling tools apply?
Rinse your hair with natural extracted shampoo to lock in nutrients, add part of your hair with rollers in the process of drying especially the front part then the rest of hair at the back of neck use a curling tool to perfect it but on controlled temperatures.