50 Best Short Black Hairstyles For Women
Each and every year Black women come up with new short hairstyles/haircuts - some keep it natural but others add value to it by styling it in different ways. Treated short hair can look good if the person who styled your hair considers your skin color tone and face shape.
Also Read : Best Natural Hairstyles For Women
In this post, I have gathered over 50 Best Short Haircuts / Hairstyles for African American Black Women - The majority of them are natural but with a twist while others are fully treated.
My goal is to give you as many choices as possible - but make sure you opt for a haircut/hairstyle that matches your face shape.
For example, ladies with long faces - you look better with short natural haircuts, those which don't cover your face. But for women with round faces - a short bob can look great on you. Without wasting too much of your time, let us go through this detailed list of Short Black Hairstyles.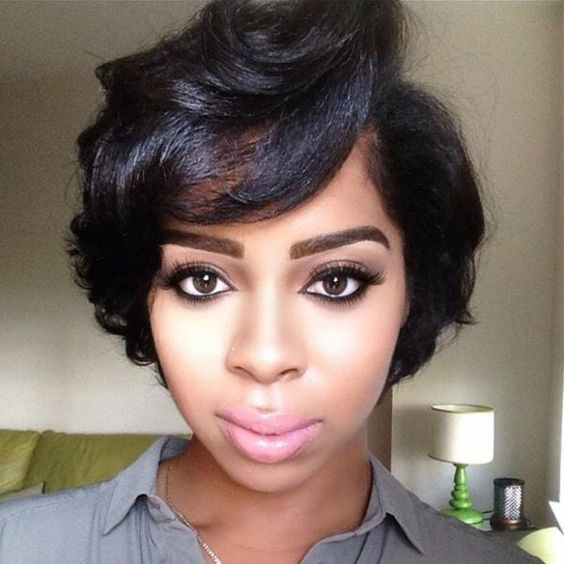 If am not mistaken, nothing is given great priority on a black woman's body other than hair because it defines her beauty. It's ok to have a haircut in the preferred shape of your natural hair.
Also Read : Best Medium Hairstyles For Black Women
For those women that have poor textured hair, a short weave can apply. Have your hair cut short on the sides above the ears; then at the back of the neck super short to mark the contours perfectly.
At the front, you push hair forward to cover the biggest part of your forehead pulling with bangs but leaving eyes visible for shading in bold colors for you to look enticing.
You can as well add long earrings in gold or silver to match any outfit, use makeup that maintains your natural skin, and lastly apply lip gloss in bold colors for you to stand out.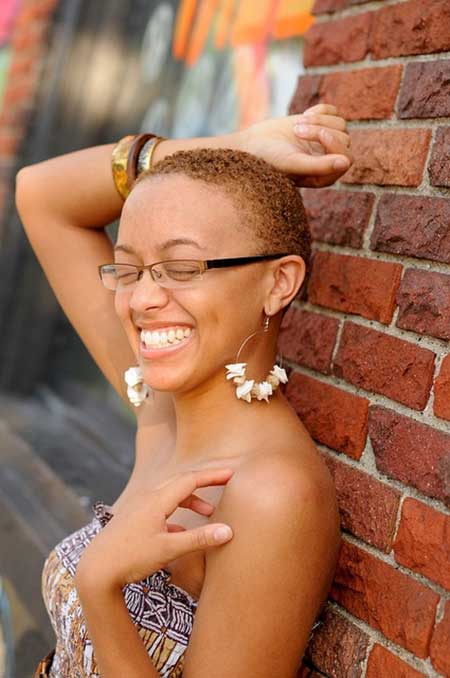 Short hair black women can be worked out in super short sizes yet added with color with either Blonde, maroon, or Brown - whichever to ease hair combing, and look colorful for any destiny. Only that you have to check those treatment hair dyes to apply to your natural hair with fewer chemicals name like parables, phosphates, or sulfate.
Hair with dye needs frequent saloon visits especially for treated hair to add hair products that are rich in working out the nature of your hair. It's purposely done to prevent hair loss and at the same time provide essential nutrients to keep it looking good.
Also Read : 5 Cute Wedding Natural Twist Hairstyles For Black Females
These hair dyes stay on for up to three months and by this time you will have accumulated new growth, if you're done you cut colored hair off and retain your natural hair for alternative hair design. This hairstyle looks pretty to young women in their forties and above of course goes well with all-length earrings, colored bangles, or bracelets.
Black women of all face shapes and varying skin tones look wonderful with this length of hair. Any outfit you match with this hair strikes out so, for dress code, dress shoes are important too.
For casual purposes let's say you fall for a strapless maxi dress, and blend it with open flats. For those women with less height add heels to seemingly look tall.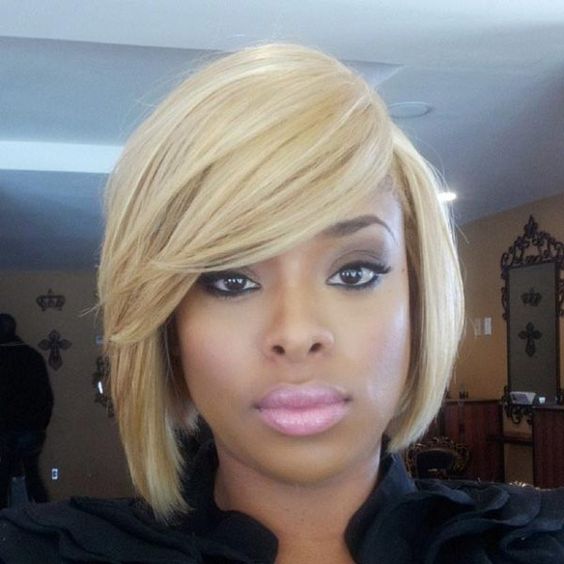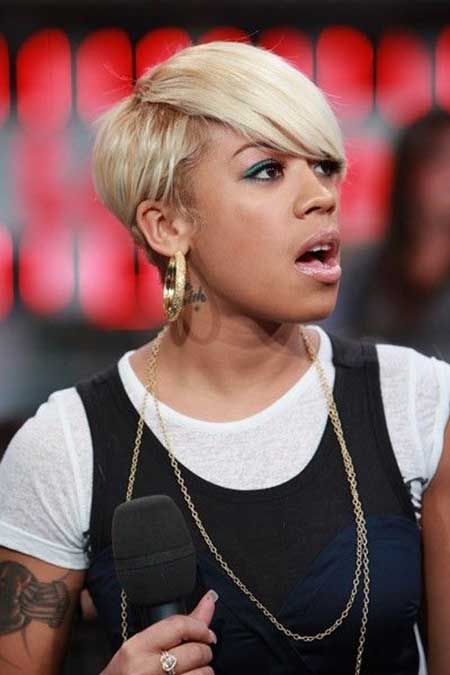 You don't need to be a celebrity to wear trendy haircuts black women out there if you mind about your beauty? For a change and to prove you're a woman of class, adding color to your natural hair is a necessity for the modern woman. Go ahead and have a haircut possibly with bangs to keep your looks trendy.
Some hair is parted on one of the sides with a line created in between hairs that pull bangs and for hairs that are pushed on the sides above ears, then on the opposite side; hair is left longer from mid back covering the opposite side covering ears. For hair at the crown is pushed forward above one eye, rather a wide part of the forehead is filled with a straight bang.
Another item that rules over your looks is jewelry you apply to connect with your hair and outfit to come up perfectly. You might focus on applying a silver long necklace that is long enough to be folded into two then drip at the bust matched with medium-length silver earrings, a silver ring, and heels to cool you off.
When you feel bangs have stayed for long it's ok to comb hair backward for your forehead to be clear and actually visible thus shading Smokey eyes and sounding eyebrows.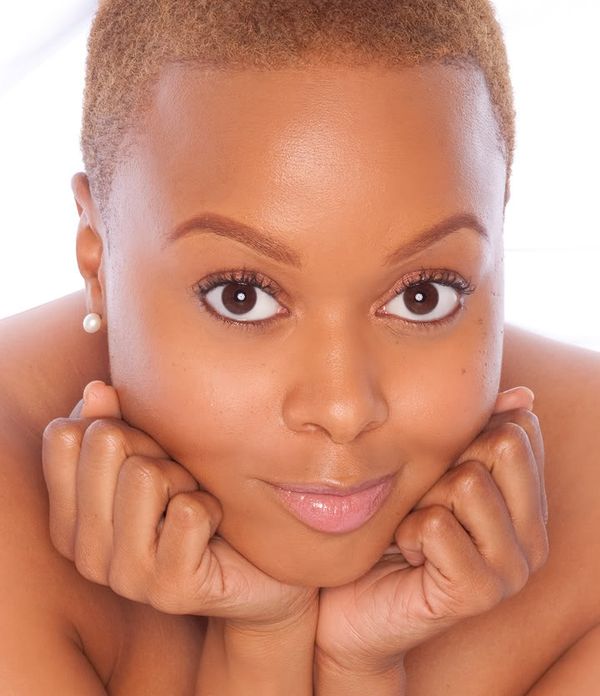 Embrace your African beauty to pull out that real feminine candle burning in you when you go for a super short haircut on your natural hair, then dye all your hair with your favorite color that almost looks like your natural color to look hot.
Since your hair resembles your natural color you need to shade your eyebrow with a brown eye pencil in bold for an eye-catching shape to make everyone turn for you. Apply eyeliner on your eyelids for your eyes to shine and on your lips apply less shouting paint to balance your beauty.
For this particular haircut apply short to long earrings to complete your whole look. Such haircuts are desired by African American women in their thirties bridging the gap to forties.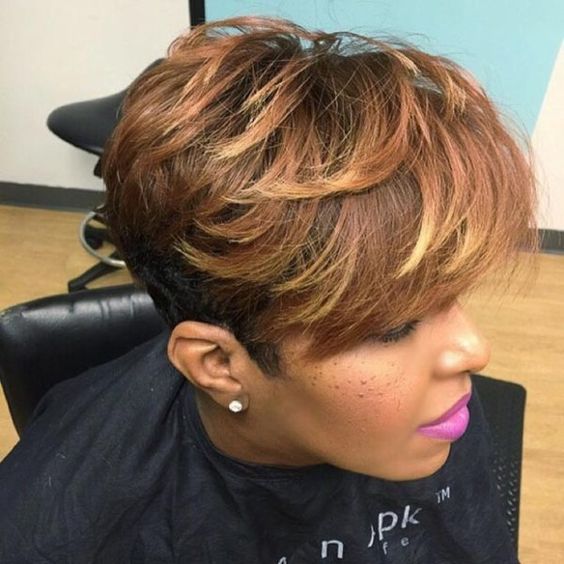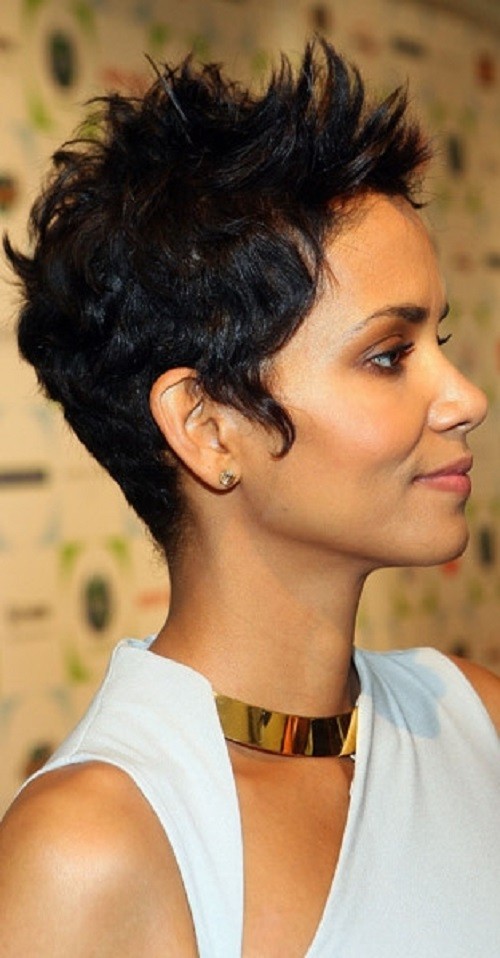 There are times when Black women's hair texture differs from each other some women, have thick wavy hair which grows first, and others with a hard coiled texture of hair. That's why you find that most of the time African American Women braid their hair or opt for trendy short haircuts to save them the hassle of combing the hair daily.
Others go ahead and add chemicals to make their natural hair smooth and thus easy for combing and as it grows longer it's then trimmed back to its original length. The lady featured in the 2nd picture features a messy hair cut which makes her look cute.
Hair at the back is cut super short whereas hair on the side is maintained with some volume and cut going downwards for a stunning look. For hair at the crown is left with more volume compared to all sides and points upwards in all four directions to look fantastic.
Any African American teen to a woman in her forties looks superb with this hairstyle, you can maintain it in natural black or color it whichever seems convenient for you.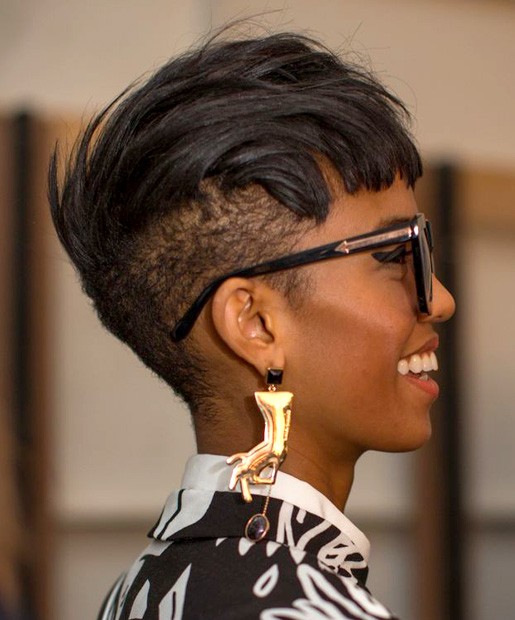 African American women have proven to be dynamic and focused on wearing any hairstyle so long as it attributes to a beautiful look finally. Of recent women have fallen for Mohawk short haircuts leaving some hairs either at the crown or going bold completely.
Some other women go ahead to braid hair at the crown or in the middle section then cut all hairs at the side to show their steak of hair which drives them crazy. Now here is yet another short Mohawk haircut that involves cutting all hairs at the side and at the back of the neck so short then leaving hair with volume in the middle of the forehead up to the upper part of the back.
So hair is left with more volume in the middle, pushed forward, and at the front hair is cut with short bangs to cover part of the forehead to show up in style. Hair is then accessorized with glasses, and earrings in symbols of flying creatures just to be unique. Any black woman out there can have the same looks if you fall for it.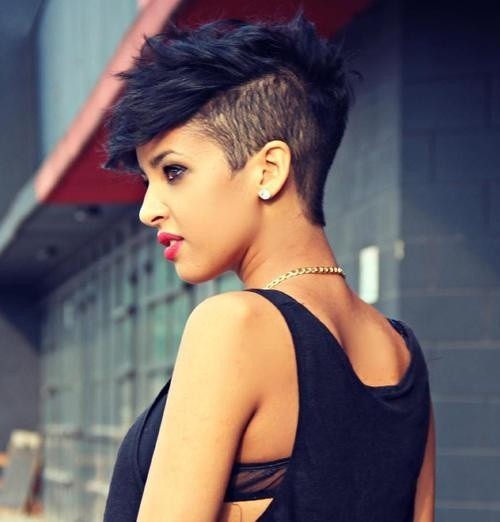 When it comes to summer many African American women change hairstyles to do away with heat and outfits too that are free of heat to have fun for this season, they do all this as a way to take a break from winter that needs to cover up all their bodies.
As a way of adding art to their haircuts and wanting to maintain standards for up-to-date trends, some women prefer haircuts that leave the medium-length volume on one of the sides plus the entire crown area then the other side cut completely bald up to the back of the neck.
So all hair is side swept on one of the sides with waves and hair at the front pointing forward to cover part of the forehead. This hair is easy to comb and care for as only hairspray and a big bristled comb will do all wonders for you.
Short haircuts save you lots of time you would consume attending to it thus giving you enough room to work on your face and add wearing jewelry, especially for women with tight schedules.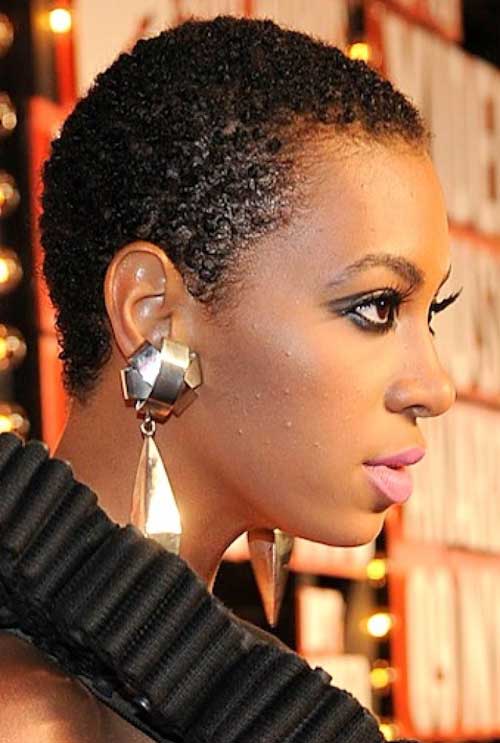 It looks so stunning to maintain a short natural haircut and then apply curly hair product to it to have tiny curls for African American women of this era.
This haircut is great for all destinies, best for keeping you young all time even when the clock seems to move steadily. It only requires you to trim it often every two weeks to keep the level of the hair, that's it if you don't want to add length.
Some other women take over a week without washing their hair, especially when applying weaves or braids but applying hair products instead.
This is not the case for such a haircut, it's ok to have a hair wash every time you go for a shower to make your scalp feel alive then apply hair product the following day after sleep for yet another healthy look. Short haircuts have uniform rules that make it ruin over other hairstyles, that's a must add jewelry and make-up to for you to look hot ever.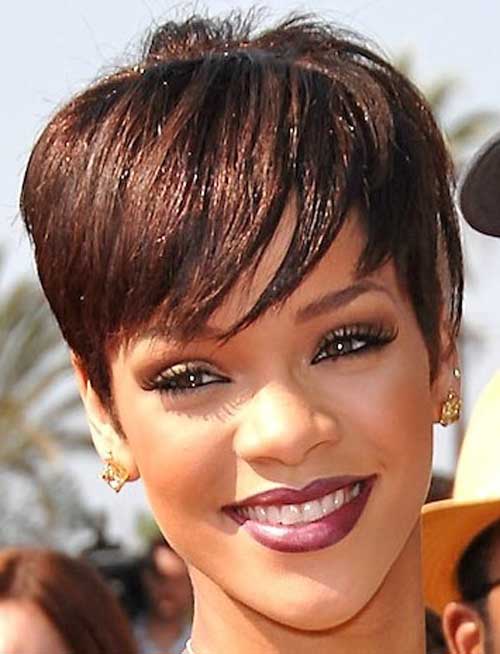 Black women in their thirties and beyond look for possible ways of making their hair look so attractive, light to carry, and possibly in color to look hot. At this age bracket, women look so attractive to men, and for those that are searching, it's the right time to wear such looks because men look for a beautiful woman that grabs everybody's attention for pride.
So young women go for colored haircuts and as a way of adding style to their hair like you check in the picture before you, some leave hair at the back and on the sides rather short than at the crown hair is left with the volume pushed forward with a tong comb to create bangs at the front.
Hairs reach just above the eyes crossing in between the eyebrows to look fashionable. Still, you will apply color on your lips that's shouting and makeup that blends with your natural skin with elegant earrings to keep you going. It's all fun! make use of your youth time because any time wasted any way is never replaced.
Do something remarkable to show great grand by wearing great haircuts as shown above.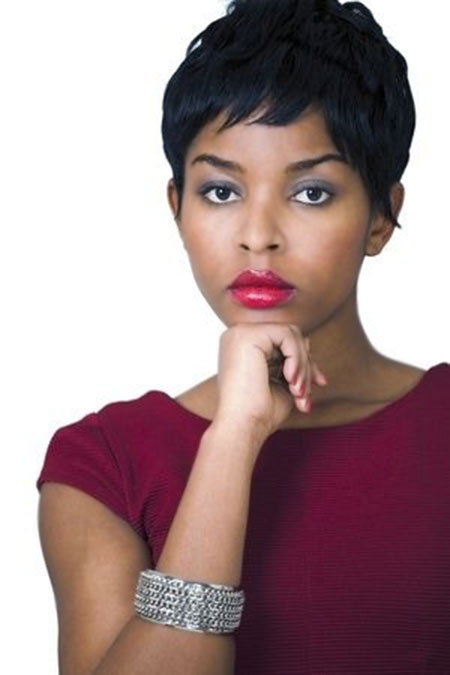 Do you want to get relief from all those other hairstyles that touch your shoulders like long braids, hair extensions, and long weaves? Then alternate to short haircuts for comfort, no heat, and light on your head.
To have such a haircut on your natural hair is needed when you have grown your natural hair thick but if you're the kind of person with light hair and possibly want to achieve the same looks as the lady on top then you will apply a short weave to cover you up.
Also Read : 5 Beautiful Short Haircuts For Round Faces
The lady you see over there is a round face, she went for a short haircut with the volume going around her head. On the sides and at the center of her hair she left much more volume than at the back of her neck super short and light. So the center of the crown hair has more volume and it decreases as you come downwards for the haircut to have a decent shape.
At the front hair is parted on the sides leaving pointed ends around the ears then in the mid-forehead, a few bangs are pulled off to have an excellent look.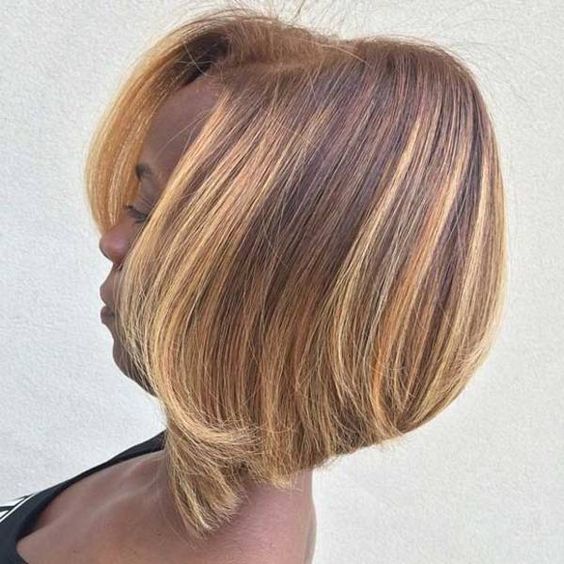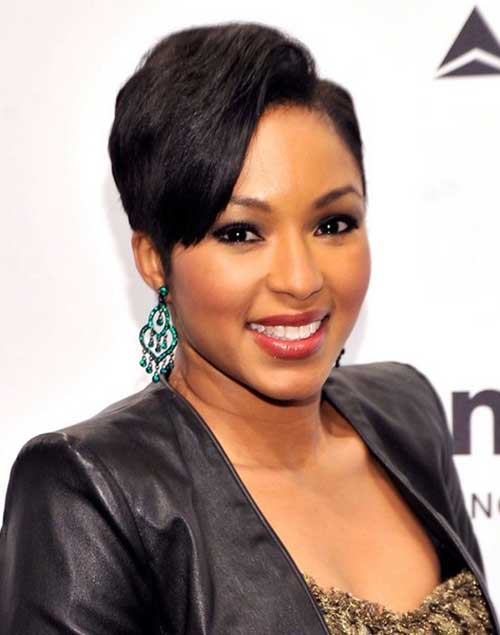 Enjoy trendy short hair cuts African American women and other black women around the world when you choose to go for Bob's short haircut that looks beautiful with everyone. For those women with small faces, this haircut makes your face look long since one of the sides is cut longer and the other very short up to above the ears.
The reason that makes this haircut stand out is that one of the sides starts at the extreme corner of your forehead, and the hair is reserved with many volumes and long pushed on one of the sides with big waves. And for the other side hair is cut relatively short up to the back of the neck.
When you come towards the front, using a small comb you push hair towards the start of eyebrows and wave it backward then trim it beside the eyes then around the ears you kind of leave it pointed at mid ears thus leaving all ears visible and looking fantastic.
You apply a small comb first to make your hair from the top coming down then for the side that has long hair, you push big waves at the extreme point where it begins. Around this point, you bump up hair then cool it off with hairspray.
Short White Blonde Haircut With A Side Cut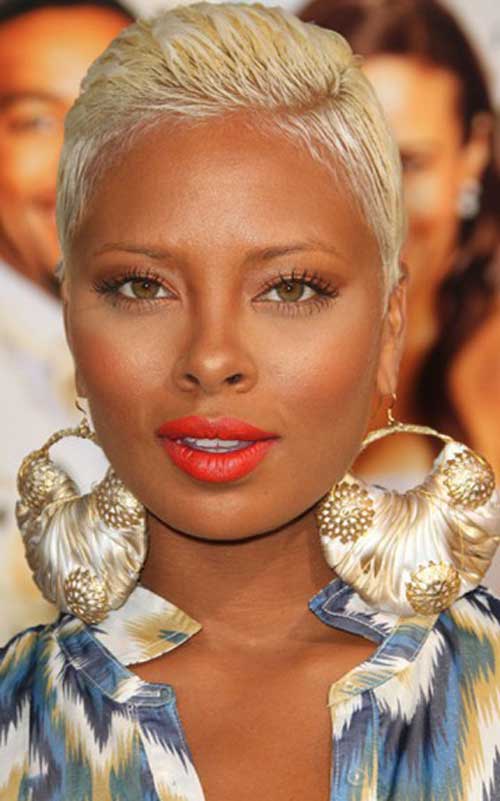 Celebrities are fond of making stylish hairstyles to look extraordinary and since the audiences cherish them, in this way they inspire fellow women to have haircuts with a bit of taste in them. The kind of haircuts they wear plus outfits, dress shoes, and jewelry all attract their fans to wear exactly like celebrities.
You don't need to be a re-known figure to have haircuts that seem UN common, set your record high by going for a short white Blonde haircut and a line on the sides marked by parting the hair on either side to look sexy.
Add colorful jewelry that blends with your hair, especially big or long earrings because short hair seems to make your head appear small so these earrings bridge the gap in between.
Of course, put on outfits that hug your body to model the shape of your body with perfect dress shoes to look fabulous.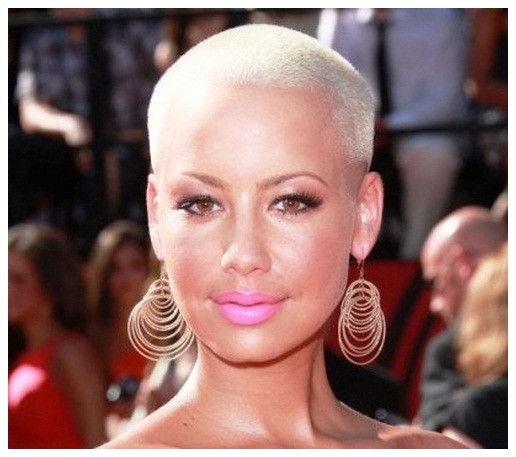 You have worn all hairstyles of African Americans out there around the globe, and what is left out undone for the life of the living is to go for a Bald White Blonde haircut to make everyone whisper.
It takes you to have all your hair cut to the last inch then dye your natural hair with white blonde. At the salon you will have your forehead shaved throughout, shape your eyebrow, and have all the contours of your head shaved to look neat.
You know when you cut your hair entirely your head looks very small and for you to keep your beauty? Wear unique earrings, body-hugging outfits, and colored heels to look war. Add makeup and lip gloss in colors that pronounce loudly for you to stand out ever.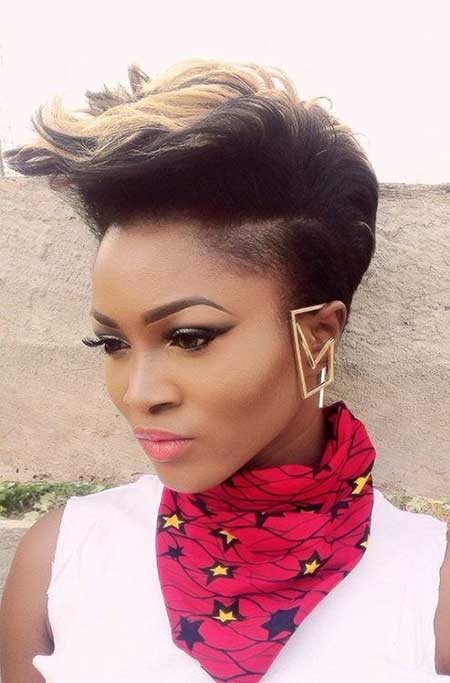 Black women love to make fun of their hair in all aspects if calculates to total beauty. In one way another one retains long hair in the middle part than on the sides and at the back, it's cut very short, so on one of the sides, a faint line is drawn to add glamour to her hair.
Hair in the center is added with color, then in its boundaries, natural color is maintained. Hair on the sides is either pushed back over the ears then hair at the back is pushed down to keep the shape.
Around the center of the hair, it's pushed forward and right in the middle, it's pushed with bouncy waves on the sides to look awesome. Paint along curvy eyebrows and of course shade, your eyelids with dark colors accompanied by makeup for a brilliant look.
Short Mini Rasta Haircut For Black Women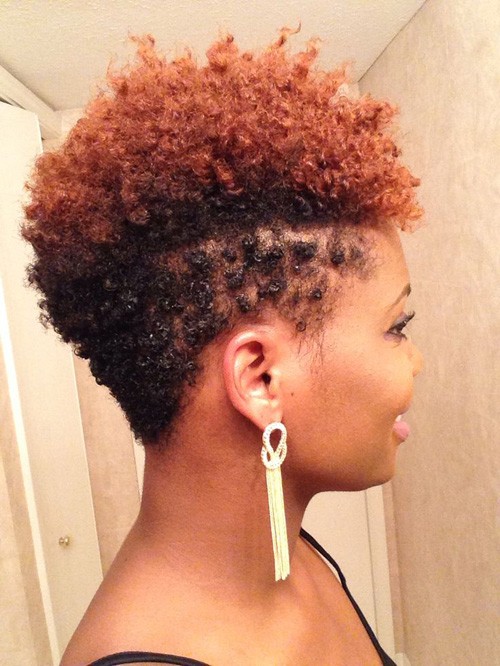 Look beautiful with a natural short haircut done into a mini rasta added with color at the center of your hair to really look African. This haircut looks stylish for all young and age-clocking bracket women. It takes away all the stresses of combing the hair daily.
The tinted color that is applied on top of the hair Stays up to three months because it fades out gradually. What you need to take note of is to take hair for washing every two weeks to keep it looking healthy and for hair cuticles to open for easy ventilation and stimulating hair growth.
This haircut gives you the freedom to shun salon frequent possibly hairspray added in small amounts to keep hair moisturized. This haircut is a one destiny item that commands class anywhere at any time on all outfits.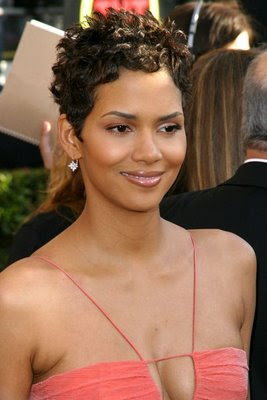 Many African American women have opted for short hair upon realizing that short hair keeps you looking young and beautiful yet it takes you through all seasons. You can have this haircut for formal purposes, parties, weddings, engagements, valentine's day, or any other day that makes meaning to you.
You can leave it looking natural and for those with hard textured hair add chemicals to make it soft then trim it short and set it with rollers to make it wavy. To make this haircut awesome just add brown highlight on one of the sides and with a tong comb push waves in all directions.
It will require you to take it to the saloon for a period not exceeding two weeks for hair steaming just to maintain the texture of the hair original and keep hair clean.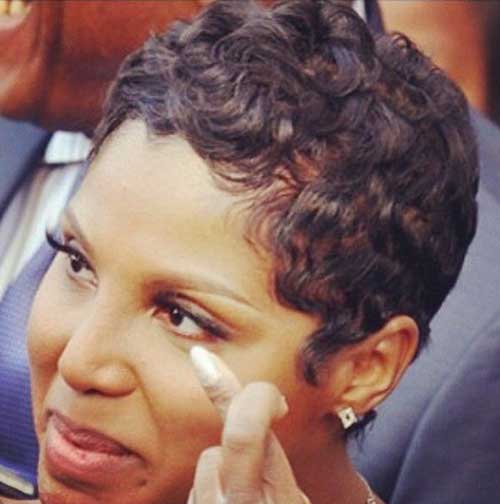 When women clock their forties and above; they tend to gain weight which wears them out and others gain cheeks, the only alternative to keep their looks a bit young is to go for short haircuts.
You may make your hair straight, curly, or wavy, or leave it normal at your convenience to keep looking attractive. This is a time women wear wigs, add short weaves in all makes, or just have a haircut then add color to look stunning. The lady in the picture above fell for short hair, she applied a short weave with tight curls.
She made her hair look in all directions pushed from up to the bottom. This hairstyle takes you fewer hours at the saloon to make, its maintenance is rather affordable and doesn't demand a lot. Thus many Black American women have fallen for such haircuts that don't demand frequent visits to salons and light to wear.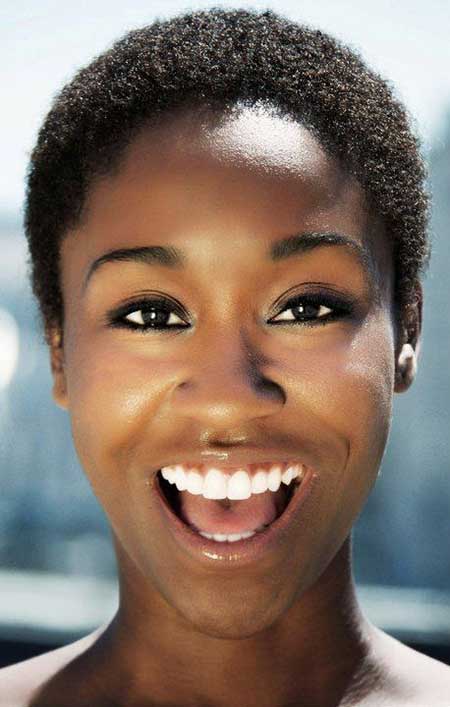 There's a time when African American Women feel they have toasted their hair around much and want it natural, short in length to rest for some time without bother.
Most women think that when you cut your hair super short you look awkward, they miss out on something instead it's a secret to looking young and charming. This haircut allows you to shower your hair on a daily routine which makes your scalp and hair so lively doing away will all related hair problems like dandruff, and itching.
Instead, washing your hair daily stimulates steady hair growth and makes your hair looks healthy all time. For cases where African American hair has less moisture, you can add hairspray, and oil your hair to keep it with enough moisture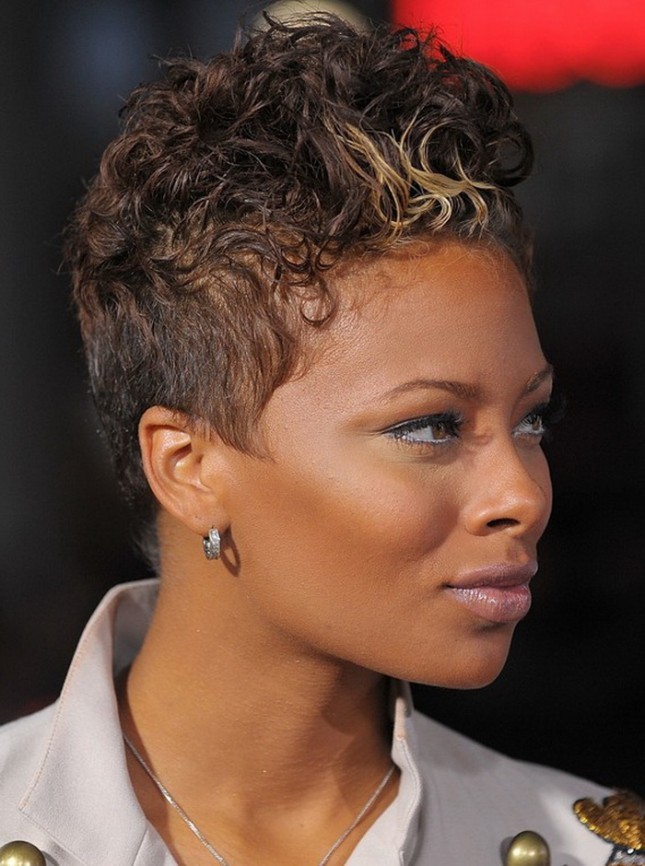 Short hair for a reason will never go off fashion year in and year out since it's cherished by young and old women because it completes someone's look to look great yet you don't need to put in much.
It's widely known that women with long hair look so cute but never less short hair makes you outdated yet it takes you the extra mile to keep you looking brilliant. You find that women in their 30s and above invest a lot in different kinds of hairstyles including short and long braids, and long weaves right from the stage they get financial independence.
Changing from all other lengths of hair to short hair is easier than changing from short to medium or long lengths. If you feel you want short hair before the end of the day can be applicable but growing hair longer takes more months.
Now the lady featured in the image above went for short hair cut them applied blonde highlights on a small area at the front, for the rest of her hair she added brown color with fine curls to look elegant. If this haircut has caught your eye then why not give it try, be rest assured it will define excellent.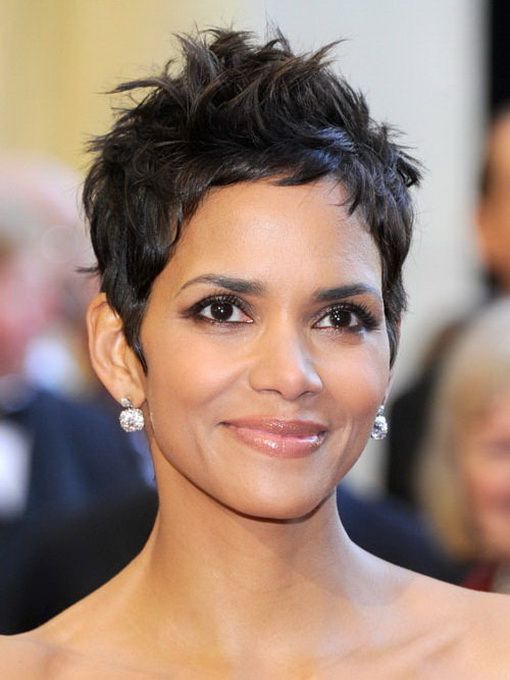 You have seen black women go for trendy haircuts on weaves with waves, curls, or straight just to find the best match for their looks. But I have singled out an incredible haircut for women that look good on all face shapes and is perfect for all occasions.
It doesn't need you to work a lot on your face because it changes your looks in an instant, upon making it drives you crazy. When you add even the tiniest earring you can think of your looks just strikes to the top.
If you want it on your natural go ahead and trim your hair relatively short around your head with less volume, but around the crown leave hair with more volume as you cut it leave out pointed ends looking in various directions for a messy look that will keep you going.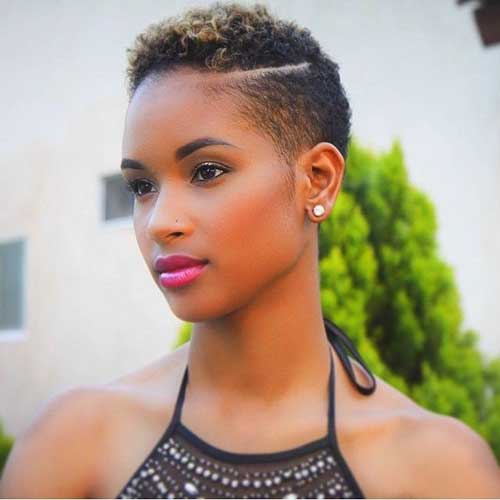 Check this African American girl for she kept her Natural hair short, and in the way of spicing her hair to look modern, she cut a deep line on one of the sides. And on the very side hair going downwards, hair is extremely short to pull off the shape of a haircut marvelous.
She has a round face with slender jaws, a pretty pointed nose, and cute lips to make her look so stunning. She added blonde highlights to a small area at the front leaving the rest of the hair in natural black. These matches she applied to her natural hair blend perfectly with her looks to make everyone whisper around as a way of complementing her selection.
This haircut looks so great for any occasion thus any outfit you match with it just completes the whole of you
Short Purple-Colored Curly Hairstyle For Black Women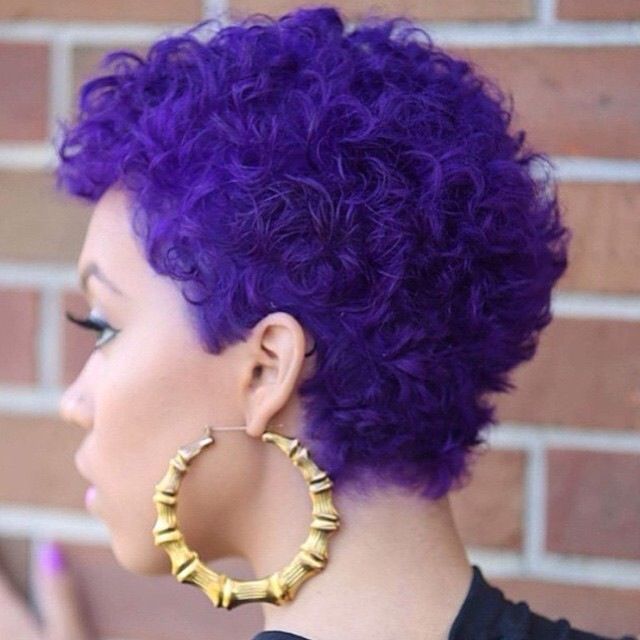 A short haircut can do the entire wonders African American women look for if they just are that creative to make it stand out. Before going for a haircut have your personal feeling inside you on how you want to show up then your hairstylist will help out to achieve it.
You might want your hair to have curls if you're not that African American woman with short textured hair, possibly adding color to make it stand out. For cases where your natural hair is hard and you want to make it soft and curly, automatically you will apply chemicals to it after a haircut, and within 30 to 40 minutes after adding it wash it off.
Apply a violet color for that extra ordinal look every woman is yearning for among others. Mind you any hair dye you apply to your natural hair lasts up to three months and then fades out slowly, when you want to do away with it, the little growth you will have accumulated by now you can trim it off or plait your hair after trim to gather more growth on your natural hair for other purposes.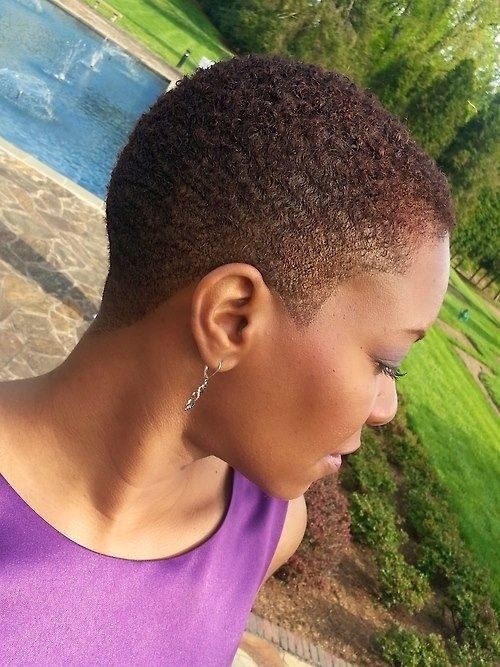 Ooh! The treasured haircut that drives me crazy, by the way trimming your natural hair super short is un regrettable for women in their thirties and over because it just makes you look hot.
And if added with the color you look great and make every woman around want to have it too, you will just enjoy the length of this hair because making it takes a few seconds and if you want curls to feature on your hair instead of adding chemicals to it you just apply curly hair product and curls will form exactly.
For this haircut to look nice at the time of trimming it to this length, also shave your forehead off unwanted hairs and also shape the eyebrow. Apply a small hair roller when combing it to reach even the shortest length of hair after applying the hair product.
But when hair starts to bring new growth around your head apply a small comb to make it. If you want to maintain the same level of hair within three weeks take your hair for a trim and for the hair dye don't worry about it because it will keep on for up to 12 weeks.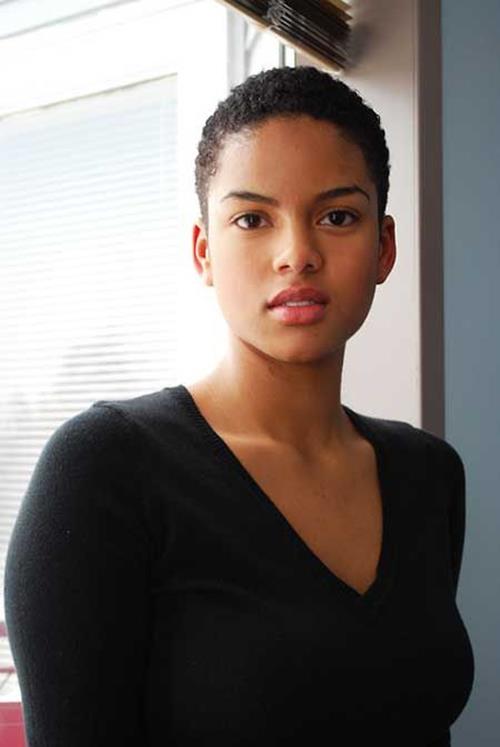 Short hair can bring you lots of fun and comfort you need away from other lengths of hairstyles mention: medium to long hairstyles that of course cause heat around the neck and shoulders if left feeling especially during hot days.
This haircut looks good to all face shapes and in one way all another it favors young women and above to meet tight schedules since it takes you less time to make.
At this period having such short hair, favors you to focus on other elements that work along with the beauty that's to say add new clothing to your closet, dress shoes, bracelets, jewelry, or any other item of great importance to you.
You can maintain this haircut with a hair product that makes your hair smooth, provided it will supply adequate moisture to your hair look for a fresh look day in and day out.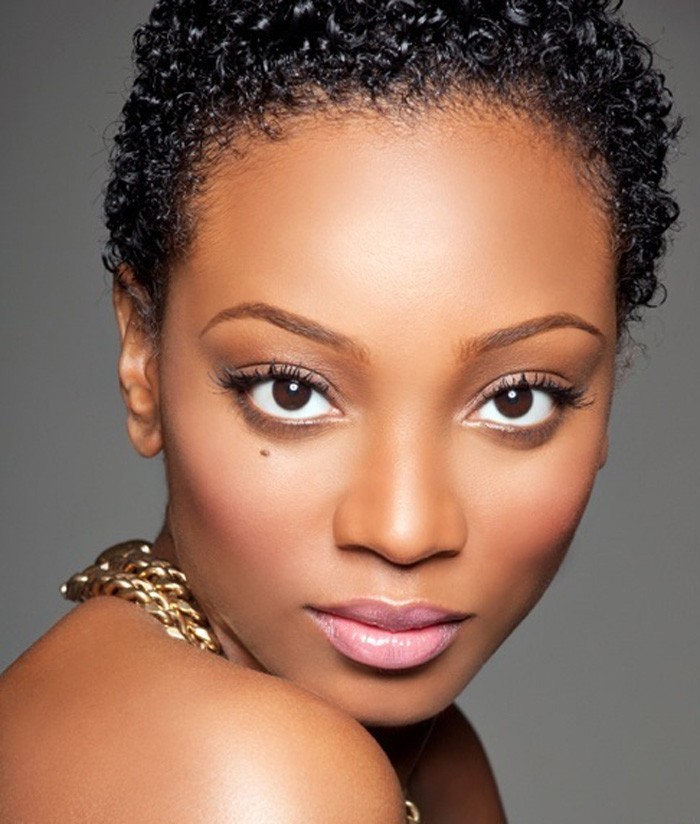 Short haircuts for African American women come in style for each one of you to meet your expectations. Other women go for Bold haircuts, Mohawk, or Afro style as they need may of course the list is not full add your own style as more haircuts are yet to adventure.
Afro haircuts come in different makes on varying face shapes and other hairstyles have much volume and some with less volume. Some hair is made curly or with waves and the rest falls for straight hair.
This African American babe before you have a heart face, so she went in for an afro haircut and finally added curls to her entire hair by adding a curly hair product to look sexy. Any African American woman of any face shape and differing skin tone from her teams perfectly with this haircut.
After a hair trim from a salon, a chemical that curls it is added making hair texture turn soft you wash it off and apply curly hair products to keep the curls bouncing and your hair filled with enough moisture.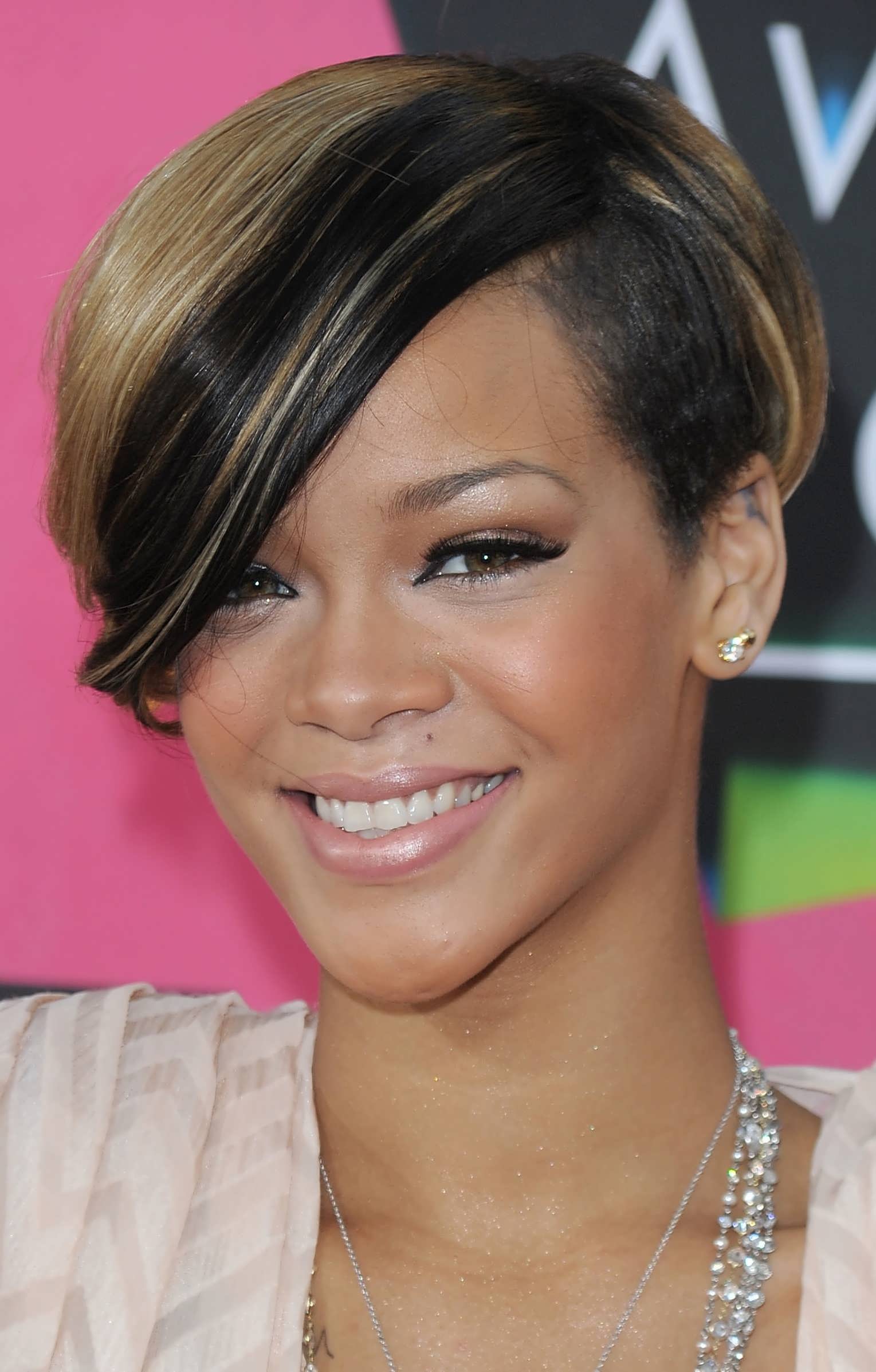 As the hair industry is concerned Black women who fall for short haircuts, do all it takes for their hair to look fabulous even if it means applying short weaves leaving a small section of their natural hair visible.
One side of your hair is left very short yet the other is made longer to push hair on the sides with more volume.
As you push the hair off your forehead on the sides you possibly pull a long bang. And for the best looks, you apply color within let's say blonde and black.
The bigger part of your hair is covered with blonde that's to say for the very short side coming over at the back of the neck than on the longest side, leaving out relatively two inches towards the forehead in natural black and a few highlight of blonde going through it to look gorgeous.
For this particular hairstyle, you have your natural hair trimmed to even a short level, and since we are going to add a short baby-cut weave? Cornrows' have to apply for the biggest area as in you have to stitch it on top of cornrows then on the very side it's very short just at the front you leave out a small part of your natural hair visible to set it with rollers then push it straight going down to look cute.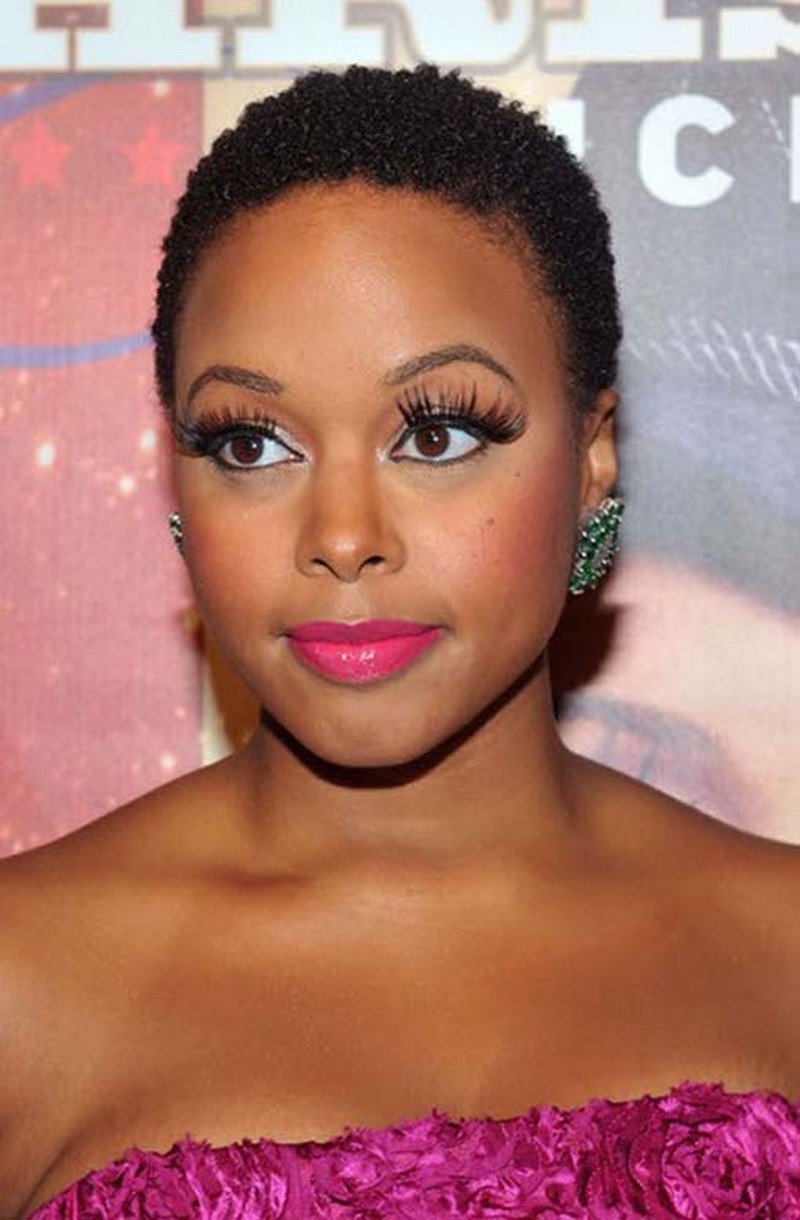 Do you know what African American women out there are mistaken that short hair is for women in their forties and above a big No! Life is what you make it to be some women fear trimming their hair short with a view that they will look awkward. Am telling you short haircuts can be enjoyable, and look pretty for everyone.
But it works hand in hand with jewelry and makes up for your looks to be totally awesome. For this babe right before you is heart faced, she trimmed her natural hair very short on the sides and at the back of her neck then at the midsection, she reserved it with more volume to bring up her face shape and hair perfectly.
Because she wants to keep her hair curly when she applies curly hair products to her entire hair. This fills it with moisture and that curly look you see over there covering her hair.
You apply the product on the first day in large amounts, then for the other days apply smaller amounts. Wash hair once a week to put off product buildup and prevent frizz to pave way for a new application of more of the hair product thus looking great all time.
Short Two-Way Color Haircut With Long Bangs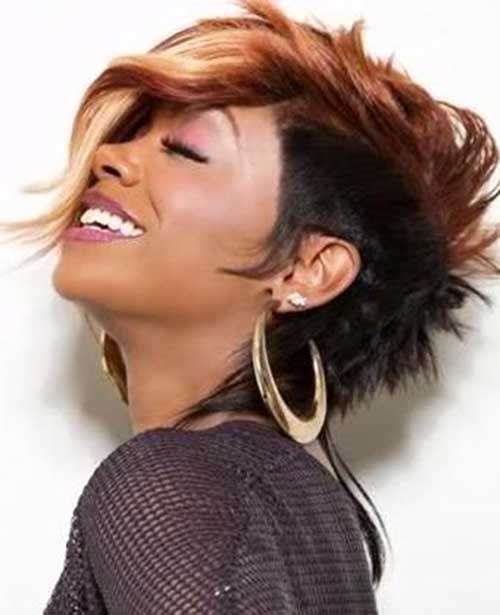 Short hair can give you all the joy and comfort you've been looking for if you and your hairstylist are all that creative. You can add color to your hair and trim it in varying lengths for your haircut to look fabulous.
On one of the sides cut hair super short and leave small hairs before the ears with a sharp end resting on the jaw. Below the ears going towards the back of the neck and up to the back of the opposite ears you trim your hair with the medium length for some of the hairs touching the shoulders and for the rest pointing all angles.
This particular section of hair has to be maintained in natural black, then the rest of the hair featuring brown highlights and blonde. Hair at the front is pulled with long bangs to cover one side of your forehead finished with sharp ends and not exceeding the chin level. For African American shorts haircuts with taste, this is the way forward.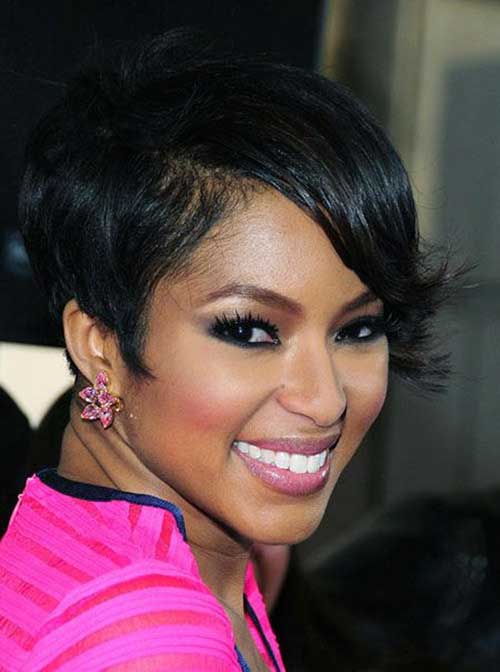 Look great with a short haircut for Black Women that is trimmed short on one of the sides covering the back of the neck too with fine volume than for the other side hair is left long to cover up to mid cheeks curved upwards.
As hair is pushed on the sides it covers the end side of one of the eyebrows as if touching the cheeks then curved upwards in style to look fashionable.
You can comb it straight as you see the lady in the image or add hair rollers to your hair to create waves but maintain hair points in those directions for awesome looks. This haircut goes well with all face shapes and varying skin tones for African American women who fall for it.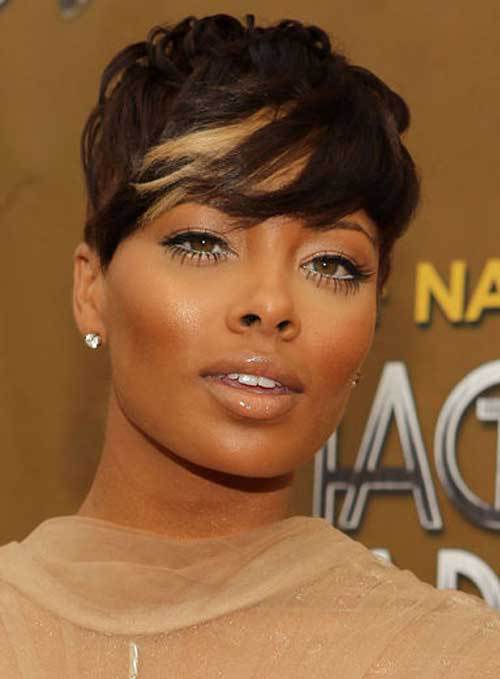 If according to your age bracket, you fall African American women around the globe with a long facial shape, you find that their particular haircuts match your looks and can even make your face look that short for trendy looks as the case may be.
You can trim your natural hair to medium length to hold a hair roller for cases of putting curls around your hair. Then at the very front above one of the eyes, you leave hair with more length and thickness to pull bangs that touch the eyebrows as if pushed on the other side with a blonde highlight embedded within to look hot.
This haircut goes anywhere at any time to command class, for you to look cool add tiny ear pins on any outfit you will complete.
Short Haircut For Oval Faces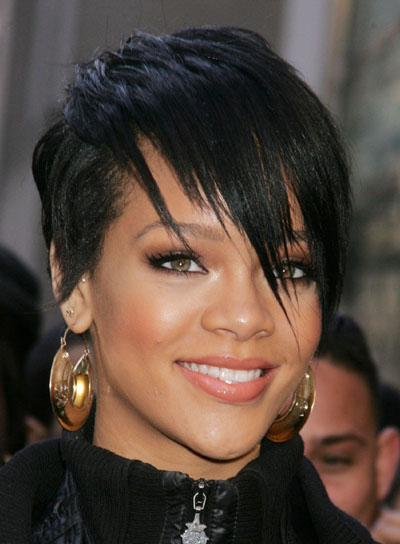 Just in case you have an Oval face shape African American young woman in her thirties and above and you're not certain which haircut to pull to look beautiful? With this very article, I will have you sorted.
Check the way Rihanna trimmed her natural hair on all sides and at the back very short, she then left hair with length around the crown and pushed it forward with straight bangs to touch the eyes and cheeks.
As hair is pushed with bangs towards the forehead, it covers the entire forehead leaving out one of the eyes and the down part of your face pretty visible. Paint your eyelids in a dark color to look sexy not leaving out colorful lip sheen and jewelry that any woman wears to be complete.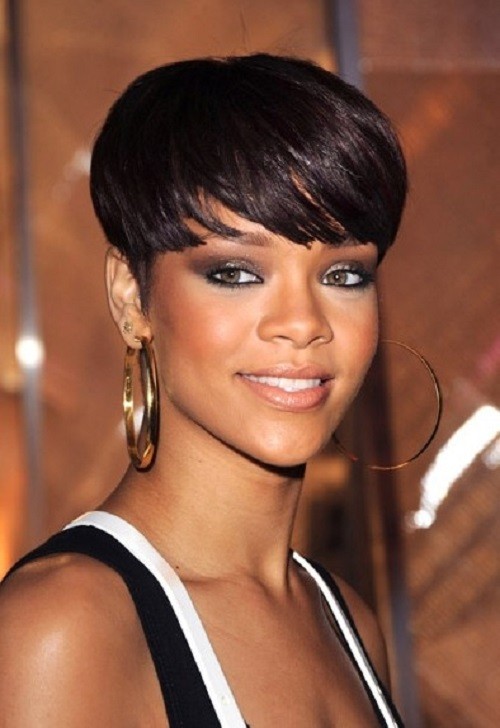 Short haircuts for African American women can be quite interesting as you can play around with them in several designs to look stunning. In their cases where you cut your natural hair short and layered to have volume for the area covering the sides, upper part of the back of the neck, and around the crown and push full bangs to cover the forehead.
For the lower part of the back hair is extremely cut short to shape cute the back part. Using a small comb you push the hair from up coming down, for hair on the side to stop above the ears.
Use the same comb to push hair at the front from one side pointing to another towards the eyebrow level, thus covering the upper part of your forehead with bangs. With the help of the sharp end, the tail creates some spaces within the bangs to look stylish. This haircut looks hot to those women with long jaws so check where you fall.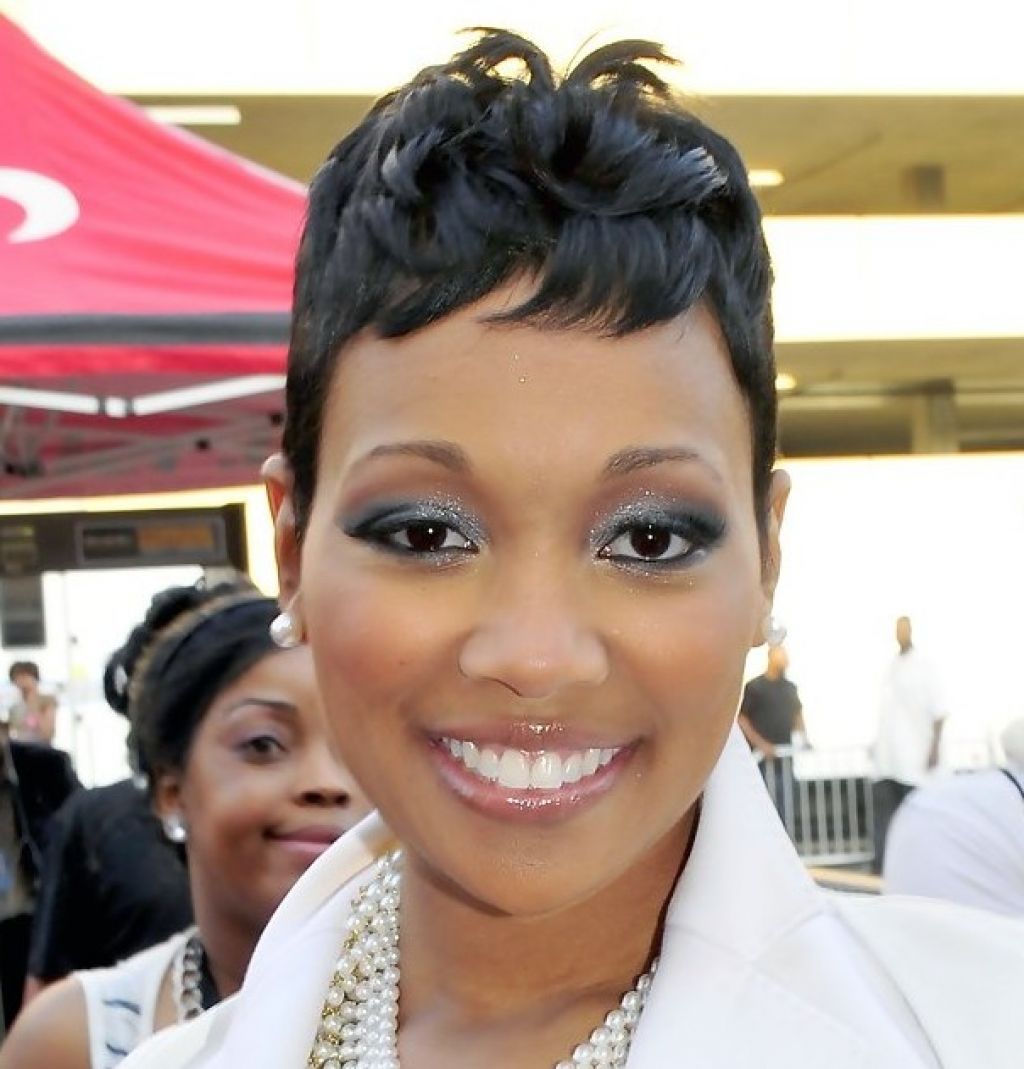 Short hair is the way to go for any African American woman that needs to carry light hair, especially in summer when weather conditions tend to be hot.
Such a short haircut is easy to comb because, in a matter of seconds, you will be done, however, if you don't just plait a hair piece it will require you to visit the salon frequently as in after two weeks to trim it to its original level and to put waves to order.
This haircut goes beyond special functions like a party to formal, casual, and any other destiny you may think of. Now hair on the sides and at the back of the neck will be trimmed from the saloon super short compared to hairs around the crown.
The reason why hair at the crown is left with volume is that you have to add waves to it either by setting it with hair rollers or using a curling tool to make it. You then comb it forward towards the forehead then you leave out a few hairs in the center of the crown pointing left and right for an elegant look.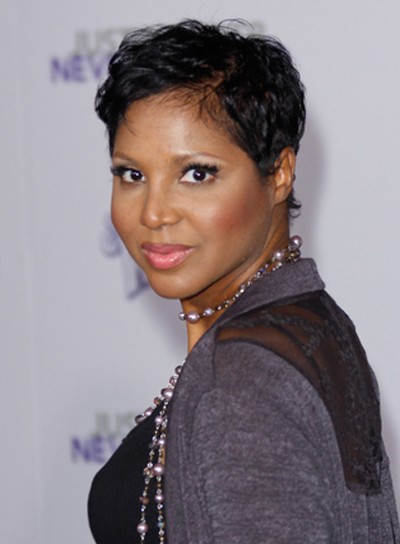 You may wonder why many African American women are opting for short haircuts, simply because short hair gives much freedom other than long hair, braids, and long weaves if am not certain.
When your age is still tender any girl can wear any hairstyle of any length you can imagine, let's say butt length, over the shoulder, or mid-back. But when you grow up tend to get tired of wearing long hairstyles and what you want to maintain is just a cute look and this is what a short haircut does.
You might want to trim your natural hair very short in a bob cut to shape but with waves for that young cute look. Again you spend less time at the salon as in going for a hair wash and since this hair is very short you can apply perm rods to create waves that are tight and it doesn't require you more hours to make it.
Later this implies that you will spend more time off the saloon. This haircut looks great with all face shapes for girls to women.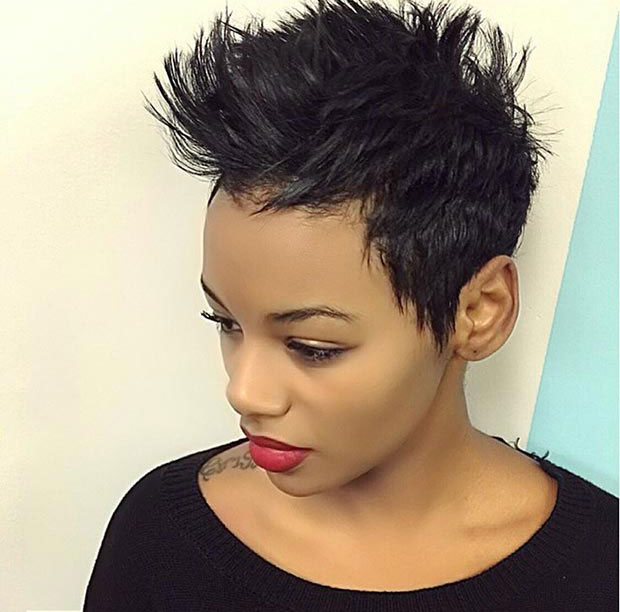 A short pixie cut is a way to go for young women and for those women in their thirties and above. You can make all the fun you want with a pixie haircut, whichever direction your hair faces and on different lengths, your hair just looks awesome and in this case, you make your own style.
This haircut involves your hair around the crown to be filled with light waves and so short the hair in the midsection is cut with more length looking pointy upwards straight or pushing some hair on the sides and the other half added with light waves coming towards the front.
Any African American woman who loves this haircut can look beautiful for those women with dark and light skin complexions.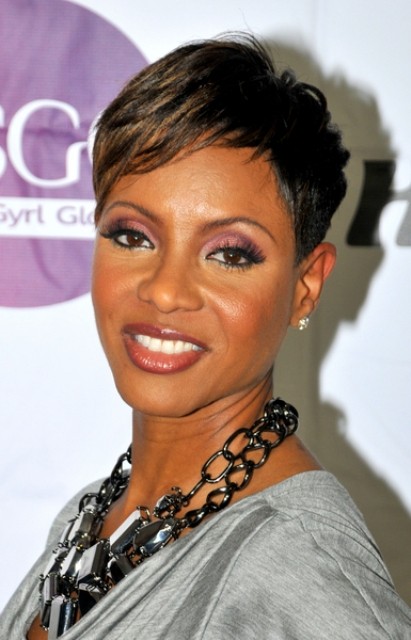 Age shouldn't be a factor to deny you looking cute even if your clock is 50 years of age. At this time of age, African American women tend to feel they shouldn't work on their looks much as some have already got married and others think they're old enough to look in any way they like.
A big no don't single yourself out yet because they're haircuts for your era and since everyone has his or her own taste you can still get a spouse and your good looks will stand for you. Short hair doesn't make you sit for long hours at a saloon if this is the case that tires you up to make your hair.
A shortcut will add value to your looks and by this time you have grey hair, you can tint it to keep on trend. Pull decent jewelry and wear fitting outfits to keep looking charming for your lifetime.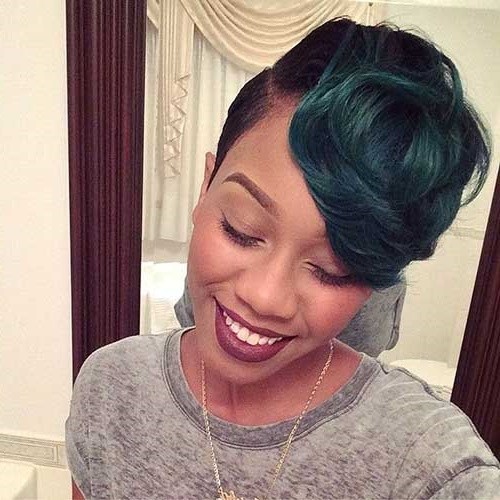 Short hair cut for black girls and women in their forties can be that interesting because in such a stage you have all the fun it takes to make your hair show up the way you like, as in you can cut it very short on the sides than in the midsection you leave it long colored then pull un updo.
For hair on the sides is trimmed very short, on one of the sides you part hair on sides marking a line in between like two inches inwards. Use a hair roller to comb it going downwards.
For hair in the middle section leave it very long and part of this hair is left looking natural then the rest of the hair is colored in your favorite color or hair piece added in colors like green, maroon whichever looks wavy. Push it forward towards the forehead with more volume to cover half of your forehead and thus pull an extra ordinal updo.
You may alternate the updo either on the sides or at the center of the crown in case you want to make different hairstyles.
Short Haircut With Highlights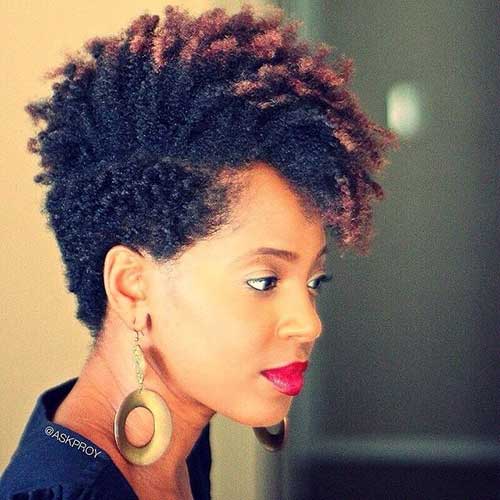 Short hair cut for African American women natural hair with highlights looks so great for women in their 20s, 30s, and 40s. This is a time women look beautiful and with any art, they apply on their natural or treated hair it just looks war.
This short natural haircut takes you to great heights and commands class to any African American woman who goes for it. Your hair is cut into two varying heights to come up with that afro look with hair on the sides very short and at the center of your head to medium length.
For this haircut to look nice it's left to grow with thickness much as the hair on the side is cut short but has to be thick too. Then hair in the midsection is maintained too with thickness in natural black as a way of spicing it to look hot, you add colorful highlights on top either with blonde, maroon, or white blonde as your heart leads you.
So comb hair in the middle falling to one of the sides and for hair at the front pushed forward towards the forehead for you to look that fashionable.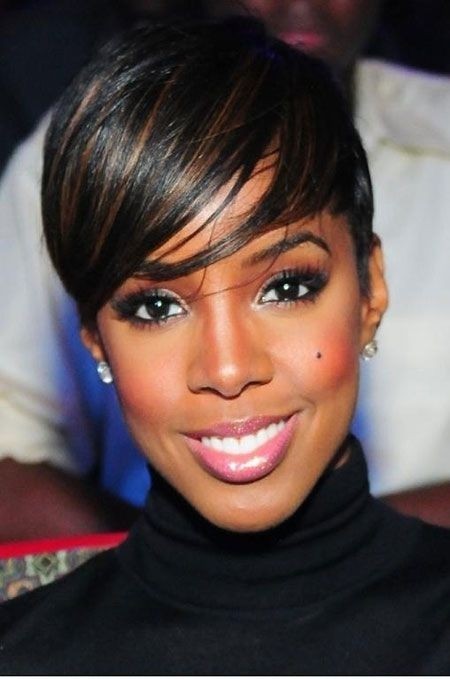 You find that from the numerous short haircut designs on-trend, some black women get lots of fun when they choose to go, two-way colored because their expectations are met this way and their hearts are put at peace.
It looks pretty nice when you add a short weave featuring black and brown highlights because it works great with all African American skin tones and any face shape. First, you make cornrows underneath then on top you add the colorful weave.
For the back part and one of the sides, you apply it very short but for the other side and the crown, it's left long to be pushed sideways and to pull bangs that cover the upper part of your forehead around the eyebrows.
A small part of the skin around the upper forehead is left visible to look stylish. And if you shade your eyebrow and eyelashes your eyes look wonderful, add color lip sheen too, and simple ear pins for a sexy look.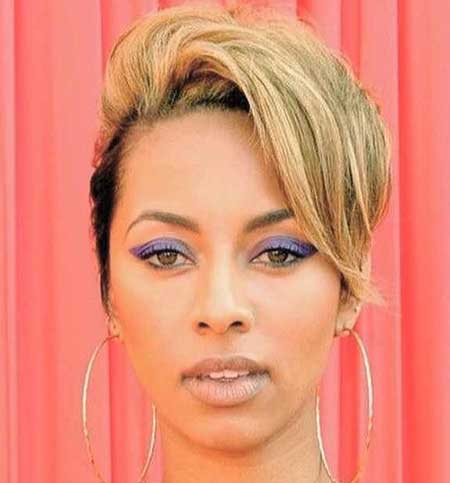 Look how adorable short blonde straight haircuts for African American women/babes can drive everyone around crazy? For it requires you to take a step first and foremost as in visiting a saloon to have your natural hair cut extremely short on the left side up to the back of your neck.
So maintain hair long at the center and the right-hand side to push it long up to the ears. Now what makes this hairstyle stand out is when you apply dye to your hair with blonde sections around the crown covering up to the right-hand side.
So for hair at the left-hand side towards the back of the neck, you comb it backward with a brush of tiny bristles maintaining a natural look.
For the right-hand side and the mid-section, you apply a comb of medium gaps in between to make hair fall on the very side but at the crown, you bump hair up to look voluminous.
While towards the left-hand ear hair looks upwards at the ends. For this haircut goes well with long faces, oval faces, heart faces, round faces, and name any I haven't listed. So shape your eyebrow perfectly, and according to the color of your outfit shade that particular color above your eyes to look elegant.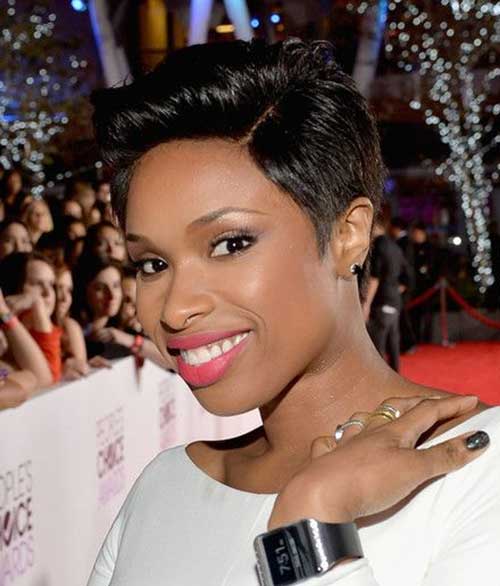 Don't be left out of the era of African American beauties whatever the case it may be, because their hot looks just awaiting you to pull if you take on the move to have your hair cut short with all the art that avails. You cut hair according to your face shape bringing out all the curves around the forehead and your entire head showing clearly.
Look at this African American beauty up here, what can make her fail to make heads turn when she goes in for a short sassy haircut that will keep her looking young and above all keep her beauty as she lives.
She cut her natural hair very short at the back of the neck and on the sides beneath but when you proceed to the top around the crown hair is maintained short but with more length and volume compared to the lower section. She goes ahead to mark a line in between hairs on the left-hand side and the crown.
For all hairs on the sides and at the back of the neck hair is pushed below and for the rest of the hair at the crown hair is pushed on the right-hand side and at the very back of the crown, hair is pushed backward in style.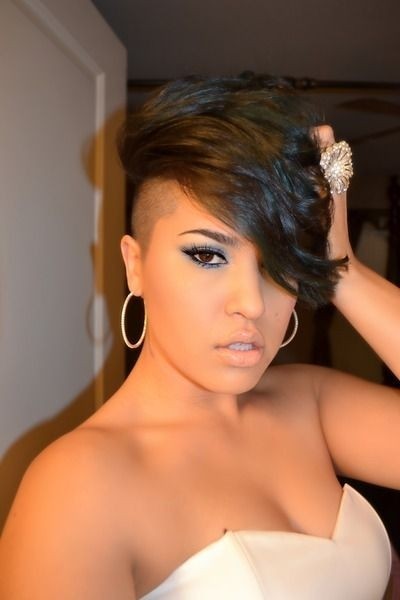 Black Women out there have been looking for an elegant haircut that is pulled with bangs, has volume, and features colorful highlights on top yet on one of the sides it's pulled with a Mohawk hair design. Am assuring you it's very possible, you find that you can add a wavy weave that is short at the back and long at the front.
It can feature in neutral black or brown mostly then blue highlights showing up sparingly in the middle and at the front to slide bangs cute. Only a small part of your natural hair is cut on one of the sides for a Mohawk design then the rest of the hair is done with cornrows, to add on top your favorite short weave and you're ready to go.
Always for this case within the packing of the weave, it has long pieces and is very short so the very short piece applies from the back looking forward with less volume.
When you approach the center of your hair you then add more than one piece to attain volume, and as you approach the front you apply the longest pieces because at this point after doing all mentioned steps above this point is so crucial for pulling bangs and the whole art and beauty of your weave lies here.
Cute Short Curly Natural Hairstyle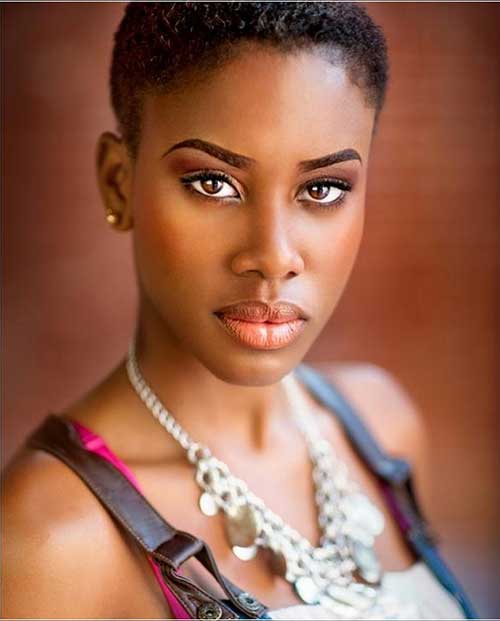 No matter the nature of your facial shape African American women out there, I know you have many queries as to how to have a natural super short haircut? Short hair is so comfortable when you compare it with other hairstyles.
You don't need to worry about making frequent visits to saloon-like other hairstyles demand of you. Most of the work can be done from home only a haircut cut can take you to a salon and with all products availed to you at home like Escurl you can make those tiny waves you see and after a while, you shampoo your hair.
This haircut can give you all comfort and the good looks you're striving for and at the same time slush lower much more for a sexy and young look. As you apply the curly product to lock in curls on your natural hair like World of curls daily, dirt and build are likely to form so after every other two weeks it's proper to wash it off to get a fresh look.
Apply conditioner too every after a wash as a necessary nutrient your hair needs to keep your hair looking good.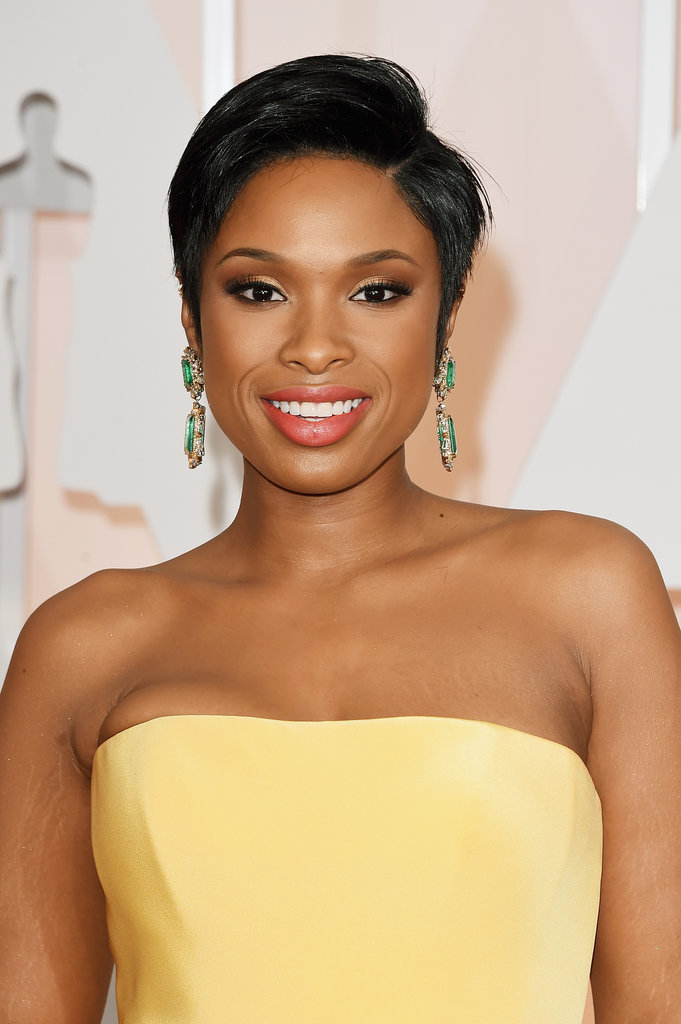 When you reach your forties any woman at this age feels shy spelling out her actual years in public as a way of making everyone whisper around wondering which age you actually hold, doubting whether you're young or growing old any African American woman out there would go for short hair.
You might be having long hair but want to reduce it to a medium length on one part of your hair than the other very short to make a variety of styles. An ideal comes your way first to curl your hair or set it with rollers to make waves or curls.
Now when you cut your hair, the first question that comes your way is how to make your hair look good, rather easy for styling and combing as you think of the next step to take on as hair grows up.
This length of hair gives you quite a no of styles to pull as in you might want to pull a bob style or push hair going backward in any make that touches you. Pull waves, comb it straight, or use a curling tool to put curls for an awesome look possible.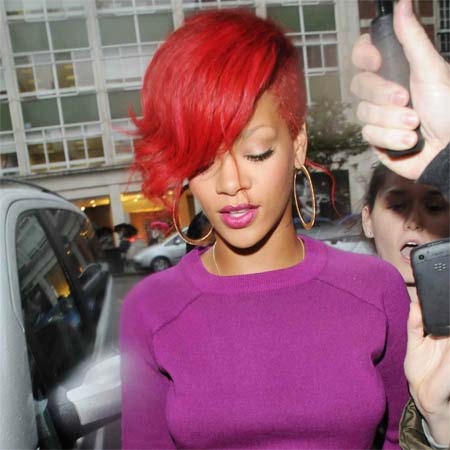 You might change your attitude towards short hair and admire looking like a celebrity and going colored for you to look different from fellow women around you?
Nothing is wrong with you having a short haircut, tint it with red then in the middle you apply a long weave featuring red too for pulling bangs with waves at the front, even if it means covering your entire face and leaving a small part visible.
You can have a haircut very short around your head for tinting all with red color then leave out the middle section to be pulled with medium-length cornrows. Later you join the weave on top of cornrows with colored braid threads to make it tight, apply hairspray on your hair entirely using a small comb your hair will come out perfect.
Push bangs on the sides covering one of the eyes and for continuity leave some hair on the same side waving backward for a decent look.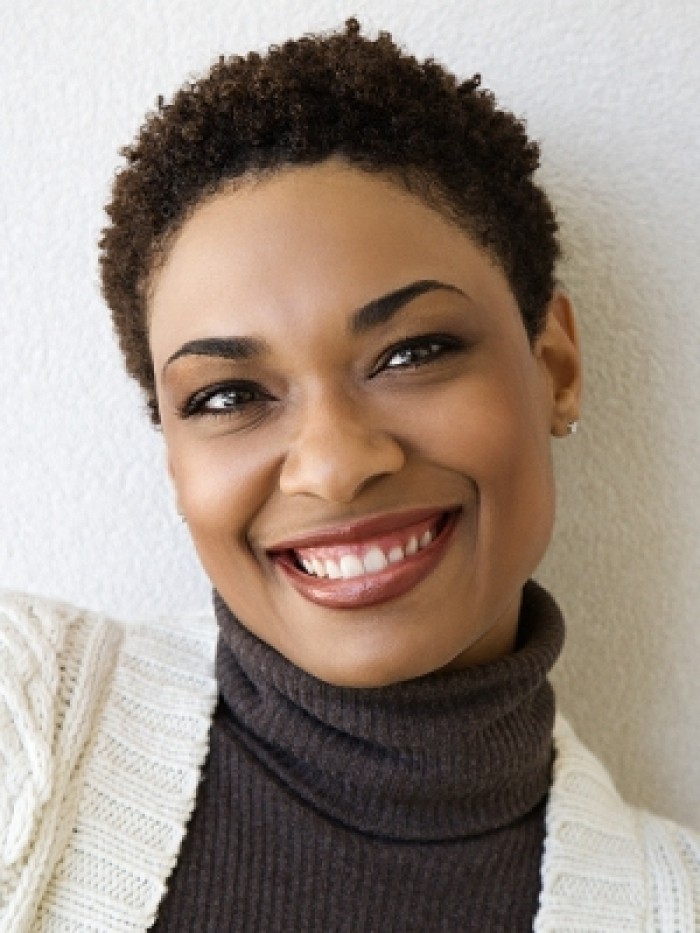 You might want to have a break from all the teasing and twisting around your natural hair from season to season like plaiting braids, adding on all types of weaves, and adding hair extensions? For sure if you don't give yourself a break from what troubles you like applying numerous hairstyles as the case may be or anything, you will end up having an unsettled mind.
When you're relaxed, thoughts come to your mind, like which short haircut can look perfect with my heart's face, less troublesome, and gives me a decent look? This article is here for you as you check the haircut above you will have yourself sorted. It's full of fun, no matter its thickness you apply curly hair product to make it soft and for your natural hair to be curled.
What requires of you is to check with a saloon and have your natural hair cut on the sides and at the back of the neck, relatively short then more length is reserved around the crown to bring up a perfect shape of your haircut. If you feel you don't want to add chemicals to curl your natural hair still you will show up with curls if you apply curly hair products often.
At any time you feel washing your hair it's all fun because after all when you add the curly product after washing your hair comes back to its original look. Apply a big bristled comb to prevent hair from hurting you as you make it.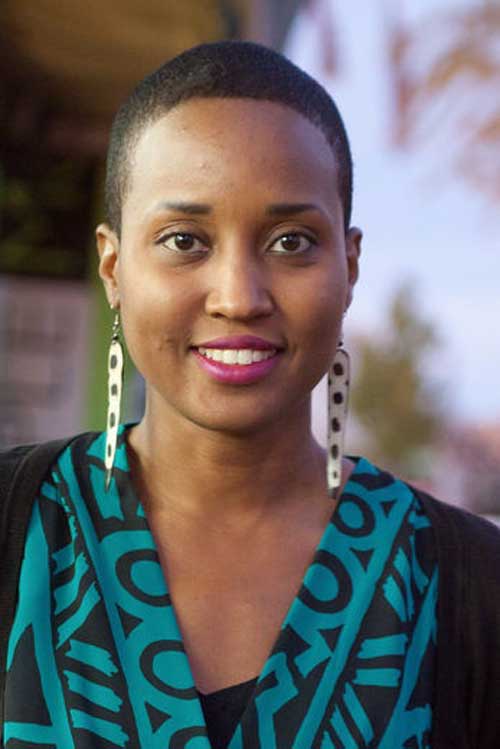 There are no standard rules for cutting your hair short; first and foremost get to know your face shape and what looks perfect with it. So you will be guiding your hairstylist on how you want to look and if both of you gather tall effort your haircut will be superb.
Some African American women are born with fat faces and for others, it comes with adding weight. You might fall for super short hair on your entire head but it pays when you leave some volume around the mid part. Shave your forehead; shape your eyebrow and what next will be a perfect haircut for your face.
And what I have observed through this article is that short hair teams best with long earrings that touch the shoulders. Anyone will be driven by your long earrings more than the height of your natural hair.
These long earrings tend to make your face longer and if you add makeup and colorful lip gross everyone African American woman will be falling for your looks thus giving a solution and confidence to those women who want to go for short haircuts.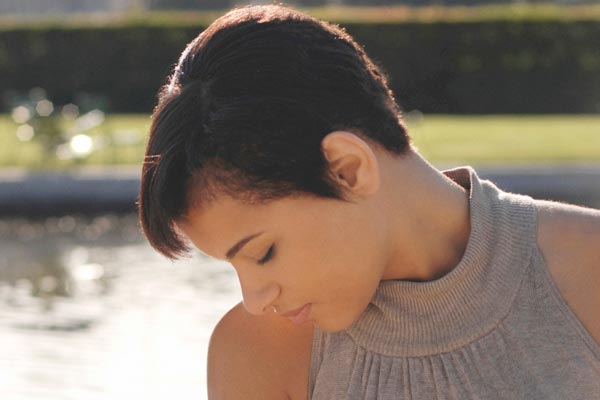 I for one enjoy viewing short hair because it gives me solutions when I feel long hair bothers me, there trendy short haircuts that can work for you either. According to the texture of your hair name it: is thick or fine among others and your face shape there's a haircut that goes well with you.
This African American woman in the pic above has a round face on fine natural hair. She went in for a haircut with even volume on the sides and at the back of the neck then around the crown she left hair with many volumes compared to all other sections.
Before her ears, she cut hair with sharp edges from the back of her neck coming forward towards the crown, and on the sides, she cut hair in levels, as in increasing volume going upwards to frame all angels perfectly.
Since she left more volume with hair at the crown, it became easier for her to comb her hair forward towards one of the sides for a fashionable and trendy haircut.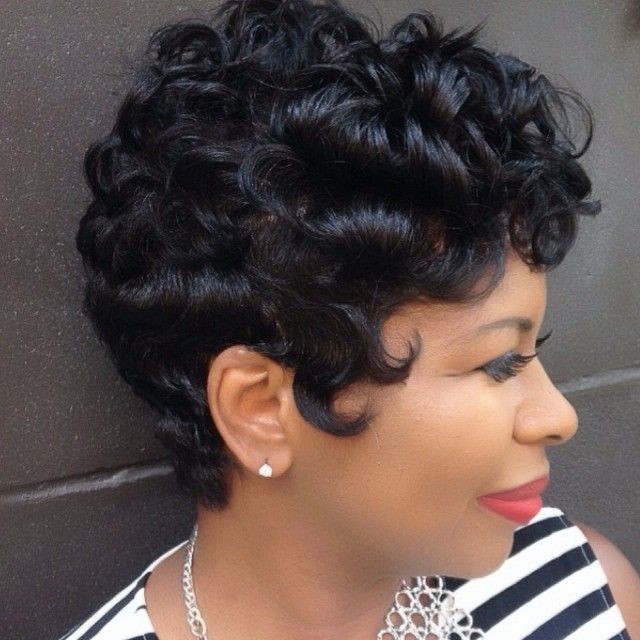 The short haircut for African American women right before you looks perfect for those women who want to maintain a beautiful look even though they're elderly. It requires you to have thick and long natural hair, if your natural hair has a soft texture it's okay to make this haircut.
But for cases where your natural hair is hard textured, you will require adding chemicals to stretch and make it smooth as the image spells it out. Now go for a haircut with barbers of specialty because your hair will be cut into three levels.
Hair at the back coming towards the ears will have the lowest level, from ear level up to the start of both sides, and below the crown, hair will be relatively longer for purposes of holding the smallest hair roller to make waves.
Now the rest of the hair going towards the forehead is left with more length to hold the biggest roller or for purposes of making tight waves a small roller can hold for a chic look.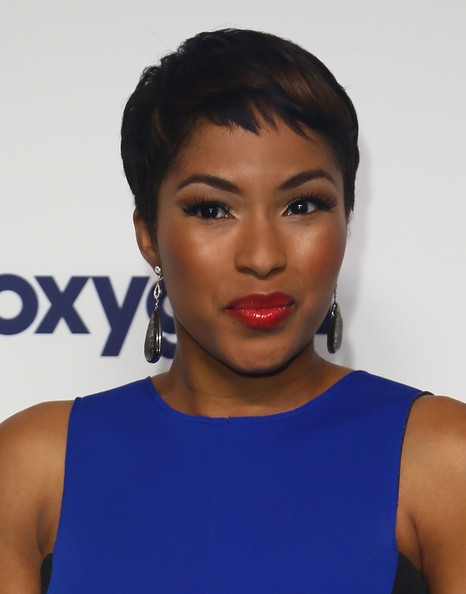 For this super short hairstyle for black women that features black beneath then brown highlights on top, work out for those seasons like winter where cold might cut off visiting the salon frequently.
In case you want to maintain your natural hair during this season, your natural hair will be done with cornrows then on top a short weave added in your teaming colors. You find that making your hair will be so easy and done within a short time giving other priorities ample time without worrying about how your hair will look.
With a hairspray and small comb handy, your hair will keep looking good no matter if you cover it for sports? When you make it comes to its original look shortly. When it catches buildup, you can rinse it from home that's if you equip yourself with shampoos and a drier for healthy-looking hair and hygiene.